There is nothing we love more than playing with playdough, and this time of the year inspired me to create these free printable Halloween Playdough Mats.
These fun activities are perfect for toddlers and preschoolers, and can be used in many different ways, including for educational purposes!
Below I share the way you can use them with your kids to develop counting, addition, emotions, and fine motor skills. But, remember that you can just let your kids explore their creativity with them. There are no rules!
You can also give them to your trick-or-treaters along with some play-doh! They are a fun and simple non-candy treat that I'm sure most kids will love because they can play with them afterward.
And if you are throwing a Halloween party, you can set them up as a fun game for the kids and let them take a mat home as a favor.
Sounds fun, right?
To use these Halloween Playdough Mats, all you have to do is:
Get the free playdough mats at the end of the post.
Print them on white paper or cardstock.
Laminate the pages or put them inside sheet protectors. (This is useful to re-use the playmats, just clean them with alcohol).
Get some playdough and start having fun with your kids.
Let's take a closer look at these activities, and don't forget to get them at the end of this post.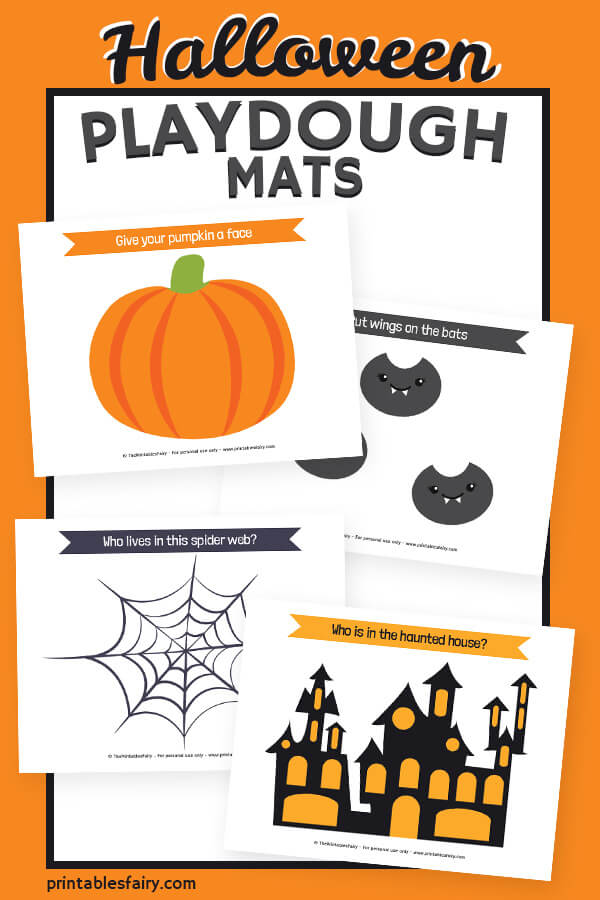 Free Halloween Playdough Mats
This Halloween playdough mat set includes 4 different free printable activities featuring a pumpkin, some bats, a haunted house, and a spider web.
Remember that, like our other playdough mats, they should be printed on US Letter sized paper (8.5x11in). If you are printing them on different paper sizes, don't forget to select Fit Page on your printer settings.
Keep scrolling to check all the playmats included in this set, learn how we used them, and download them!
Pumpkin Playdough Mat
The pumpkin playdough mat is perfect for talking about emotions and making those emotions with playdough.
You can start by asking your children how they feel, and then, give them prompts to create different facial expressions and talk about what can make us feel that way.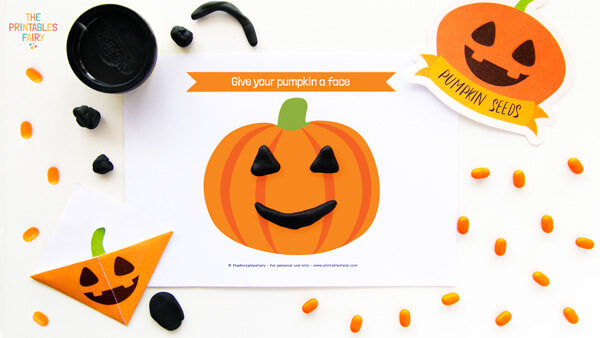 Spider Playdough Mat
Use the Spider playdough mat to practice counting.
You can tell your kids "There are X spiders living in this spider web", and if you want, write that number on a corner with dry-erase markers.
Then, let your children make that number of spiders and place them on the web.
Alternatively, you can let your kids fill the spider web with as many spiders as they want, and help them count afterward.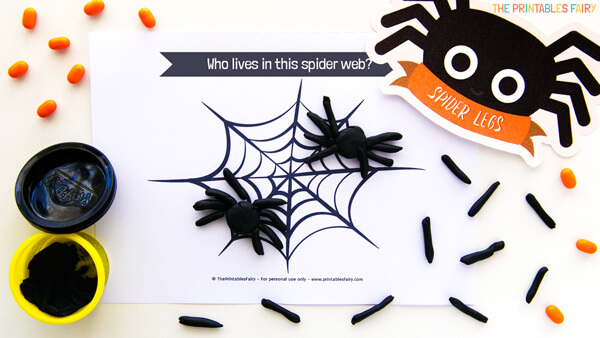 Haunted House Playdough Mat
You can also use the Haunted House Playdough Mat to practice counting, but I designed it for older learners to practice adding and subtracting.
Start by asking who lives in this house, and create addition and subtraction problems with your kids' answers. We love this activity because it's easier for kids to understand these concepts with visual models.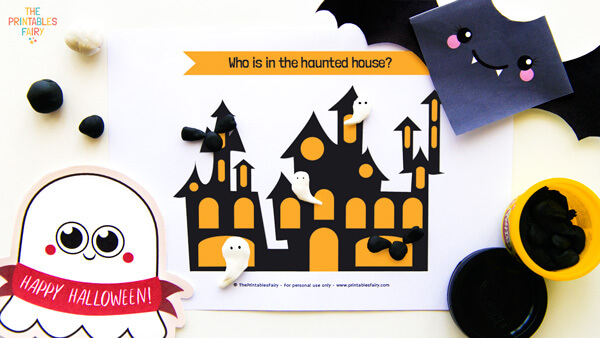 For example, if your child's answer was ghosts and bats live in this house. You can ask: How many ghosts live in this house? How many bats live in this house? And, How many creatures live in this house in total? That means that 3 ghosts + 2 bats = 5 creatures living in the house.
What happens if a ghost leaves the house? 5 – 1 = 4. There would be 4 creatures left.
Bat Playdough Mat
Use the bat playdough mat to practice fine motor skills.
Encourage your kids to roll and squish shapes and make playdough worms. These hand and finger movements will help strengthen the muscles, which will improve your kids' writing.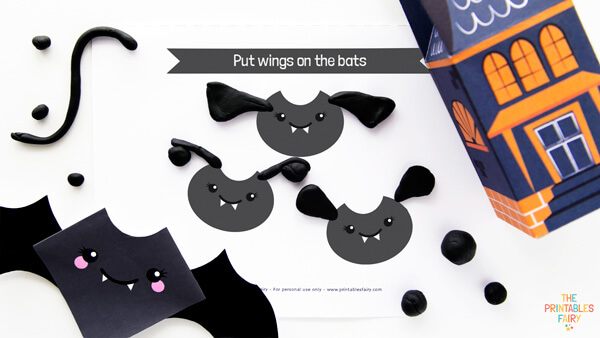 Download the Play Dough Mats
If you wanted a simple activity for your kids to distract themselves on Halloween, you just found it!
Just click the link below to download your free playdough mats.
It is easy to have fun and learn with these playdough mats. Use our ideas or try your own and share them with us in the comments or on Instagram by tagging @theprintablesfairy.
GET THE HALLOWEEN PLAYDOUGH MATS
*Please remember that these printables are for personal use only. You may not sell or distribute the files. If you want to share them, please link to this post and not directly to the PDF files.
More Halloween Activities for Kids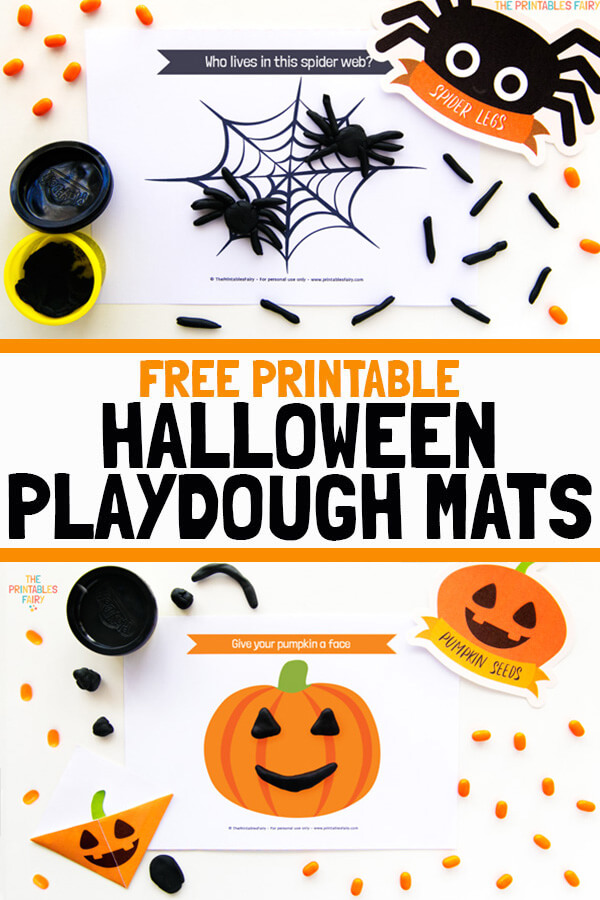 Printable Halloween Play Dough Mats