With Easter just around the corner, now is the perfect time to play with these free printable Easter Play Dough Mats.
These fun printables are perfect for toddlers and preschoolers who want to play and need to develop their fine motor skills.
Fine motor skills involve the use of small muscles controlling the hands and fingers. Working with playdough strengthens those hand muscles, which will be crucial for writing, drawing, buttoning, grasping small objects, eating, and more.
Below, I share specific activities that can be done with playdough and these Easter mats to improve fine motor skills.
To use these Easter Playdough Mats, all you have to do is:
Download the playdough mats at the bottom of the post.
Print them on white paper or cardstock.
Laminate them or put them inside sheet protectors. This way, the playdough will peel off easily, and you can reuse your printables.
Let your kids have fun and follow the prompts on each page.
Easy, right?
Let's take a closer look at these activities!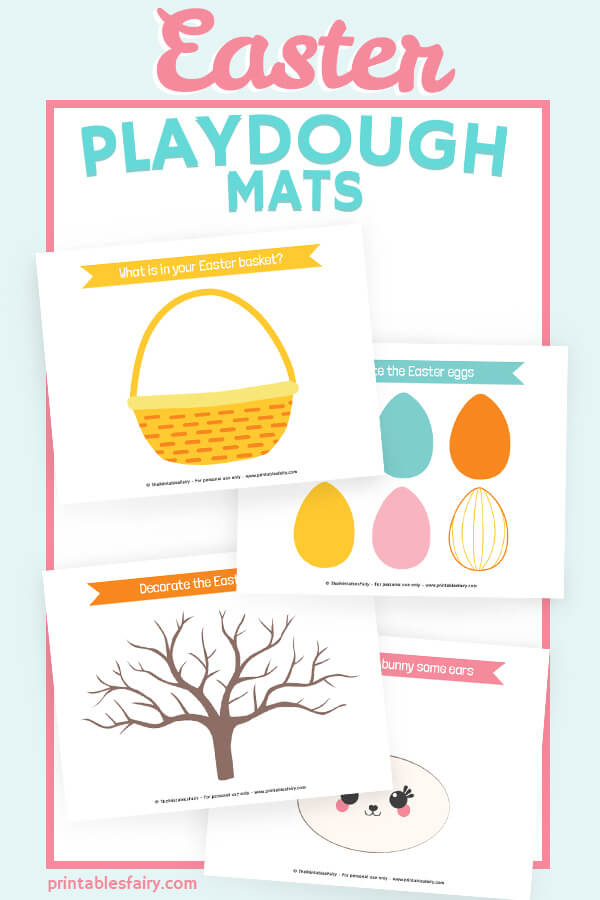 Free Printable Easter Play Dough Mats
This Easter playdough mat set includes 4 different printable activities for your kids.
You can let them follow the prompts on each page as they wish, but as I told you above, this time, we decided to focus specifically on developing fine motor skills.
Read on to see each of our playmats and how we used them!
Easter Tree Playdough Mat
The Easter tree playdough mat invites kids to get creative and decorate it.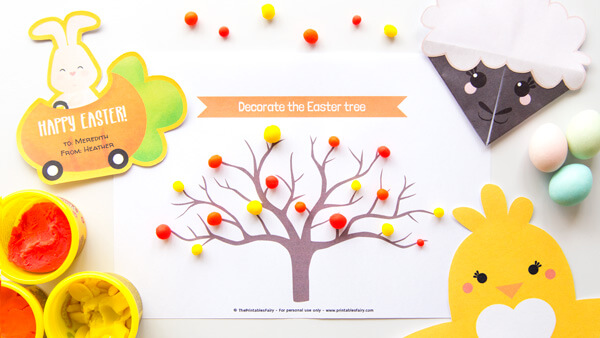 This time, we rolled small balls of different colors.
Rolling play dough balls promotes the use of the tripod fingers (thumb, index, and middle finger), which can help develop pencil control and improve handwriting.
Using only 3 fingers can be very tricky for some kids. To help them, roll a small piece of paper and make them hold it under their ring and little fingers.
Easter Eggs Playdough Mat
Your kids can decorate fun Easter eggs with this play dough mat.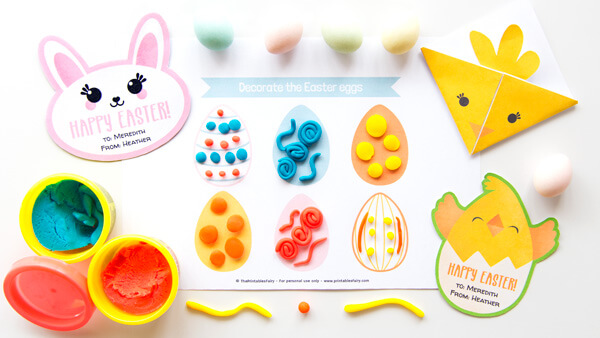 They can roll little balls, but this time make them squish the balls between their thumb and index finger. This will strengthen their hand muscles, which will help them keep pencils between their fingers.
They can also put playdough between their hands and roll "worms." This will help them control how much pressure they apply using their hand muscles.
If making worms that way is still too hard for your kids, they can lay playdough on a table and roll it out using both hands to develop hand-eye coordination.
Easter Basket Playdough Mat
The Easter basket playdough mat invites kids to create objects and place them into the basket.
They can make a basket for themselves, another for their siblings, one for their friends, and one filled with eggs for the Easter bunny (like we did!).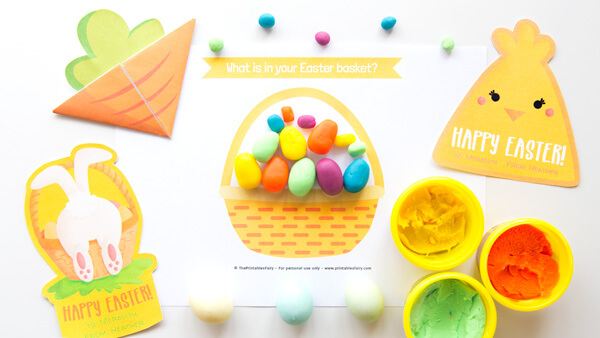 When making 3D figures, children have to hold the playdough and squish it with different strengths depending on what shape they are creating.
The grasping and squishing motions will help tone their hand muscles and develop control over their fingers.
Easter Bunny Playdough Mat
In this playdough mat, kids have to make ears for the Easter bunny.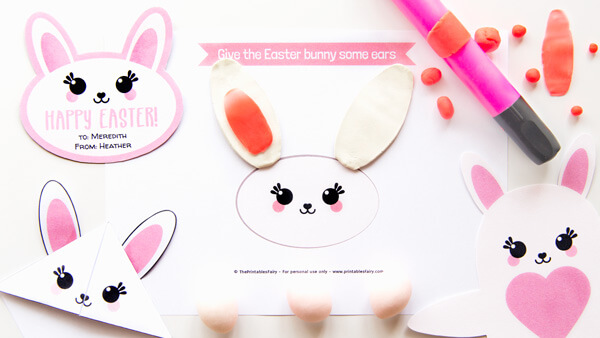 I know they could shape them by hand, but we decided to use the following method to make things more fun.
Start by making a small playdough oval and then roll it out.
You can use a rolling pin, but if you don't have one, a chunky marker will do the job just fine.
The thing is that your kids have to apply pressure on the playdough, which will strengthen their hands.
Download the Playdough Mats
As you can see, you can use these playdough mats in many different ways to help your kids develop their fine motor skills while playing.
Easter is coming soon, so don't miss the chance to include this fun and educational activity in your kids' schedule.
And if you have fun, don't forget to share with us on Instagram by tagging @theprintablesfairy.
↓↓Download your free Easter playdough mats↓↓
*Please remember that these printable playdough mats are for personal use only. You may not sell, share, or link directly to the files.
More Easter Activities for Kids
Easter Placemats
Easter Tracing Worksheets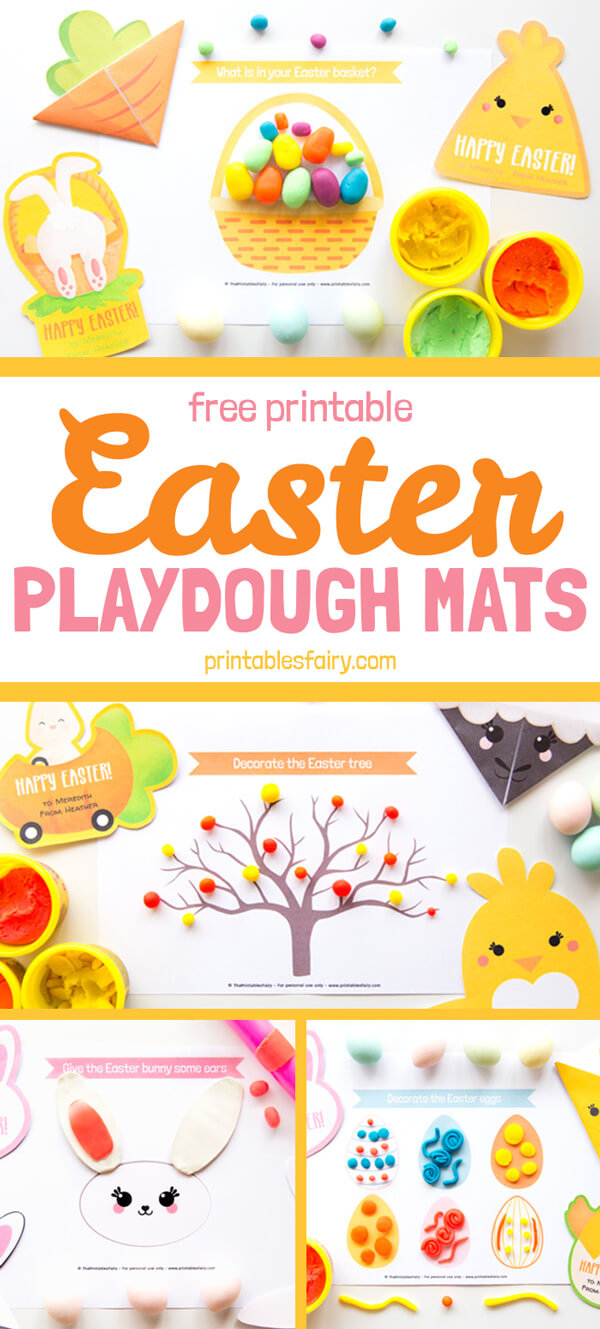 Easter Playdough Mats