Are you looking for a simple activity to entertain your kids on Independence Day? This 4th of July Word Search will keep your kids distracted before the fireworks!
If your kids can't stop talking about celebrating this day since they wake up, you might be looking for some activities to keep them busy for a while. At least while you prepare your party food 😂
Today, I'm sharing this fun 4th of July word puzzle that you can download for free at the end of this post.
And if you want even more ideas to try before the fireworks begin, here you can find other 4th of July crafts and activities that your kids will love.
This printable 4th of July word search is not only perfect for your kids at home or for your 4th of July parties. It is also fantastic for summer school, summer camps, playdates, and more!
Word searches are good for improving problem-solving skills, spelling, word recognition, and language learning.
For that reason, I decided to make this game for beginning readers in mind. It mostly includes words hidden horizontally and vertically, and no backward words.
Word searches are also great to expand your children's vocabulary. You can use it to talk about freedom and other words that are unknown to your kids.
To make this game more fun for groups, you can let your kids compete to see who finds all the words the fastest or give them a time limit.
Ready to have a bright 4th?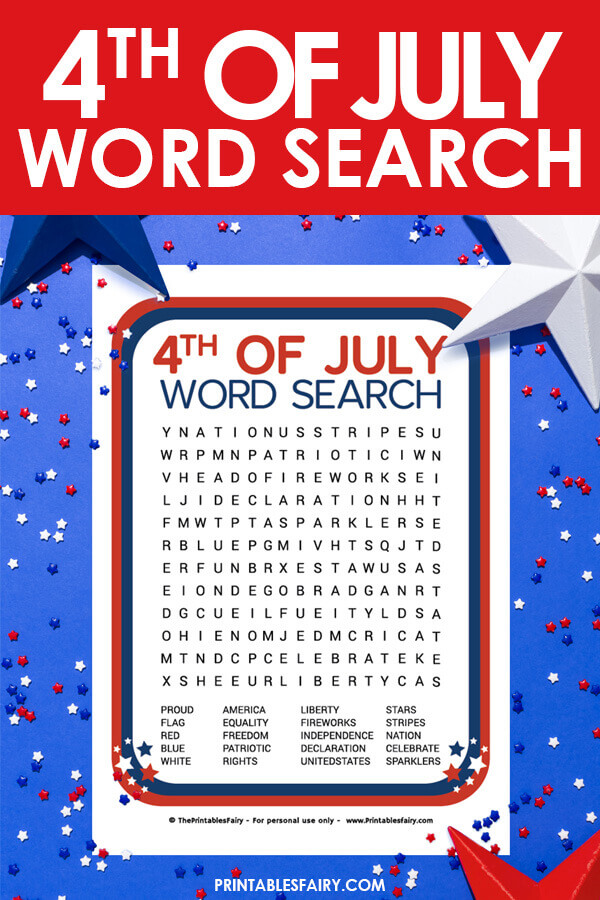 Printable 4th Of July Word Search
To get started with this patriotic word search, all you have to do is download it at the end of this post. Then, grab your children's favorite crayons and let them look up for the words.
There are 20 patriotic words hidden in this word puzzle:
Proud
Flag
Red
Blue
White
America
Equality
Freedom
Patriotic
Rights
Liberty
Fireworks
Independence
Declaration
United States
Stars
Stripes
Nation
Celebrate
Sparklers
As I mentioned earlier, most of the words go down and left to right. Just 4 words can be found diagonally. This proved to be the right amount of challenge for the youngest, but still fun for the oldest!
And if you can't find a word, I also included a link to download the answer key. You can save it on your phone and take a peek if you need it.
Celebrate Independence Day with our fun 4th of July Word Search! Click the link below to download it.
DOWNLOAD 4TH OF JULY WORD SEARCH
More 4th of July Fun
Want more fun 4th of July activities for your kids? Take a look at these ideas:
Fourth of July Word Search