Looking for a patriotic craft to make with your kids on Independence Day? These 4th of July Pinwheels are very easy and quick.
Did you know that pinwheels were the most popular toys more than a hundred years ago? They are super fun to take outside on a windy day and are great to start some spinning competitions too.
It's easy to make your own paper pinwheels at home. In this tutorial, I'm going to teach you how to make an origami pinwheel, which is even more simple than a regular one. You won't need any special measurements and cuts. All you need is a paper square!
Origami is also a great way to improve spatial visualization skills, fine motor skills, and concentration. As you can see, this pinwheel craft is not only fun, but also has fantastic benefits for your children's development.
Paper pinwheels are the perfect idea for the summer holidays. This time, we decided to turn them into Fourth of July toys and decorations.
Yes! After your kids are done playing with them, you can place them in jars or vases to make fun centerpieces. Or, you can turn them into a festive wreath by gluing them into an embroidery hoop. You can even let guests take one home if you want.
As I told you before, we like to start some friendly competitions to see whose pinwheel spins the most, or the fastest. Kids love making new pinwheels to improve them. And it keeps them busy for a while, so you can enjoy your party.
Let me show you how to do them!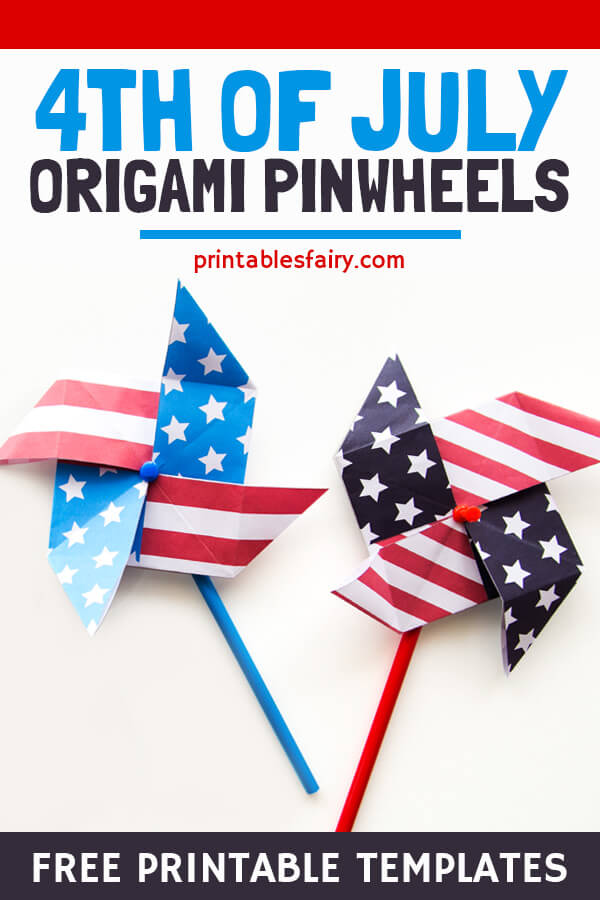 How to Make An Origami Pinwheel
This is a basic origami model, which makes it very easy for almost every kid.
It's also very inexpensive. You will only need materials that you may already have at home, or that you can easily find at office supply stores.
Below you can find the step by step instructions to make these 4th of July Pinwheels. And if you still need more details, you can find a video tutorial right after.
Materials
To make these pinwheels, you will need either scrapbooking paper or regular white paper and a printer.
If you choose the second option, you can download our free printable templates at the end of this post. There are 3 different designs included, and you'll be able to make the exact same pinwheels as us.
You'll also need scissors, pencils with erasers and board pins.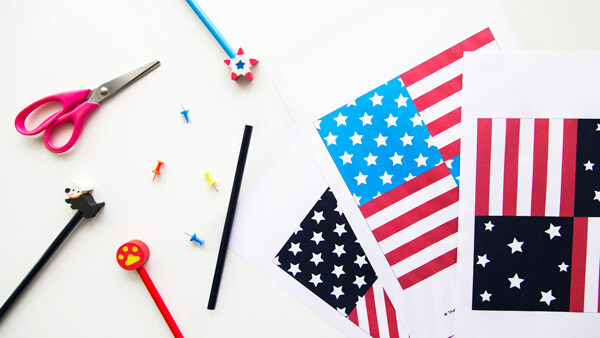 Instructions
Cut out a paper square. To start folding your pinwheel, don't forget to put the colored side down.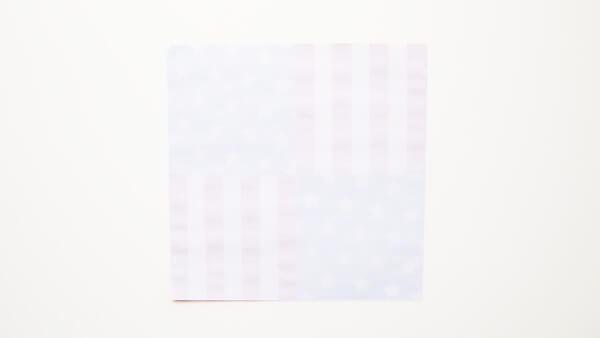 Fold the square in half from the right edge to the left edge and unfold it.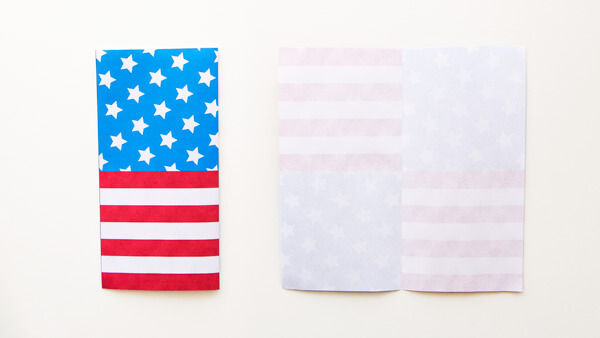 Fold the top edge to the bottom edge and unfold it.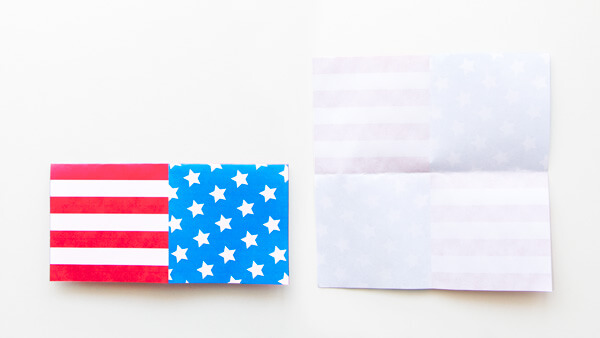 Flip over your square.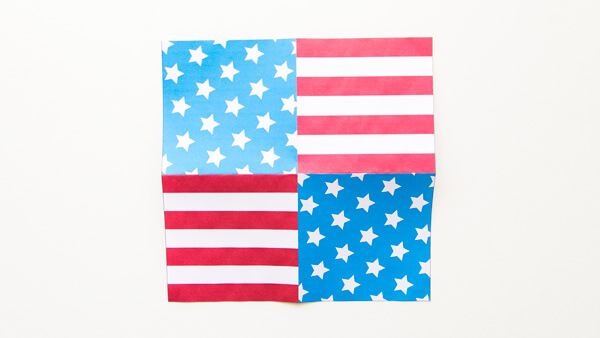 Fold it in half diagonally both ways. Then, unfold.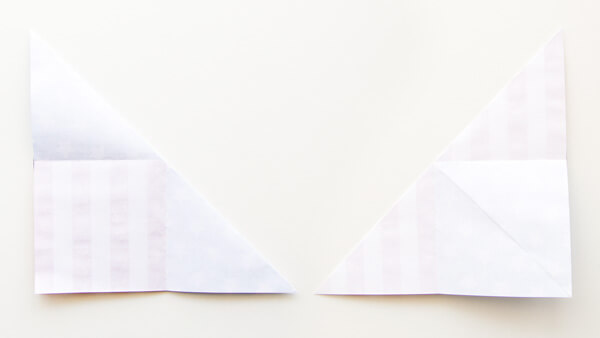 Once again, flip over your paper square.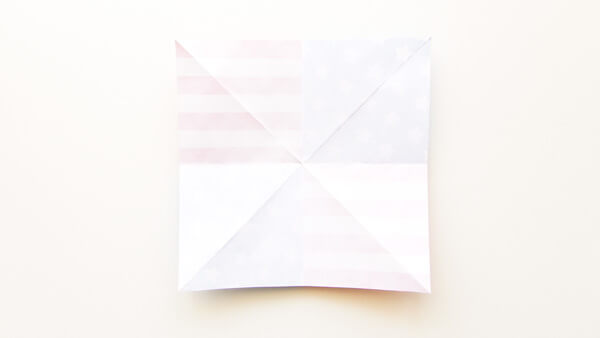 Fold both sides to the center.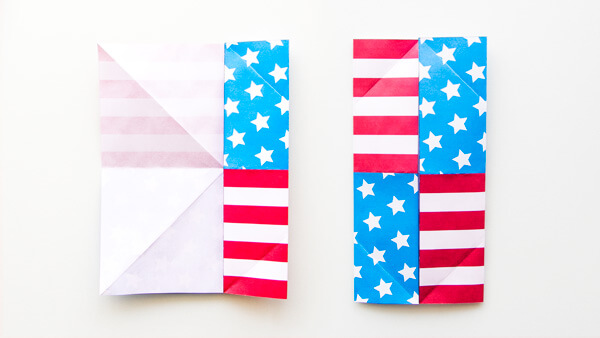 Fold all four corners to the center, as shown below. Crease well and unfold them.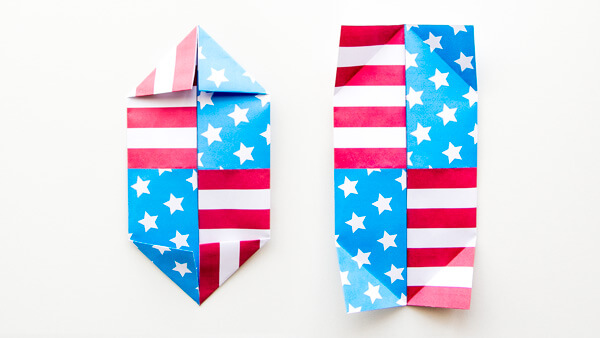 Make a fold from point A to point B and unfold it.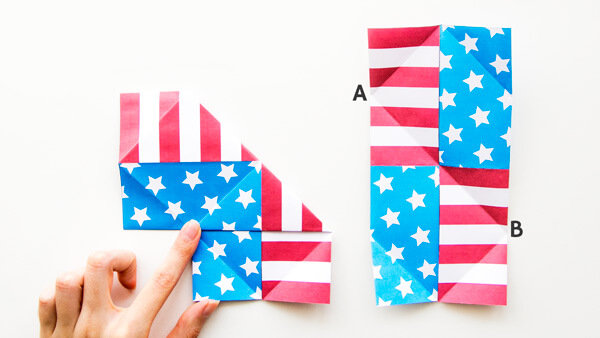 Make another fold from point A to point B and unfold it.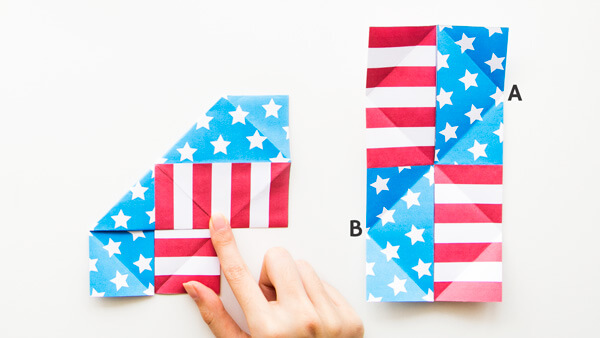 Bring the bottom edge to the center.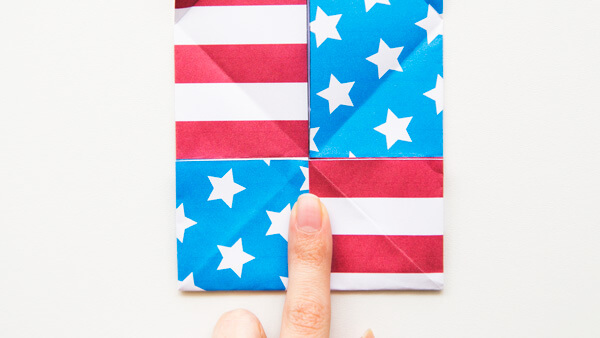 Open up the fold from the previous step to make a squash fold. Take a look at the picture below.

Repeat steps 11 and 12 with the top edge.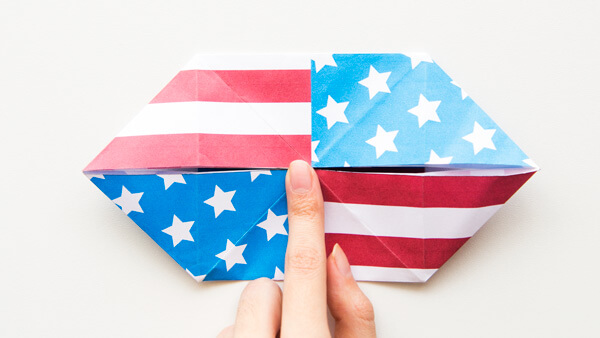 On the top portion, take the right flap and fold it up. On the bottom portion, take the left flap and fold it down.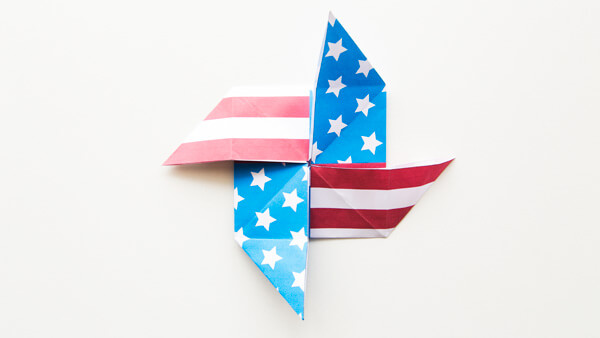 To complete your pinwheel, push a pin through the center into a pencil eraser.
Alternatively, if you don't have pencils with erasers, you can use a paper straw. Just help your kids push the pin through it, as it can be a little difficult.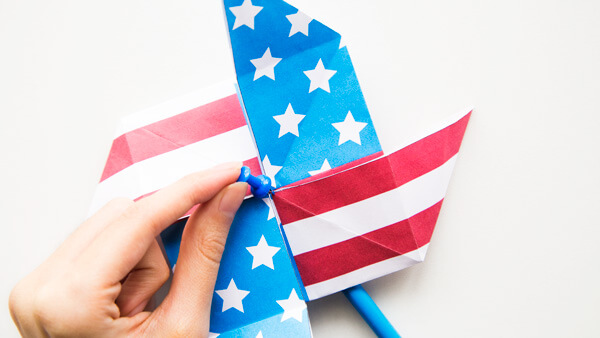 Now your paper pinwheel is ready to spin! Make more than one using different paper designs to start a collection.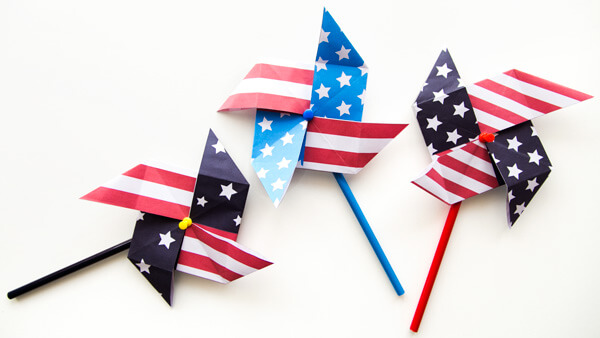 Pinwheel Video Tutorial
If you are still unsure about certain folds, take a look at this video tutorial where I show you how to make an origami pinwheel.
Remember, all you need is a paper square.
Tips to Make Your Pinwheel Spin
We have seen a lot of pinwheel tutorials out there, but most of them are for stationary pinwheels that are not meant to spin. Where is the fun of it?
These origami pinwheels are designed to spin when blown. But sometimes they can get a little stuck. To fix that, you can simply:
Make the hole in the center larger by moving the pin around.
Loosen up the pin and the eraser.
Blow the pinwheel from an angle.
With these simple tips, we were able to make all of our pinwheels spin!
4th of July Pinwheel Templates
Want to use our digital paper to make some cute pinwheels that look exactly like ours?
Click the link below to get our free printable patriotic pinwheel templates.
GET THE 4TH OF JULY PINWHEEL TEMPLATES
Other Festive Crafts & Activities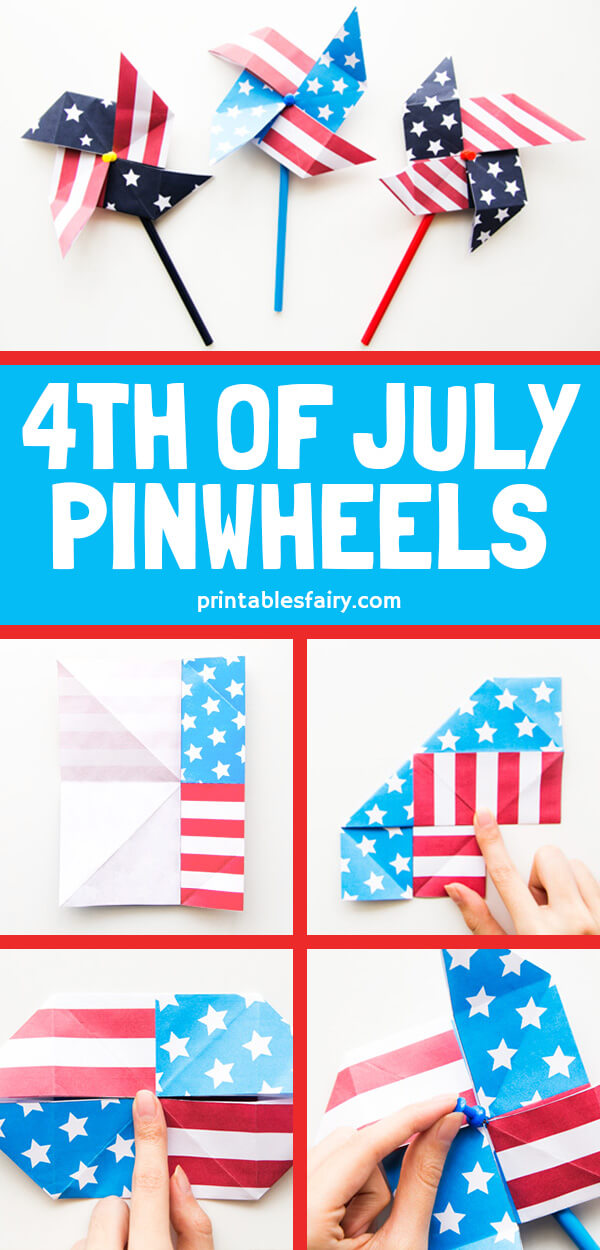 DIY Fourth of July Pinwheels