Valentine's Day is the perfect time of the year to make some cute heart crafts.
But sometimes, it is so hard to find the perfect heart stencils for our projects that I decided to make my own.
And of course, share them with you!
I made these free printable heart templates in many different sizes that can fit any of your DIY needs.
This way, you won't have to waste time looking on the internet, and just focus all your energy on the fun stuff: crafting!
They are perfect if you want to make some Valentine's Day decorations for your home or class.
And they can also come in handy if you are looking for a stencil to make a cute heart card or just want to get started with your homemade Valentine's gift.
Whatever it is, I'm sure you'll find the perfect heart template in this post. Just keep reading. 😉
P.S. If you want to use these for your kids to color, you might want to take a look at these free printable Heart Coloring Pages instead.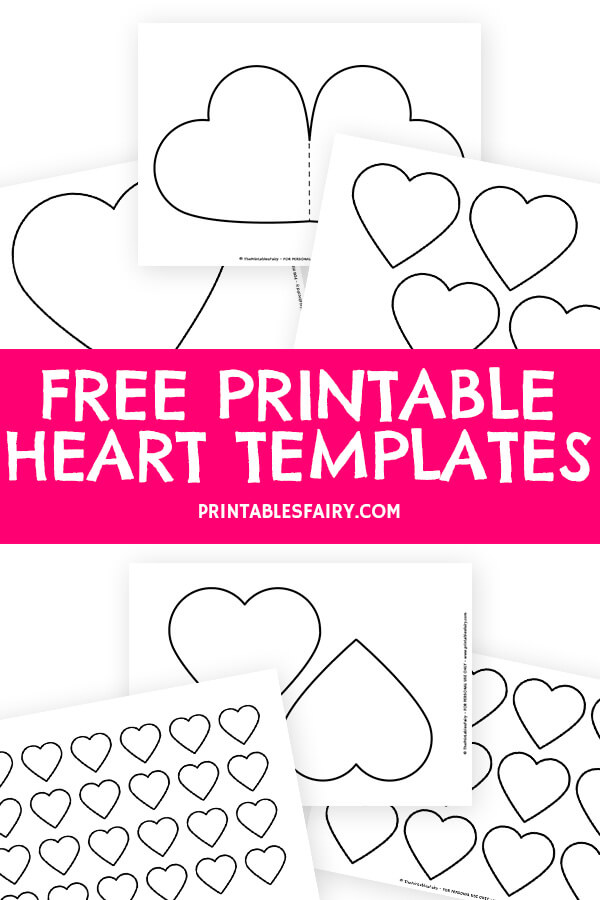 How to Use the Printable Heart Templates
Using these hearts is super simple; just follow these instructions:
Download the printable heart templates at the end of this post and open them in Adobe Reader (it's free!).
Identify which page you want to use for your craft and print it.
These pages are meant to be printed on A4 sized paper, but you can also print them on US Letter by selecting Fit Page on your printer settings.
Cut out the hearts and use them for your crafts and activities.
* Remember that you can print these templates on both white and colored paper or cardstock.
Large Heart Shapes to Cut Out
Sometimes all you need is a large heart stencil; that's why I designed 4 templates that you can use as cutting guides or print them directly onto your paper.
Large Heart Template
The first heart stencil is a big heart that prints full size on a sheet of paper, and it is the largest heart shape you can print on a single sheet.
We have found this one very useful to make heart suncatchers.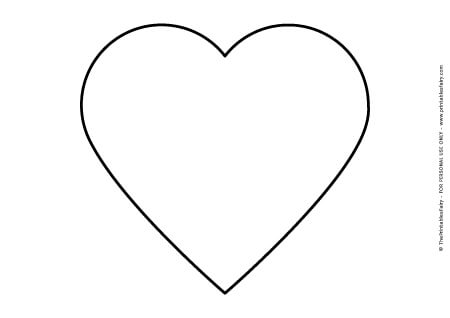 Two Large Heart Stencils
The second option includes 2 big hearts on one page.
You can use them to make heart-shaped cards or large crafts.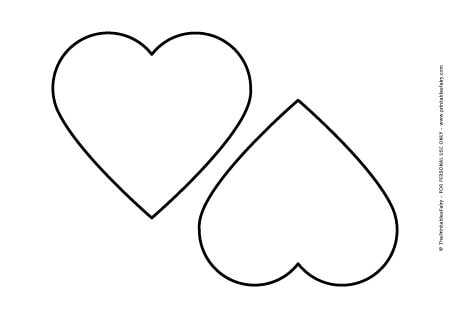 Four Hearts Template
This page contains 4 rounded medium-large hearts.
These are perfect for writing love notes and passing them on Valentine's Day.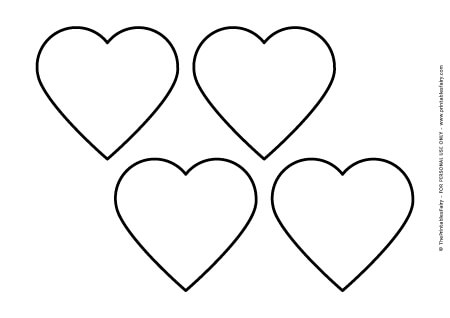 Folded Heart Template
If you want to make Valentine's Day cards, this folded heart stencil will be a savior.
We used it to make this Heart Unicorn and this Heart Dog. It made everything so easy!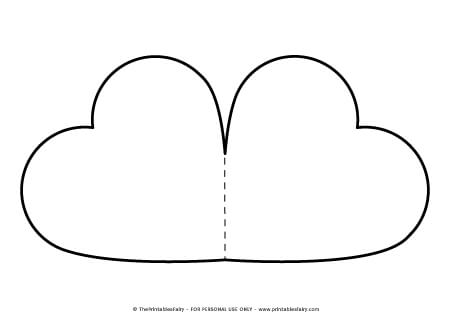 Small and Medium Heart Templates
If you need to print multiple hearts on one page, these medium and small templates will be perfect.
Six Heart Shapes
This page contains 6 medium heart templates in one page.
We like to use them to decorate the school's bulletin board (of course, after the little ones decorate them).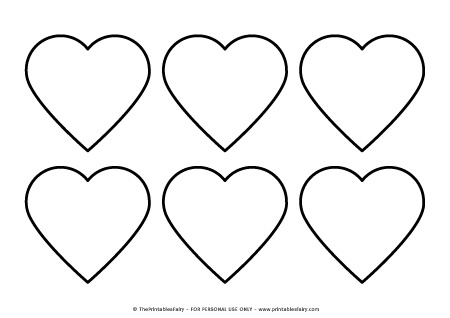 Twelve Hearts Template
Here you can find 12 small heart shapes on one page.
You can use these to make a heart garland and decorate your home for Valentine's Day.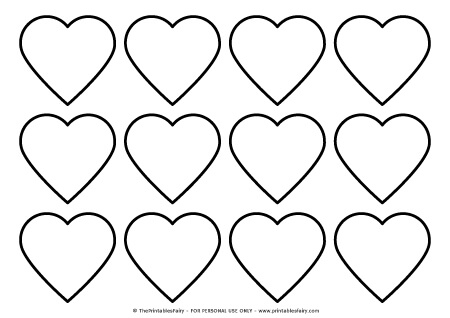 Twenty Four Small Hearts
And if you are looking for smaller hearts, you will find 24 of them on this page.
They are perfect to use as tags or to decorate your Valentine's cards.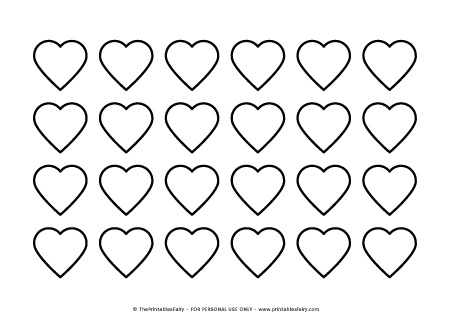 Tiny, Small, Medium & Large-sized Hearts On One Page
Sometimes you just need to print hearts of all sizes; that's why I made this page with an assortment of hearts to fit all your crafting needs.
Perfect for adult and kid's crafts!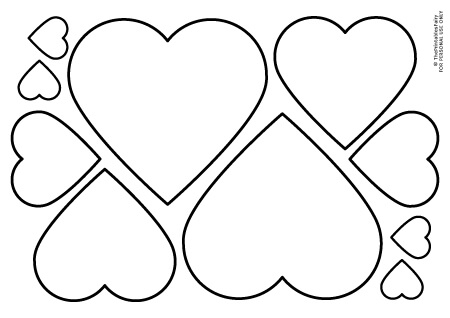 Download Your Heart Printable Templates
Ready to use these templates?
Click the link below to download them all!
And don't forget to let us know in the comments what you will use them for.
DOWNLOAD THE PRINTABLE HEART TEMPLATES
*Please remember that these printables are for personal use only. You may not sell or distribute the files. If you want to share them, please link to this post and not directly to the PDF files.
Heart-Shaped Crafts for Kids
Unicorn Heart Card
Dog Heart Card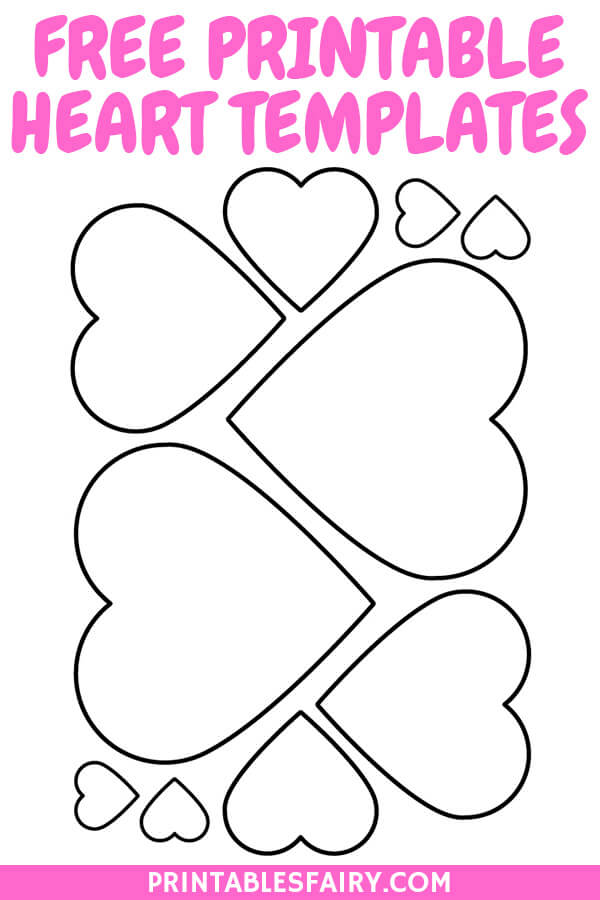 Free Printable Heart Shapes