Coloring pages are our favorite way to celebrate holidays with kids.
They are so easy and inexpensive that I had to design some for Valentine's Day. And what's better for this season than hearts?
Yup – These free printable heart coloring pages are the perfect Valentine's activity for kids of all ages.
All you have to do is download them at the end of this post, print them on white paper or cardstock, and let your kids enjoy them.
You can use them with different media like coloring pencils, crayons, markers, and even watercolors.
And the best part is that they can also be used as creative prompts. Just let your kids create their own designs, patterns, and drawings inside the hearts.
It's a fantastic exercise to stimulate their imagination, practice color recognition, and develop their motor skills!
Use these coloring pages at home, school, or Valentine's Day party or playdate.
But that's not all!
Coloring all these hearts is not only fun on its own; you can also paint and cut these designs to create your own cute cards or to decorate your Valentine's crafts.
And if you want to use them as stencils, I recommend taking a look at these printable heart templates that may best suit your needs.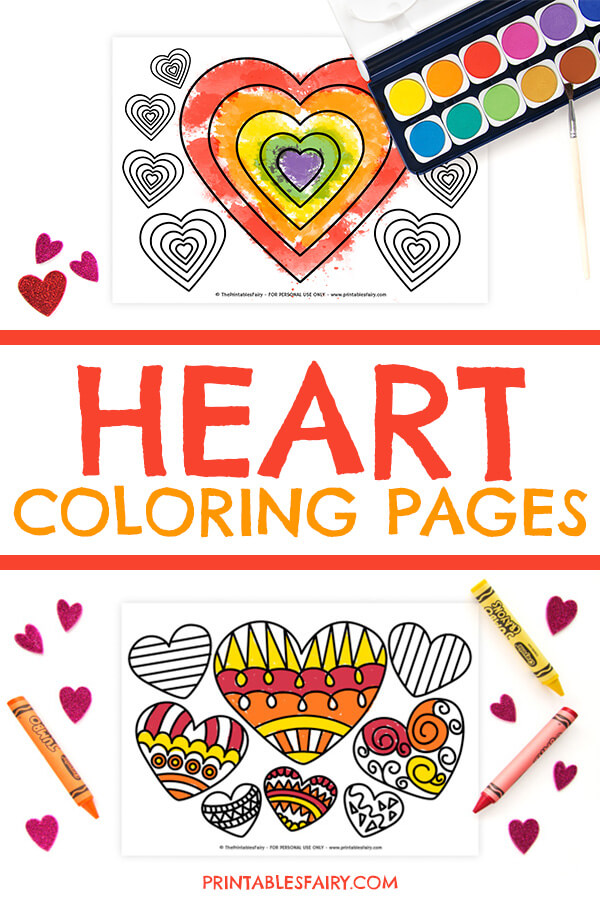 Free Heart Coloring Pages
This set of heart coloring pages includes six different designs that feature hearts of all shapes and sizes.
Whether you paint them with bright "rainbow" colors, cute pastels, or with just one shade, I'm sure they will look fantastic and perfectly match this lovely day.
Let me show you all the printables included with this collection, and don't forget to scroll to the bottom to get them all.
"Heart Within Heart" Pattern
The first page features a big heart with a heart pattern on the inside, so you can color it in with different colors.
We also like to use this particular design to make a collage. Make your kids torn paper of 5 different colors and glue a different color on each area.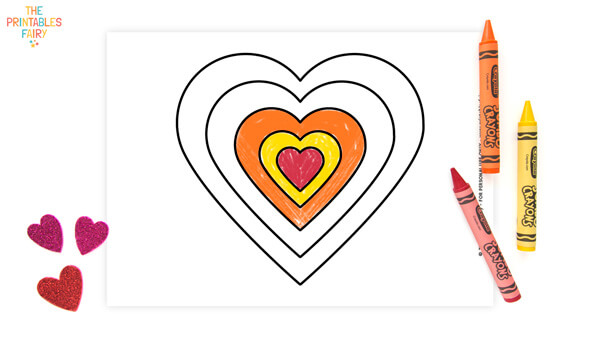 Lots of Hearts Coloring Sheet
If you want more of the previous page, this design will make you extra happy!
This coloring sheet is filled with hearts within hearts and can be used to create fun patterns, to practice zentangles, or just to doodle inside each section.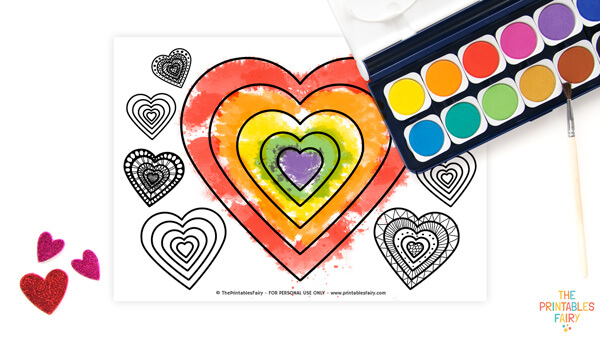 Heart with a Bow Coloring Page
The third design is a heart with a bow that can look like a chocolate box.
I challenge you to make your children color it using multiple shades of one color only.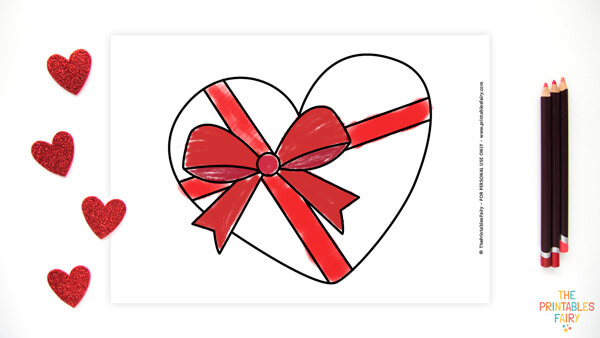 Heart-Shaped Ornament Coloring Page
Your kids can decorate this heart in any way they want.
It is perfect for making some Valentine's Day cards or writing some heartfelt notes for family and friends.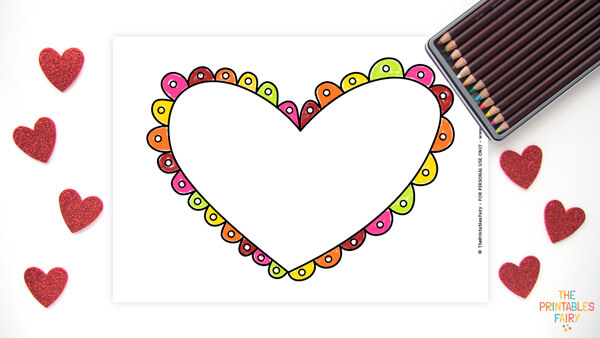 Hearts for Color Mixing Coloring Sheet
We absolutely love to use this coloring page to practice color mixing with young kids, as it has hearts intertwined with others.
I recommend using watercolors for this exercise as it's the easiest medium to blend colors smoothly.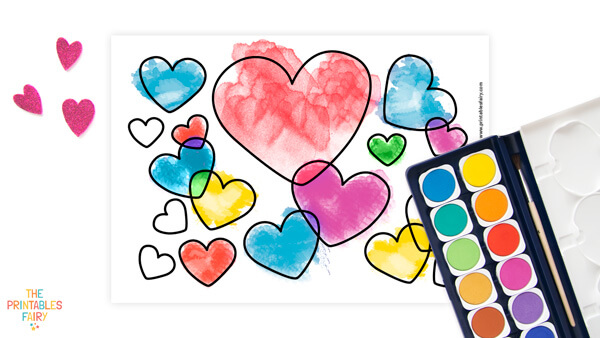 Heart Mandalas
The last page includes some heart mandalas. Coloring them can help your kids with their concentration and coordination.
Besides that, coloring mandalas can be very relaxing, increase your child's self-esteem, and stimulate aesthetic sense. Here you can read more about the wonderful benefits of coloring mandalas.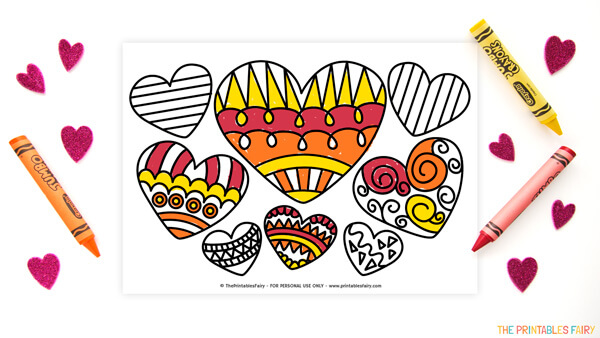 Download your Printables
As you can see, there are many fun ways your children can color these designs.
Get them all by clicking the link below!
And don't forget that you can share all your children's beautiful creations with us on Instagram by tagging @theprintablesfairy.
Have fun coloring!
*Please remember that these printables are for personal use only. You may not sell or distribute the files. If you want to share them, please link to this post and not directly to the PDF files.
Other Valentine's Day Activities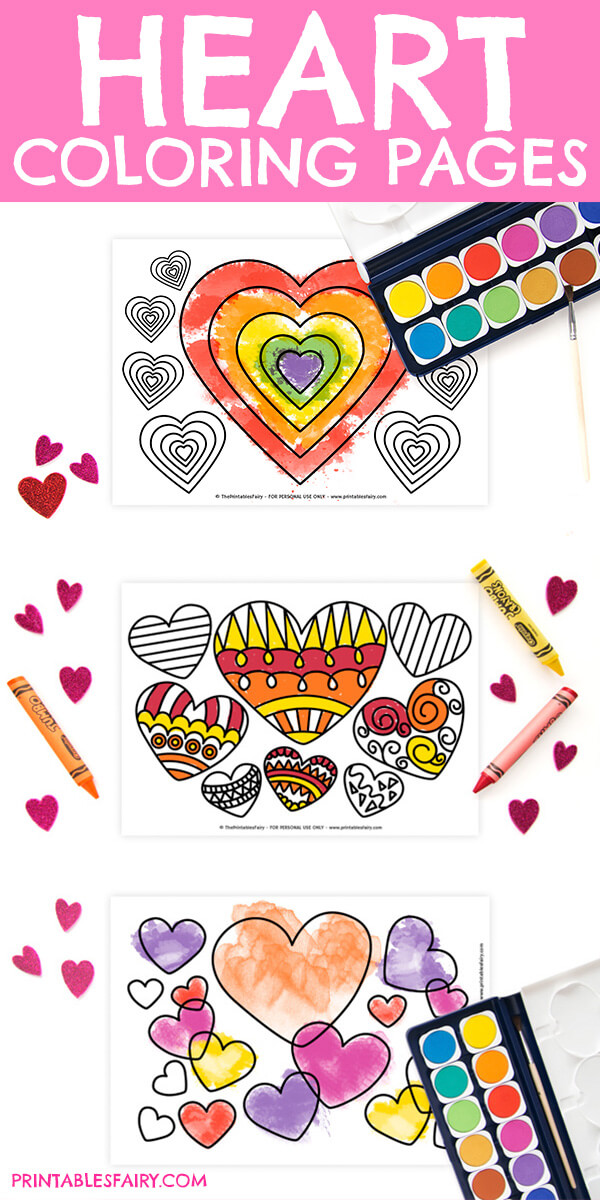 Free Printable Heart Colouring Pages