This year's World Cup is kicking off soon, and to celebrate it, I designed this cute football bookmark. In fact, these corner bookmarks have become one of our favorite types of craft, so we make one for every important occasion.
We love them because they are super easy to make and perfect for almost all ages, even adults! And these soccer-themed ones won't be the exception.
They are perfect for making with kids if they are counting down the days for the World Cup to begin. And you can print as many as you need to use at home, school, library, or even for a playdate.
You can find a list of materials and the full instructions down below. After them, you can also find a link to download the template (it's red!)
And once the games have started, you can keep track of the scores with this free printable World Cup bracket.
Let's have fun before the biggest football event in the world starts!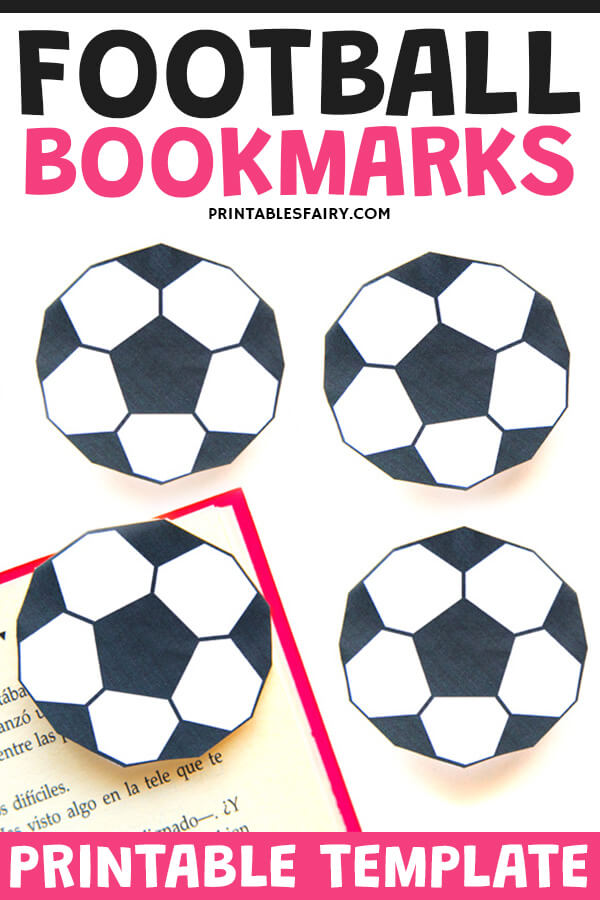 How To Make A Football Corner Bookmark
To make this cute World Cup craft, you only need to fold a basic origami bookmark. So if you have never made one before, don't worry!
Here, I'll teach you how to do it step-by-step. You can either read the instructions or watch the video tutorial.
You can also download the free printable template at the end of this post.
Materials To Make Your World Cup Bookmark
To make this cute ball, you will need these materials:
Football bookmark template
White paper
Printer
Scissors
Football Bookmark Instructions
Download the free printable Ball bookmark template at the end of this post.
Print the template on white paper and cut out the square.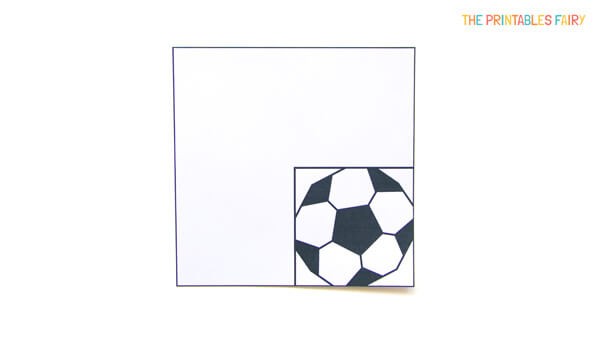 Fold the square into a triangle, ensuring the ball is on the same side, as shown below.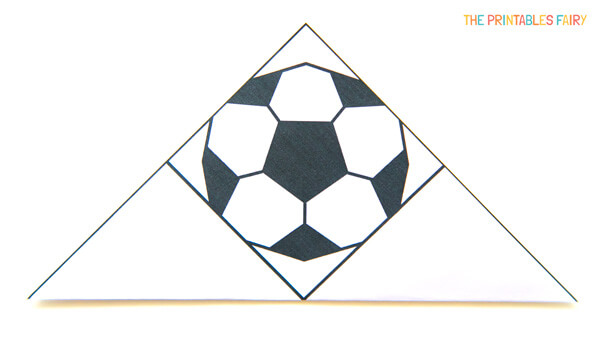 Flip the triangle over, with the ball facing down, and fold the top layer down to the middle.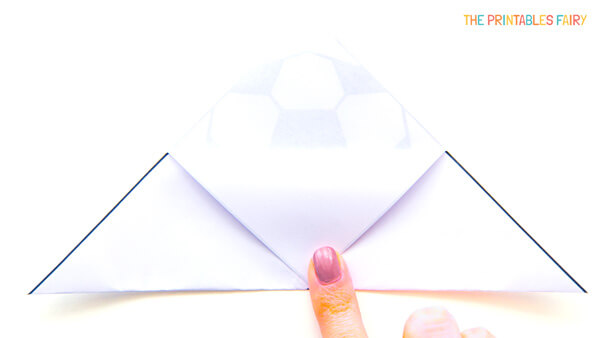 Fold the left and right corners to the top. You can use the lines on the template as a guide.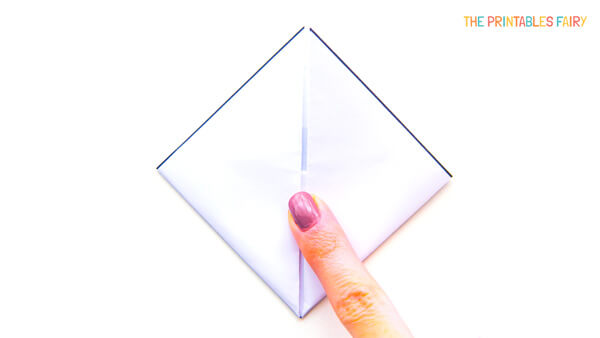 Fit those flaps into the pocket. It doesn't need to be perfect.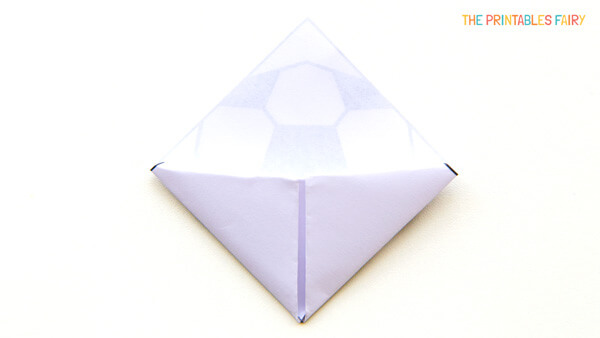 Turn over your bookmark to reveal the Football.
You can use it this way if you are working with young kids.
Or, you can cut off the white corners if you are working with older kids.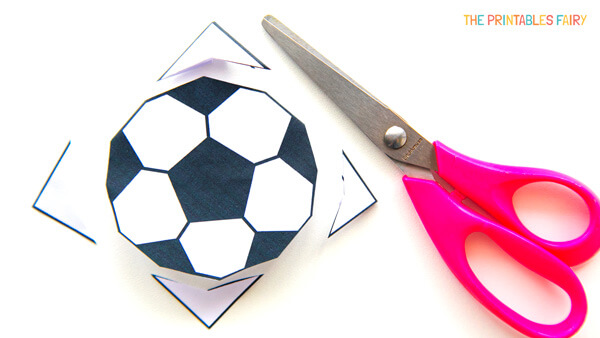 Your Football bookmark is ready to be used!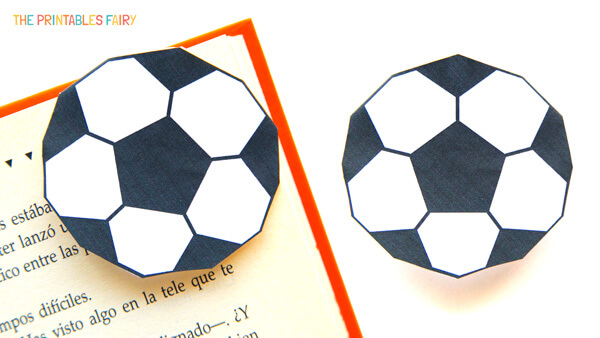 Perfect for kicking off the World Cup, right?
Video Tutorial – Football Corner Bookmark Craft
Here is the Football Corner Bookmark video tutorial!
Watch it here at your own pace or save it on YouTube for later by clicking here.
Soccer Bookmark Template
Isn't this ball bookmark super easy? And perfect for the occasion!
If you like it and want to make it too, just click the link below to download it.
Print it on regular white paper, selecting Fit Page on your printer settings. And start folding following the steps above.
Oh! And don't forget to show us your results on Instagram by tagging @theprintablesfairy.
GET THE FOOTBALL BOOKMARK TEMPLATE
*Please remember that these printables are for personal use only. You may not sell or distribute the files. If you want to share them, please link to this post and not directly to the PDF files.
Other World Cup Activities
Take a look at these Qatar World Cup 2022 activities for kids: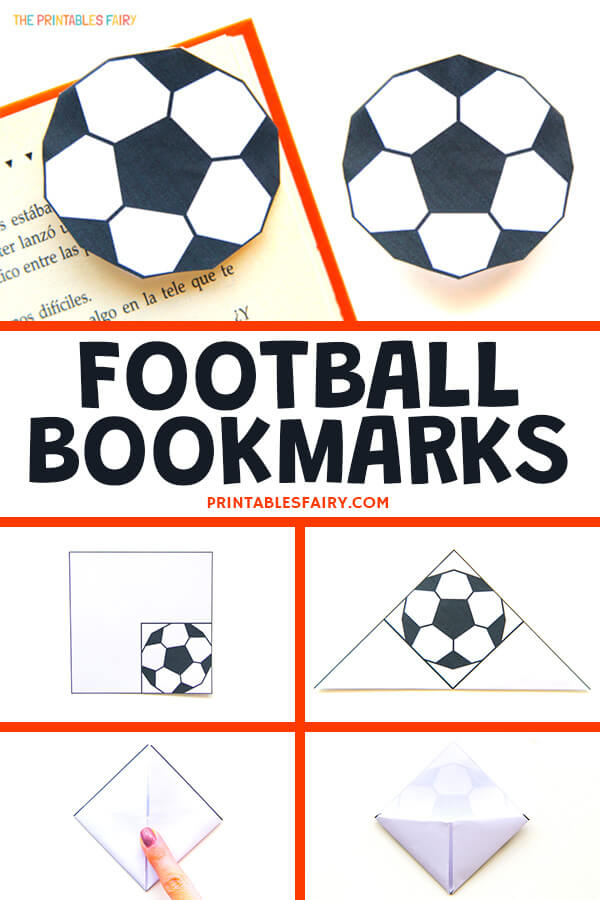 Easy World Cup Bookmark Craft For Kids