If your kids are eagerly counting down the days for the World Cup, then you might be looking for an activity to keep them busy, and this free printable Football Activity Book is perfect for the job!
It includes ten different mini-activity pages that you can put together into a cute little booklet.
All you have to do is download them at the bottom of this post and print them on regular white paper by selecting Fit Page on your printer settings.
Ideally, they should be printed on A4 paper size, but US Letter can work too.
Then, cut the pages through the dashed lines in the middle, stack and staple them on top or punch a hole and thread some ribbon to keep the book together.
Super easy, right?
You can use it at home with your kids or at school with your students. It is also fun for playdates, libraries, World Cup watching parties, or just as a boredom buster whenever you need one.
Football Booklet For Kids
The printable activities you'll find in this mini book are:
A mini-book cover to color and draw flags of the participating countries.
A Football Word Search filled with soccer-themed words.
4 Design-your-own pages for the most creative at home.
An I Spy game to count and color.
A tracing page to practice fine motor skills
A fun and quick mace to score a goal on your booklet.
Some easy dot-to-dot drawings for the youngest at home.
I'll show you each page in detail below. And if it looks like something your kids will love, get your own free printable Football Activity Book at the end of this post.
Let's take a closer look at these worksheets!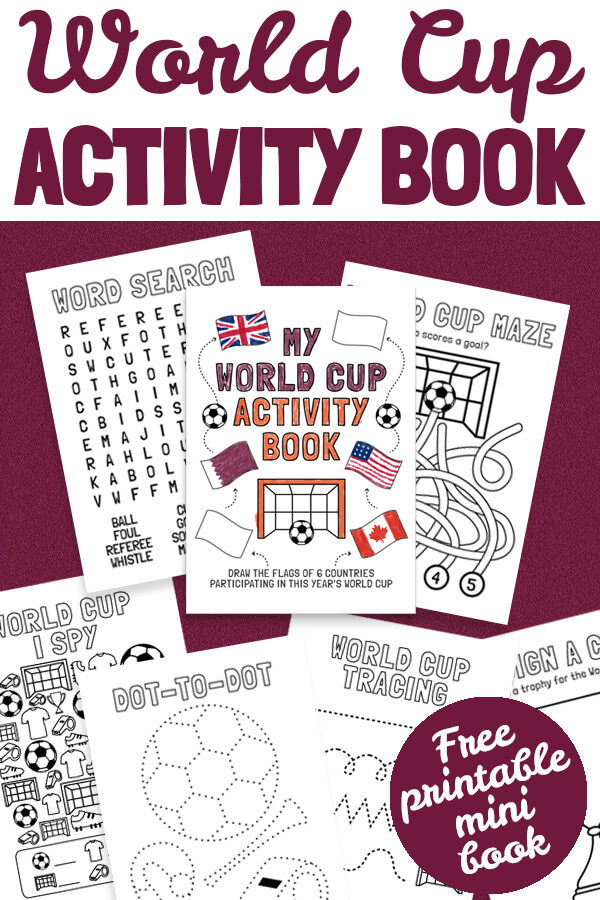 Design Your World Cup Pages
There are four creative prompts included in this mini-book.
The first one invites your kids to design their own football uniform. It can be for their country's team or an imaginary team.
The second one makes your kids design a ball for the world cup. It can have unique patterns and colors.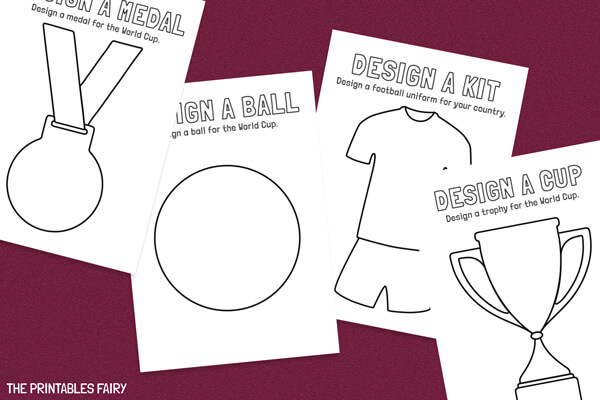 The third one prompts kids to decorate a trophy. It can have different colors and textures, maybe a furry trophy?
And the last one is a design-a-medal activity where kids can draw the first place medal for the World Cup.
World Cup Tracing
Then, we have 5 football tracing activities for the youngest kids at home.
They are perfect for improving pre-writing skills and focus.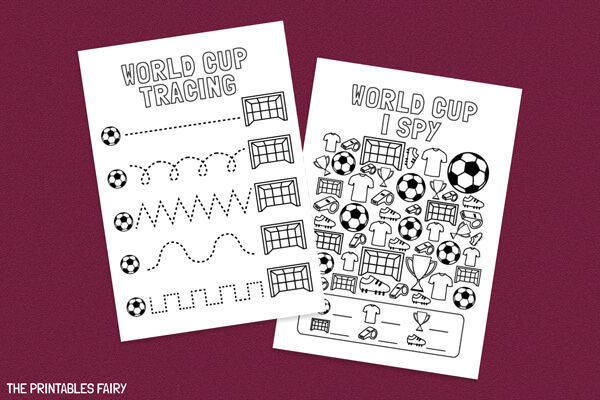 World Cup I Spy
This activity book also includes a Football I Spy that can double down as a coloring page.
We love this activity because kids can practice counting and improve their concentration while playing.
World Cup Games
There are 3 more games included in this Football booklet. They are all engaging enough for older kids but still simple for those who are just learning how to read and write.
First, we have a Football Word Search. There are 12 soccer words hidden horizontally, vertically, and diagonally. I'm sure your kids will find them all!
Then, we have a World Cup Maze. Here, kids have to discover which path leads to scoring a goal.
Last but not least, there is a Football Dot To Dot with four different illustrations. These simple drawings are easy and fun, especially for preschoolers. And the best part is that you can use it as a coloring page too.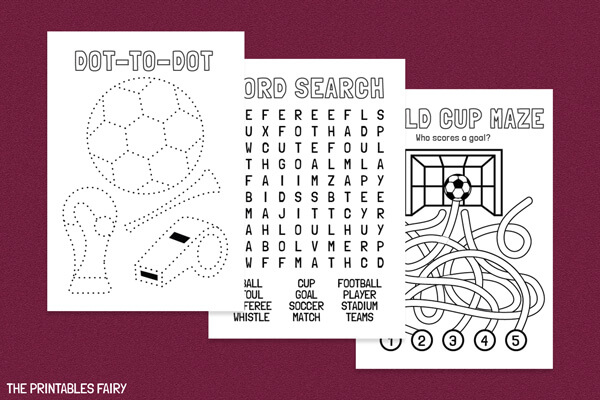 Oh, and let's not forget about the cover of our mini book! It invites kids to draw the flags of 6 different countries participating in this World Cup. Perfect for engaging kids in learning more about other places on our planet.
World Cup Mini Activity Book
Ready to print these ten mini-pages full of fun?
Get them by clicking the link below!
And if you have fun with this booklet, don't forget to share your pictures on Instagram by tagging @theprintablesfairy.
Enjoy this year's World Cup!
DOWNLOAD YOUR FOOTBALL ACTIVITY BOOK
*Please remember that these printables are for personal use only. You may not sell or distribute the files. If you want to share them, please link to this post and not directly to the PDF files.
Other Fun World Cup Activities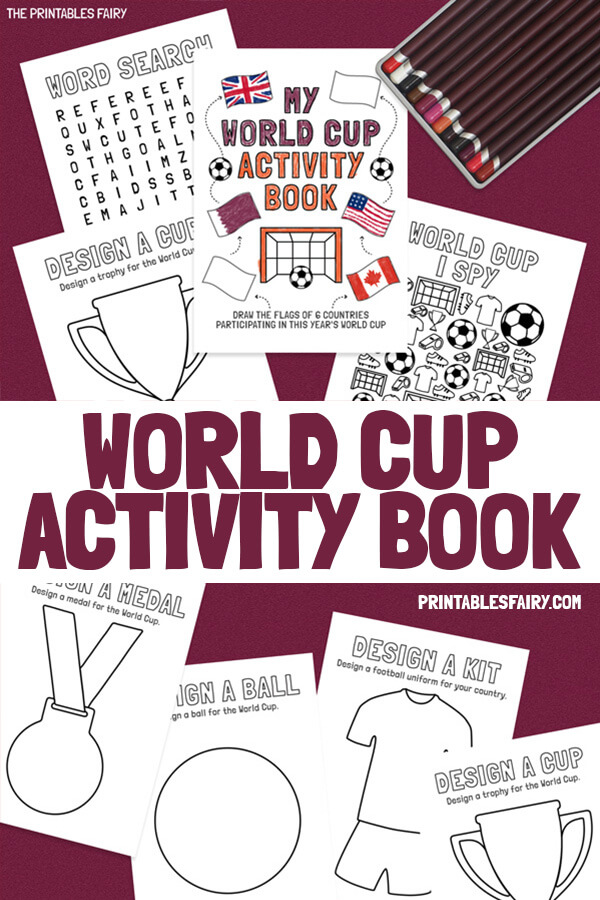 Printable Football Activity Pack