Teachers are really important in your kids' lives. That's why I wanted to create a resource that will help them get to know their mentors a little more.
This fun All About My Teacher printable is a fill-in-the-blank worksheet to get your children involved in sharing their thoughts and knowledge about their teachers.
It is a wonderful activity to celebrate teacher appreciation day and can even be used as a gift by binding the entire class' pages into a keepsake book. Nothing beats clever notes from kids, right!?
If you are a teacher, you can also use it at the end of the school year to appreciate all the beautiful memories you've made.
And it can be used at the beginning of the school year as well. You just have to host an interview where your students take turns to ask the questions and fill in the printable. Just keep in mind that there are two areas that will have to be filled after they get to know you a bit more.
You can use this worksheet with second graders and above entirely on their own. And with younger kids, with the help of an adult. If your children are too young to know how to write, you can write the answers down for them.
And if you are filling out this form in the classroom, you can either work in small groups or individually. Just remind your students to write whatever comes from their hearts and not share their answers to avoid identical responses.
Let's show teachers how much they are appreciated and known!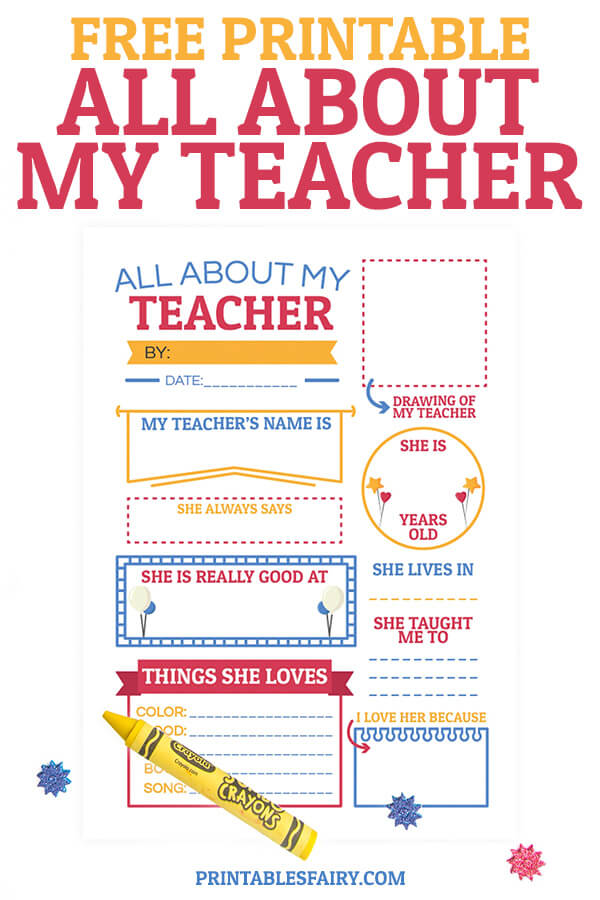 All About My Teacher Printable
This printable All About My Teacher includes plenty of space for kids to write their names, the date, draw their teacher, and write some details about them, including:
Their teacher's name and age
Something their teacher always say
Something they have learned from their teacher
A list of things their teacher loves
Something they love about their teacher
And more!
I can guarantee that teachers will love to keep these fun and thoughtful notes and look back over the years to remember their little students.
As I mentioned above, you can use the pages independently or put them together into a book and give it to your kid's teacher. I'm sure it will be their most appreciated gift!
If you are ready to discover everything about your kid's teacher, click the link below to download your free printable.
There are 2 versions included for a female and male teacher. Select the one you need and print it on regular white paper.
Remember that this sheet is meant to be printed on A4-sized paper. To print on a different size, select Fit page on your printer settings.
Let's see how much your kids know their teacher!
*Please remember that these printables are for personal use only. You may not sell or distribute the files. If you want to share them, please link to this post and not directly to the PDF files.
More Gifts For Teachers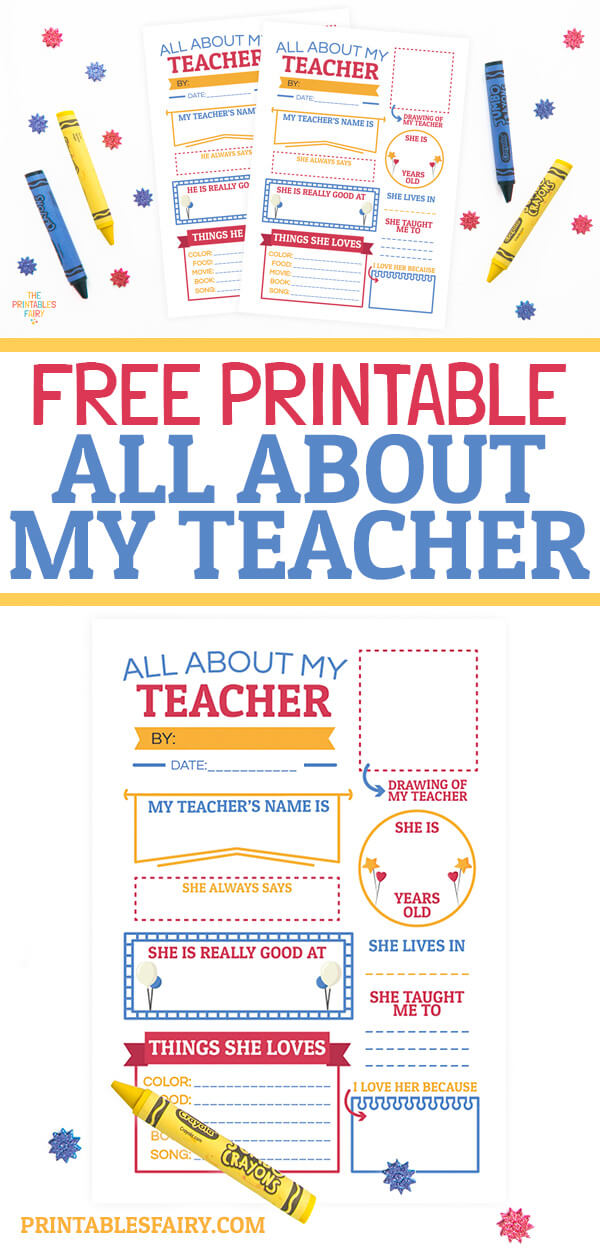 All About My Teacher – Free Teacher Appreciation Printable