Teachers are fundamental in your kids' lives. They not only educate but also encourage and support your little ones throughout the school year. That's why it is important to show gratitude, and what better way to do it than with a letter.
This free printable Teacher Thank You Letter is the perfect way to help your kids show their appreciation, even if they don't really like to write or don't know where to start.
How?…you might be asking. And the answer is pretty simple.
All you have to do is print the fill-in-the-blank letter for teachers and make your children complete it. This turns the writing process into a fun activity, as easy for your kids as possible!
I recommend using this printable with children in second grade or above, but you can use it with kids of all ages. If they are too young to write, you can help them write down their answers.
As you can see, this letter can be personalized, which makes it a great alternative to traditional thank you cards.
And it is perfect for Teacher Appreciation Week or the last day of school.
You can even pair it with a gift like some flowers, a box of chocolates, or a nice mug. I'm sure it will be a great finishing touch that will make any teacher happy!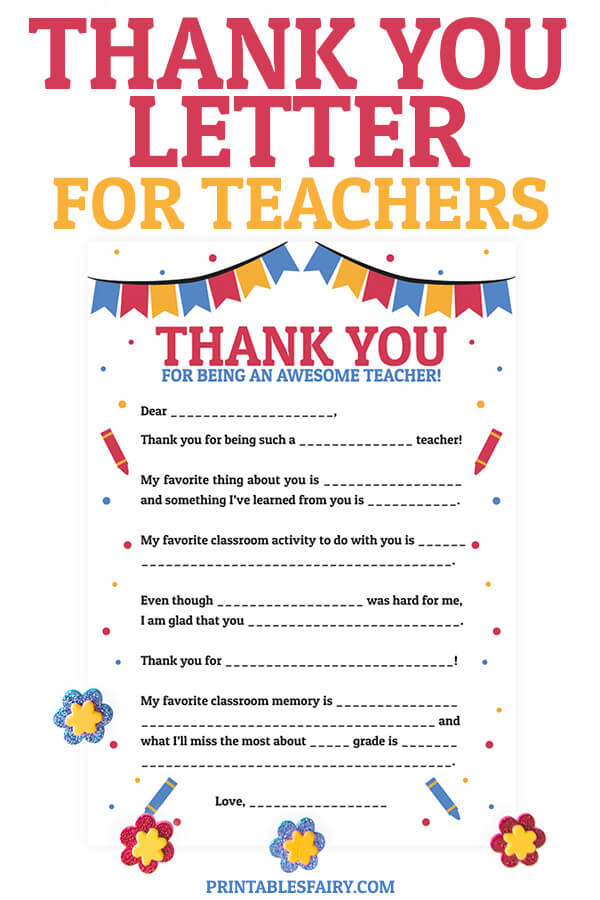 Teacher Thank You Letter Template
As I told you before, this teacher thank you letter is ready to be printed and filled in by your kids.
It has areas to write the teacher's name, sign off with their own name, and write some reasons why they are grateful, including:
Their favorite thing about their teacher.
Something they have learned from their teacher.
Their favorite classroom activity.
Their favorite classroom memory.
And more!
I'm sure your kids will come up with some fun and thoughtful words to show how thankful they are for everything their teachers do.
And teachers will love to keep these memories and look back over the years to remember the little children they helped grow.
Once your kids complete this letter, they can fold it and put it in an envelope to gift to their teacher.
Free Printable Teacher Thank You Note
This free printable letter for teachers is the perfect way to teach your kids how important it is to show gratitude from the heart.
You can use it on Teacher's Day or any other day of the school year, just to tell their teachers how much they are loved and how important their job is.
If you are ready to show teachers how much they are appreciated, click the link below to download your template and get your kids started!
Don't forget to print it on A4 paper size or select Fit page on your printer settings if you use a different paper size.
Go ahead and celebrate teachers!
GET THE TEACHER THANK YOU LETTER
*Please remember that these printables are for personal use only. You may not sell or distribute the files. If you want to share them, please link to this post and not directly to the PDF files.
More Printables For Teachers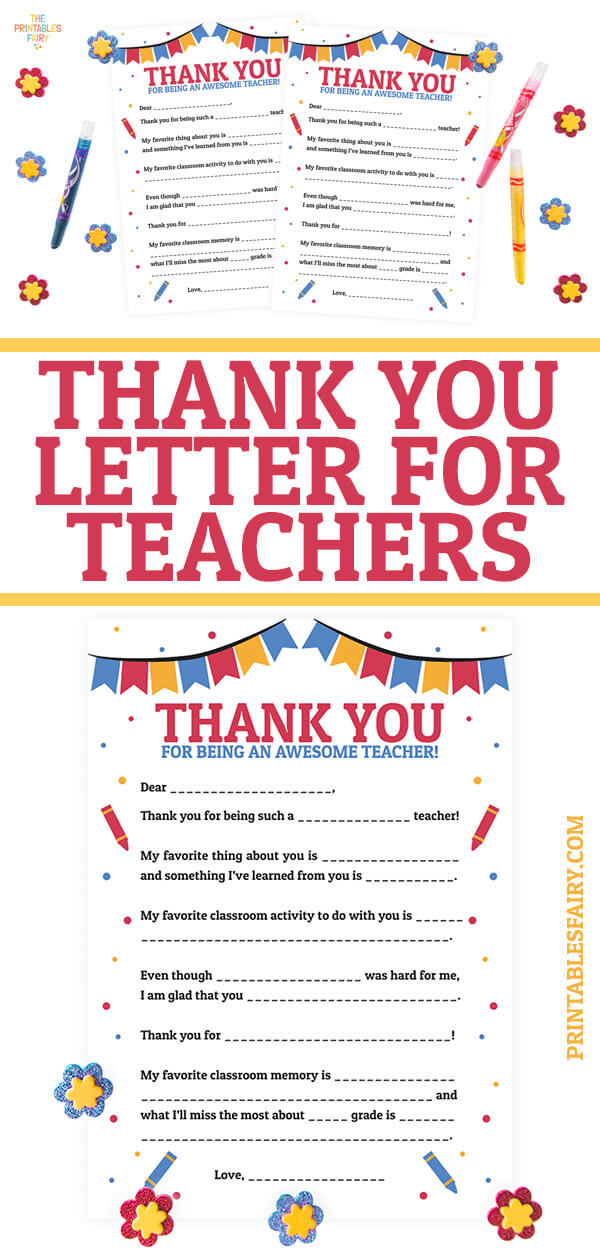 Teacher Appreciation Thank You Letter