It's time to head back to school, which also means it's time to take the kids shopping for all those school supplies.
While it can be fun for them, for you, it can be a bit too much, especially if your kids just want to get every colorful item in the store.
But don't worry. That's why I created this Back to School Scavenger Hunt!
It will keep your kids focused on finding certain things and will prevent them from getting distracted or bored while you go through their supply lists.
It includes many school-related items, such as books, notebooks, glue, crayons, paper clips, and more.
It is just perfect for bringing it to the shop, playing in a more relaxed way at home, or even bringing it to the classroom if you are a teacher.
It can also be a fantastic game for your back-to-school party or brunch, as it will get your kids excited about the beginning of the school year.
In this post, I'll explain all those different ways you can use this printable game and how to download it at the end.
Ready to have fun hunting for the different school supplies?
Let's take a deeper look at this printable!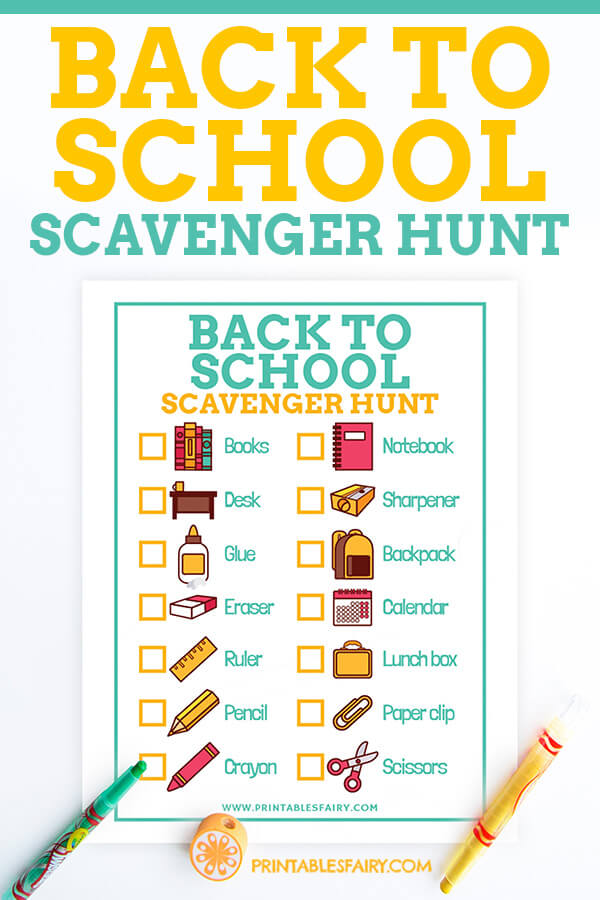 How To Use The Back to School Scavenger Hunt
I designed this school supply scavenger hunt with pictures and words, making it perfect for kids of all ages. Yeah, pre-readers can get in the fun too!
To play, first, scroll to the bottom of this post and download your free printable.
Then, print it on regular white paper or cardstock. And if you are planning to reuse it, laminate it or put it into a sheet protector.
Attach your scavenger hunt to a clipboard or any sturdy surface to make it easier for your kids to move around and check their boxes.
Give them a marker to get started. You can tie it to the clipboard to prevent it from getting lost. And if you laminated your page, make sure it is a dry-erase marker.
Once you have everything in place, it is time to head to the store.
There, your kids have to search for the items listed on the printable and check them off their list.
And if you have more than one child, you can make the scavenger hunt a race to see who can find most of the objects.
If your store allows it, you can also let them take pictures of each item they find.
Just remind them that it is ok if they can't find all the things. Later on, you can go home and try to find those objects in picture books or movies.
How To Play At Home
If you want to play at home, I recommend doing it this way.
First, you'll need to have all the school supplies on the list. You might already have most of them, but you'll have to purchase those you don't. Ideally, you'll need one of each item for each of your kids (except for the desk and the calendar).
I made sure to add supplies you will need for the new school year, so you don't buy unnecessary things.
Then, hide all those materials around your house.
Print one copy of the Back to School Scavenger Hunt for each kid and give it to them along with a marker or pencil.
Start the hunt by making them look for the backpack first and then let them go through the list however they want. This way, they can fill in the bags with the things they find.
Let them go at their own pace and ask questions about the items they find to expand their vocabulary and critical thinking.
How To Play In The Class
This way of playing is perfect for classrooms and parties.
Again, you'll need to hide all the supplies from the list and print a copy of the scavenger hunt for each player.
Give them a pencil and let them search for the items.
The difference here is that kids cannot pick up or move the objects. They can only see them and mark them off of their lists.
Make sure to clarify that rule at the beginning of the game so that everyone can find all the things listed on the sheet.
If you have a large group, you can also work in teams. This way, kids get to know each other while having fun.
Don't forget to have small prices, like pencils or mini erasers, for those who finish first.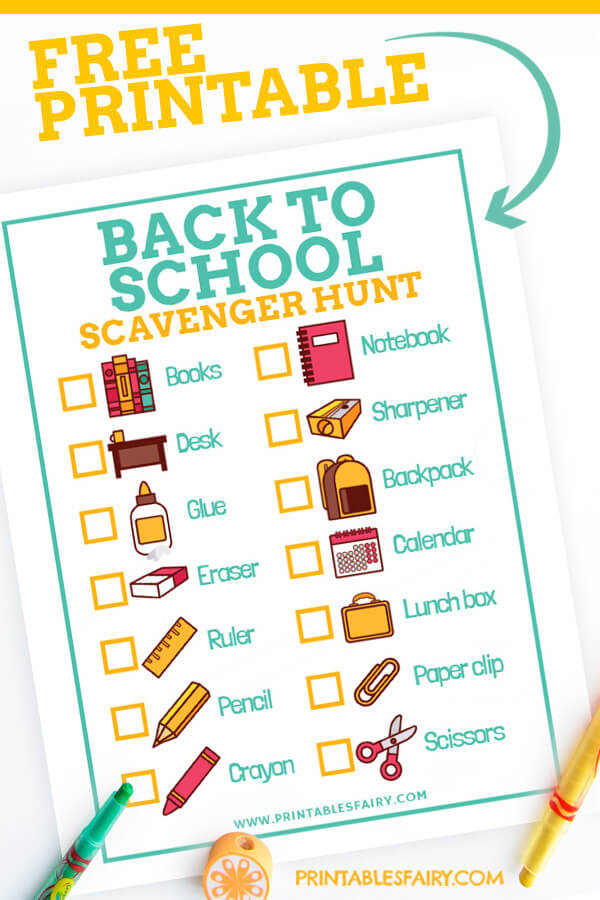 Printable Back to School Scavenger Hunt
Ready to make back-to-school shopping fun and easy?
Get the free printable back to school scavenger hunt by clicking the link below!
And remember that the printing size is US Letter. So, if you want to print on a different size, like A4, make sure to select Fit Page on your printer settings.
P.S. If you use this printable to celebrate back to school, don't forget to share your pictures with us on Instagram by tagging @theprintablesfairy!
GET THE BACK-TO-SCHOOL SCAVENGER HUNT
*Please remember that these printables are for personal use only. You may not sell or distribute the files. If you want to share them, please link to this post and not directly to the PDF files.
More Back to School Activities for Kids
Free Back-to-School Supply Scavenger Hunt