Summer will be over soon, which means it's time for school.
And to celebrate it, I designed this free printable Back To School I Spy!
It is a fun game to play at home with your kids and start a conversation about the school year ahead.
You can also play it the night before the first day of school to keep your kids calm and excited about school.
And if you are a teacher, you can use it as a classroom activity during the first week of school. It will help your students adjust to their new working environment and classmates.
The best part is that kids will not only have fun but also build their working memory, enhance visual discrimination, improve their counting abilities, and improve their vocabulary.
It is just perfect for getting back into the school mood!
Let me show you how to use it.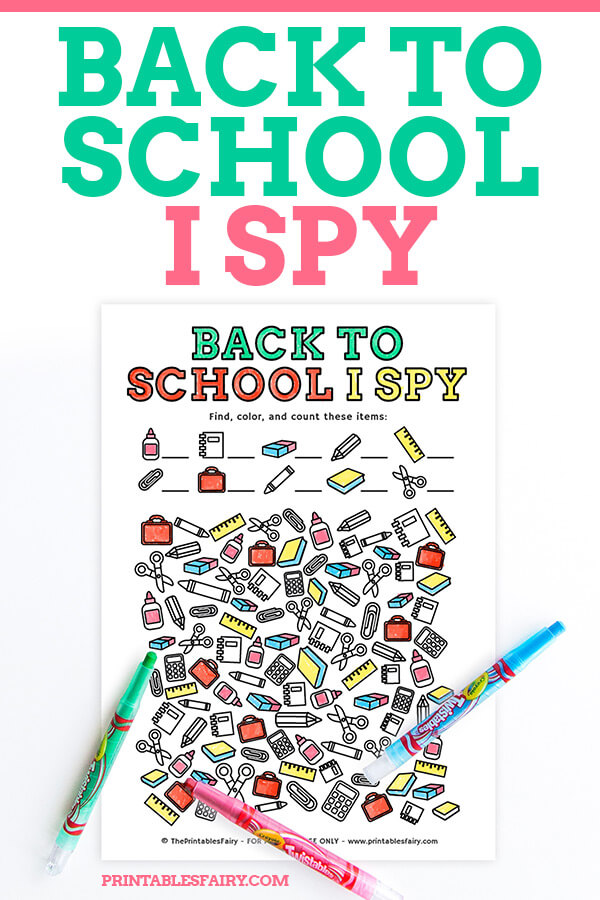 I Spy Back to School Activity
Playing this activity with your preschoolers and grade-schoolers is super simple.
All you have to do is scroll to the bottom of this post and download the Back To School I Spy. It's free 😉.
Then, print it on regular white paper and laminate it if you are planning to use it again next year.
Finally, give each kid a copy along with some coloring pencils, markers, or crayons and have them search for the items listed at the top of the page. (If you laminated your page, don't forget to use washable markers).
I suggest you instruct your kids to color each object with a different color. This way, it will be easier to count them and write that number on the line next to each picture.
There are more than ten school-themed items, such as pencils, notebooks, scissors, erasers, and more. So make sure to find them all!
Keep in mind that there are also other school supplies hidden beside the ones listed at the top. Maybe your kids would want to paint and count them too.
And if your kids loved this game, you can extend it by laying out some real school supplies on the floor and having your kids count and group them.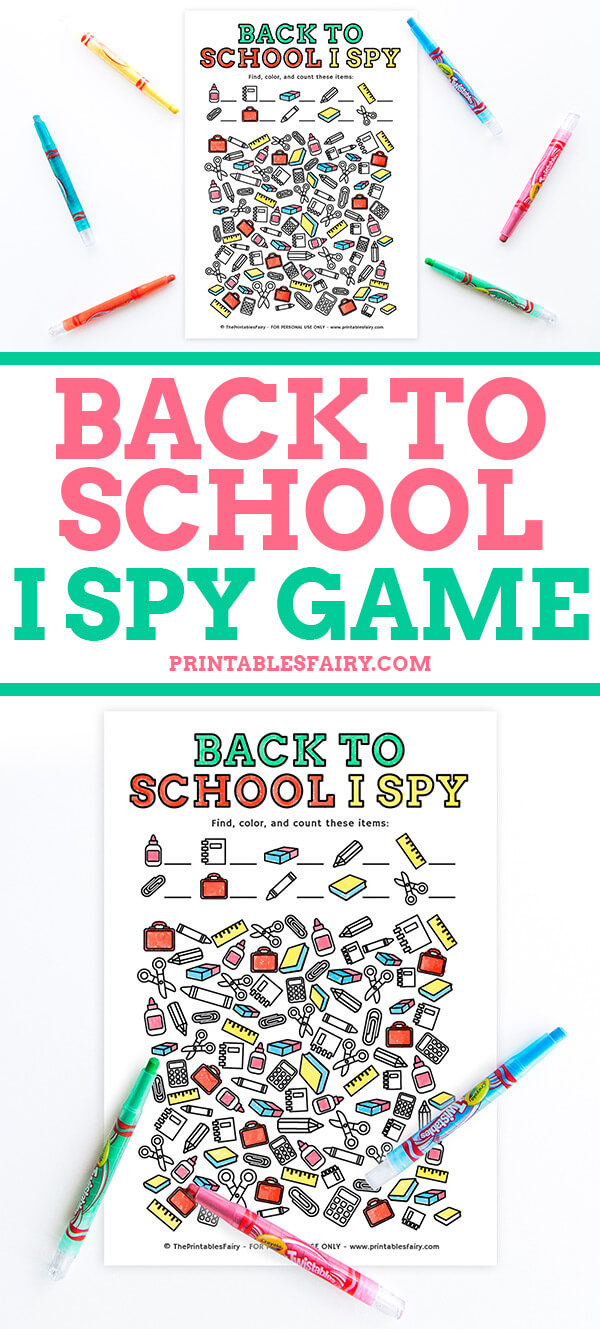 Printable Back to School I Spy
Does this sound like the perfect activity for your kids or students?
If the answer is YES, download your free Back to School I Spy printable by clicking the link below!
And don't forget that if you use this game, you can share your photos with us by tagging @theprintablesfairy on Instagram!
*Please remember that these printables are for personal use only. You may not sell or distribute the files. If you want to share them, please link to this post and not directly to the PDF files.
More Back to School Printables for Kids
Looking for other fun back-to-school activities for kids? Check out these printables:
Back to School I Spy Game