After reading tons of cat books for the reading challenge, I planned some cat activities for kids that can be replicated easily and with materials that you might already own. If you are looking for fun and educational cat activities, I got you covered with these printables!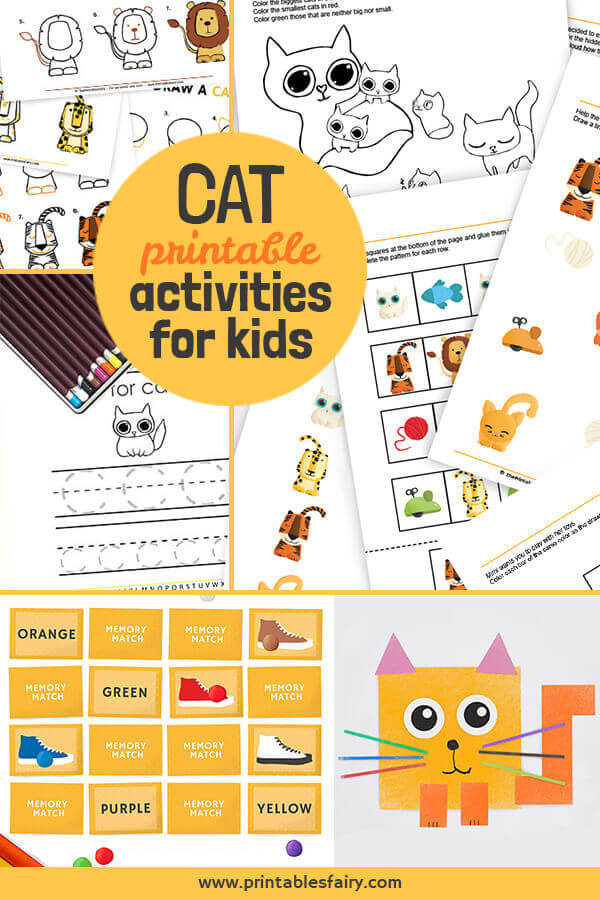 The little ones were excited to do some fun activities after reading all those books. I created these 5 printable ideas that you can put in practice at home or school. Don't forget that you can select the activities that work for you and your children, and just forget about the ones that don't!
Contents
1. PETE THE CAT MEMORY MATCH CARDS
2. HOW TO DRAW A CAT (Free printable step by step instructions)
5. CAT COLORING PAGE & LETTER TRACING
PETE THE CAT MEMORY MATCH CARDS
I'm sure that most preschoolers have read Pete The Cat: I Love My White Shoes, that's why I started with a free printable matching game inspired on this book.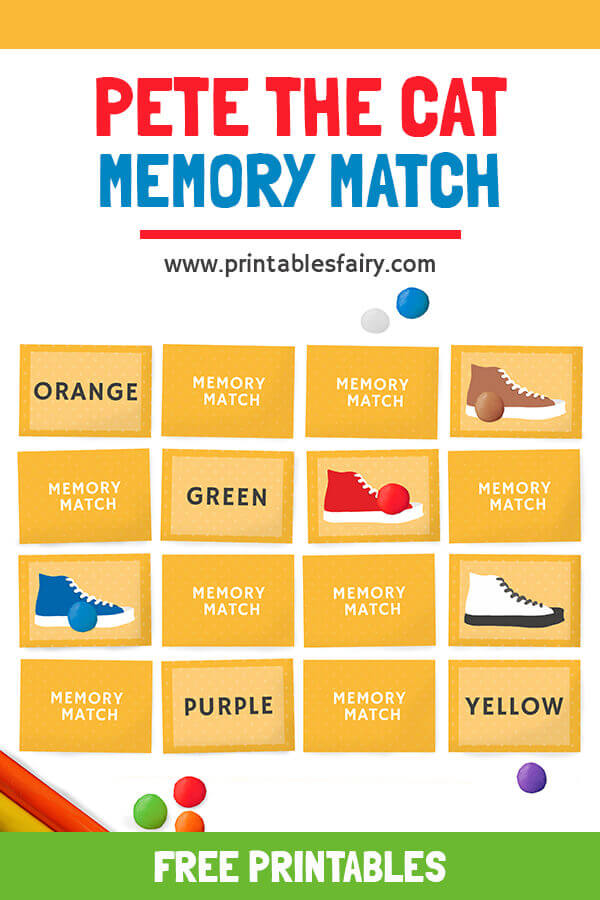 There are many ways in which you can use these cards, what we did was:
1. Count how many shoes we had
2. Identify what colors are the shoes
3. Make play dough balls of different colors and match them with the cards.
4. Play Memory Match
You may need:
GETTING READY – 1, 2 & 3
Go ahead and download the cards here.
Print them on a thick card stock so that they are not see-through, you could also print them on regular paper, glue them on card stock and cut.
There are 8 cards with pictures (page 1) and 8 with words (page 2), 16 in total.
To identify colors and to count, you simply need to print page 1 and ask your kids.
If your children are learning colors, make play dough balls in the colors you have available, compare them to the cards with shoe pictures (page 1) and match. Then, you can match them with the worded cards (page 2).
MATCHING CARDS
You need to print two copies of page 1 to play this. The objective is to watch, remember and match the cards with the same color shoes.
Simply, mix the cards and lay them in rows, face down, on a flat surface. Make sure the cards are not touching each other. They need to be able to be flipped over without disturbing any cards around them.
We played in pairs taking turns to turn over any two cards. If the two cards match, you keep them and play another turn. If they don't match, you have to turn them back over and it is now the next player's turn.
The game is over when all the cards have been matched and the player with the most matches wins.
You could also match the words. For that, you will need two copies of page 2.
Or you could match words and pictures. For that, you need to print one copy of page 1 and one copy of page 2.
I give you many variations of the game because I'm sure that your kids will want to play it over and over again, you can come up with your own variations too!
HOW TO DRAW A CAT (Free printable step by step instructions)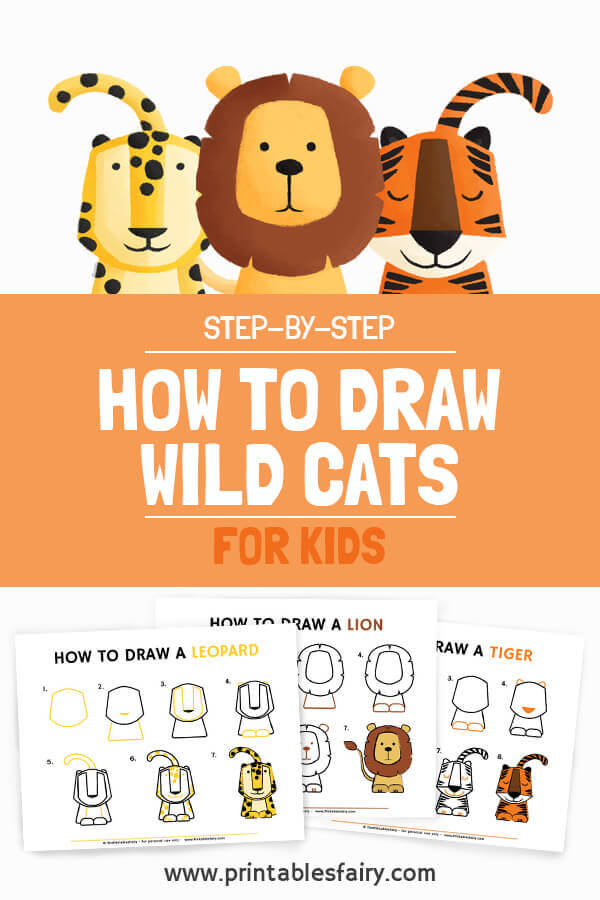 After reading Have you seen my cat?, the little ones kept asking about wild cats, so I thought them how to draw them!
They also decided to include those drawings on their Reading Binders. If you'd like to do the same, I designed this free printable worksheet.
Here are the step by step instructions to draw cats, tigers, lions and leopards in the easiest ways.
To download the tutorials, just right click on the images and save them to your computer.
HOW TO DRAW A CAT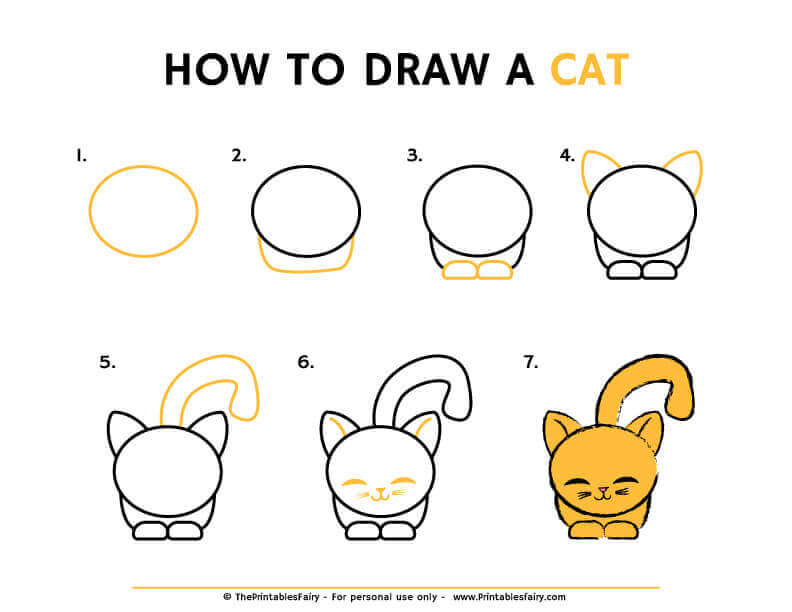 HOW TO DRAW A TIGER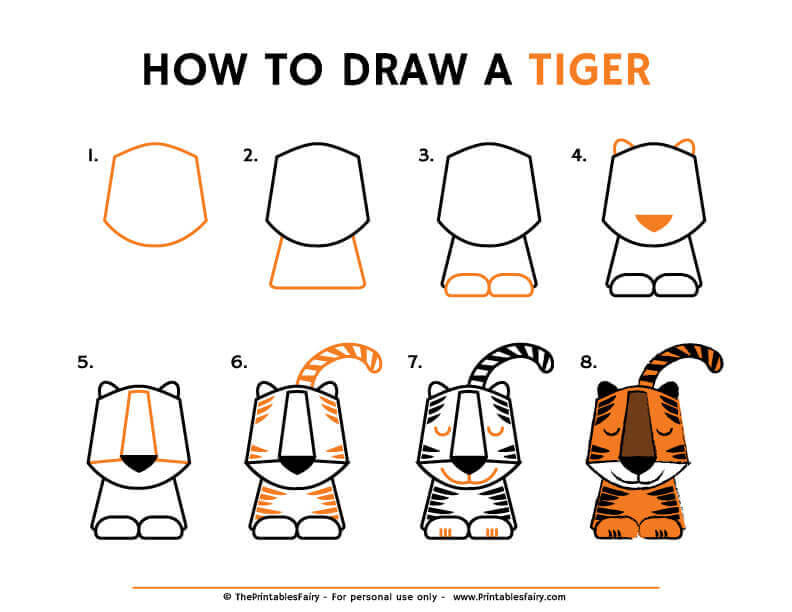 HOW TO DRAW A LION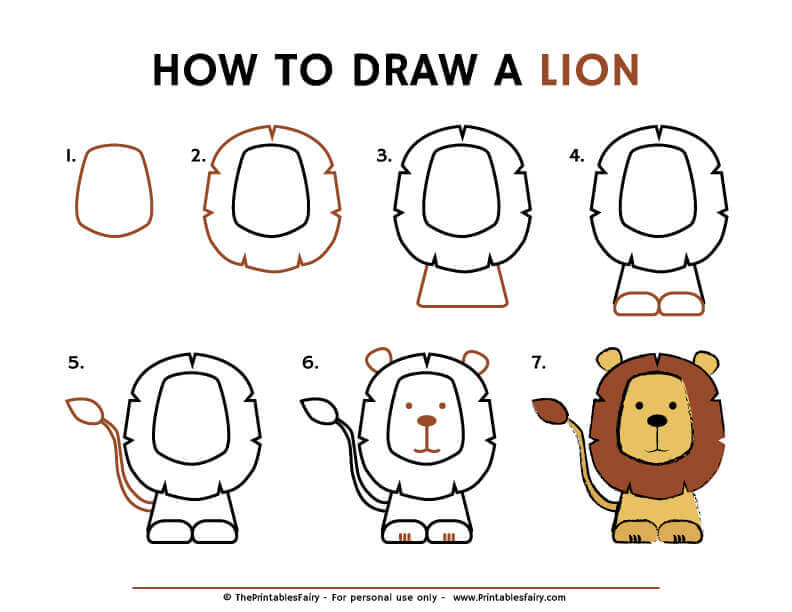 HOW TO DRAW A LEOPARD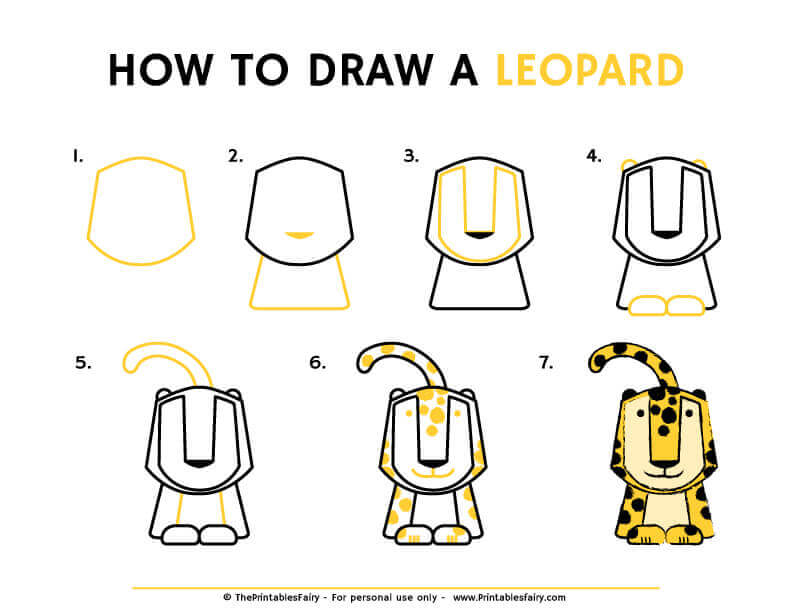 CAT WORKSHEETS FOR KIDS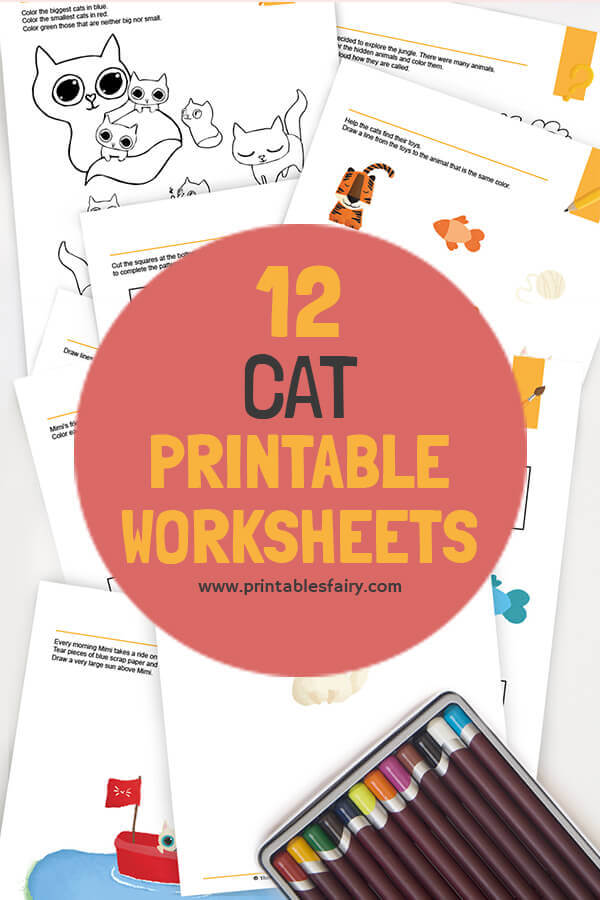 I selected Wild Cat! Wild Cat! as the inspiration to create some printable worksheets. It is a free e-book and that way everyone (including you!), can read it, enjoy it and use the activities here proposed.
I designed this pack for Pre-K children and it includes 12 activities that help kids with:
Identifying colors and sizes
Matching
Patterning
Drawing
Coloring
Tracing
Cutting
Gluing
Tearing paper
To use these set, you may need these materials:
Pencil
Blue scrap paper
Scissors
Glue
Coloring pencils (yellow, orange, brown, blue, green, red)
I made these Cat Pre-K Set with lots of love and I'm sure your little ones will enjoy it as much as mine did! Go ahead and take a look at the details.
…but before you leave. I got you a surprise for being my reader, I'm offering you a special discount!
USE CODE CATBLOG FOR 15% OFF

SQUARE CAT CRAFT
We loved reading Square Cat and decided to make our own version!
You can use this book and activity to delight your children while talking about shapes (and is unique!).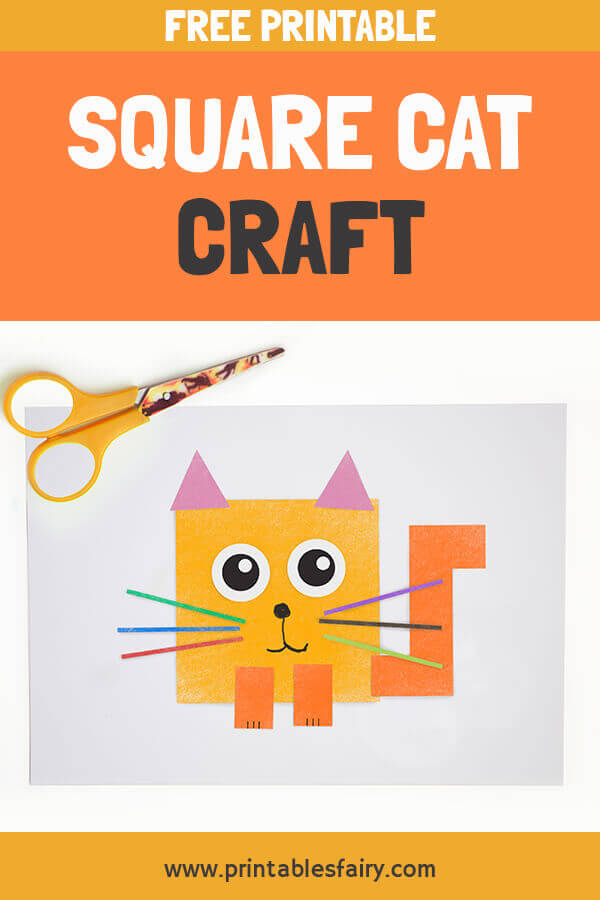 First off, download and print the square cat template.
Let your kids color and decorate the printable page, or use the template to create your own shapes on construction paper.
Then, help them cut the pieces following along the striped lines. (They might need extra help with the whiskers).
Finally, let them glue all the pieces together to create a unique and creative square cat of their own.
CAT COLORING PAGE & LETTER TRACING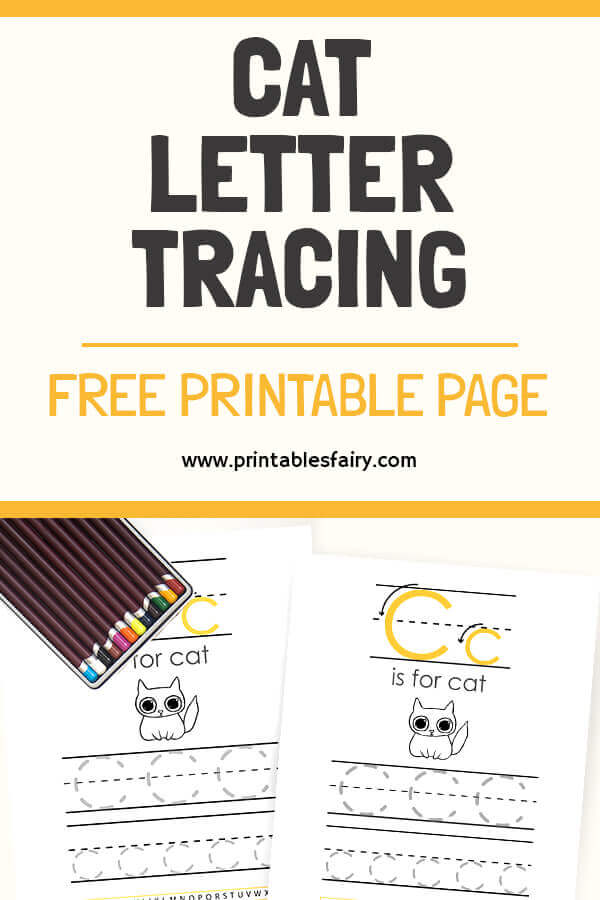 Last but not least, I decided to include this printable Cat Letter tracing page.
Let your children finger trace the letter C and place a coil of play dough on top of it.
After that, help them trace over the dotted letters to practice writing.
Then, let them identify the letter C among the other letters in the alphabet.
And as the last step, make them color the cat however they prefer.
We decided to add this page to our Binder as the cover of the other cat activities.

It was so much fun this week that I can't wait to create more activities for our next topic! And if you are looking for even more activity ideas, follow me on Pinterest!

Download all the free printables to play and learn. And check the Cat Worksheets for even more fun (don't forget your discount code)!