Picture Books About Cats
If you are new here, you should know that we are following the Reading Challenge; but instead of reading just one book, we decided to pick as many as we wanted for a couple of weeks.
This time it's the turn for books about cats and we couldn't be more excited!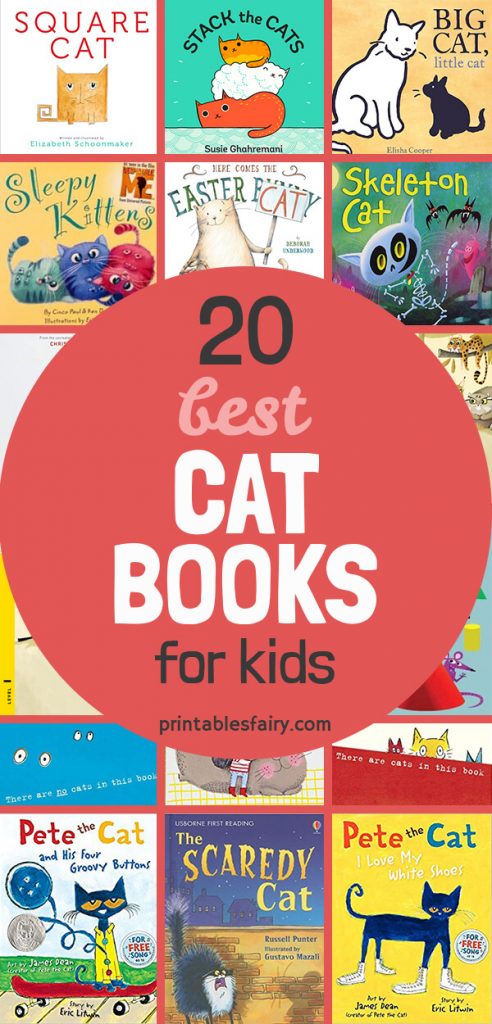 To my surprise, there is only one kids' book about cats at home! That led us to an exciting journey to both, the bookstore and the library, in search of the perfect book about cats.
The little ones ended up selecting tons of books and at the end, we couldn't reduce this list to less than 20! Here are the results:
1. Square Cat by Elizabeth Schoonmaker. Ages: 4-6
This is a wonderful story about friendship and acceptance. In this book, you'll meet a square cat named Eula who felt bad for being different from the other round cats until her amazing friends helped her embrace her uniqueness.
2. Stack The Cats by Susie Ghahremani. Ages: 3-5
Stack The Cats is a cute little book that will help your kids learn to count while exploring the lives of ten kittens.
3. Big Cat, Little Cat by Elisha Cooper. Ages: 3-6
This is a nostalgic book about the life cycle of pets. At some point it seemed like all the kids were going to cry; but the end was comforting, especially for those who have lost a little furry friend.
4. Skeleton Cat by Kristyn Crow. Illustrated by Dan Krall. Ages: 4-8
This unique book is my personal favorite because of its nice illustrations and rhymed story.
It's about a ghost cat that wants to be a drummer and doesn't give up or let anything get on its' way.
It can be great to read this story around the Halloween season.
5. Sleepy Kittens by Cinco Paul & Ken Daurio. Illustrated by Eric Guillon. Ages: 1-6
The little ones wanted this book since they saw Gru read it on Despicable Me. It doesn't come with a brush like in the movie (we used a doll's brush instead) but it's still a cute book for bedtime.
6. Pete The Cat: I Love My White Shoes by Eric Litwin. Illustrated by James Dean. Ages: 3-7
The Pete the Cat books were a must on this list and this one was their favorite, maybe because we have read it before as it is a great resource for kids to learn colors.
It also teaches a very important lesson about coping with everyday disappointments.
Pete The Cat And His Four Groovy Buttons by Eric Litwin. Illustrated by James Dean. Ages: 3-7
We couldn't leave out this book either, it's very similar to the one ahead but this time, kids can learn simple math or just counting.
Keep in mind that in both books you can find a lot of repetitive text that can be fun for little children but a little tedious for grown-ups.
7. Here Comes The Easter Cat by Deborah Underwood. Illustrated by Claudia Rueda. Ages: 3-5
We found this book back in Easter and it was such a hit that the kids insisted to re-read it. I'm sure they love it because it gives the impression that we are actually talking with the cat!
This story is very fun and enjoyable at any time of the year (and for any age in my opinion). Definitely a book that you won't regret reading.
8. There Are Cats In This Book by Viviane Schwarz. Ages: 3-7
This pop-up book was very fun.
The little ones could interact with Tiny, Moonpie and Andre. As they turned the pages, it was always exciting to see what was going to happen next.
9. There Are No Cats In This Book by Viviane Schwarzi. Ages: 3-7
After reading There Are Cats in This Book a ton of times, we found this at a bookstore (you can't imagine our excitement).
This time, we followed Tiny, Moonpie, and Andre on their journey to leave the book, they succeed and explore the world outside; and at the end, they come back home with quite a big surprise.
10. The Scaredy Cat by Russell Punter. Illustrated by Gustavo Mazali. Ages: 4-7
This book tells Stanley's story. He was a cat afraid of everything until one day he discovers how brave he can be.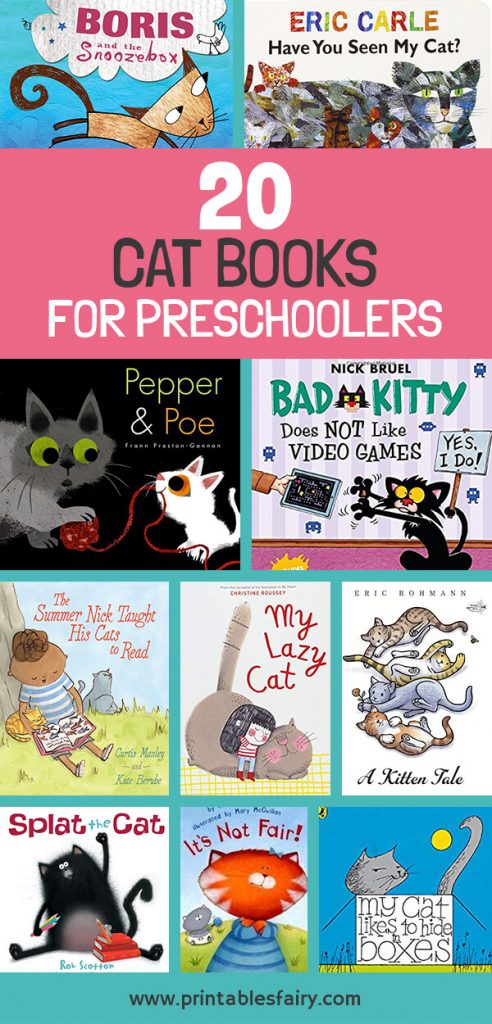 11. It's Not Fair! by Anita Harper. Illustrated by Mary McQuillan. Ages: 4-6
Children with little siblings may relate to this book as it talks about how hard it can be to have a new baby at home, but also, points out the perks of being the bigger child.
12. Bad Kitty Does Not Like Video Games by Nick Bruel. Ages: 2-5
This kitty only wants to play video games until he discovers that playing outside, drawing and reading make him happier than video games.
I like this book because it doesn't say that playing video games is bad, but it points out that you should play other things as well and it might actually be more enjoyable.
13. Splat The Cat by Robert Scotton. Ages: 4-8
This sweet story is about a cat that is nervous about going to cat school.
Children can relate to him and it can be a great conversation starter to help kids on their first day of school.
14. Boris and the Snoozebox by Leigh Hodgkinson. Ages: 4-6
The artwork in this book is amusing and the reason why the kids picked it.
It tells the story of a homeless cat looking for a place to take a nap, which brings him to travel all around the world until he finds a home.
15. A Kitten Tale by Eric Rohmann. Ages: 3-7
We got this book after reading Eric's wonderful (and equally recommended) story My Friend Rabbit.
It's a very cute tale about 3 kittens afraid of snow and 1 brave kitten who isn't.
It can be used as a resource to teach the seasons to toddlers.
16. My Cat Likes To Hide In Boxes by Eve Sutton. Illustrated by Lynley Dodd. Ages: 3-5
Little kids loved to join in with this rhyming story about many cats from different countries and one cat that just likes to hide in boxes.
17. The Summer Nick Taught His Cats To Read by Curtis Manley. Illustrated by Kate Berube. Ages: 4-8
This is a story about a kid named Nick who taught his cats how to read.
It is a useful book to better understand the rewards and challenges of learning to read and can be very motivating for those frustrated little readers.
18. My Lazy Cat by Christine Roussey. Ages: 3-6
This tale is about a very busy girl who takes a day off to spend a day like her lazy cat, just to find out that sometimes it's okay to slow down and enjoy life's little details.
19. Pepper & Poe by Frann Preston-Gannon. Ages: 3-6
This is the story of a young cat entering the home of an older one. It can be a great supplement to teach the days of the week.
20. Have You Seen My Cat? By Eric Carle. Ages: 3-5
This book is about a kid looking for his cat all around the world.
After reading, it's a good idea to talk about the different places that the boy visits and the wild cats that can be found in each place.
This is a simple repetition book intended for very young kids.
Bonus Books About Cats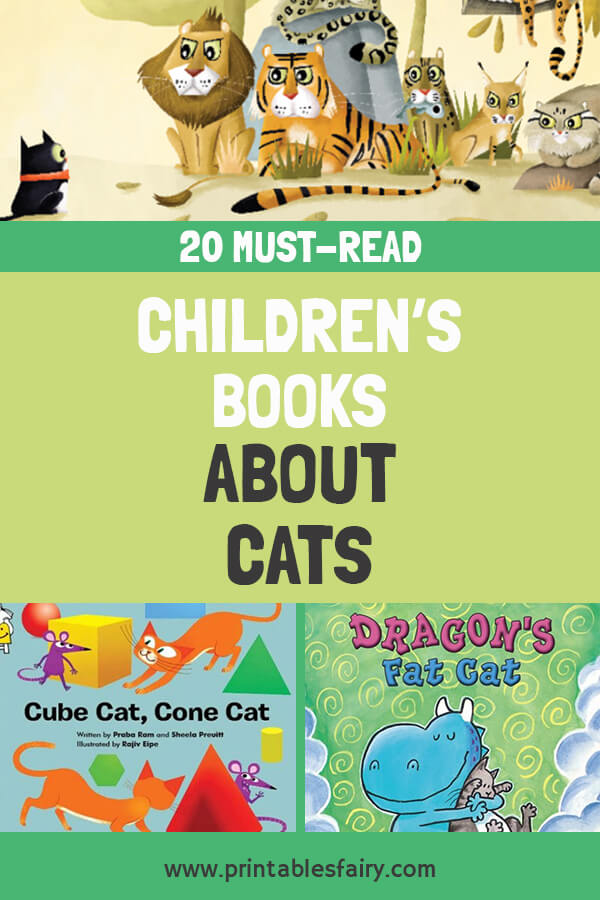 To find other nice books, I like to check the StoryWeaver digital repository that offers thousands of free e-books featuring multicultural stories in many different languages so that everyone in the world can have access to them.
Here are our favorite cat e-books we found there:
21. Cube Cat, Cone Cat by Sheela Preuitt & Praba Ram. Illustrated by Rajiv Eipe.
This e-book comes in 13 different languages and features a cat and a rat exploring the world and finding shapes (great teaching resource!).
22. Wild Cat! Wild Cat! By Sejal Mehta. Illustrated by Rohan Chakravarty.
After reading Have you seen my cat? The kids got a mini-obsession with wild cats. Happily, I was able to find this e-book that let us meet even more wild cats.
It's fantastic for preschoolers as it has quite a repetitive text and engaging illustrations.
The older kids also selected their favorite cat book, it was chosen as a transition to our following item on the Reading Challenge.
We'll explore Dragons' books and activities for the next week!
23. Dragon's Fat Cat by Dav Pilkey. Ages: 4-10
This is a cute book that tells the story of a Dragon that found a cat in the snow and decided to adopt her.
It was easy to read as it comes divided into chapters.
The little kids also wanted to read it, so we did one chapter every day.
Go ahead and read any of these kitten books (I'm sure you'll love them all) and don't forget to take a look at the cat activities, you might find some to try!!
More Books For Kids:
Cat Books for Kids