Are your kids eagerly awaiting October 31st? This Printable Halloween Word Search will keep them busy and happy until the spooky day!
If I have to think of an activity that kids never get tired of every season, it should be word searches. With Halloween right around the corner, it was inevitable that I made one filled with some frightfully fun words.
This word search is challenging enough for kids who are just learning to read and engaging enough for older children.
Kids loved it so much that they even requested another one! Happily, I had one handy from my Halloween Game Pack.
That word search features 20 different words, so your kids won't get bored. It also includes more fun activities such as a Crossword, Word Scramble, Playdough mats, and more. Check it out if you want a complete Halloween game pack!
Back with our free printable word search. Did you know that you can use it in different situations? Yes! It'll be a huge hit in your home, party, or classroom.
You can use it at home just to entertain your kids and learn new vocabulary with them. Word Searches help with literacy and visual tracking, which will help your kids read better too.
You can use it as a Halloween party game and give a little price to those who complete it first.
You can also hand it out to your trick-or-treaters. (Perfect if you are looking for a non-candy alternative 😉)
Or, you can use it (and reuse it) in your classroom, just print as many as you need for the number of students that you have.
To reuse your printable word searches, you will have to laminate them or use sheet protectors. Don't forget to give each child wet-erase markers to identify the words, and when they are done, make them use a wet wipe to erase everything.
Simple, huh? Now you'll have a fun game to play every year at your Halloween party!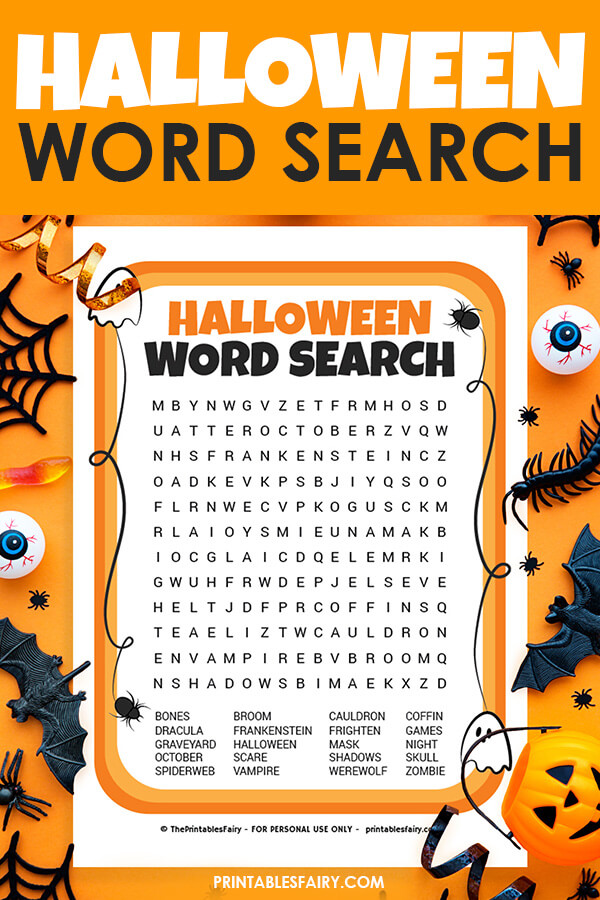 Printable Halloween Word Search
The first thing you need to join our spooky game is to download the Halloween word search at the end of this post.
Print it, laminate it if you need, give your kids some markers or crayons, and challenge them to find all the words.
There are 20 spooky words hidden in this word puzzle:
Bones
Broom
Cauldron
Coffin
Dracula
Frankenstein
Frighten
Games
Graveyard
Halloween
Mask
Night
October
Scare
Shadows
Skull
Spiderweb
Vampire
Werewolf
Zombie
As I mentioned above, this can be a word search for kids of almost all ages. You can find that most of the words go down and left to right, with a couple of words that can be found diagonally.
And if you can't find a word, I got your back! You can take a peek at the answer key from your phone and help your kids if they need it.
Ready to start playing this fun Halloween game! Click the link below to download it.
*Please remember that these printables are for personal use only. You may not sell or distribute the files. If you want to share them, please link to this post and not directly to the PDF files.
More Halloween Printables
Looking for more printable Halloween games, check these out: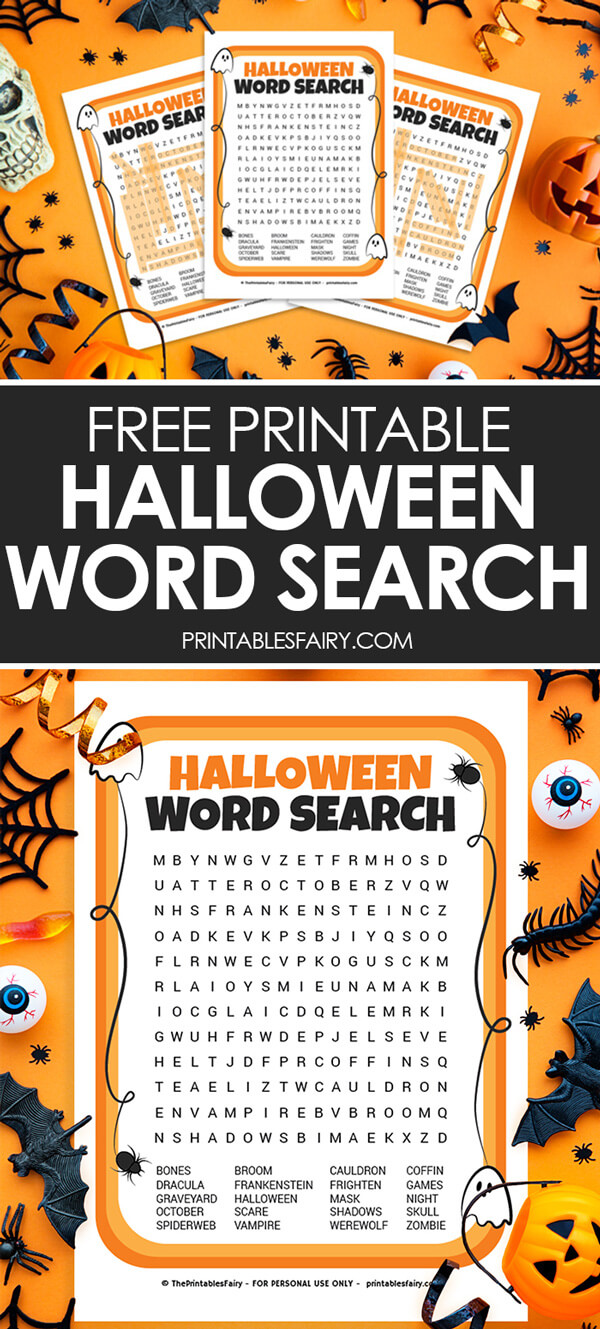 Halloween Word Search Puzzle