Are you looking for Easter activities to try with your kids? Look no further! Here are tons of Easter ideas including printables, crafts, egg decorating and even some cooking.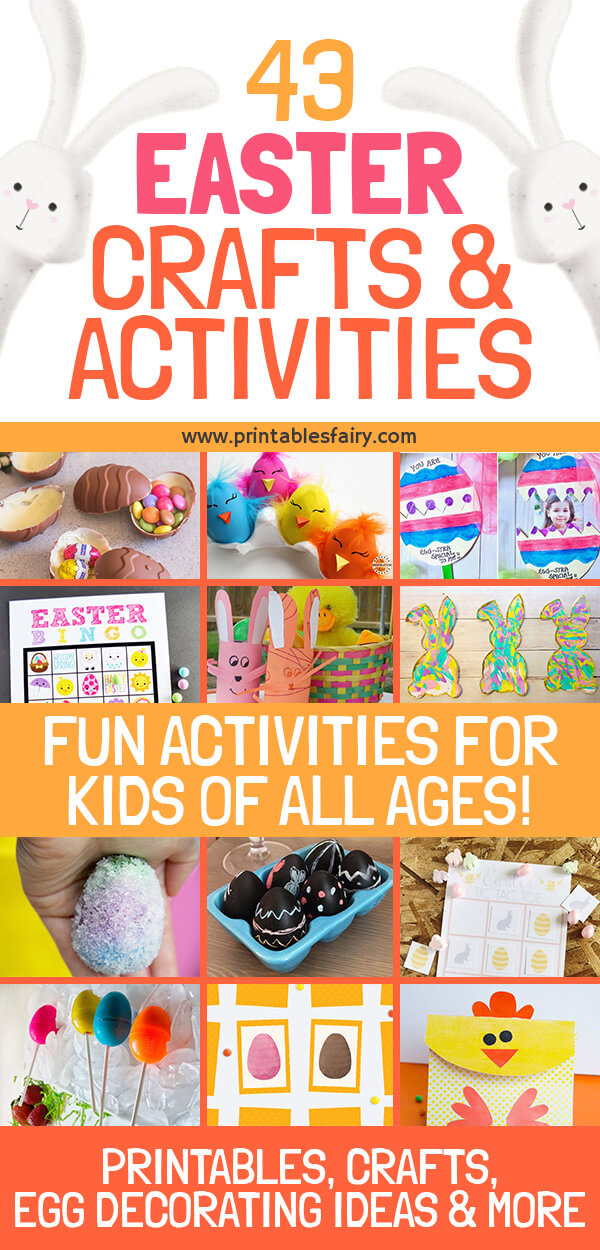 Contents
1. Printable Easter Activities For Kids
3. Easter Egg Decorating Ideas
* Click on the name of the activity to be taken to the detailed tutorial.
Printable Easter Activities For Kids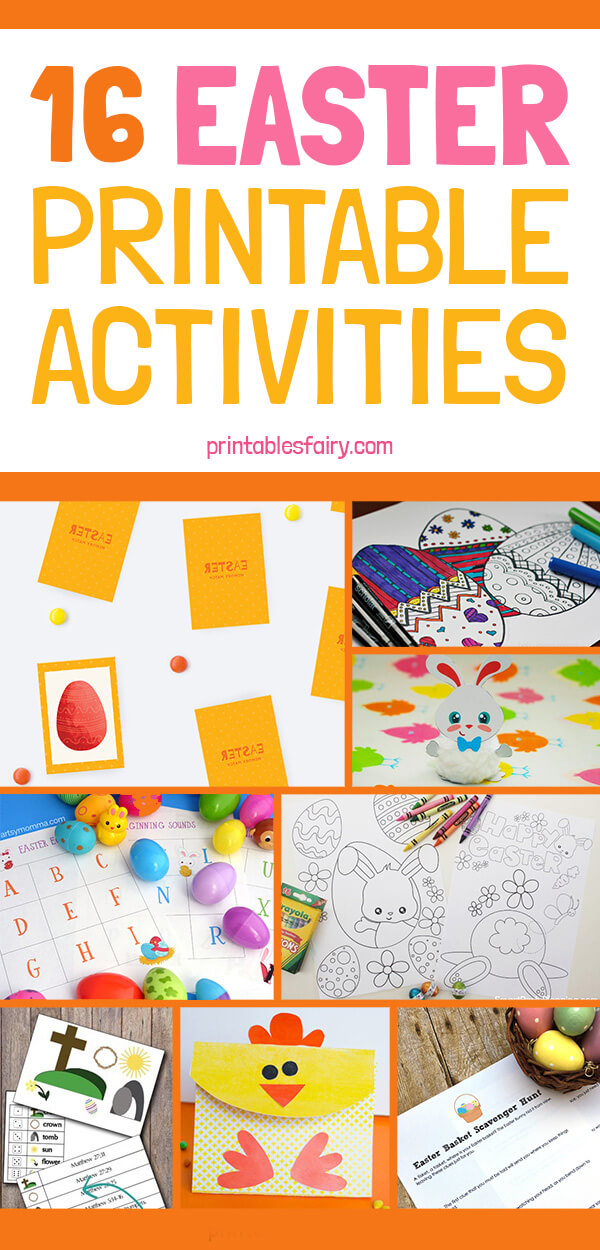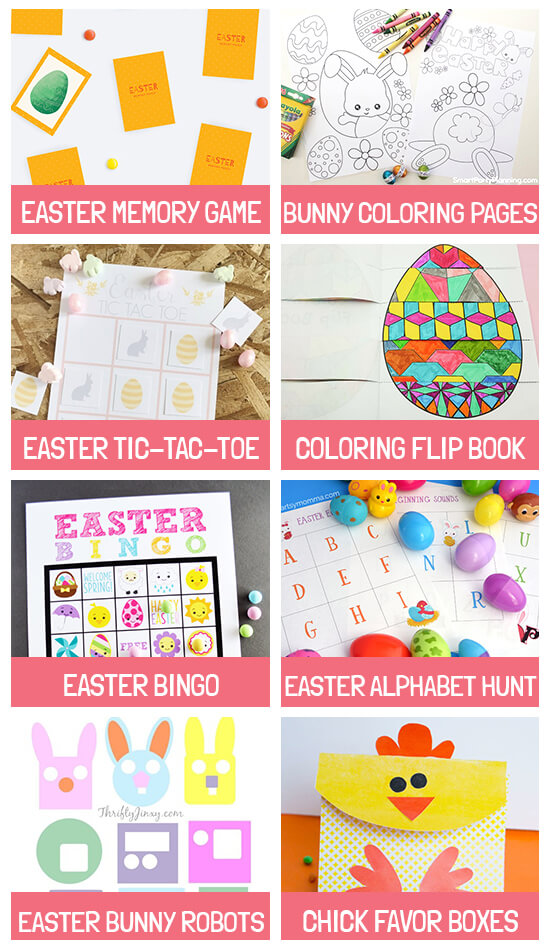 1. Easter Memory Match Game by The Printables' Fairy – A fun matching game that kids can play over and over again.

2. Easter Bunny Coloring Sheets by Smart Party Planning – These printable coloring pages can get you out of trouble at any event where you know your children will get bored, just carry them on your purse along with some crayons.

3.Easter Tic-Tac-Toe by One She Two She – A simple game for everyone in the family.

4. Geometric Easter Egg Flip Book by The Inspiration Vault – This Geom"egg"tric coloring pages let kids express their creativity while creating uncountable egg pattern designs.

5. Easter Bingo by Artsy Fartsy Mama – This bingo set allows kids to create their own cards to play with.

6. Easter Alphabet Hunt by Artsy Momma- A nice twist on the traditional egg hunt, perfect for preschoolers to practice matching an item to the letter it begins with.

7. Easter Bunny Robots by Thrifty Jinxy – Fun printable that lets your children create unique rabbit robots.

8. Chick Favor Boxes by Love The Day – Cute favor box that makes a great addition to any Easter basket.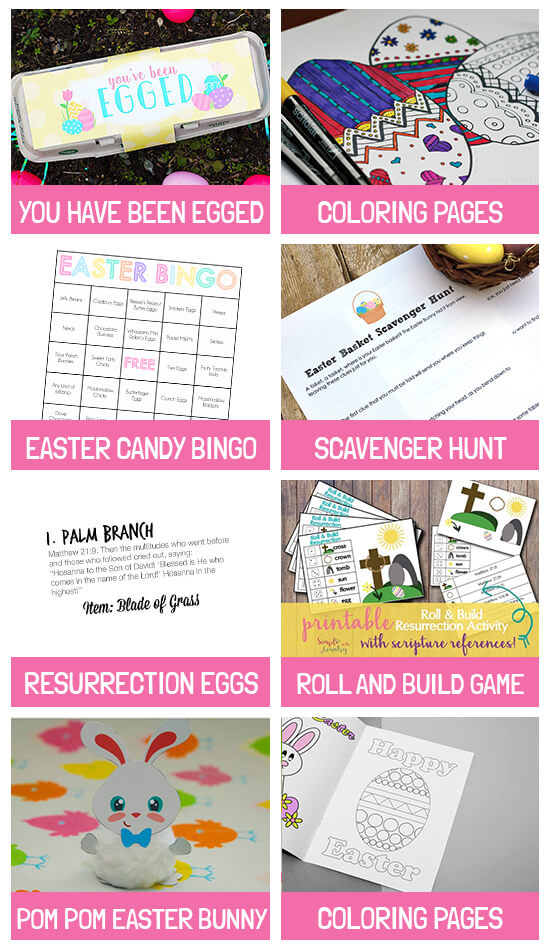 9. You Have Been Egged by Skip to my Lou – The Easter version of booing is a fun way to celebrate with your neighbors and friends.

10. Easter Egg Coloring Page by Finding Zest – This coloring page works perfectly for adults and kids.

11. Easter Candy Bingo by Play Party Plan – Not sure what to do with all your Easter sweets? You can play this bingo game.

12. Easter Basket Scavenger Hunt by Joy in the Works – Create a holiday experience your kids will want to repeat every year.

13. Resurrection Eggs Printables by Saving Dollars and Sense – These printables help you share the biblical Easter story with your children.

14. Roll and Build Resurrection Game by Simple in the Country – A printable game that includes scripture references and helps understand the Easter story a little easier.

15. Pom Pom Easter Bunny by Moms Who Save – Create this cute rabbit with just these printables, a pom pom and glue.

16. Easter Coloring Pages By Pink – Another set of coloring pages that also includes a handwriting prompt.

Easter Crafts For Kids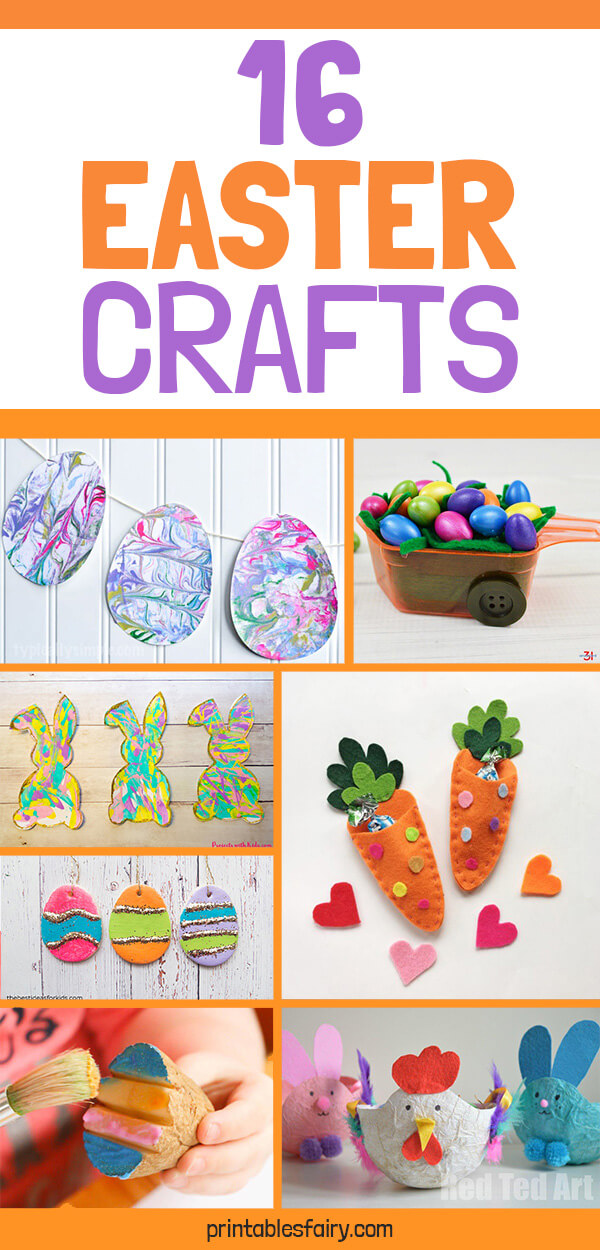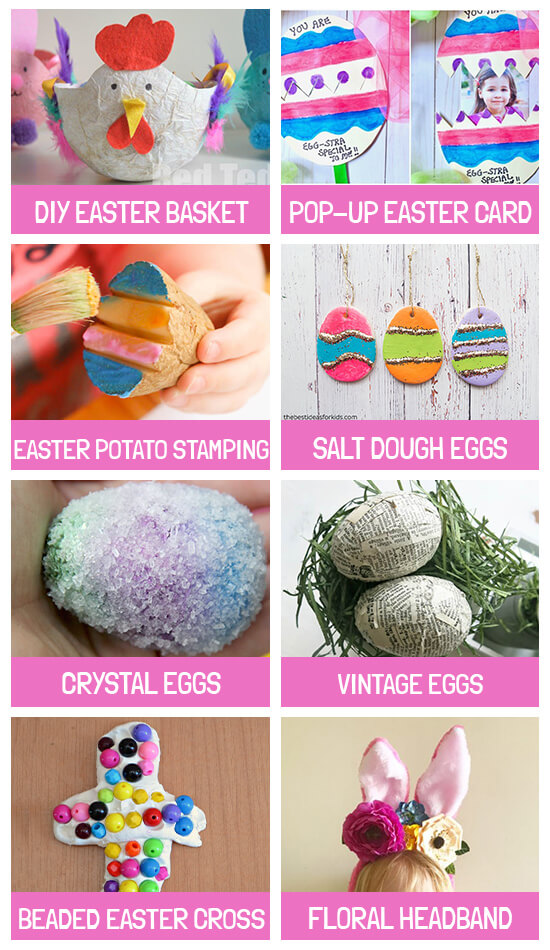 17. Chicken Easter Basket by Red Ted Art – Make your own Easter basket with recycled tissue paper.
18. Pop-Up Easter Egg Card by The Soccer Mom Blog – A simple keepsake or classroom craft.
19. Easter Egg Potato Stamping by In the Kids Kitchen – A fun way to use old potatoes to decorate cards or banners.
20. Salt Dough Easter Eggs by The Best Ideas for Kids – Cute ornaments to decorate your Easter tree.
21. Crystal Eggs by Bitz N Giggles – Decorate your plastic eggs by only using Epsom salt and glue.
22. Vintage Eggs by Making Manzanita – Or get craftier and decorate them by using old book pages.
23. Beaded Clay Crosses by Amy Latta Creations – A 2-materials craft to remember the real reason for Easter.
24. Floral Bunny Headband by Simplify Create Inspire – A great alternative for the Easter bonnet parade.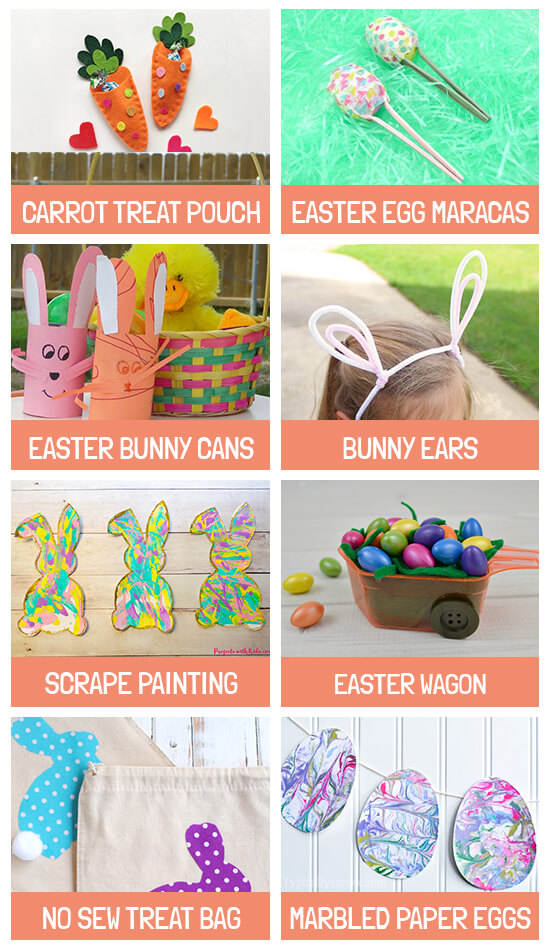 25. Carrot Treat Pouch by Our Wabisabi Life – The perfect felt craft for kids of sewing age.
26. Easter Egg Maracas by Crayons and Cravings – A fun way to repurpose those plastic Easter eggs.
27. Easter Bunny Cans by GYCT Designs – These cute bunnies can carry treats, eggs and turn into a pencil holder when Easter is over.
28. Pipe Cleaner Bunny Ears by Cutesy Crafts – The simplest craft that your kids can actually wear.
29. Scrape Painting with Bunny Silhouette by Projects with Kids – A messy process art project ideal for Easter.
30. Easter Wagon by Organized 31 – Recycle your laundry scoops and turn them into little cute wagons.
31. No Sew Bunny Favor Bags by Katarina's Paperie – A favor bag to send guests home with.
32. Marbled Paper Easter Eggs by Typically Simple – The perfect activity for a rainy day, it gets a little messy but that's the reason kids love it. You can use this technique to decorate your eggs too, check below!.
Easter Egg Decorating Ideas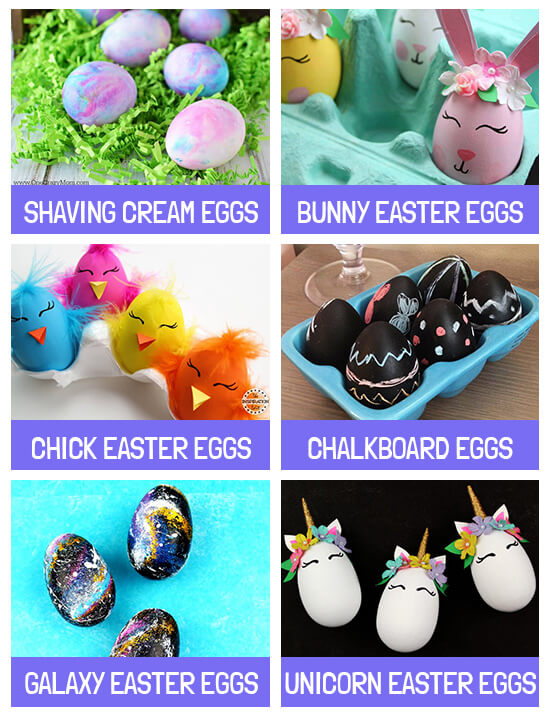 33. Shaving Cream Easter Eggs by One Crazy Mom – Create one of a kind Easter eggs with materials that you might already have at home.
34. Bunny Easter Eggs by Kids Crafts – An adorable home decor for the Easter season.
35. Funky Chick Easter Eggs by The Inspiration Edit – A creative craft that will make a fun table center.
36. Chalkboard Easter Eggs by Sugar Spice and Glitter – Turn ordinary eggs into mini chalkboards that you can easily wipe away and redesign.
37. Galaxy Easter Eggs by Meraki Mother – Super simple out of this world Easter decorations.
38. Unicorn Easter Eggs by Extreme Couponing Mom – A lovely way to decorate your eggs, best for older kids.
Edible Easter Crafts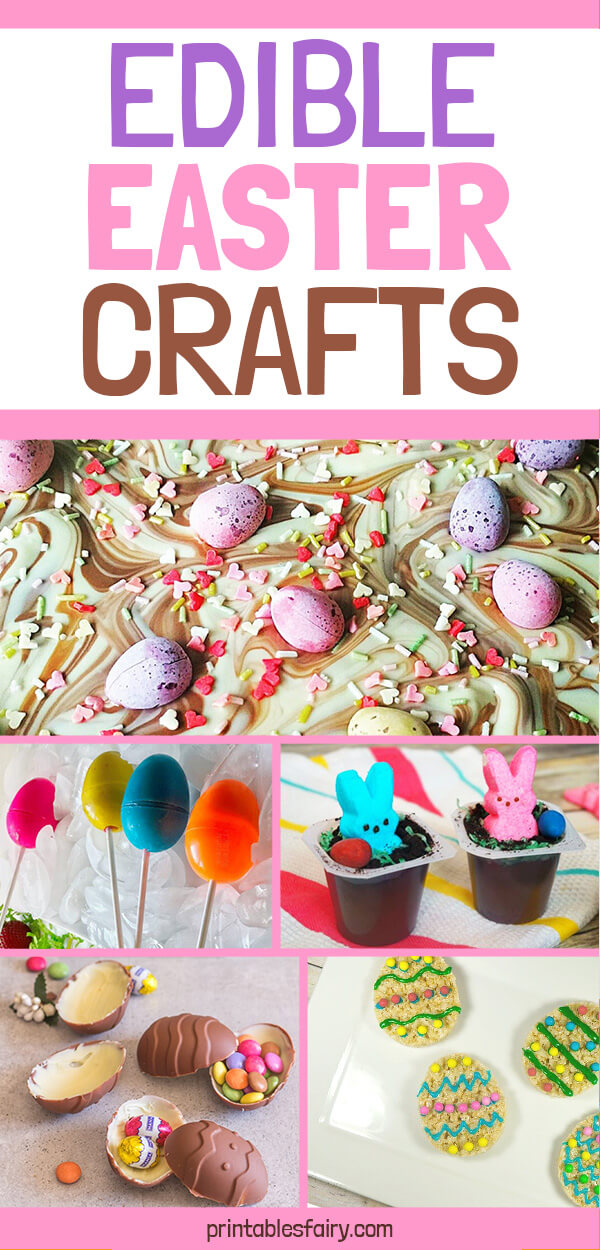 39. Easter Chocolate Bark by Digital Motherhood – These chocolate bark looks like taken out of a magazine, yet it is so simple to make!
40. Easter Egg Smoothie Popsicles by On my Kids Plate – After a long hunting day, what a better way to refresh than with these healthy popsicles.
41. Easter Bunny Dirt Cups by Honey and Lime – Don't let your eyes trick you, these are totally edible treats made with pudding and peeps.
42. Chocolate Easter Eggs by An Italian in my Kitchen – These chocolate eggs remind me of my childhood eating the original kinder eggs.
43. Easter Eggs Rice Krispies by Honey and Lime – Hosting an Easter party? Here you found the perfect party favors.
Are you ready to celebrate this Easter with the kids? Choose your favorite activity and enjoy it!
MORE EASTER POSTS YOU'LL LIKE:
Easter Crafts and Activities for Kids