Fall has officially arrived, and what a better way to celebrate than with these free printable Fall Playdough Mats.
Maybe you don't know this, but we love playdough mats A LOT. In fact, I've created many free printable sets such as our Halloween Playdough Mats, Thanksgiving Playdough Mats, Christmas Playdough Mats, and many more! Take a look if you want more designs to add to your collection.
Why do we like playdough so much, you may be asking? Well, the answer is simple. You can use these playdough mats as a fantastic sensory activity that helps develop your child's fine motor skills, which will help their hands' muscles get ready for writing!
These playdough mats can also be used to practice important concepts such as colors, sizes, shapes, and numbers. All while having fun and being creative. There is no better fall activity for your toddlers and preschoolers!
You can turn this activity into a multi-sensory game by adding different textures and objects like buttons, pompoms, pipe cleaners, sponges, slime, squishy balls, feathers, googly eyes, etc.
Also, you could take this opportunity to make your own playdough. If you haven't done that before, check this apple-scented recipe that is perfect for this season!
Ready to start playing?
Scroll down to discover the playdough mats that are included in this set and download them at the end of this post.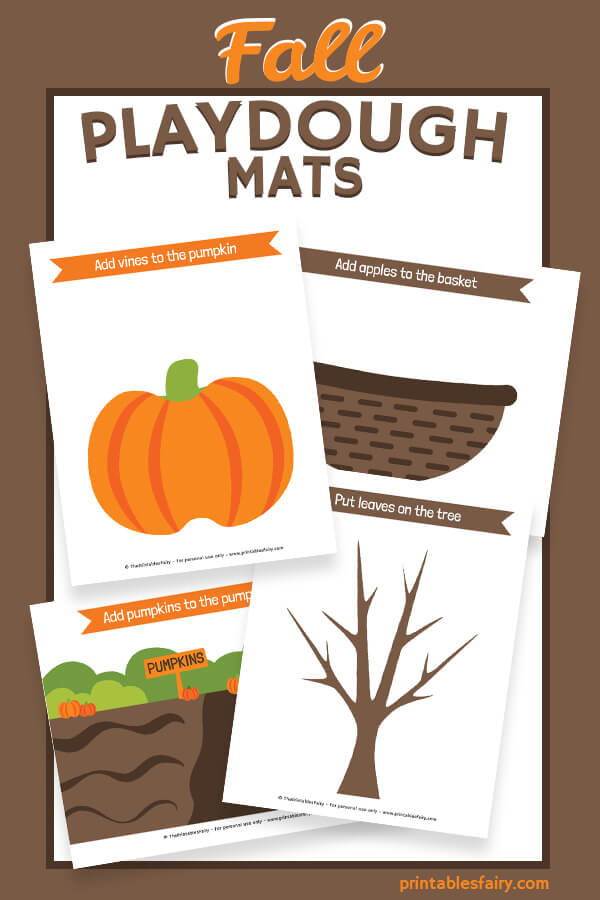 Free Fall Playdough Mats
This fall-themed playdough mats set includes 4 different designs where your kids can create a fall tree, a pumpkin patch, an apple basket, and pumpkin vines.
To play, all you have to do is print the mats on white paper or cardstock and laminate them or slip them into plastic sheet protectors.
Then, give your kids some playdough and let them follow each prompt.
Let's take a look at each of these autumn playdough mats and how you can use them!
Tree Playdough Mat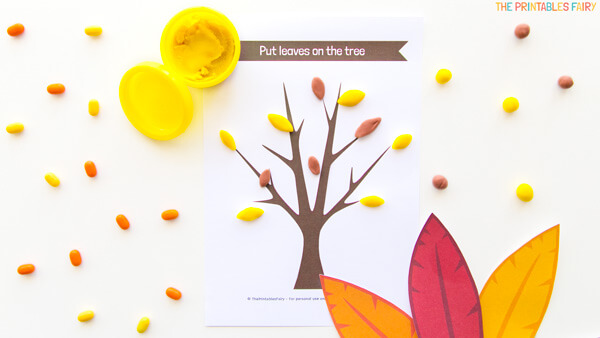 With the tree playdough mat, your kids can practice color recognition by making each leaf of a different color.
You can also use them to count and to add. In this case, we used them to add 4 brown leaves + 6 yellow leaves = 10 leaves on the tree.
Pumpkin Patch Playdough Mat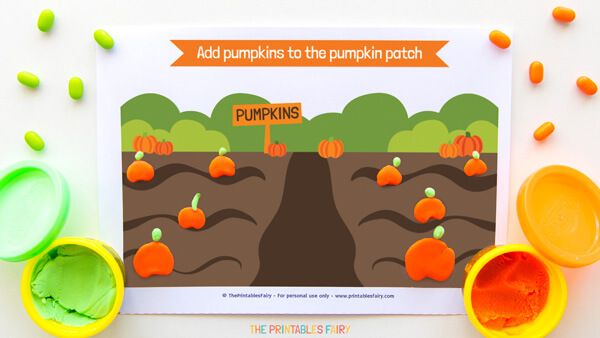 With this mat, your kids have to add pumpkins to the pumpkin patch. Here you can talk about sizes (big and small).
You can also use this one to practice counting, just tell your toddler how many pumpkins to put each time.
Pumpkin Vines Playdough Mat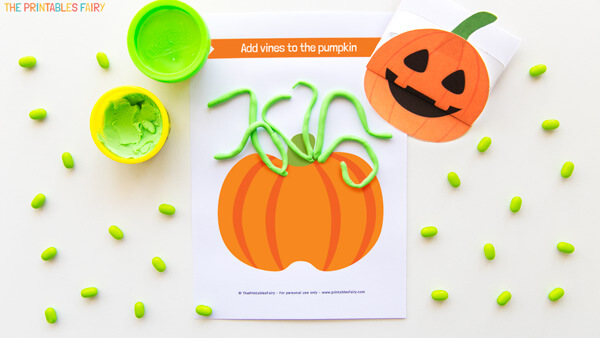 The pumpkin vines playdough mat was created to make your kids work on their motor skills.
Rolling playdough vines helps promote bilateral coordination skills and hand-eye coordination.
Apple Basket Playdough Mat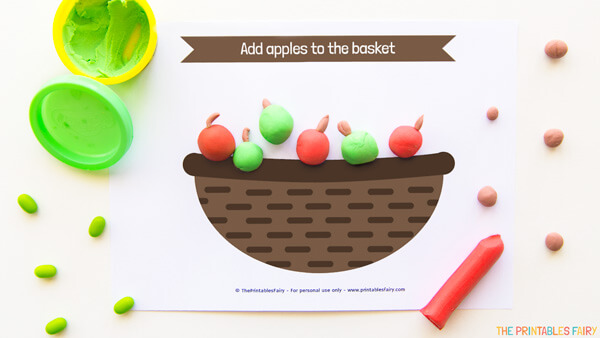 The apple basket playdough mat prompts your kids to make apples. Here you can count them, talk about their colors, and most importantly, roll play dough balls.
Make your toddlers roll small balls using their tripod fingers only (thumb, index, and middle fingers) to increase the dexterity of their fingers. This will help them with writing in the future.
Keep in mind that this can be very challenging for very young kids, so give lots of encouragement.
Download the Play Dough Mats
Whether you are a parent, teacher, or homeschooler, you'll love this fall activity for your kids. It is a fantastic educational resource that will also entertain your kids and keep them happy this season.
Click the link below to download your free autumn playdough mats, and don't forget to share your pictures with us on Instagram by tagging @theprintablesfairy.
*Please remember that these printable playdough mats are for personal use only. You may not sell, share, or link directly to the files.
More Fall Activities for Kids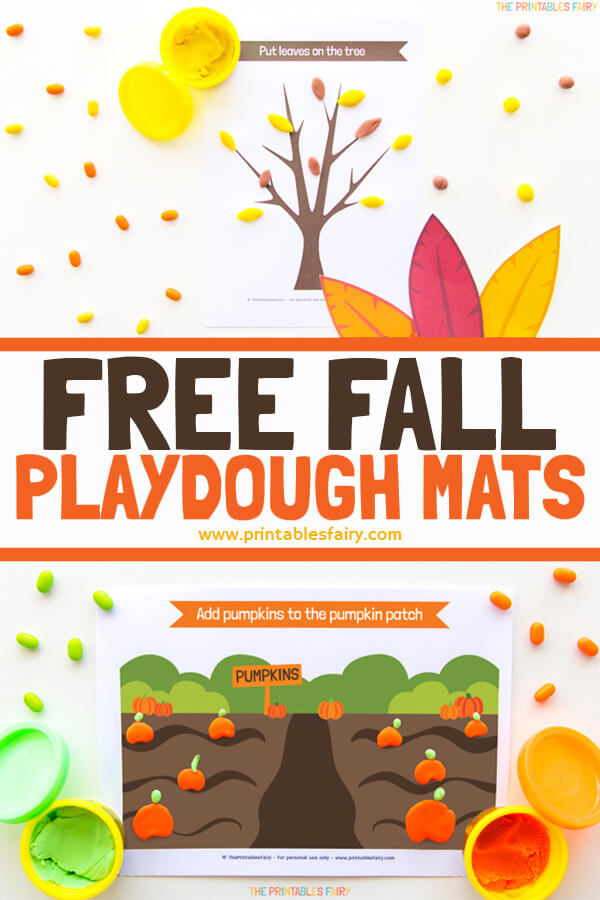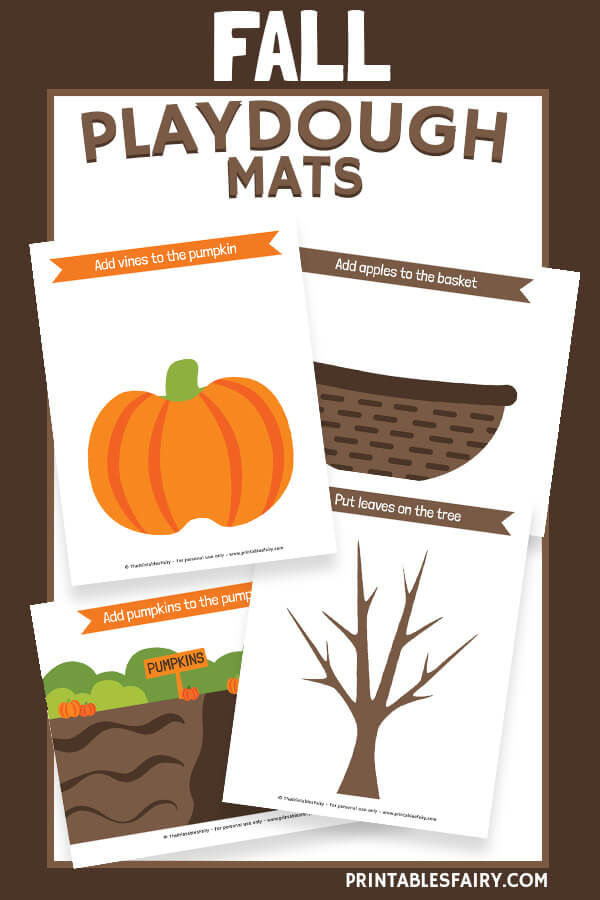 Printable Autumn Play Dough Mats