Coloring cards has to be the easiest way for kids to make a card for their dads. It's also super fun, inexpensive, and perfect for a last-minute rush!
This time, I designed this Father's Day Superhero Card that says "YOU ARE MY SUPERHERO," "SUPER DAD," and "Happy Father's Day" in a comic style.
It also includes an illustration of Super Dad, ready for kids to design their own superhero.
They can also personalize this card by adding a picture of their dad or granddad right on the face of the superhero.
It's a very fun craft for kids to make and perfect for gifting to dads who do amazing things without superpowers!
The free printable Superdad father's day card can be printed on both A4 and US letter sized papers. Just make sure to hit Fit page when printing. It measures approximately 7 x 9.8 in.
It also has benefits for your little ones. Having coloring sessions with your kids can be great to stimulate their creativity, hand-eye coordination, and practice holding a pencil the correct way.
Also, it gives children a sense of achievement once they complete their cards, which has a positive influence on their self-confidence.
This superhero card is the perfect Father's Day handmade gift kids of all ages can do.
Grab your free printable template at the end of this post and make this super card with your little ones!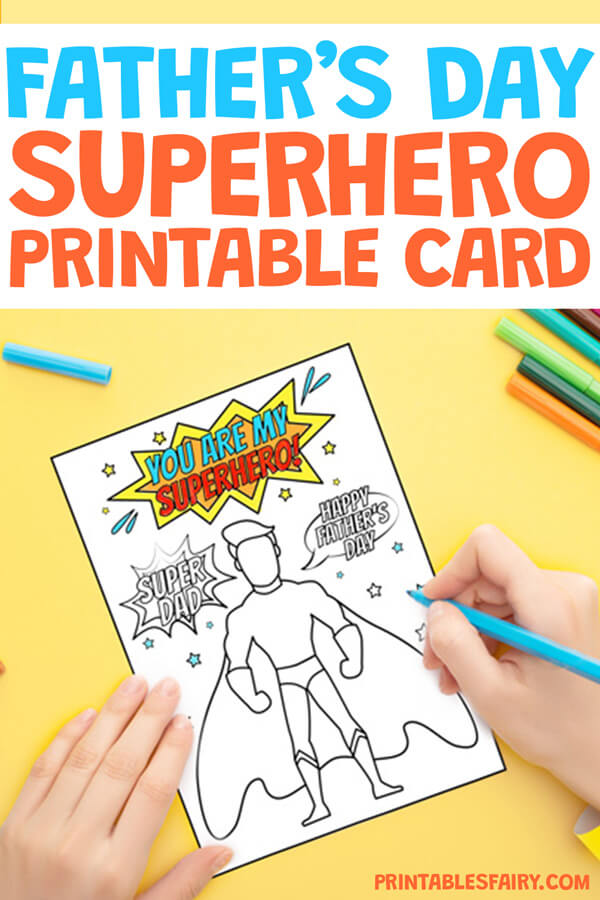 Superdad Father's Day Card
To make this super card, first, you have to download it using the link at the bottom of the page. It's totally free!
Then, print it on white paper or cardstock. I always recommend cardstock for a sturdier card that can resist any coloring material.
You can use markers, coloring pencils, crayons, and if your kids are feeling artsy, they can use watercolors or even make a collage.
Let them color the comic-style words and design their own superhero outfit (mask included).
They can also have fun creating a special logo and drawing their dad's face!
Alternatively, you can print a picture of dad, cut out the face, and glue it right in place.
The approximate size of the face is 1.12 x 1.53 in. But if you have a larger picture, don't hesitate to use it. It will look even more cartoonish and fun.
And if your kids still want to add more, they can write a cute letter for dad on the back.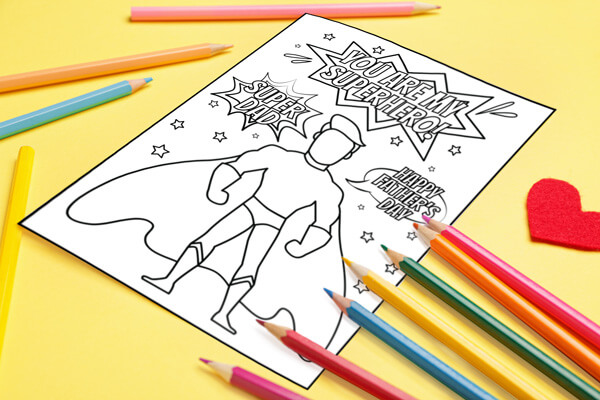 Ready to let your kids make a Father's Day keepsake that dad will love?
Click the link below to download the free printable template.
DOWNLOAD THE SUPERHERO DAD CARD
*Please remember that these printables are for personal use only. You may not sell or distribute the files. If you want to share them, please link to this post and not directly to the PDF files.
Father's Day Cards from Kids
If your kids are feeling more crafty, make sure to check out some of our other Father's Day Cards below.
Superhero Printable Card for Dad