Do your children love their dad to the moon and back?
Then, this Father's Day Rocket Card is perfect for letting him know!
The best part of this card (and the reason kids love it so much) is that the rocket actually moves!
Don't you think that is super cool?
It all started last week when I shared with you these easy Father's Day finger paint cards that include a "Dad, you are out of this world" design.
Making those cards is ideal for preschoolers and toddlers, but the older kids also wanted to make a space-themed card.
That's how this space-cial card came to light!
I wanted to make this card as easy as possible; that's why I designed a printable template, so you don't have to freehand and struggle with your moon and rocket illustrations.
Plus, you can also forget about measuring every piece. Just paint, cut, and glue in place.
It's super simple, fun, and every kid can be as creative as they want when coloring it.
Maybe there are rainbow stars in this universe or a couple of UFOs flying around. Or maybe your kids want to draw themselves looking through the rocket window.
Only your children know how their cards will end up.
You can also let them add stickers, sequins, or glitter. Maybe even write their own message to dad on the back.
Just let your kids decorate their cards as they want to show dad how much he is loved!
Let's fly into this tutorial, shall we?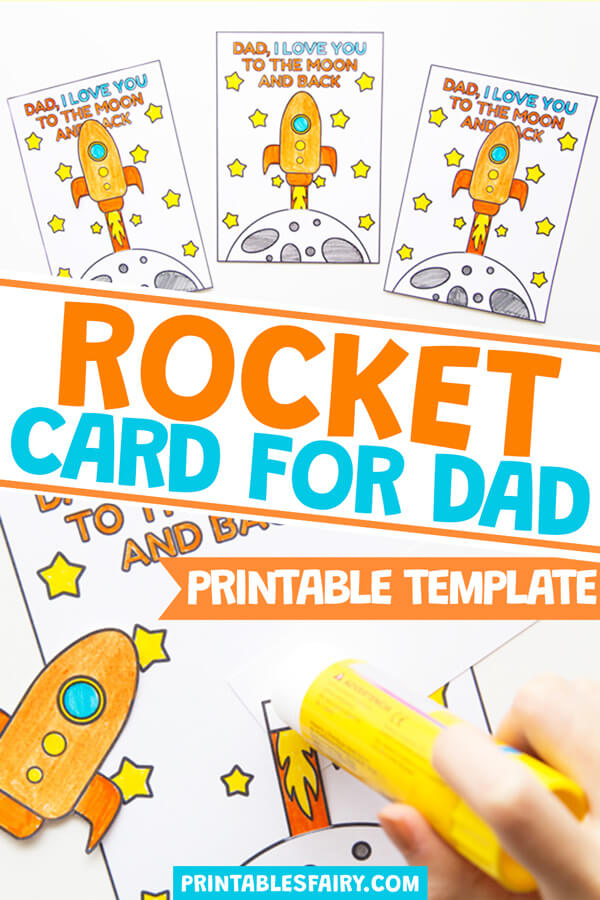 How to Make a Rocket Card for Dad
Making this Father's Day rocket card is very easy, I've made this quick video tutorial to show you how.
Or, you can follow our step-by-step written instructions + pictures below and assemble this DIY Father's Day Card with your kids.
Materials
To make this fun rocket card, you won't need any expensive or complicated supplies. In fact, I'm sure you'll already have most of these materials at home.
Here is a small list of the things you'll need:
White Cardstock
Coloring pencils or markers
Scissors
Cutter or craft knife
Glue Stick
You'll also need a printer, and of course, the rocket card template that you can get at the end of this post.
Instructions
Get the rocket card template and print it on white cardstock. We prefer this over regular white paper because it's stiffer and will handle movement without bending.
Make your kids color and decorate the card as they want using markers, crayons, coloring pencils, or any fun material you have handy.
We used a mix of markers and coloring pencils.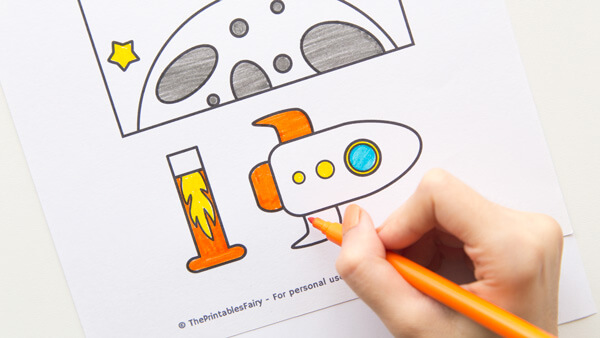 Cut out the rocket ship, the flame, and the card from the template.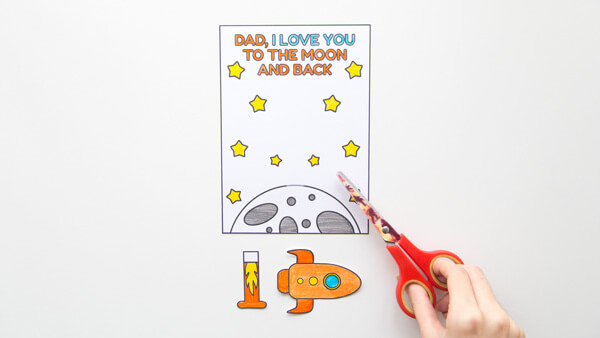 Cut a slit on top of the moon using a cutter or a craft knife. The template includes a gray line so you can know where to cut.
Please note that we recommend adult supervision for this step.
If your kids are young, we advise you to do this step for them.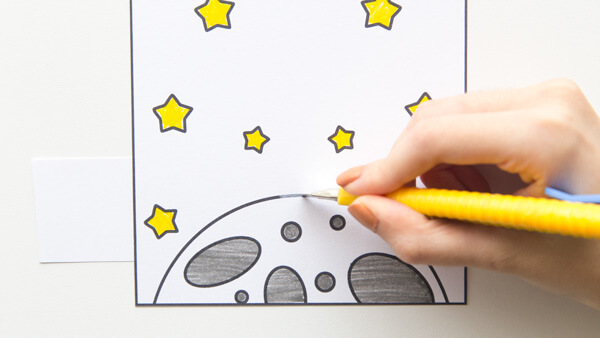 Slide the flame piece through the slit, making sure that the flame drawing can be seen from the front of the card, as shown below.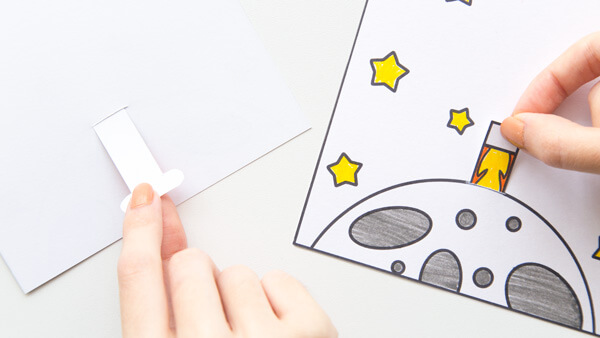 Glue the rocket ship onto the flame piece.
First, place a piece of cardstock (from the template you just cut) under the flame to avoid applying glue to the card.
Then, put glue on the square above the flame, and stick the rocket on top, making sure the flame ends up in the middle.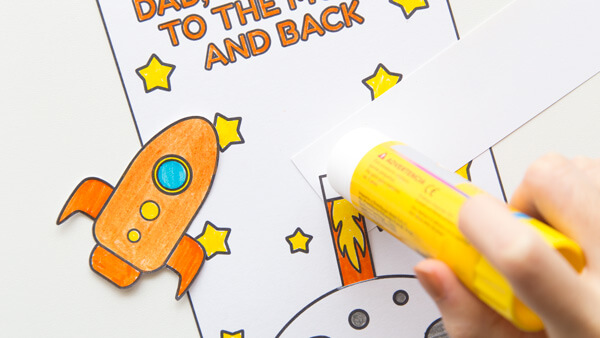 Let dry for just a couple of minutes and pull the flame from the back of the card to make it move.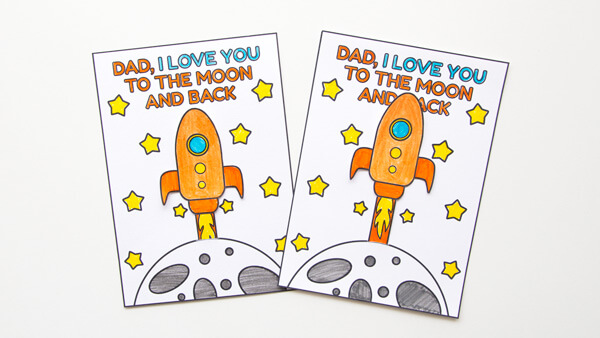 Now your rocket can go to the moon and back, and you can give it to dad for Father's Day. 🧡
Father's Day Rocket Card Template
Hey! Don't leave without your rocket card template!
Dad will be over the moon with this card.
Make yours now and get the printable template by clicking the link below!
*Please remember that these printables are for personal use only. You may not sell, share, or distribute the files.
More Cards for Dad
Father's Day Rocket Card Idea