I have enjoyed creating many I Spy games for almost all occasions, and of course, the sweetest day of the year couldn't be the exception.
This free printable Valentine's Day I Spy is the perfect game for your kids' classroom party, playdate, club meeting, or just to play at home on a Friday night.
It is also super useful to bring along on a car ride, a waiting room, or a restaurant. I can guarantee it will keep your kids busy and happy, without the need for screens (Yay!).
What we like the most about I Spy games is that kids of all ages can play them.
Yes! You read that right. This activity can be used by preschoolers, kindergarteners, grade schoolers, high schoolers, and even adults!
The best part is that setting it up is super simple. All you have to do is download it at the end of this post and print it on regular-sized white paper or cardstock (A4).
You can also print it on other paper sizes like US Letter by selecting Fit Page on your printer settings (some printers do this automatically!).
We like to use this printable on its own, but some of you prefer to laminate them and be able to use them over and over. If you feel like this would work for you, I say go for it; but I have found that kids would rather color on the actual paper than on the laminated one.
As I always say, there is no one right answer when it comes to playing, so do what you think is best for your kids' playing and learning style.
Now, let me show you how to use and get this free printable!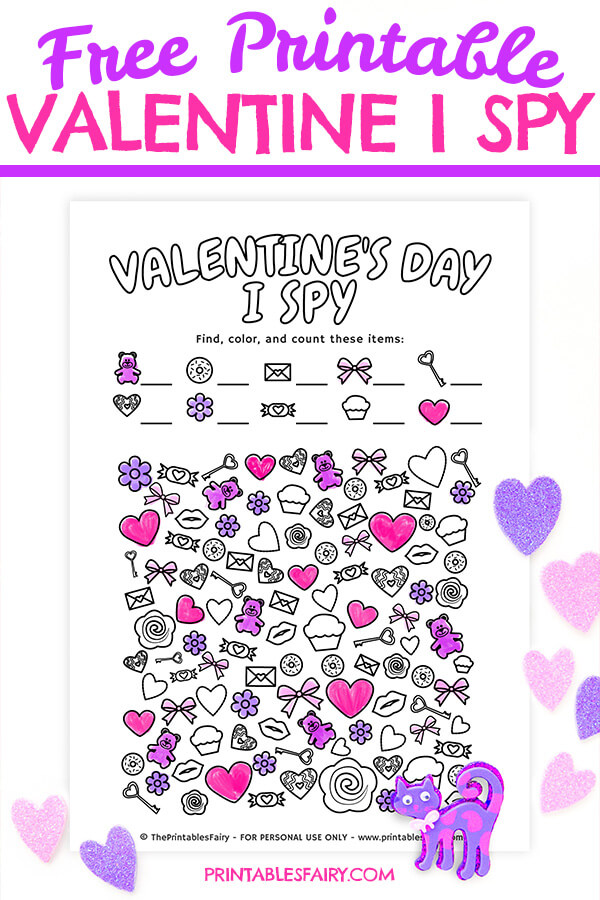 Valentine's Day I Spy Game
Playing Valentine I Spy is as easy as setting it up.
Start by giving your children an assortment of coloring materials; it can be pencils, crayons, markers, watercolors, or whatever you have at home.
Then, make them identify the items listed on top of the page and find them on the hodgepodge below it.
Every time they find an item, they should color it.
Once they have found all, they should count them and write the number on the top list next to the original image.
If you are working with younger kids, you can let them mark off the pictures as they count them to make it easier. The marks can be something small like a dot.
And if you are working with a big group, you can let 2 kids work together to color and count all the items.
There are 10 different images for your kids to search for.
But there is more!
I've hidden a couple more things throughout the page. If your kids enjoyed this activity, you could also make them look for other items that are not listed on top.
I'm sure they will be excited to find more!
It's so much fun, and noe it is your turn to play.
Click the link below to download your printable game and start spying with your kids.
*Please remember that these printables are for personal use only. You may not sell or distribute the files. If you want to share them, please link to this post and not directly to the PDF files.
More Valentine's Day Printable Games
Last-Minute Valentine's Day Games
Valentine's Day Bingo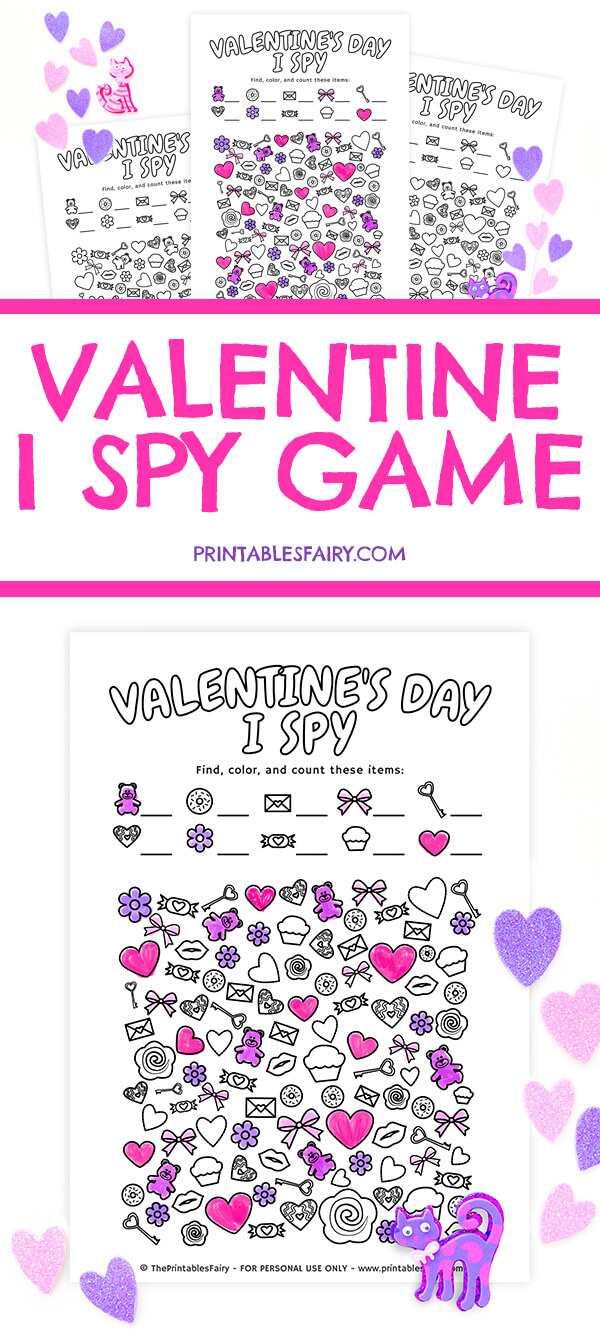 Valentine I Spy Activity