After such a long and cold winter, we finally say welcome to Spring!
It's so exciting to see leaves budding, flowers blossoming, and little bumblebees flying around in our garden when we read outdoors.
We love enjoying a book in the fresh air, but you know what could make it much more fun?
DIY bookmarks! That's why we have a collection for every occasion. 😉
Of course, this time, after seeing those cute little bees flying around, we had to make a bee corner bookmark.
This cute design is part of our Bug Bookmark Collection, which you can get here, or at the bottom of this post.
You can make this bee craft to encourage your kids to read books, introduce a Spring-themed unit to your students, or learn more about these little creatures.
They are also a fun addition to lessons about nature, ecosystems, or flowers.
And, indeed, you can also craft them with your kids just for fun at home, summer camp, or as a birthday party activity.
I'm sure your kids will adore them no matter why or where you make them.
Ready to create these un-bee-lievably easy bookmarks?
Let me show you how!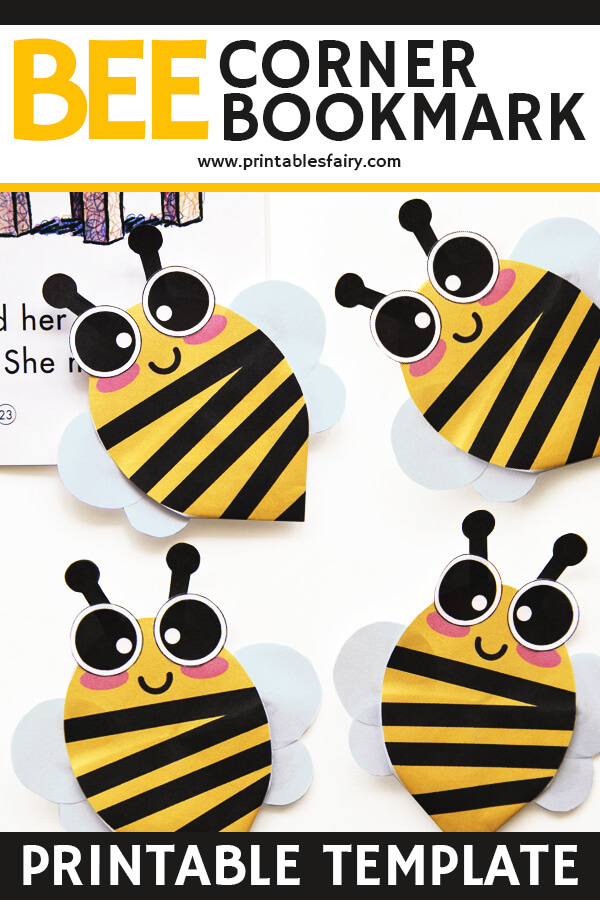 How to Make a Bee Corner Bookmark
Putting together this bee bookmark craft requires making a basic origami bookmark.
But don't worry! If you don't know how, in this post, I'll show you how to make one super easily using the printable template.
Once you have it ready, all you will have to do is glue the bee features and make some cuts.
Scroll below to read the step-by-step instructions. And if you have trouble understanding something, there is also a video tutorial right under.
Let's start a buzz!
Materials To Make Your Bee Bookmark
To make this cute bee, you will only need these supplies:
Bee bookmark template (get it at the end of the post)
White paper and printer
Scissors
Glue
Bee Bookmark Instructions
Print and cut the bee bookmark template.
Take the square and fold it into a triangle making sure that the bee body is facing down.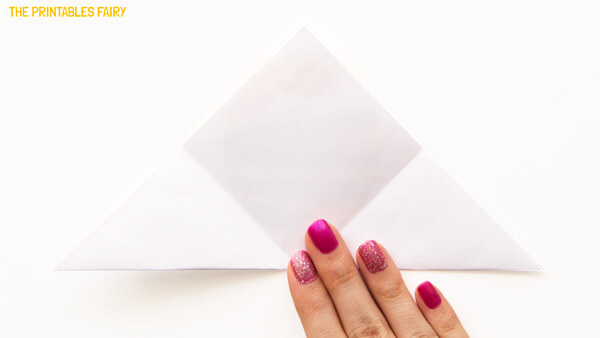 Bring the top layer down and create a pocket.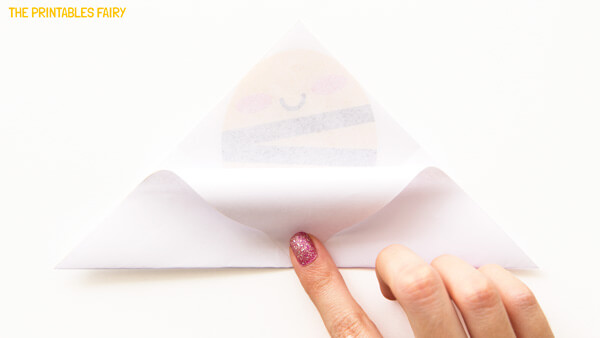 Insert the left and right corners into the pocket.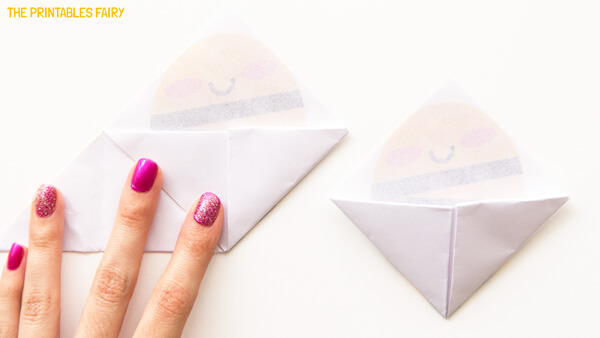 Cut out the white areas around your bee.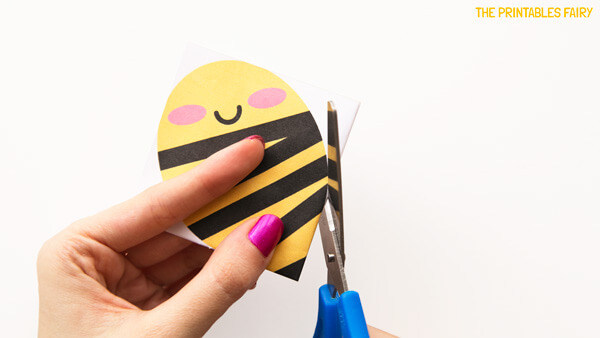 Glue the eyes on top and the wings and the antennae on the back.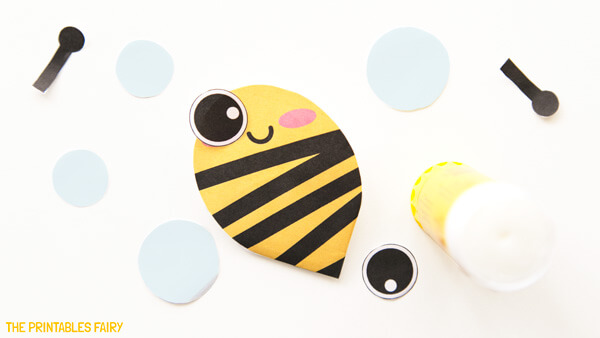 Flip over your bookmark and cut a slit on the wings. This will help your bookmark get into the pages without getting stuck.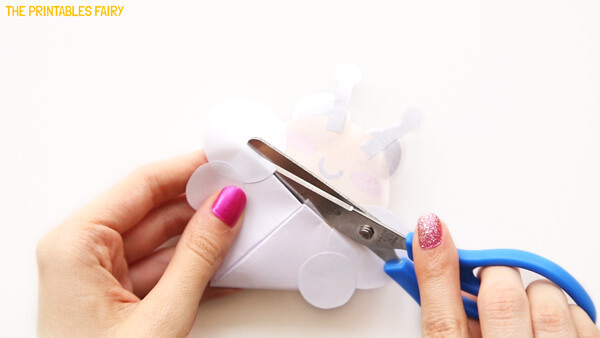 Your Bee-autiful bookmarks are ready to hold your place!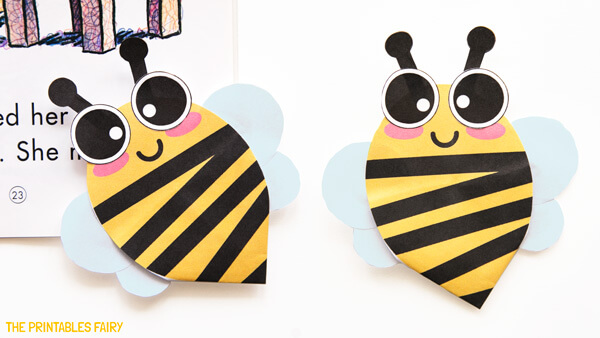 Video Tutorial – Bee Corner Bookmark Craft
Are you struggling with one of the steps?
No worries!
In this video, you can see how I assembled a bee bookmark with our printable template.
This video tutorial is also available on my YouTube channel. You can check it out here.
Bee Bookmark Template
Can't wait to craft your bee?
This printable bee bookmark template is part of our Bug Bookmark Collection that includes three additional designs that you can craft with your kids.
Check them all by clicking the link below!
*Please remember that these printables are for personal use only. You may not sell, share, or distribute the files.
Other Bug Bookmarks
Are you a bug lover? Check out these other bug bookmarks for kids: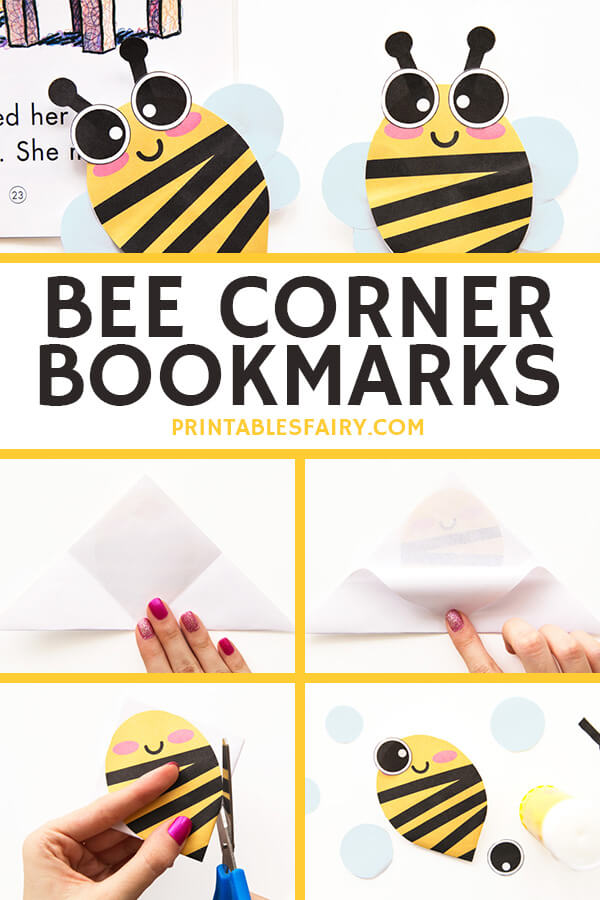 Easy Paper Bee Bookmark