Planning an Egg Hunt but don't know how to entertain your children? Then, why not go on a word hunt!
This free printable Easter word search is perfect for celebrating this important Christian week with your kids.
It is a fun way to keep your children screen-free at home, in the classroom, or at your church Easter egg hunt or party. Basically everywhere, because it features religious and non-religious words, like Jesus, cross, bunny, chick, and more. You can find the complete list below.
The best part is that you can use it in a fun and educational way since they are great for improving spelling, vocabulary, memory, and concentration.
And they make fantastic Easter basket fillers too! 😉
I designed this Easter-themed word search for kids and adults of all ages as long as they know how to read. Children in grades 3 and 4 will enjoy it particularly.
If you have a younger child that can identify certain letters, you can also let them join in the fun with the help of an adult.
So, why not try this easy activity with your kids?
Just print as many copies as you need, and hop in the Easter fun!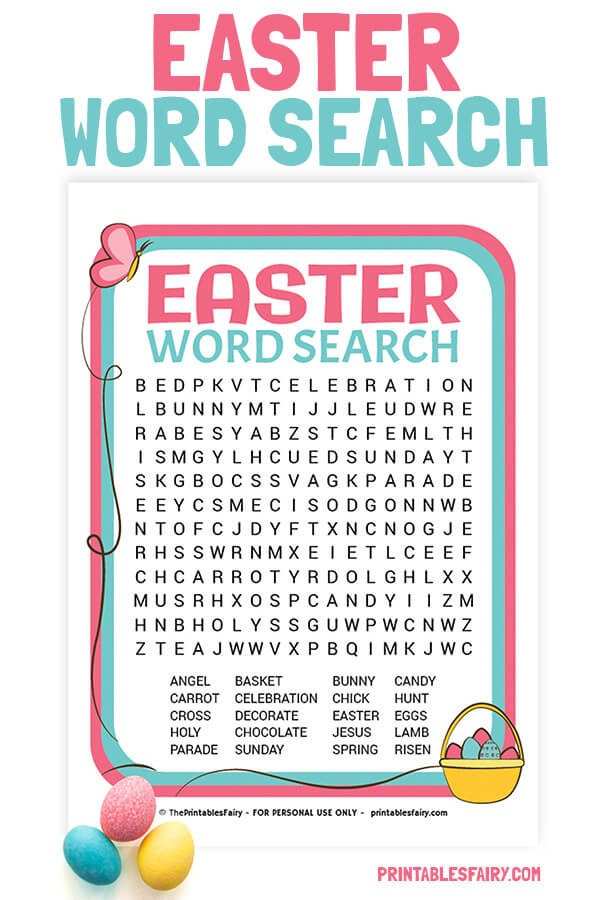 Printable Easter Word Search
This Easter word search has 20 hidden words that will be a great addition to any Easter table. Here is the full list:
Angel
Carrot
Cross
Holy
Parade
Basket
Celebration
Decorate
Chocolate
Sunday
Bunny
Chick
Easter
Jesus
Spring
Candy
Hunt
Eggs
Lamb
Risen
All these words can be horizontal, vertical, or diagonal, so your kids have to be up for a little challenge.
To play, all you have to do is download the printable word search by clicking the link at the end of this post and print it on regular white paper.
Please remember that this game is for personal and educational use only. You can share as many printed copies as you need, but if you want to share it online, please share a link to this post instead of the pdf file. This way, I can keep creating these fun resources for free!
Give each child a copy of this activity along with some coloring pencils or highlighters and make them start hunting for words.
If they get stuck at any word, you can always take a peek at the Answer Key from your phone.
And don't forget to share your pictures using this game on Instagram by tagging @theprintablesfairy. We'd love to see you!
Happy word hunting!
DOWNLOAD THE EASTER WORD SEARCH
More Easter Day Printables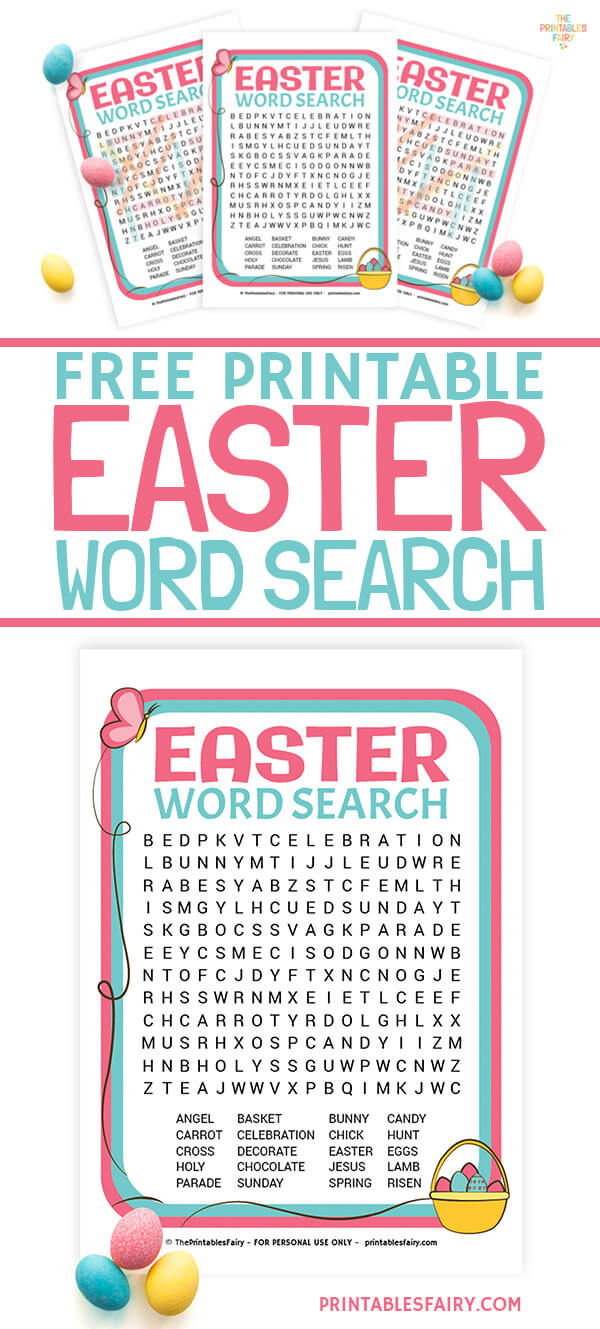 Easter Word Search