Many parents are big fans of taking last day of school pictures, and while this is a great way of remembering how kids have grown, it might not be enough.
Children also change their personalities, dreams, memories, and opinions. And that's where this free printable last day of school interview can come in handy!
It is a beautiful yearly tradition to see how your kids grow and change through the years by capturing their thoughts on the last day of school.
It is perfect for parents who just want to keep the memories.
But, if you are a teacher, this is also a fun last day of school activity for your classroom. You can make a binder to remember all your students or send it home as a keepsake.
If this sounds like an activity you'd like to try, just keep reading to learn more and scroll to the bottom of this post to download it.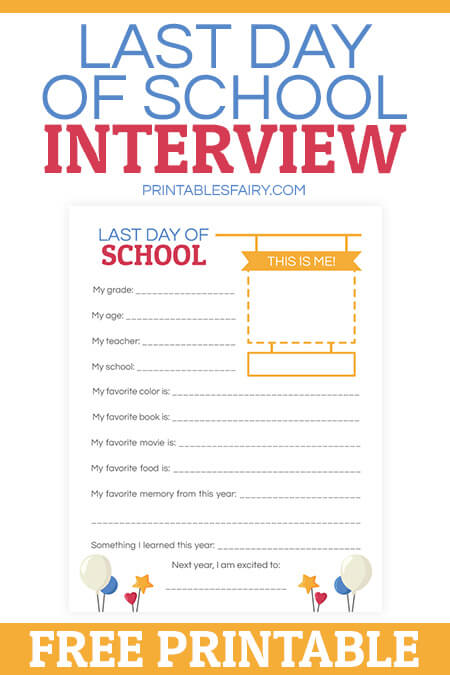 Last Day Of School Interview
The end of a school grade is a big deal for students and their parents.
That's why this printable has all kinds of questions to show your kids' personality and self-reflection, while still being fun and easy to answer.
There is enough space for them to draw themselves or glue a picture. And you can ask them different questions, such as:
How do you write your name?
What's your grade?
How old are you?
What's the name of your teacher?
What's the name of your school?
What's your favorite color?
What's your favorite book?
What's your favorite movie?
What's your favorite food?
What is your favorite memory from this year?
What did you learn this year?
What are you excited about?
This interview is perfect for finding out what really is on your kids' minds at the start of the summer holidays and what they remember the most from the past school year.
Maybe they learned new skills, discovered new interests, or created incredible memories that will make you laugh and even cry when you look back in a year or two.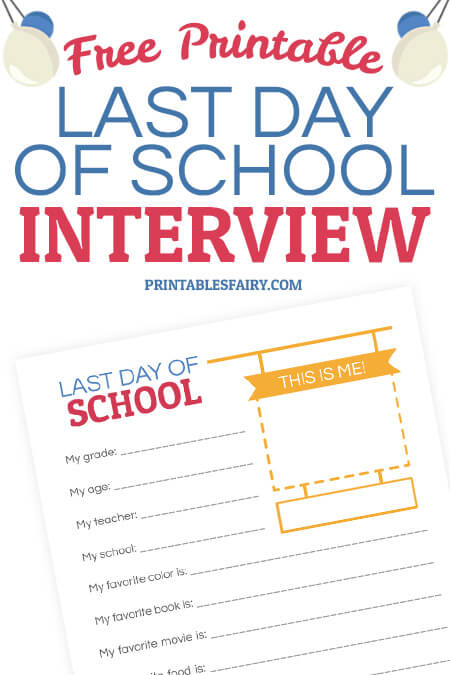 If you'd also like to document your kids' first day of school, this first day of school interview matches this version perfectly! Of course, you don't need to do both, but nobody says you can't. 😉
I'm sure your kids will love them!
So, go ahead and click the link below to download your free printable.
GET THE FREE PRINTABLE LAST DAY OF SCHOOL INTERVIEW
Other Last Day Of School Printables:
Free Printable End Of The School Year Interview