Can you believe it's already time for kids to go back to school?
Why not celebrate it with these free printable back to school playdough mats!
Kids of all ages will love them, mostly preschoolers and kindergarteners who might be experiencing school for the first time. And also toddlers who might be getting introduced to school for the first time, especially if they have older siblings.
You can use it at home to talk about school and help your kids reduce stress and anxiety since this is a multi-sensory activity.
Or, if you are a teacher, you can use it as a welcome activity for the first day of school, as well as in your back-to-school theme.
Each Back To School Playdough Mat features different back-to-school themed illustrations, including a backpack, a bookshelf, a school bus, and a lunchbox.
They are all open-ended prompts encouraging kids to use their creativity and imagination while strengthening their fine motor skills and developing hand-eye coordination.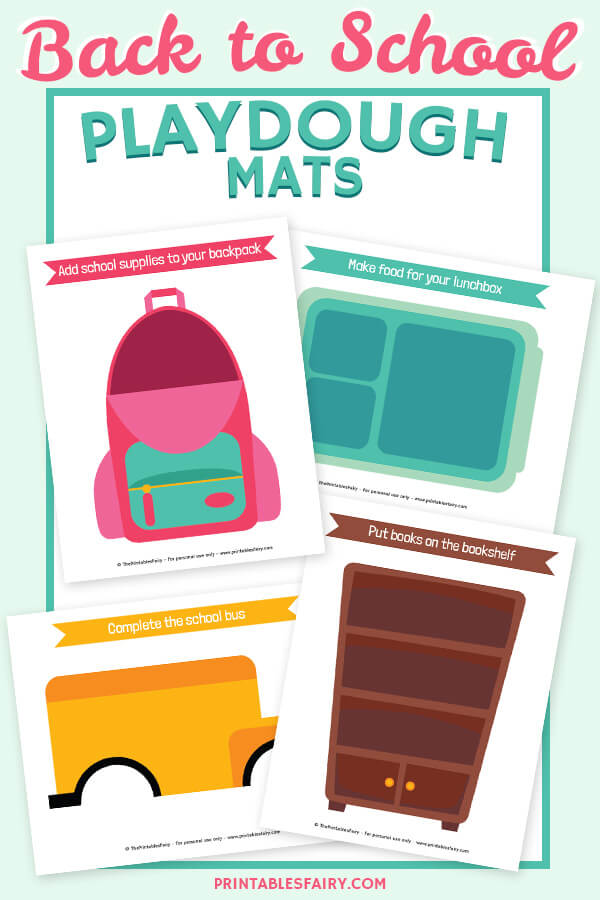 Free Printable Back To School Playdough Mats
To use these play dough mats, all you have to do is download them at the end of this post.
Then, print them on white paper or cardstock and laminate them for durability. You can also put them into sheet protectors if laminating is not an option.
Finally, give your kids playdough of different colors and let your kids start having fun. They can follow the instructions at the top or let them be as creative as they want.
You can also use these printables with wipe-off markers or use any other manipulatives you have handy, like pom poms, buttons, or blocks.
Let's take a closer look at each of these mats and how you can use them!
Backpack Playdough Mat
In this playdough mat, kids have to add school supplies to the backpack.
It is a creative prompt that invites your kids to create as many items as they want using different colors, shapes, and sizes.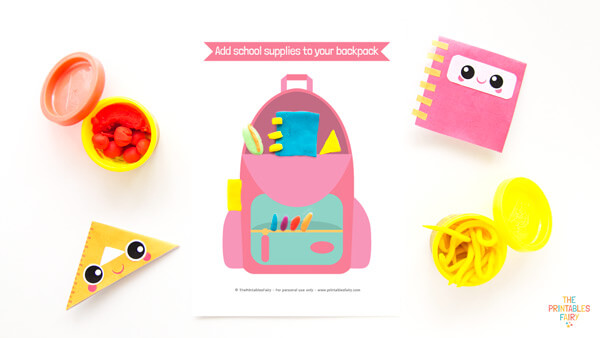 Bookshelf Playdough Mat
The bookshelf playdough mat is perfect for your kids to practice small movements like rolling, flattening, and squeezing, which are necessary to develop pre-reading skills.
Your kids can also use their imagination to create books of different sizes and colors and even recreate ones they have at home or school.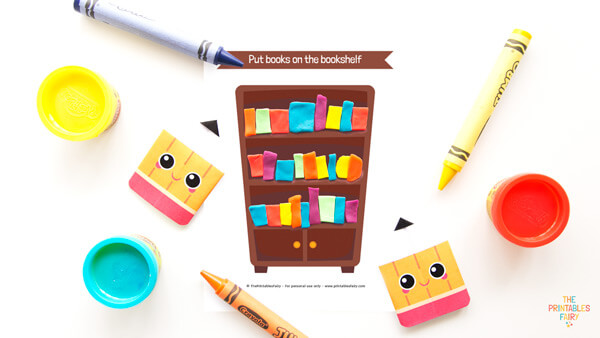 Lunchbox Playdough Mat
With the lunchbox playdough mat, your kids can recreate their own lunch or make their dream lunch.
You can also use it to investigate lunches from around the world and make your favorites with playdough.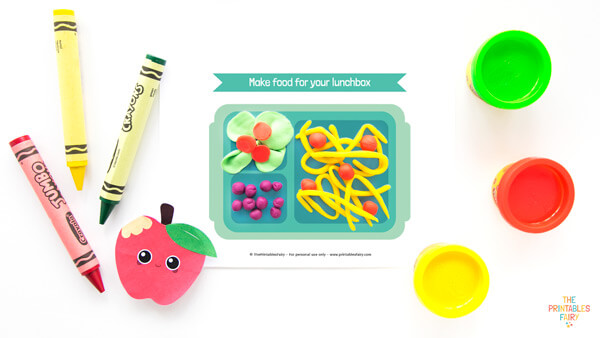 School Bus Playdough Mat
This playdough mat invites kids to complete a school bus.
It is perfect for practicing shapes and colors while working on fine motor skills with additional tools like rolling pins, cookie cutters, scissors, and more.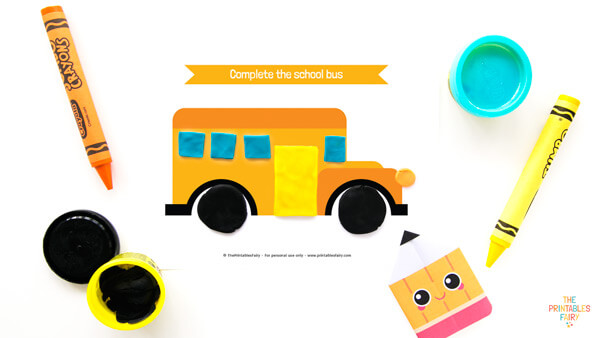 Download the Playdough Mats
These free printable playdough mats are perfect for celebrating the first day of school with kids of all ages.
So, why not get your own by cling the link below and start having some back-to-school fun!
P.S. If you and your kids enjoy using these playdough mats, don't forget to share pictures with us on Instagram by tagging @theprintablesfairy.
GET THE BACK-TO-SCHOOL PLAYDOUGH MATS
*Please remember that these printables are for personal use only. You may not sell or distribute the files. If you want to share them, please link to this post and not directly to the PDF files.
More Back to School Activities for Kids
Back to School Themed Playdough Mats