It's never too late to start recording your kid's memories. This Back-to-School Interview is the perfect excuse to start a keepsake and preserve your little ones' special milestones.
You can print this questionnaire, let your kids fill it out, and save it in your journal or binder.
Then, every first day of school, you can re-read the answers and see how your children's interests (and handwriting) have changed from year to year.
Also, once your kids leave the nest, you can look back at your interview collection. There are bound to be good laughs and a few tears, but you will surely enjoy going through all the fun answers.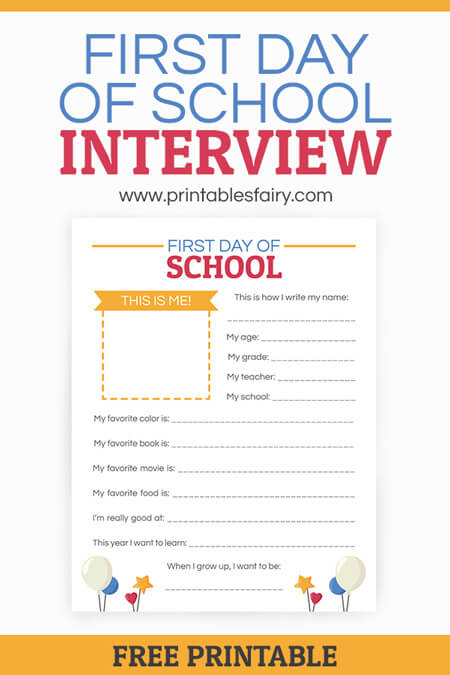 Back To School Interview
If you are a teacher, this is a great exercise to get to know your new students a little more.
Additionally, you can fill out a last-day-of-school questionnaire and compare them at the end of the school year to see how the answers have changed.
Parents, educators, and kids will love this activity! Download it by clicking the link at the end of this post.
In this interview, your kids will have to address different questions such as:
How do you write your name?
How old are you?
To what grade will you go?
What's the name of your teacher?
What's the name of your school?
What's your favorite color?
What's your favorite book?
What's your favorite movie?
What's your favorite food?
What are you really good at doing?
What do you want to learn this year?
What do you want to be when you grow up?
Besides that, there is space for you to glue a picture of your kids or for them to draw themselves. It lets us see how their drawing skills improve and how they see themselves every year.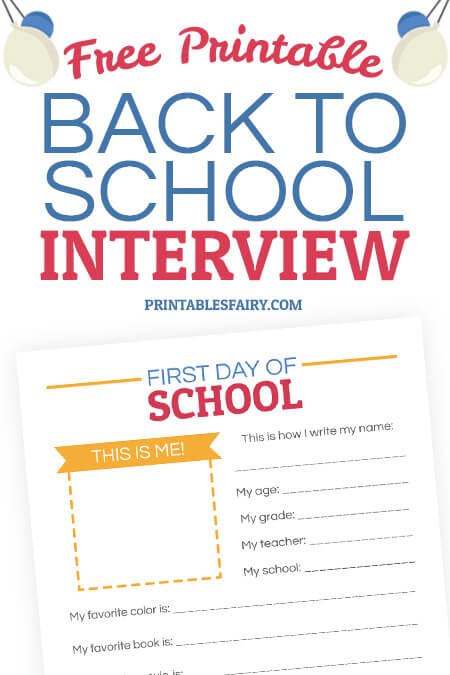 If you'd also like to document your kids' first day of school with a picture, I made some coordinated props that you can use for this special photo.
Check these printable first-day-of-school signs that match this interview perfectly!
What are you waiting for?
Keep track of your children's changes throughout the years with this printable interview!
It will help you save a tangible memory of how quickly your little ones grow.
Download it by clicking the link below!
GET THE FREE PRINTABLE BACK-TO-SCHOOL INTERVIEW
*Please remember that these printables are for personal use only. You may not sell or distribute the files. If you want to share them, please link to this post and not directly to the PDF files.
Other Back to School Printables:
First Day of School Printable Interview