This free printable summer word search is a great way to continue learning even during the summer months.
With it, your kids will be able to exercise their brains by improving their problem-solving skills, which are essential for all school subjects.
It is also a great activity to expand your children's vocabulary, increasing their familiarity with words associated with Summer.
If you are a teacher, you can use this resource on the first day of summer school or send it home as short homework.
You can even use it as a starting point to make your students write a short paragraph with the words in the puzzle.
And if you are a mom, this activity is perfect for keeping your kids entertained during the summer, without needing to go outdoors or getting out of town.
You can also use it on a long car ride to keep your little ones busy.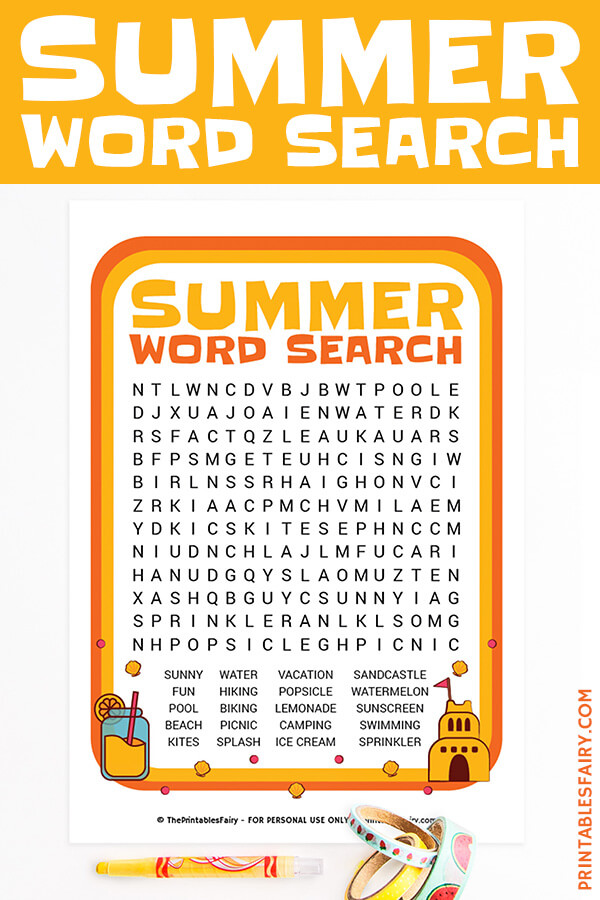 Printable Summer Word Search
This game has a medium difficulty level, so I recommend using it with kids in grades 3 and up.
It includes 20 summer words hidden vertically, horizontally, and diagonally (forward and backward).
The words featured are:
Sunny
Fun
Pool
Beach
Kites
Water
Hiking
Biking
Picnic
Splash
Vacation
Popsicle
Lemonade
Camping
Ice cream
Sandcastle
Watermelon
Sunscreen
Swimming
Sprinkler
To start the search, all you have to do is download your printable at the end of this post and print it on regular white paper.
If you are printing multiple copies and are planning to reuse them next year, you can laminate them or put them inside sheet protectors.
To play, give each kid a copy of the game and let them find all the summer words listed.
You can let them do it at their own pace, or you can set up a timer and pick a winner according to who has found the most words.
To mark the words, you can use highlighters, coloring pencils, or crayons. And if you decided to laminate the game, make sure to use non-waterproof markers.
Have fun in the sun with this Summer Word Search and download it by clicking the link below!
GET THE PRINTABLE SUMMER WORD SEARCH
P.S. If you can't find a word, take a peek at this Answer Key.
P.P.S. If you use this printable, don't forget to share your pictures with us on Instagram by tagging @theprintablesfairy.
More Summer Activities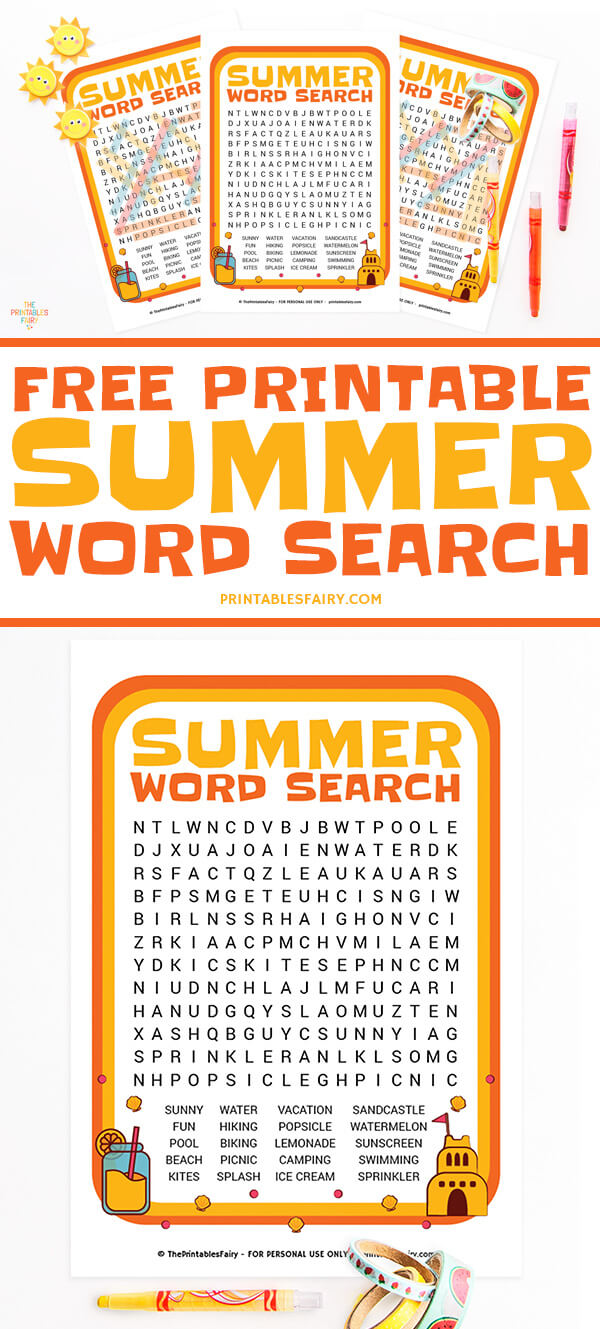 Summer Word Search Puzzle