Every year, I try to come up with some simple projects that kids can make on Father's Day, and this year was no exception!
I designed a free printable drawing prompt where your kids can create a portrait for dad.
Of course, you can let them make their portraits with any materials you have at home, such as coloring pencils, markers, or crayons.
Or you can get really creative with it, exploring different materials. Make a collage with scrap paper, magazine cutouts, fabric, buttons, leaves, flower petals, or seeds.
Or, you can also use this printable as a playdough mat. Just laminate it or place it inside a sheet protector.
There are just so many different ways to make a cute Father's Day portrait drawing!
Maybe you can add your own twist. Let us know in the comments.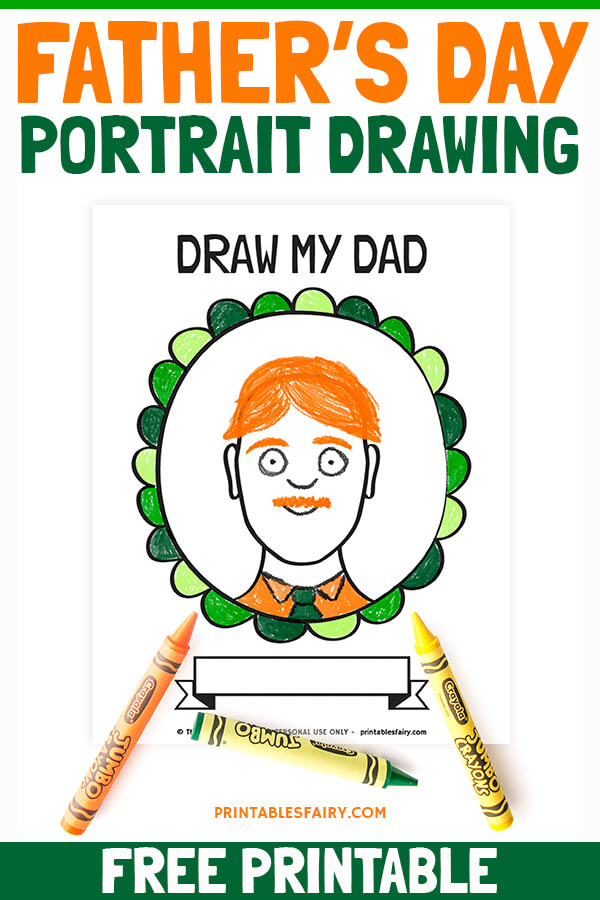 Drawing Dad's Portrait
You can use this drawing prompt at home or in your classroom.
Kids can use a photo of their dad as inspiration or just draw him from memory.
This printable already has a basic face, neck, and ears, so you will have to guide your kids to draw the rest.
You can start with the eyes. Talk about their color, shape, size, and position.
Then, you can help them make the nose. There are many ways to draw it easily. I like to make a basic U shape, but you can also make an inverted U, an upside-down number 7, a letter V, or an inverted V.
Drawing the mouth is the next step and the easiest part for kids. Just make a simple line that shows how happy dad is.
Now it is time for the most important part of the face, the eyebrows! I like to teach kids how placing them in different positions can completely change the emotions we want to portray.
Once our expressions are on point, it is time to draw the hair. Focus on the texture, length, and color without forgetting the haircut.
Also, remember to add facial hair too! Some dads have mustaches or beards that are super distinctive.
Finally, it is time to decorate the shirt and the rest of the portrait.
Some kids like to add backgrounds, while others prefer to keep it simple.
Oh! And don't forget to make your kids write dad's name in the box at the bottom of the page.
If your kids are old enough, they can also write a little message for dad on the back.
Sounds like a fun and easy project, right?
Don't hesitate to make this personalized Father's Day gift that dads are sure to love!
Click the link below to get your own printable portrait drawing prompt.
Get Your Father's Day Portrait Printable
P.S. Please share your kids' creations with us on Instagram by tagging @theprintablesfairy. We'd love to see them!
*Please remember that these printables are for personal use only. You may not sell or distribute the files. If you want to share them, please link to this post and not directly to the PDF files.
More Father's Day Printables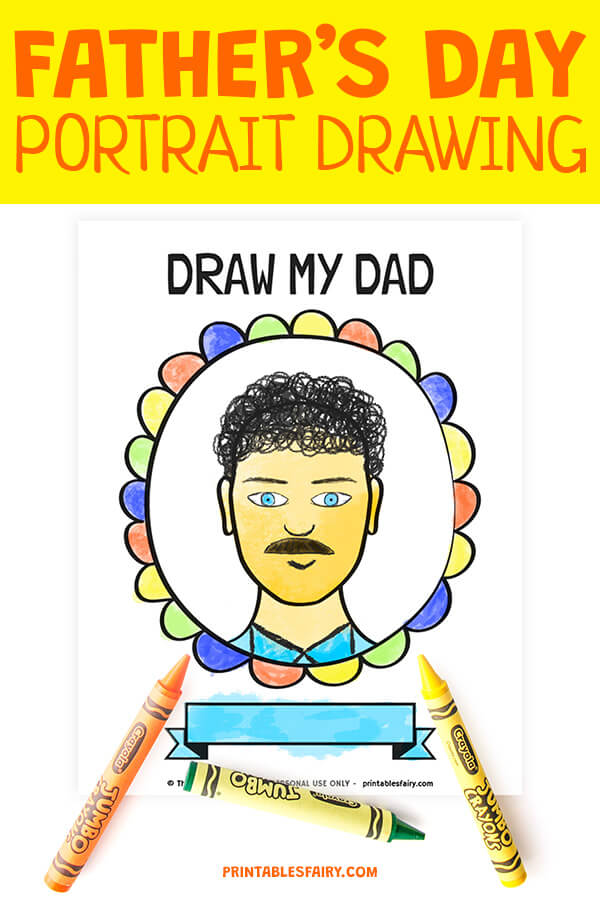 Free Father's Day Portrait Drawing Prompt