Summer is the perfect time of the year to head outdoors for a walk with your kids and soak up some sun rays.
To turn it into a fun adventure for your little ones, you can bring this Summer Scavenger Hunt with you.
It features summery-related items, such as popsicles, sunglasses, flip-flops, sandcastles, and more.
It's perfect to look into your neighborhood, go to the beach, visit a park, go camping, or just explore your own backyard.
You can even keep it in your car and mark the things you see on different days, depending on where you are going.
This activity will not only entertain your kids but also help them get that body moving, improve their observation skills, discover new vocabulary, and build problem-solving skills. It has it all!
And the best part is that children of all ages can use it. Preschoolers can use the pictures to identify the items at their own peace. And older kids can use the written words and even make a small competition to see who finds the most things.
In this post, I go deeper into how you can use this printable activity with your kids. And then, you can download the free printable available at the end of this post to keep your scavenger hunt handy for some summer fun.
Don't be a summer bummer and enjoy the outdoors with this printable summer scavenger hunt!
How To Use The Summer Scavenger Hunt
Start by downloading and printing the scavenger hunt on regular white paper.
Then, if you want to re-use it, laminate it or slide it into a page protector. Just remember to use dry-erase markers to be able to wipe off your kids' marks.
You can also attach the list to a clipboard or a piece of cardboard to make it sturdier and easier for kids to mark their checkboxes.
And, I recommend tieing a marker to the clipboard to prevent it from getting lost.
Once you have everything in place, it's time to put on some sunscreen and head outside.
Let your kids take the lead and search for the items listed on the printable. Every time they find one, make them check it off their list.
And one last thing, remind your little ones that it's ok if they can't find all the things. I tried to add items that can be commonly found during summer, but it may be harder to find certain objects in some places.
How To Play With Young Kids
If you are doing this activity with preschoolers, it's better to let them take their time exploring the things that they find.
You can ask them questions about the items, make them describe them, take pictures with them, and even collect them in a small basket (kids love to collect shells!).
And if they cannot find a couple of things from the list, you can go home and try to find those items in picture books.
How To Play With Older Kids
Older kids might want to have a more challenging scavenger hunt.
Turn this activity into a friendly competition by timing your kids and choosing the winner based on who found the most items, or let them take their time and select the winner based on who finds all the items first.
And don't forget to have some small prices, like popsicles or water guns.
Printable Summer Scavenger Hunt
Does this activity sound fun to you?
Get the free printable summer scavenger hunt by clicking the link below and get outdoors!
P.S. If you go on an adventure using this printable, don't forget to share your pictures with us on Instagram by tagging @theprintablesfairy!
*Please remember that these printables are for personal use only. You may not sell or distribute the files. If you want to share them, please link to this post and not directly to the PDF files.
More Summer Activities for Kids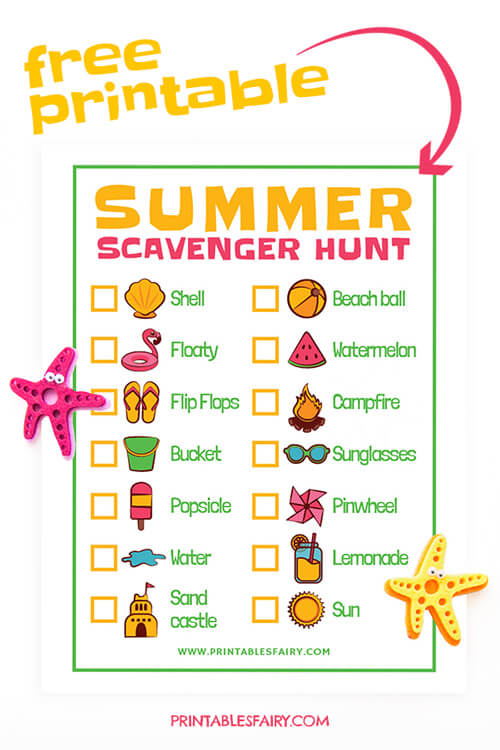 Free Summer Scavenger Hunt For Kids