I remember that when I was a child, we used to have fun making papercrafts, and our absolute favorite were Cootie Catchers.
That's why, when the kids told me they were bored, I told them to make one; but to my surprise, they had no idea how.
Of course, I couldn't resist teaching them and even made a printable template that they could use if they had a hard time understanding the folds.
It is super cute, so they used it even after mastering the folding to make more cootie catchers with different themes.
Today, I'm sharing with you that very same template for free, so you can teach your kids how to make a cootie catcher too!
It is a great way to keep them happy and away from technology for a while.
If you forgot how to make this origami craft, don't worry! Below, I explain exactly how we made ours and show you how to make a fortune teller from scratch.
And if you don't remember how to play with it, you can find it right after the instructions.
I also included ideas of what you can put inside your cootie catchers to have hours of fun.
Let's get started!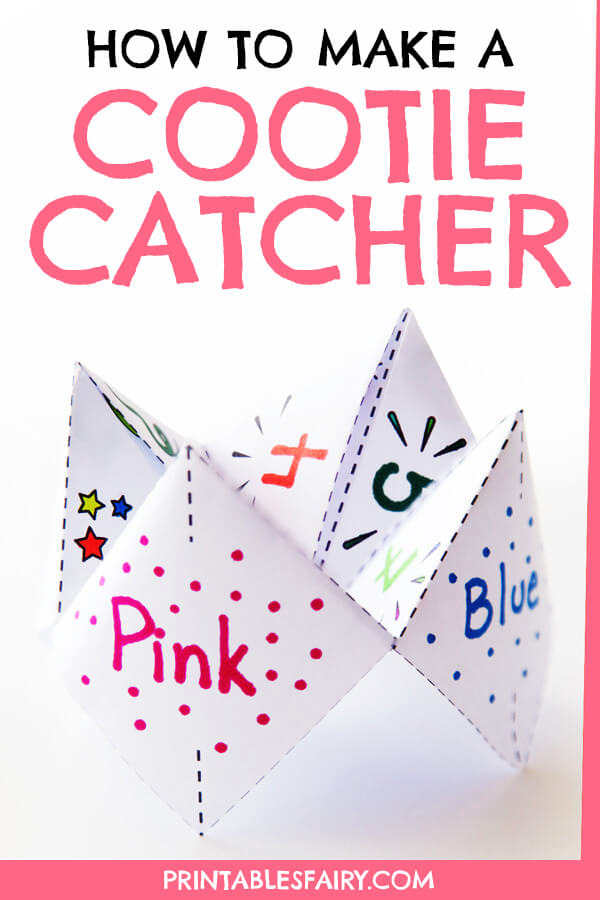 Materials
To make your fortune teller, you will only need:
And if you want to use our printable template, download it at the end of this post.
How to Make a Cootie Catcher
Watch this video to learn how to make a cootie catcher from scratch. All you need is a square piece of paper.
Or follow the step by step instructions below to make your own Cootie Catcher with the free printable template.
Remember that you can replicate the same steps to make one from scratch.
Instructions
Download and print the cootie catcher template at the end of this post.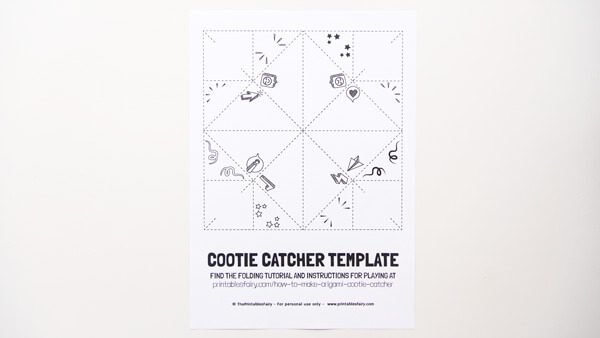 Cut out the square.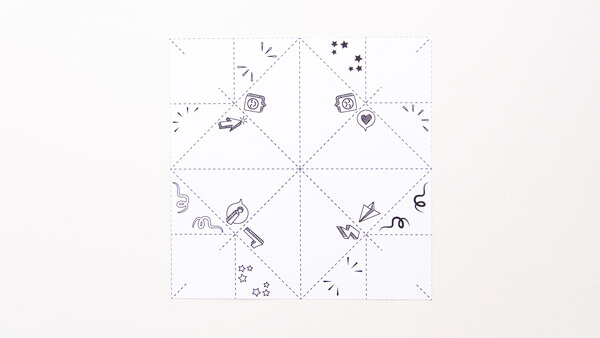 Flip the square over and fold it in half, from the top to the bottom. Unfold.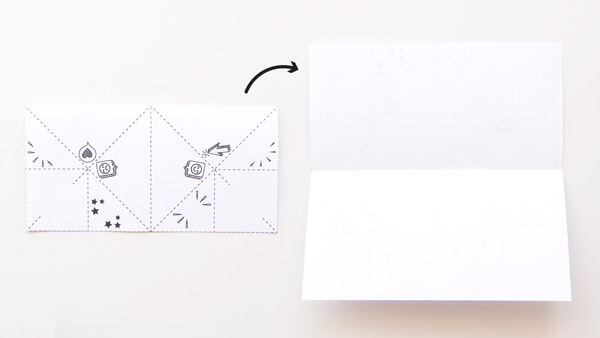 Then, fold the square from the right to the left and unfold it again.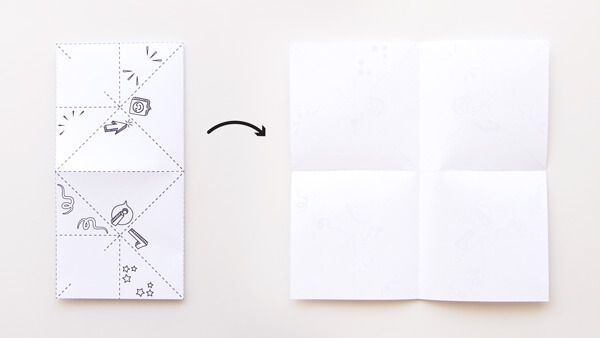 Now fold each corner of the square towards the center, as shown below.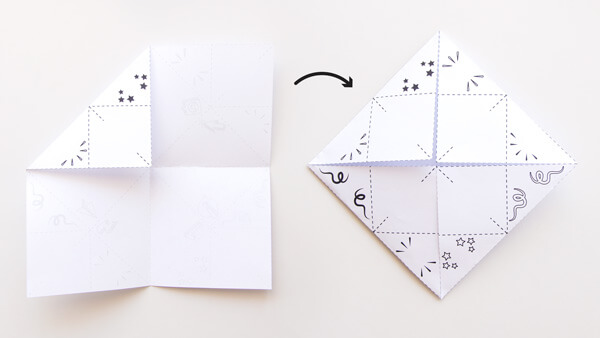 Turn the paper over and bring each corner to the center.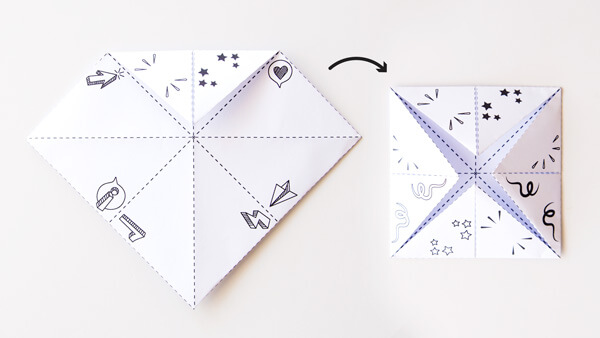 Fold the square in half, crease firmly, and unfold it.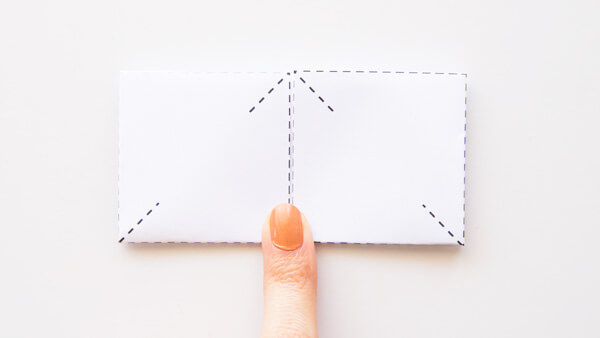 It's time to fill in your cootie catcher:
On top of the flaps, write a number.
Then, open each flap and write a fortune or prediction.
Finally, on the outside flaps, write the name of a color.
We filled our cootie catcher with markers and unfolded it to show you how it looked like.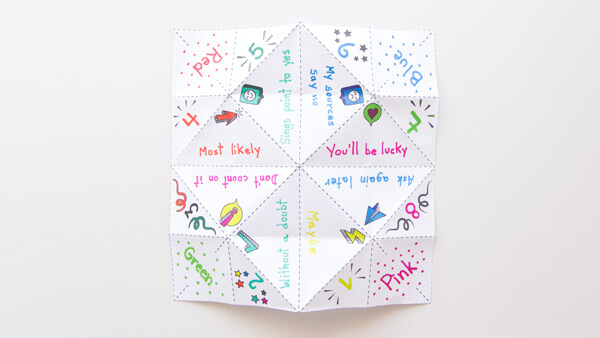 Slip your thumbs and pointer fingers into the four flaps at the bottom to start playing.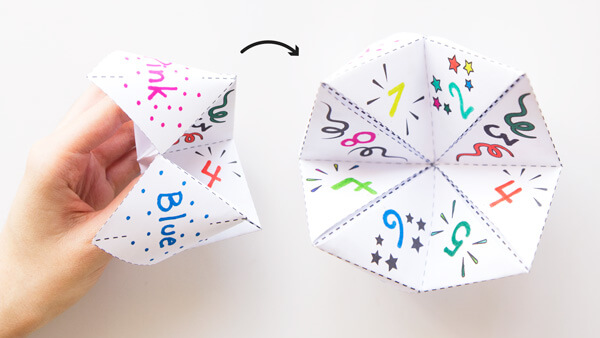 How to Play With a Cootie Catcher
Find someone to play with and ask them to pick a color from the top flaps.
Spell out the color, opening and closing the cootie catcher along with the letters.
Stop at the last letter to reveal some of the numbers on the flaps. Make them pick one.
Open and close the Cootie Catcher while counting out the number picked on step 3.
Once you finish, get the other player to pick another number from the panels, flip it up, and read the fortune.
What do you write in a cootie catcher?
You can make a cootie catcher that can "predict the future." This way, kids can ask a different question every time and find out the answer once they open the flap.
You can write 8 answers from the following list; we used the bold ones.
Yes
Most likely
As I see it, yes
You may rely on it
Signs point to yes
Definitely
Without a doubt
It is certain
You'll be lucky
Maybe
Reply hazy, try again
Ask again later
Concentrate and ask again
Cannot predict now
Don't count on it
No
My sources say no
Very doubtful
Or, you can make a fortune teller with fun fortunes from this list:
Be ready to open the door when opportunity knocks.
You will spill water on yourself soon.
Keep your head down if you want to find money on the sidewalk.
You will find money under your couch cushions.
Someone will give you a hug soon.
You will break a pencil while doing your homework.
Watch your step.
You will get an unexpected phone call.
Next time you yawn, a bug will fly into your mouth.
You have a secret admirer.
Ignore previous fortunes.
Don't kiss an elephant on the lips today.
Someone has Googled you recently.
You will be hungry again in another hour.
Now it's time to try something new.
There are infinite ways to fill in your cootie catcher.
You can also add jokes, riddles, trivia, or even activities from your bucket list. The most important thing is to have fun!
Printable Cootie Catcher Template
As you know, you can use any piece of paper to make your own fortune teller. But, I created this cute printable template with guides to fold and enough space to fill it in with any ideas that your kids have.
You can print multiple copies and make a different kind of cootie catcher for every occasion.
The best part is that you can decorate each one in a unique way, depending on what you decide to write.
Download the template and make your own cootie catcher now!
GET YOUR COOTIE CATCHER TEMPLATE
*Please remember that these printables are for personal use only. You may not sell or distribute the files. If you want to share them, please link to this post and not directly to the PDF files.
More Paper Crafts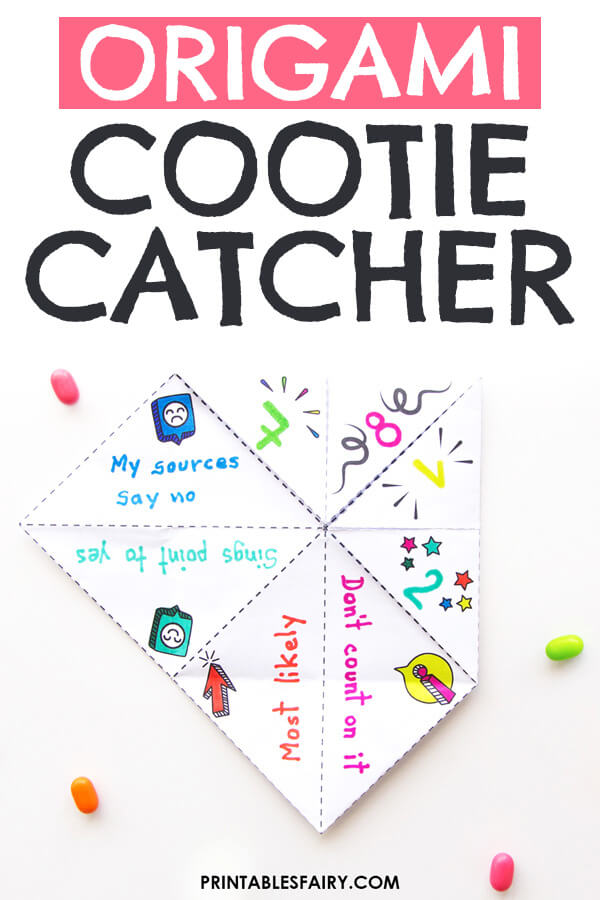 How to Make a Fortune Teller