Apple season is here, which means it's time to make some cute apple-themed crafts with your kids!
This time I brought this Paper Plate Apple Craft that is super simple and perfect for preschoolers, pre-k, and kindergarten kids.
It has many benefits for the youngest at home, such as developing their fine motor skills, improving the dexterity of their fingers, and enhancing hand-eye coordination.
This fun activity is perfect for celebrating fall and back-to-school time. You can craft it at home before school starts or during the first week of school to decorate your bulletin board.
It can also be a great addition to your autumn or apple units and a great craft for the letter A.
Additionally, you can extend this activity by reading some apple books and talking about the parts of an apple.
Ready to make these sweet apples?
In this post, you can download the free printable apple template, follow the step-by-step instructions to make this project, or watch a quick video tutorial.
There is no reason not to make this craft!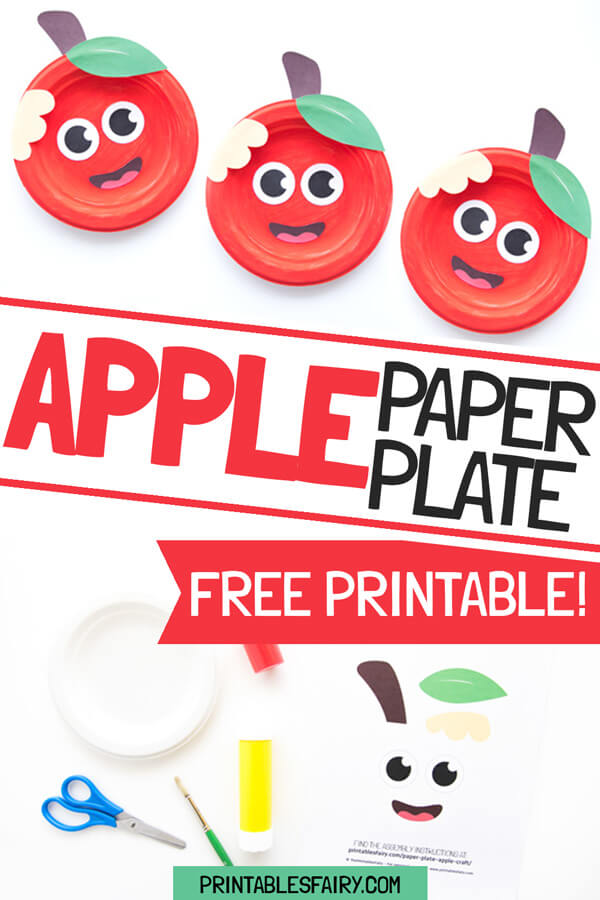 How To Make A Paper Plate Apple Craft
If you are here, you might wonder how you can make an apple out of paper plates. And the answer is pretty simple.
Below, I have detailed the directions to make this apple craft and even added a small video showing you exactly how I made one.
You can also find a list of supplies you will need and download the printable template so your apples look as cute as ours.
Materials
Apple Paper Plate Template (download at the end of this post)
Small Paper Plate (we used a 6 inches one)
Red or green paint
Paintbrushes
Scissors
Glue stick
White cardstock and printer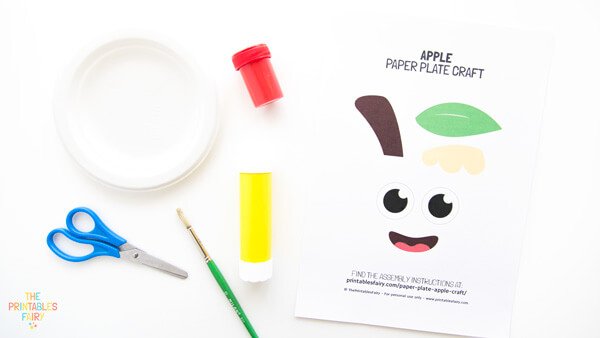 Instructions
To begin, protect your crafting area with some scrap paper.
Paint the paper plate with red or green paint.
This time we used red tempera paint, and our plate was completely covered with just 2 layers.
Download the apple template, print it, and cut out all the pieces.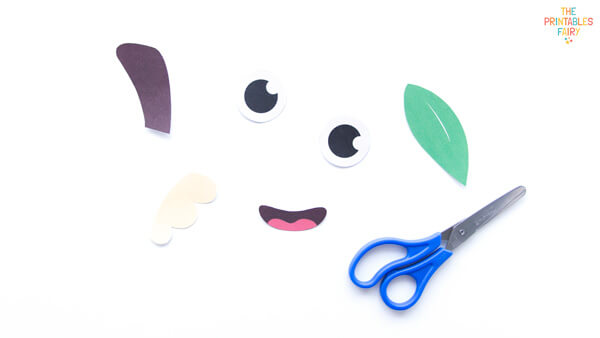 Once your plate is dry, glue the mouth at the bottom.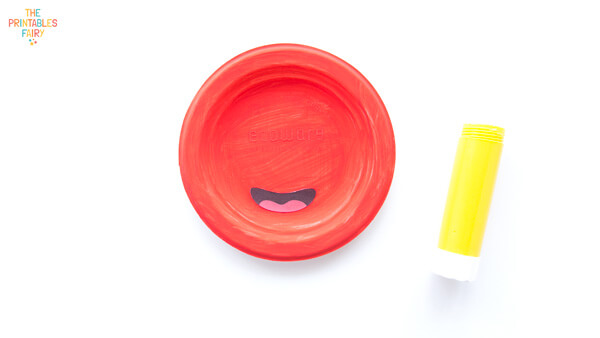 Then, stick the eyes on top of the mouth.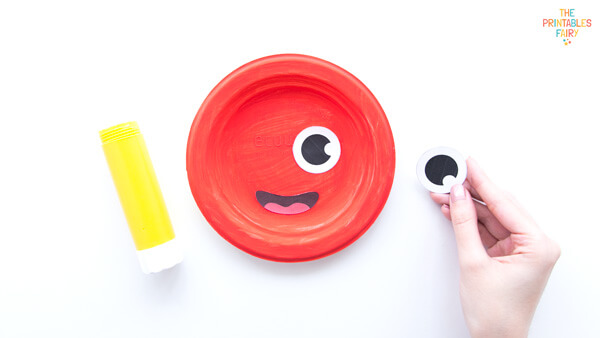 Glue the stem to the back of the paper plate.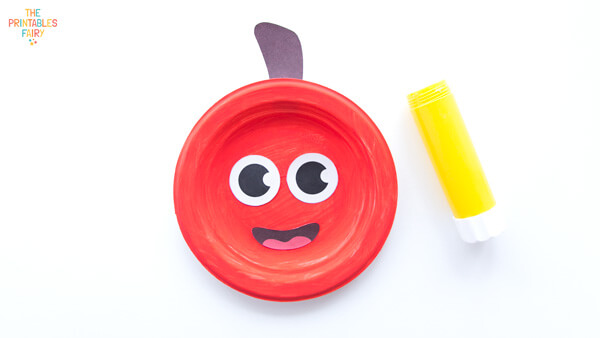 Place the leaf on top of the plate, just to the side of the stem.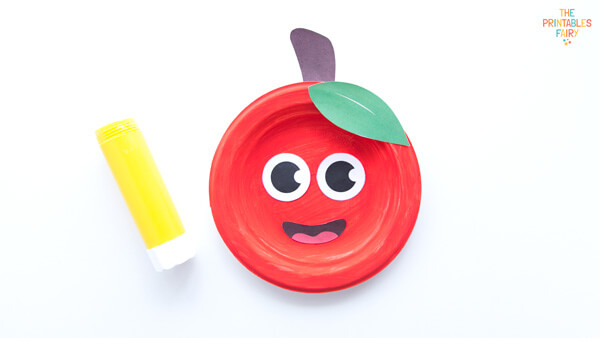 Finally, and only if your kids want, add the apple flesh on the upper left side to make it look like a bitten apple.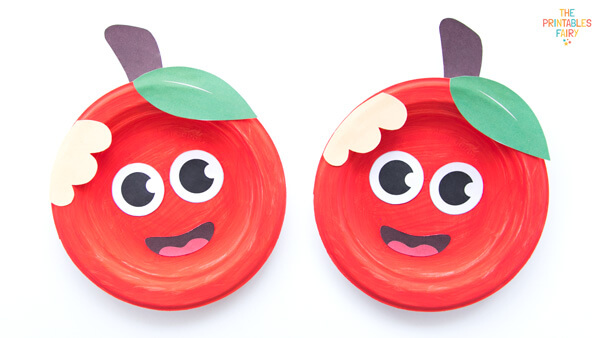 They are cute to the core, aren't they?
Video Tutorial
In this video tutorial, I made an apple paper plate craft following the same steps detailed above.
You can take a look now or save it on Youtube for later!
Paper Plate Apple Template
I've included two versions of this apple template. The smaller one is perfect for 6 or 7 inches plates, and it's the one we used. The bigger one is ideal for 9 or 10 inches paper plates.
You can pick and print the one that fits your plate better.
Just click the link below to download it and start making your cute paper plate apples.
GET THE APPLE PAPER PLATE TEMPLATE
Did you make this apple paper plate craft with your kids or students?
We want to see how it turned out! So share a picture with us on Instagram by tagging @theprintablesfairy.
*Please remember that these printables are for personal use only. You may not sell or distribute the files. If you want to share them, please link to this post and not directly to the PDF files.
More Fall Crafts With Paper Plates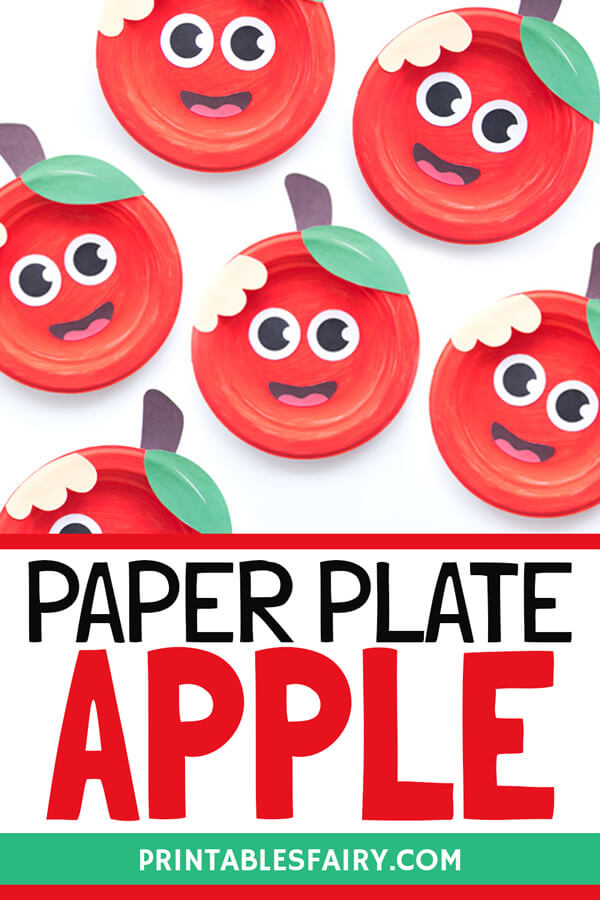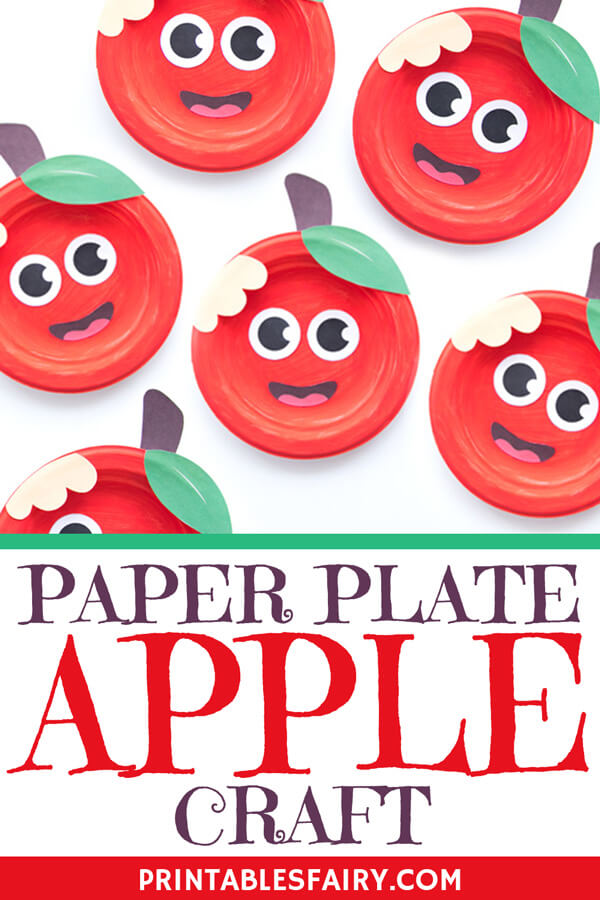 Paper Plate Apple Craft For Preschoolers