Love to build gingerbread houses during the holidays? We do!
I know they can get messy and are such a nightmare to put up just to see them collapse eventually, but, hey, they are so fun to decorate!
That's why this year, we decided to make a non-edible craft that includes all the joy of decoration without the falling-apart sadness.
This Popsicle Stick Gingerbread House is the perfect Christmas craft to get those hands moving and that imagination flying.
With this activity, your kids will develop their fine motor skills, which will help them as they learn how to write. Plus, they will also use their creativity, which is essential for the development of their brains.
It comes with a printable set of ornaments that will get your kiddos occupied cutting for a long time. That's extra good if your children are around 6. Remember that cutting helps them develop their hand muscles, which are crucial for holding pencils.
You can let your younger kids help you cut too, just make sure to give them the larger pieces, such as the candy canes, doors, and windows.
Let's build our gingerbread house!
Materials
Popsicle Sticks
Acrylic Paint
Paintbrushes
White glue
Scissors
Printable Embellishments (Available for free at the end of this post)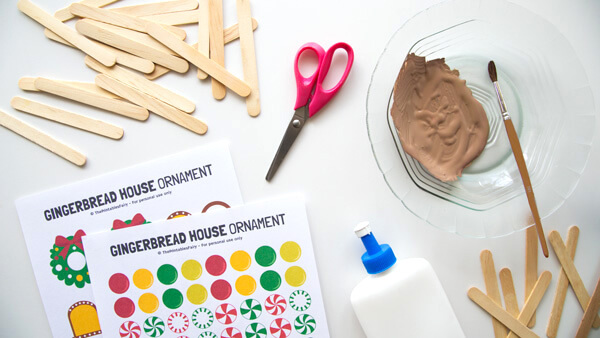 How to make a popsicle stick gingerbread house
1. Paint the popsicle sticks with acrylic paint. We decided to stick to the traditional brown, but you can pick any color and get as creative as you want.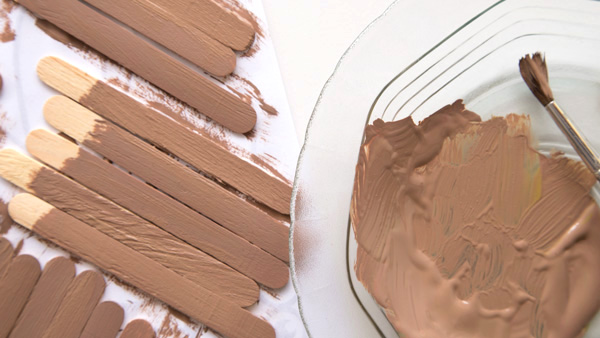 2. Once your popsicle sticks are completely dry (will only take a couple of minutes as acrylic paint dries pretty quick), it is time to start assembling the gingerbread house.
Line up the popsicle sticks in a row, face down. We used 10 regular sized sticks to build our house.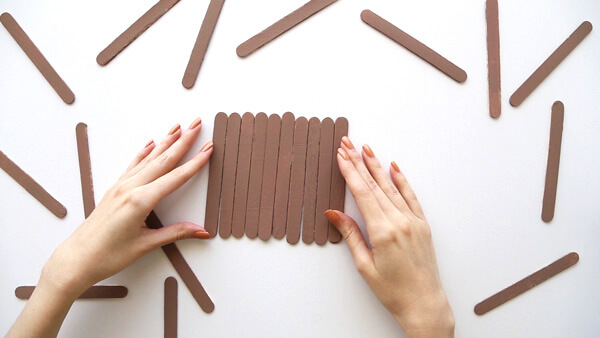 3. Use 3 popsicle sticks to hold your wall together. Glue one at the top, another one in the middle, and the third at the bottom.
Let them dry while you work on the roof.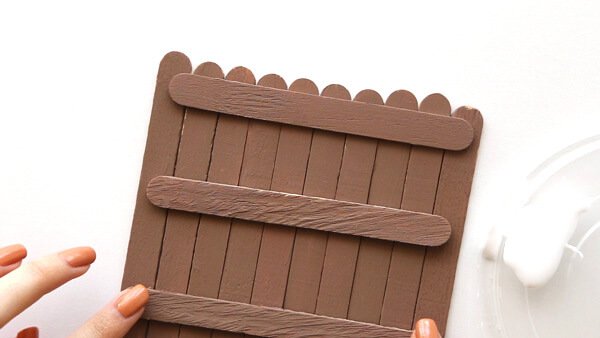 4. Take two popsicles sticks and cut ⅓ of one stick and ½ of the other. Your kids will need your help for this step.You can do it with regular scissors, just be slow and steady to avoid breaking the sticks.
5. Arrange the sticks from small to big. Use the ⅓ piece on top, followed by the ½, then the ⅔ and finally two full-sized sticks. To hold them together, glue the remaining ½ piece to the back.
6. Carefully, flip over the roof and the wall and place them next to each other. Glue two sticks at the sides of the roof to attach it to the wall.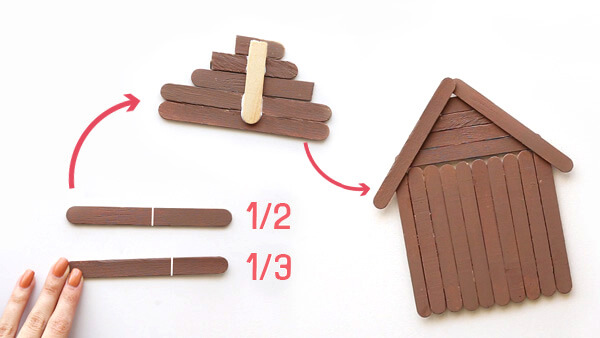 7. While you let dry your house, it is time to stock up on embellishments.
Download our printable ornaments, print them on cardstock, and cut them out.
This free printable set includes anything you need to decorate your houses from candy canes, wreaths, and baubles to stars, peppermints, and gingerbread doors and windows.
You can even combine these elements to create your own unique decorations.
Glue your ornaments on with regular white glue and the help of a paintbrush to distribute the glue evenly.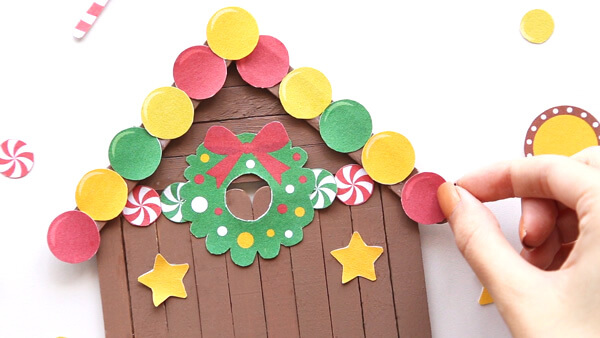 Feel free to use other materials to decorate your gingerbread house. Some ideas of things you can use are:
Stickers
Pop poms
Buttons
Sequins
Ribbons
Self-adhesive jewels
Beads
Tissue paper
Glitter
Pipe cleaners
Fabric straps
Seeds
Here are our finished gingerbread houses! Aren't they cute?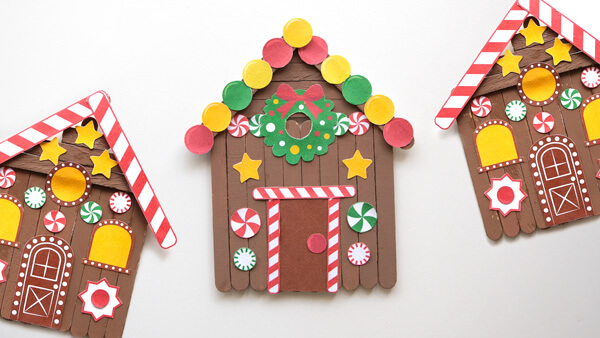 You can glue some ribbon on the top back and hang them on your Christmas tree every year, or add magnets to the back and proudly display them on your fridge.
Video Tutorial: Popsicle Stick Gingerbread House
Still hesitating about how to build your popsicle stick house, watch the video below to see the step-by-step process we followed.
Ready to make your own gingerbread house?
Download the free Printable Ornaments by clicking here!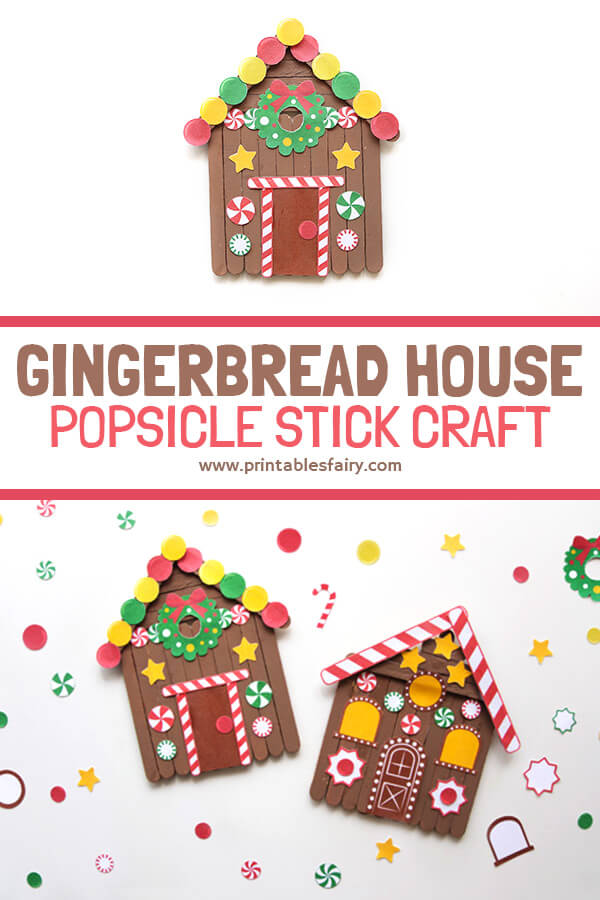 More Christmas Crafts and Activities
Gingerbread House Craft