After reading the holiday favorite, Snowmen at night, the little ones wanted to build their own.
Unfortunately, here where we live, it doesn't snow, so we had to come up with a different way to put up a snowman.
This fun Roll a Snowman game will let you build a snowman over and over again just by printing a couple of pages.
And if you think it can be boring. Don't be fooled!
This game can be played in a variety of ways, so your kids won't get tired of it quickly.
It's especially helpful if winter hasn't hit your door or if it is too cold to go outside.
It is also great to play at classroom parties, family game nights, and any holiday gatherings where your kids need some entertainment.
Plus, it is a great resource to practice fine motor skills, cutting, folding, number recognition, counting, and hand-eye coordination.
Ready to roll?
Keep reading to learn how we play this game and download it at the end of the post.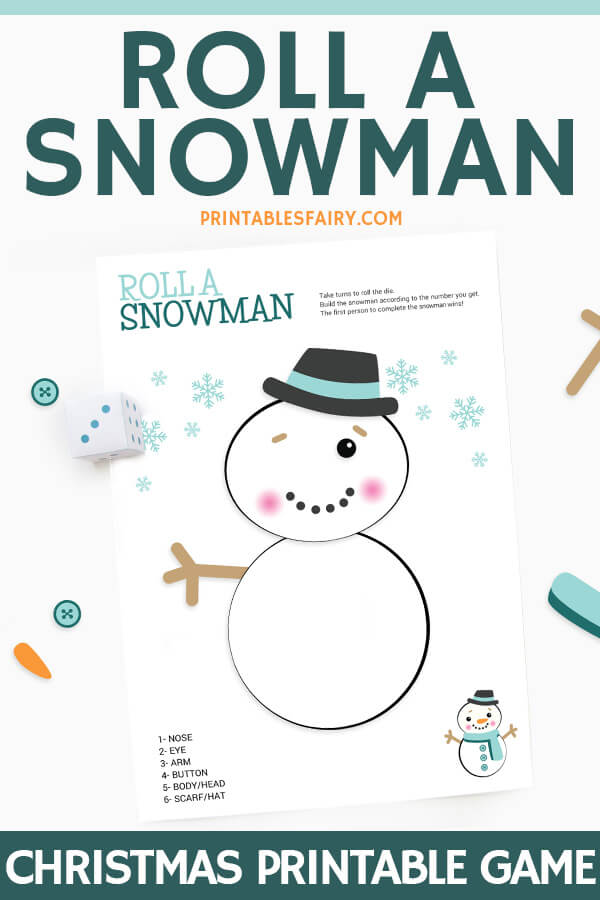 Game Supplies
To play this game you will only need 3 simple items and a printer:
Printable Roll a Snowman Set that includes a game card and the snowman shapes ready to cut.
One die. You can use a regular die and share it with all the players. Or print the page with the die included to let everyone assemble their own dice.
Scissors to cut the pieces.
Glue, only if folding your own dice.
How To Play Roll A Snowman
First, print a Roll a Snowman set for each player. It should include one game card and one shapes card.
Keep in mind that each file includes 2 versions of the Shapes card, one that includes a die and another one that doesn't. Pick the correct page when printing.
Then, cut out all the pieces and assemble the dice if necessary.
Younger kids may need extra help with the smaller parts, such as the nose and eyes.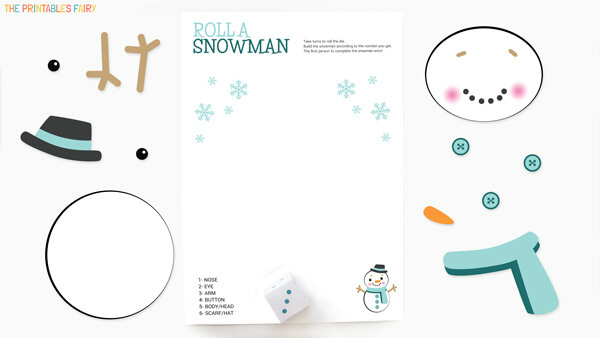 Take turns rolling the die.
Choose the piece for the number you throw and add it to your snowman game card according to the drawing at the bottom right.
For example, if you roll the die and get the number 3, you should add the arm.
If you roll a number for a part that you already have, you will not get to add anything new to your snowman. Simply wait until your next turn.
The first person to build a snowman wins!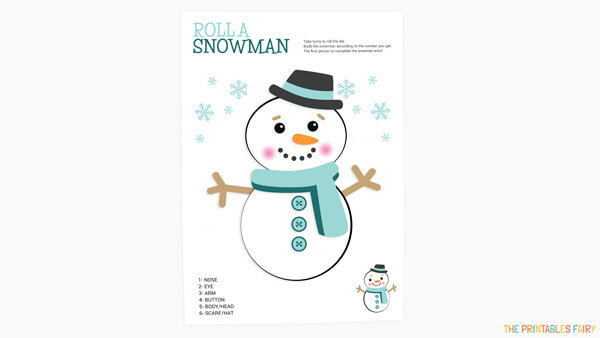 Build A Snowman Game Variations
Let everyone roll the dice at their own pace until they finish their snowman. You can also let your kid play this way if there is no one else to play with.
If you just printed one copy of the set and get unexpected visits, use a timer to calculate how long each player takes to build a snowman. The one that finishes in the less amount of time, wins.
To make the game more fun, print extra copies of the Shapes Card. Keep adding the pieces according to the numbers you get, even if you already have them. This way, you'll end up with snowmen with 5 eyes, 3 noses, or 10 arms.
If you don't want to print more copies, then make everyone roll their pieces in a particular order.
Or, don't let them lift the pieces once they are on. This means that they could not add the head if they place the eyes first. This way, they have to be more strategic on which pieces they need first.
Roll a Snowman Printable
With all these ideas, you can have a wonderful game time with your kids.
Get your printable Roll a Snowman dice game by clicking the link below.
*Please remember that these printables are for personal use only. You may not sell, share, or distribute the files.
More Winter Activities: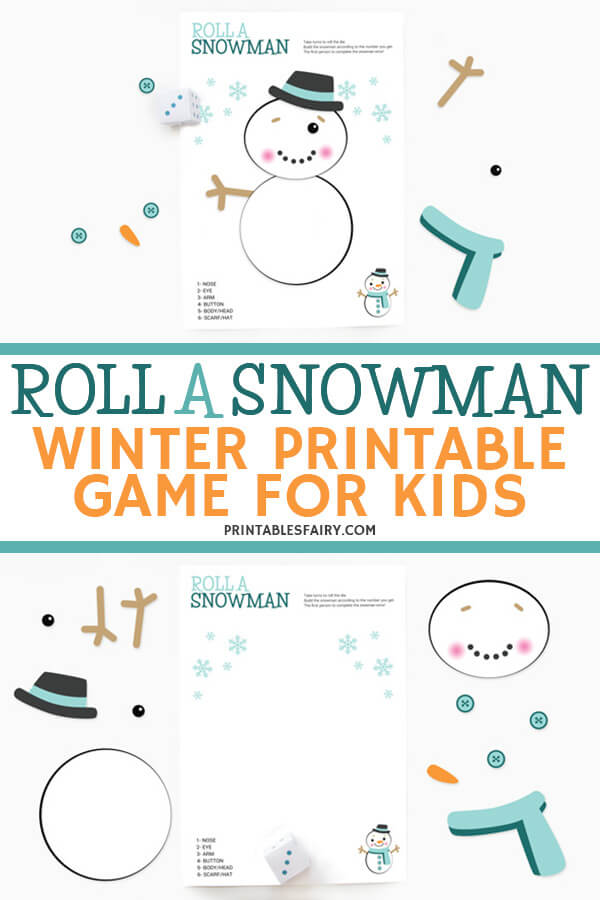 Roll a Snowman Printable Dice Game