Are your kids going crazy for Halloween too? Can't blame them!
There is nothing they enjoy more than trick and treating while dressing up in their favorite costumes.
But you don't have to lose your head on the days previous to this spooky celebration. You can keep them entertained with these Printable Halloween Games. They will keep the holiday spirit alive! (pun intended 😛)
I made them for the kids to use at home, but they are perfect for classrooms, playdates, parties, and especially when you need some quiet time.
Simply, print these Halloween activities, pair them with coloring pencils and let the fun begin.
This set includes a crossword, a word search, a maze, and more printable games to enjoy this season!
You can read more about these fun games below, or get them right here.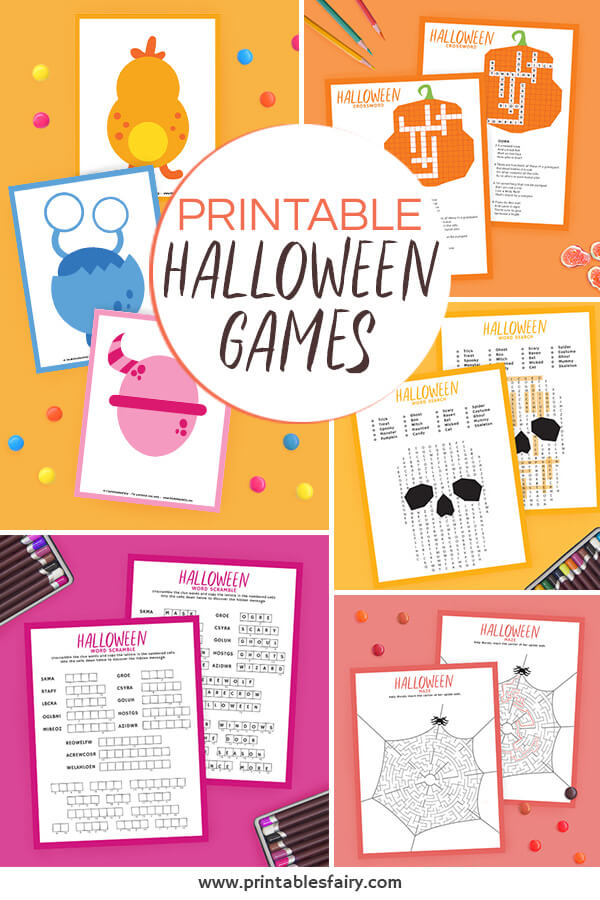 Halloween Word Search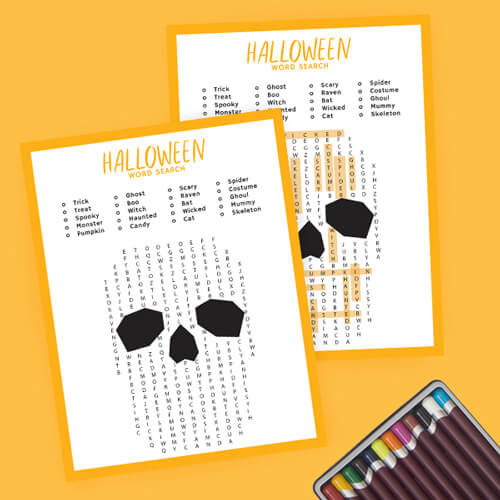 This Halloween word search is perfect for elementary-aged kids, and I guarantee it will keep them busy for a long time!
Just print a copy and let them find the 20 simple words hidden across the skull. I recommend you provide colored pencils to paint each word a different color and avoid getting confused.
An answer sheet is also included in case your kids ask for help.
Halloween Crossword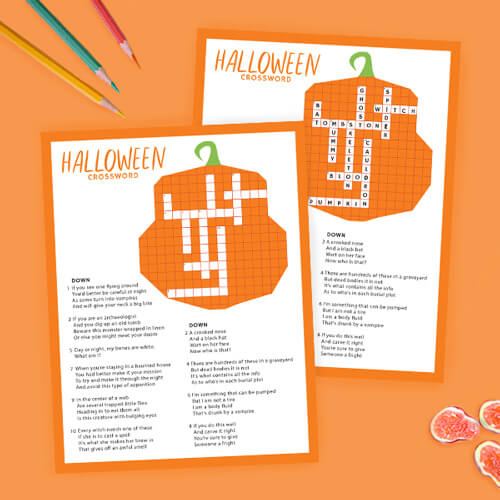 If your kids love solving problems, then, this Halloween crossword is for them.
It will not only entertain them, but will also improve their memory, vocabulary, and spelling. All in a fun way, I'm sure you won't find a crossword like this!
It features 10 spooky-cute riddles that will get your kids excited while thinking of the answers to write inside the pumpkin.
And if your children don't know how to read yet, this can be an amazing bonding activity you can do with them. It will keep your kids giggling all night!
Halloween Word Scramble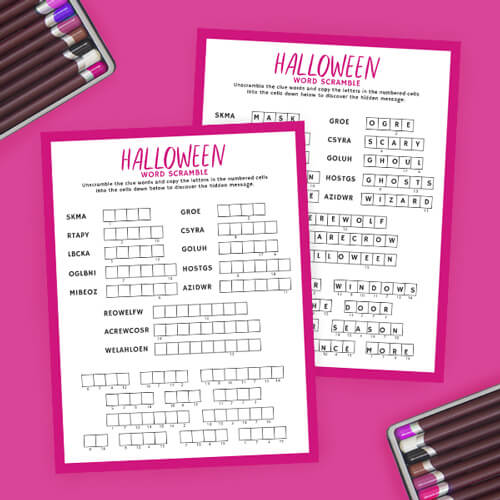 If your kids love solving mysteries, they will love this word scramble.
First off, they have to unscramble the letters to discover 13 real words.
Then, they will have to use those words to solve the cryptogram poem hidden at the bottom of the page.
And don't worry if you can't figure a word out! There is an answer sheet included as well.
Halloween Maze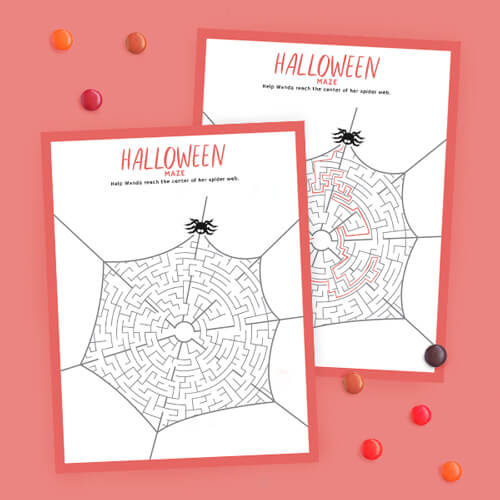 This Halloween maze is perfect for kids of any age. They need to help Wanda, the spider, reach the center of her web.
It may seem easy, but don't be fooled. It will take you a couple of tries to find the right route.
And if you need some help, take a peek at the answer sheet.
Halloween Scavenger Hunt & Scattergories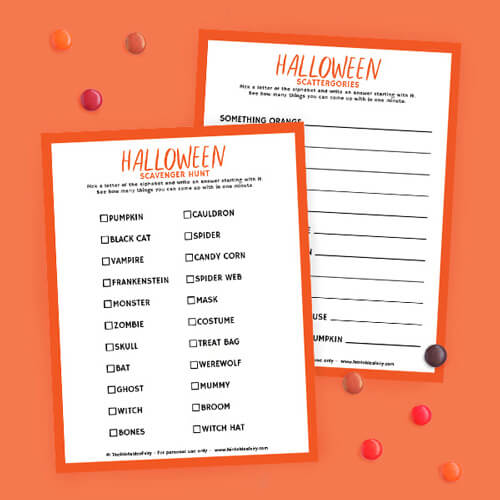 Now we have two games that are ideal to play with teams or small groups of children.
If your kids enjoy exploring, then they will love this Scavenger Hunt.
There are 22 items for your kids to look for at home, at a party, in books, or in movies.
Our second fun game is Halloween Scattergories.
If you haven't played this game before, you don't know what you are missing.
All you have to do is pick a letter of the alphabet and try to come up with things that start with that letter to answer the 11 questions.
Halloween Color & Count And Making Words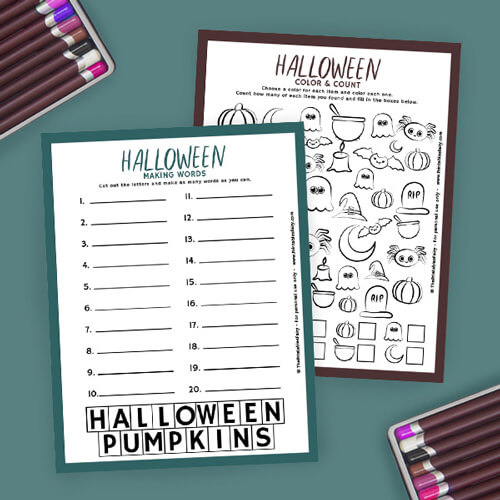 And if you want games for the youngest at home, these will come in handy.
The first one is a Halloween Color & Count made for kids who are just learning to count, but children of all ages enjoy it.
The second one is Making Words. Here, your kids have to cut out the letters at the bottom and rearrange them to create their own real words.
It's very fun and puts those little minds to work!
Monster Play Dough Mats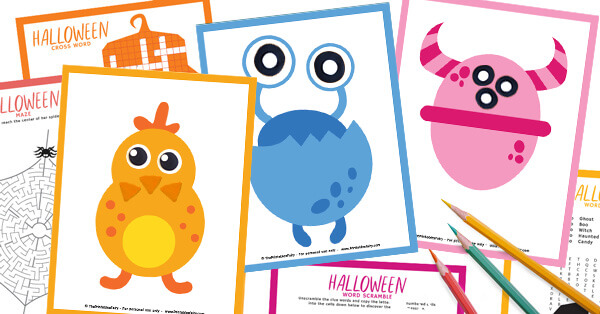 We haven't forgotten about the toddlers. They also need something to play with and nothing is better than some playdough mats.
We had so much fun creating monsters with these playdough mats that we decided to make three more and include them in this set!
Now your kids can make more fun monsters.
Download the Halloween Games
As you can see, there are games for everyone!
If you need to print multiple copies for your children and want to save some ink, there is a printer-friendly version included that doesn't have colored borders.
CLICK HERE TO GET THE HALLOWEEN GAMES
*Please remember that these printables are for personal use only. You may not sell, share, or distribute the files.
More Halloween Activities: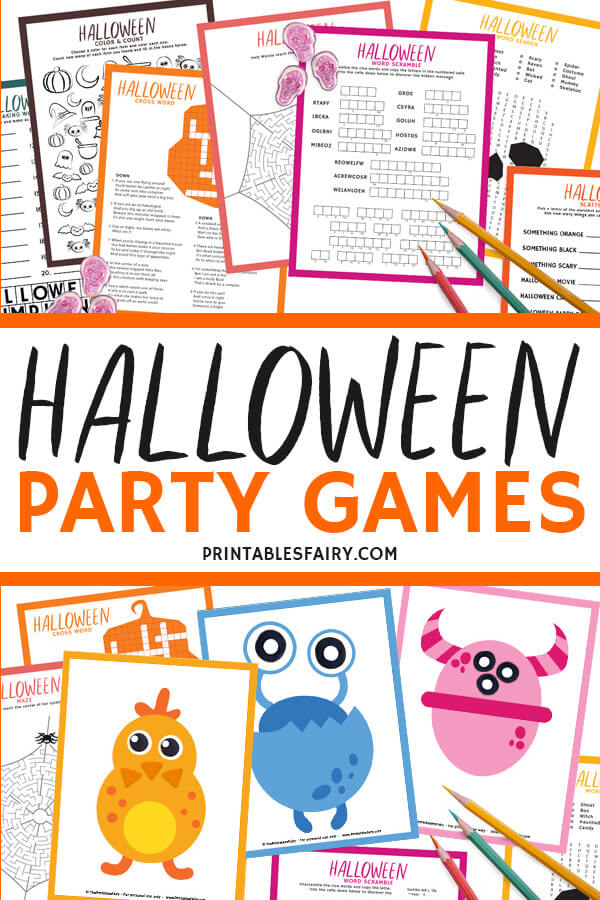 Halloween Printable Activity Set