If you are here, you might have totally forgotten to get your Halloween party favors together. And guess what, you are not alone!
Sometimes, we just have to take the easy and quick route: getting store-bought goodies.
They may not look Halloween-esque enough, so we have to make them look more festive. Don't worry, it's pretty simple. We will just use printables and won't take more than five minutes!
These Halloween treats come in handy for trick-or-treaters, potluck gifts, or class parties.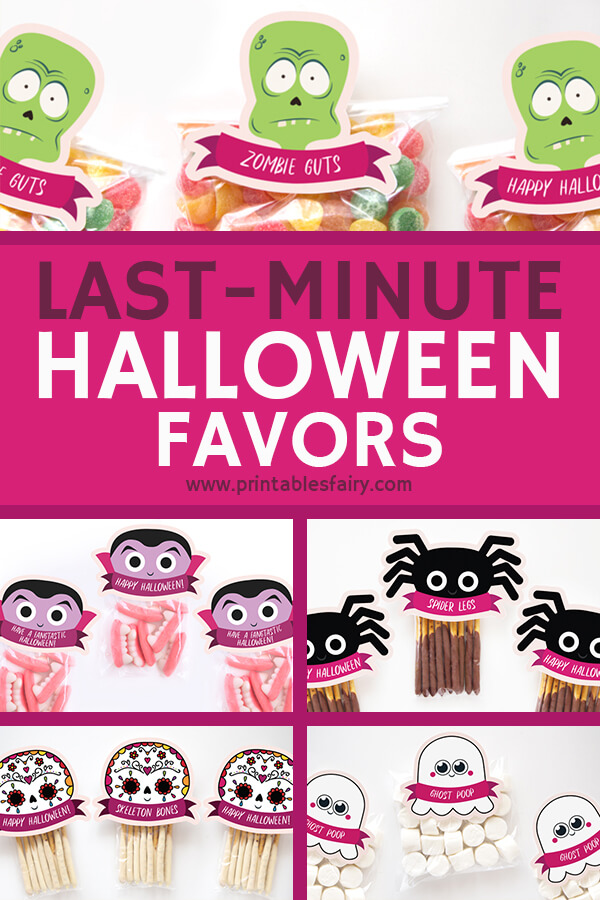 Halloween Favor Bags
To create all these favor bags, I used clear plastic bags, filled them with the treats, and closed them with clothespins.
Then, I added the spooky touch by sticking these Halloween Printable Labels on top of the clothespin.
I love these labels as they can be used as both: gift tags and bag toppers.
All of them come in 3 different sizes so you can use the one that fits your treats better.
And let's not forget that they also include a version that reads Happy Halloween as well.
Ghost Poop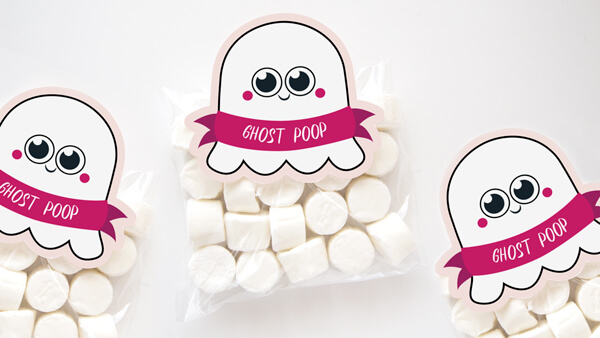 I used marshmallows for the ghost poop. You can also use cheese balls or popcorn for a healthier option.
Download the Ghost Labels here.
Vampire Fangs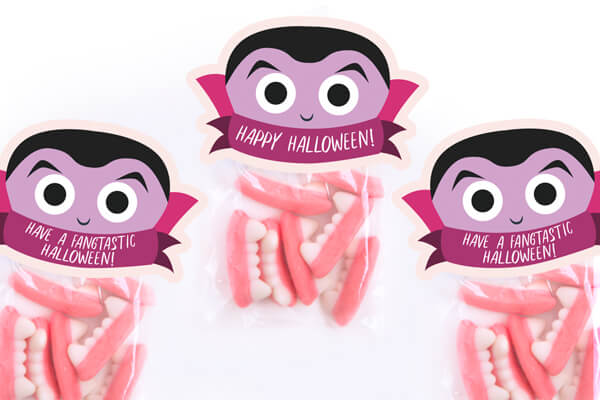 You can use candy fangs like I did, or use vampire plastic fangs for a non-candy Halloween gift.
If you want to give out something more useful, a toothbrush is a great idea!
Download the Vampire Labels here.
Pumpkin Seeds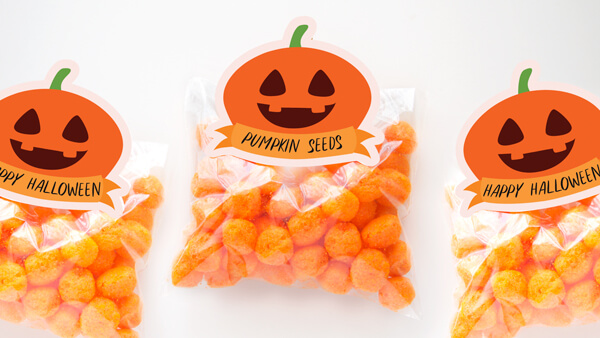 For the pumpkin seeds, I used cheese balls, but candy corn is also a popular choice to pair with these tags.
Download the Jack O'Lantern Labels here. 
Spider Legs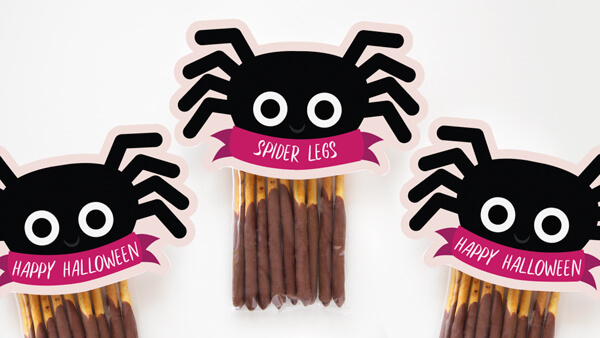 To create these spider legs, I used pretzels covered with dark chocolate. It is a healthier idea that I'm sure your kids will love.
Download the Spider Labels here.
Skeleton Bones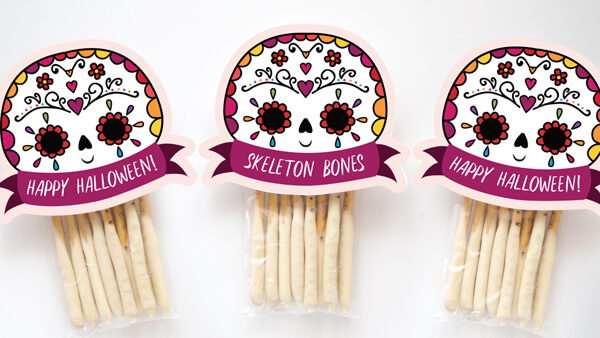 For the skeleton bones, I did the same as with the spider legs but used white chocolate instead. You can also use bone-shaped gummies or cheese sticks.
Download the Sugar Skull Labels here.
Witch Warts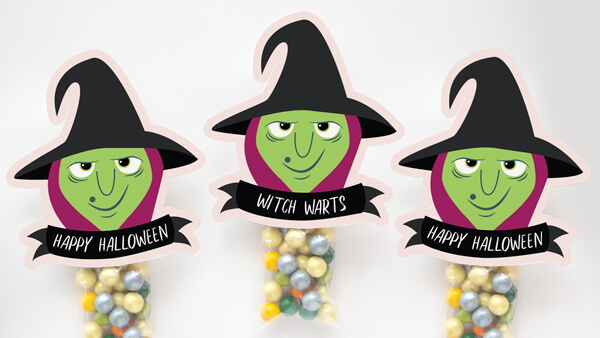 The witch warts bags can be filled with chocolate chips, colorful Hershey's kisses, Rice Krispies cereal, green chocolate-covered popcorn, or gumballs.
Download the Witch Labels here.
Zombie Guts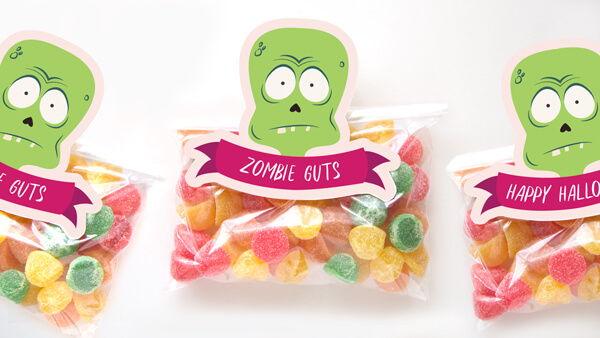 I used gummies for the zombie guts, you can get creative and use different shapes and sizes.
Also, you can use these labels to give out cinnamon rolls for a less common Halloween favor.
Download the Zombie Labels here.
Black Cats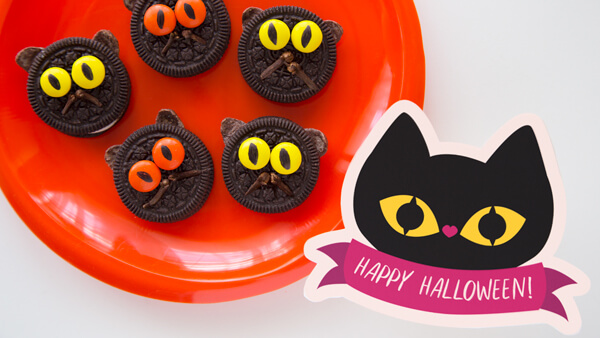 All these printables can also be used as food labels if you are hosting a party. I used the black cat ones next to some oreo cookies treats.
Cauldron Bubbles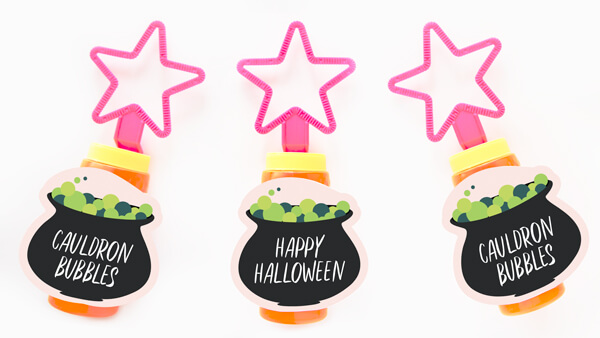 And if you don't want to give out candies this Halloween, you can opt for bubbles.
They are fun for kids, and you can make them look spooky-cute with these Cauldron Tags.
Download the Cauldron Bubbles Labels here.
Halloween Tags Bundle
There you have it!
Nine simple last-minute treats that you can hand out on your Halloween celebrations. All using just printable labels.
Get the label that you love the most to Halloween-ify any favor that you have in mind!
And if you want to save big, get the bundle that includes all of the labels featured in this post.
CLICK HERE TO DOWNLOAD THE HALLOWEEN LABELS BUNDLE
*Please remember that these printables are for personal use only. You may not sell, share, or distribute the files.
More Halloween Fun: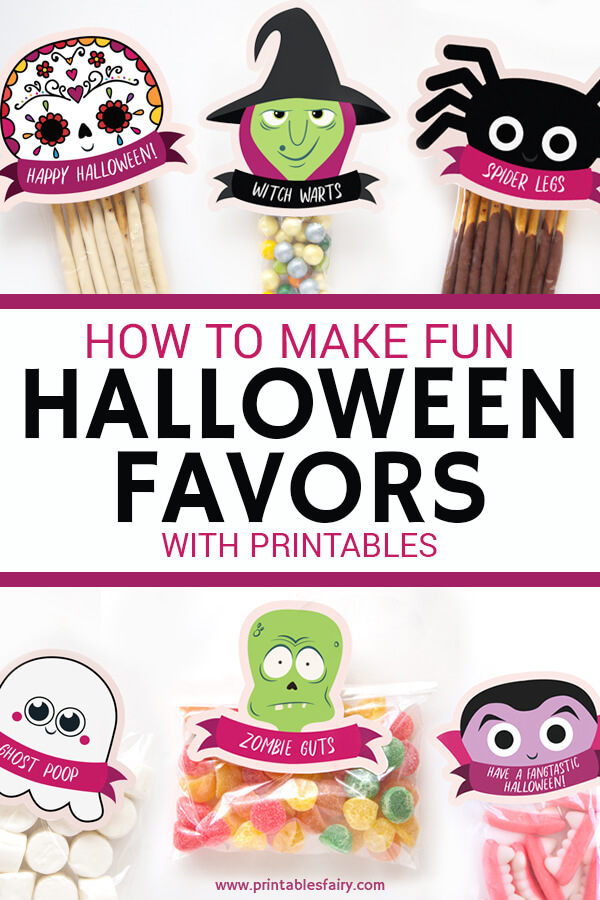 How to Decorate Halloween Favors In Five Minutes