Are you looking for a last-minute St. Patrick's Day activity for kids? This St. Patrick's Day scavenger hunt is exactly what you have been searching for!
I know usual treasure hunts require lots of work, writing the perfect clues, hiding them around the house, preparing some challenges, and hiding little treasures.
That's super fun, but sometimes, we don't really have time for all the preparations. That's when this printable scavenger hunt comes in handy!
It will make St. Patrick's Day more memorable and fun for your kids with little to no planning on your end. Sounds great, right?
This St. Patrick's Day Treasure Hunt features items that can be easily found around your house or by walking around your neighborhood.
And if you are struggling to find some of the items, I will give you some tips below. 😉
It's perfect as a family activity that will get everyone moving or as a classroom activity that your students will love for sure!
In this post, I'll show you how to use this printable game and download it at the end.
Let's find the treasure at the end of the rainbow!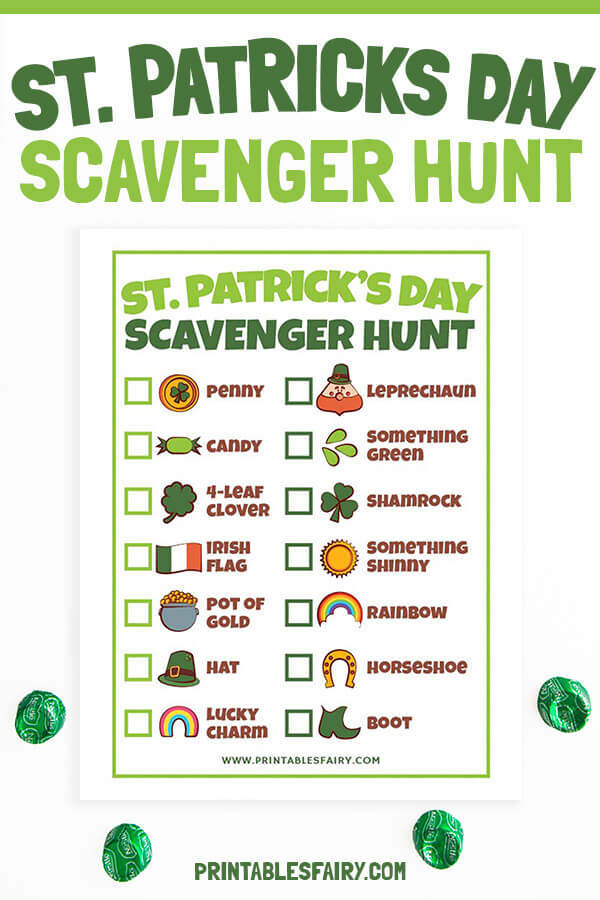 How To Use The St. Patrick's Day Scavenger Hunt
This St. Patrick's Day scavenger hunt includes pictures and words so kids of all ages can play. (We know preschoolers love this game, so we needed to make it perfect for them.)
To get started, all you have to do is scroll to the bottom of this post and download the free printable.
Then, print as many copies as you need on white cardstock or paper. And if you are planning to use them again next year, don't forget to laminate them or use sheet protectors.
Once your scavenger hunts are ready, attach them to a clipboard and a marker. This will make it easier for your children to move around and mark their findings.
Now it's time to start playing. Give each child their printable and let them explore, find all the listed objects, and check them off their sheets.
Ideally, you should have all these items at home, but if you don't, don't worry! Simply open your favorite St. Patrick's Day picture books and let your kids find the objects there.
You can also watch movies, visit your local library, or walk around your town.
If you are playing with a big group, you can make them take pictures of the things they find to make sure everything is right.
In the end, you can give a small prize to the kid that finished first or to all the kids that completed the hunt successfully.
It's super easy to plan your scavenger hunt this way, right?
Grab the free printable scavenger hunt down below!
Printable St. Patrick's Day Scavenger Hunt
Are you are ready to have fun with your kids with this colorful game?
Get the free printable by clicking the link below.
Don't forget to print it on US letter paper or select Fit Page on your printer settings if you are printing on a different paper size.
P.S. If you use this printable to celebrate St, Patrick's Day, don't forget to share your pictures with us on Instagram by tagging @theprintablesfairy!
GET THE ST. PATRICK'S DAY SCAVENGER HUNT
*Please remember that these printables are for personal use only. You may not sell or distribute the files. If you want to share them, please link to this post and not directly to the PDF files.
More St. Patrick's Day Activities for Kids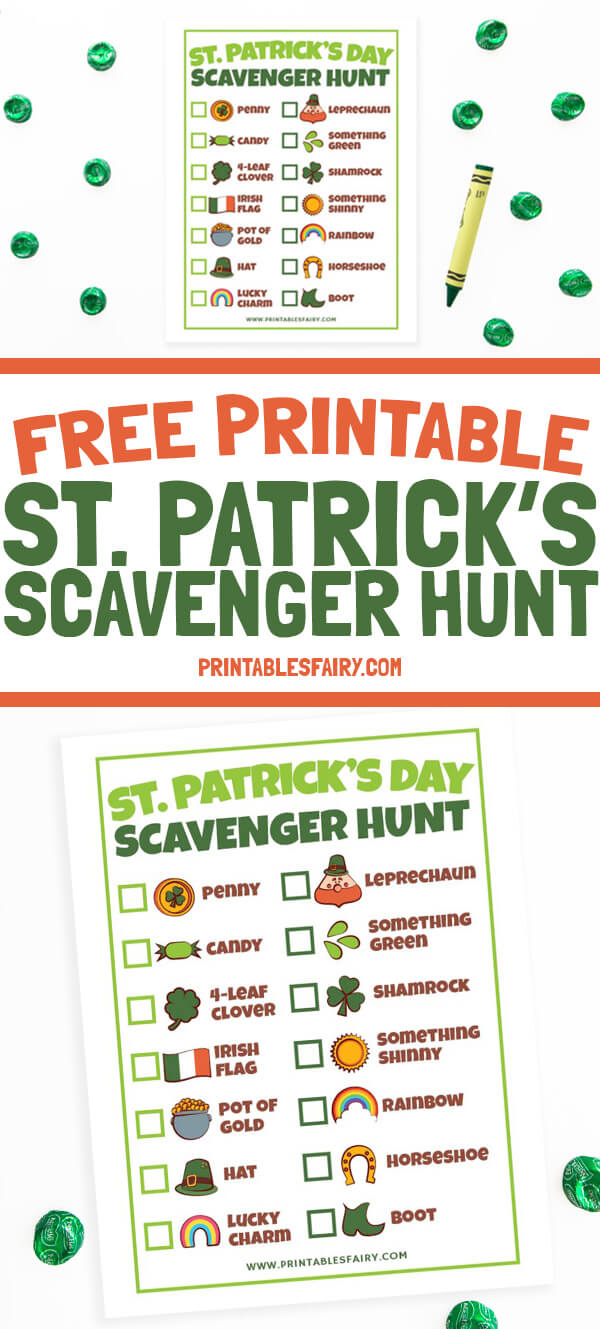 Free Leprechaun Scavenger Hunt