If you want to spread St. Patrick's Day cheer, do it with these printables that will help you decorate your gifts and treats in no time!
Whether you go big or small, these free printable St. Patrick's Day gift tags will be your best choice when it comes to gift-giving. They are perfect for party favors, treats, or gifts of any size!
Of course, we have cute designs featuring four-leaf clovers, rainbows, lucky charms, and more! They are perfect for your guests, neighbors, friends, family, kids, and even their classmates.
You just have to find a special treat for everyone!
The best part is that these cute tags couldn't be easier to use. You just have to download them at the end of this post, print them on white cardstock and think of something to wrap them around.
Ready to celebrate the luck of the Irish and celebrate in style?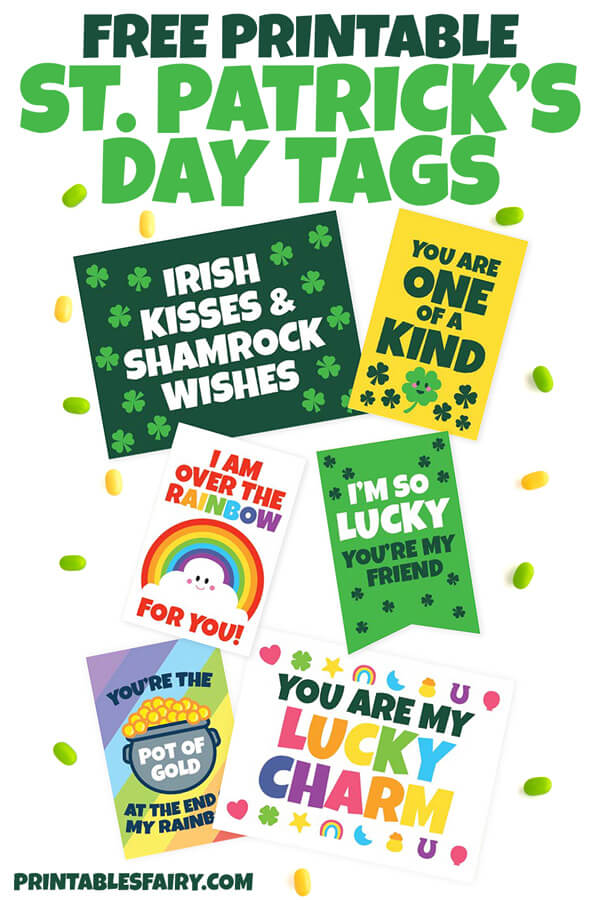 Materials
Free printable St. Patrick's Day gift tags
White paper or cardstock
Printer
Scissors or cutter
Hole punch
String
How To Make The St. Patrick's Day Gift Tags
Download the gift tags at the end of this post.
Print them on white cardstock or paper.
Cut out each tag with scissors or a cutter.
Punch a hole at the top of each tag.
Thread a string through the hole and tie it into a bow.
St. Patrick's Day Gift Tags
I made six different gift tags to let your loved ones know how lucky you are to have them in your life and also wish them a Happy St. Patrick Day.
Starting with the greener ones, we have:
Irish kisses and shamrock wishes
I'm so lucky you're my friend
You are one of a kind
You are the pot of gold at the of my rainbow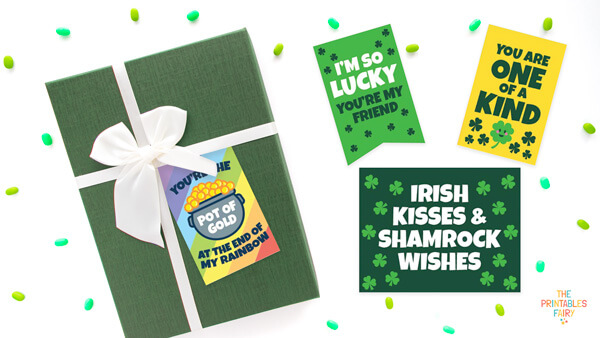 And continuing with our rainbow-inspired:
I'm over the rainbow for you
You are my lucky charm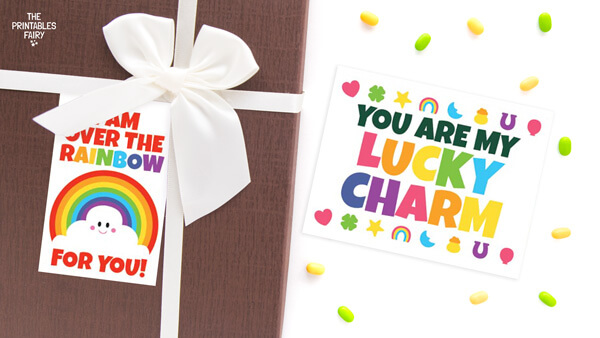 They are perfect for people of all ages, and some of them can be used as small cards as well!
Feel free to write your own little note on the back 😉
St. Patrick's Day Gift Ideas
Whether you want to go big or just want to share a small treat, here are some gift ideas for this special day:
Bags of chocolate coins.
Skittles
M&Ms
Fresh flowers
Potted garden plants
Pot-o'-Gold Bath Bombs
Boxes of crayons
Playdough
Hand soap
Do you have more ideas on how to use these free printable tags? Please share them in the comments below!
St. Patrick's Day Printable Tags And Cards
If you want to celebrate St. Patrick's Day with all things green and rainbow, these free printable gift tags are perfect for your needs!
Just click the link below to download them, and don't forget to print them on US Letter sized paper!
GET THE ST. PATRICK'S DAY TAGS
*Please remember that these printables are for personal use only. You may not sell or distribute the files. If you want to share them, please link to this post and not directly to the PDF files.
More St. Patrick's Day Printables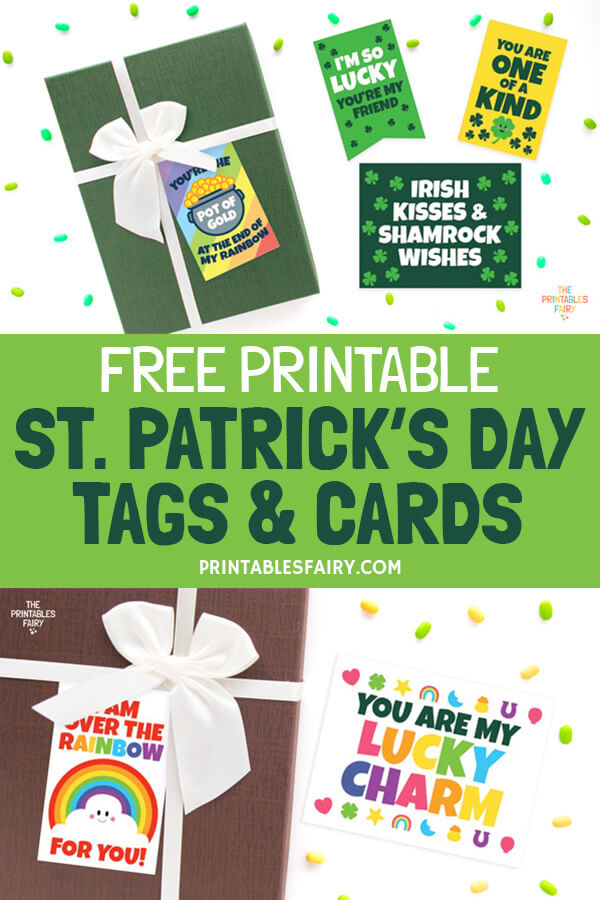 Happy St. Patrick's Day Gift Tags: Free Printable