We all know teachers love a handmade gift and with teacher appreciation week right around the corner, I decided to create a cute and easy craft for children to do.
This Teacher Appreciation Flower Pot Card is the perfect way to show teachers how much they are loved for everything they do.
It features the phrase, "Teacher, thanks for helping me grow," and a flower that grows.
Yup, you read that right! This card actually moves, which is why kids absolutely love it!
You can get the printable template here or at the bottom; and follow the simple steps outlined in this post to put it together with your kids and celebrate their favorite teachers.
The best part is you won't have to struggle with the drawing and the measuring. Everything is done for you. Just paint, cut, and paste.
This is also perfect if you are crafting it in the classroom. And, of course, everyone can add their personal touch by decorating the card how they want.
Some kids might want to add rain, draw some insects, or even add some glitter and sequins. Everything is allowed in this cute card!
And if your kids want, they can also write a little note on the back to let their teachers know how much they are appreciated.
Ready to make this interactive card for teachers?
Let me show you how easy it is!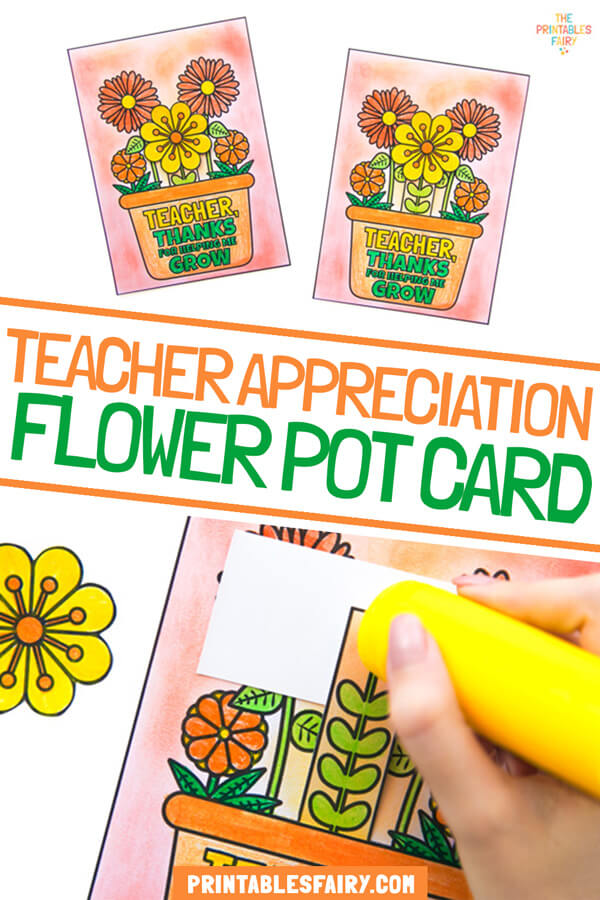 DIY Flower Pot Card For Teacher's Day
I made this quick video tutorial to show you how to make your own Teacher Appreciation Flower Pot Card with our template.
I have also written the step-by-step instructions right after it.
And I added helpful pictures that will show you how to assemble this DIY flower card for teachers with your kids.
Materials
White Cardstock
Printer
Scissors
Cutter
Glue
Coloring pencils, crayons, or markers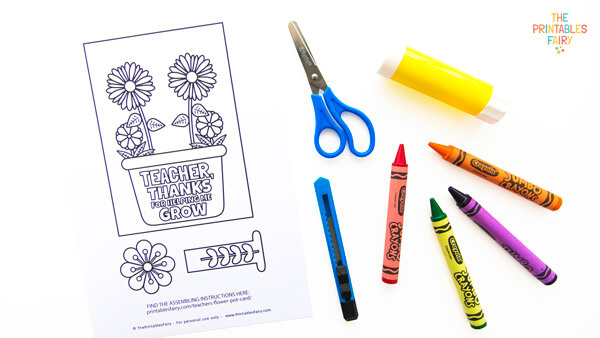 Instructions
Get the printable coloring card template at the end of this post.
Print it on white cardstock.
I don't recommend using regular paper as it won't handle the movement.
Make your kids color the card, the flower, and the stem.
We used coloring pencils and crayons for the plants, pot, and words. And an eyeshadow palette to color in the background easily.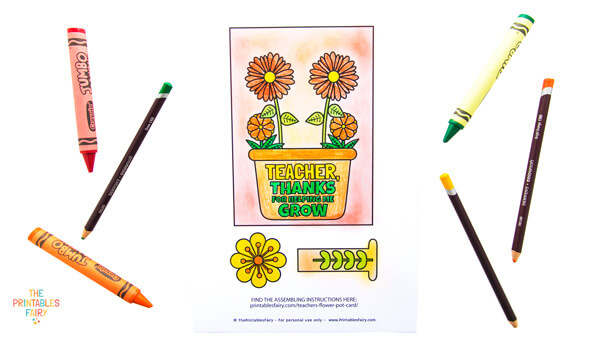 Cut out all the pieces with scissors.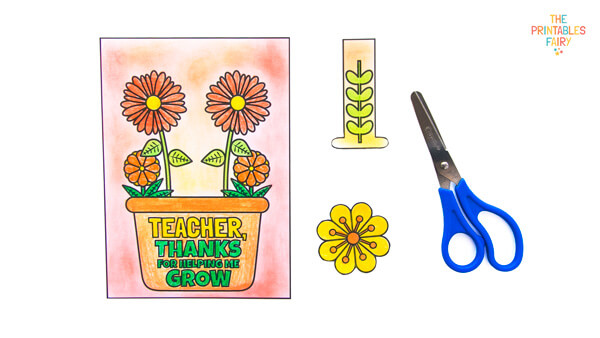 Have an adult use a cutter to make a slit above the pot, from flower to flower.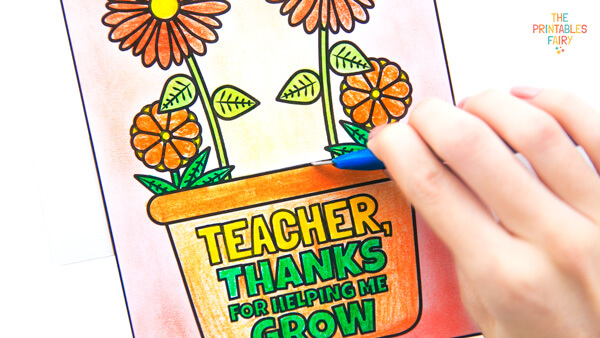 Flip the card over and insert the stem into the slit, as shown below.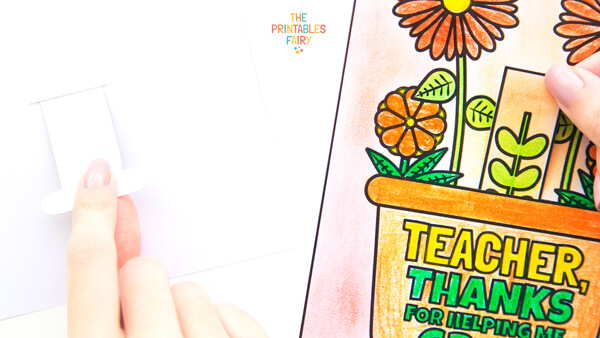 Glue the flower on top of the stem and let it dry.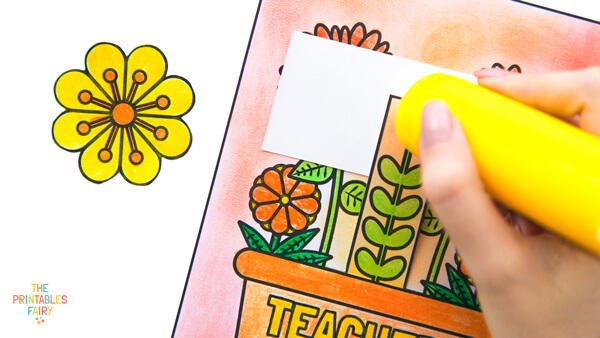 Pull the stem from the back of the card to make it move.
Now your flower can grow, just like your kids!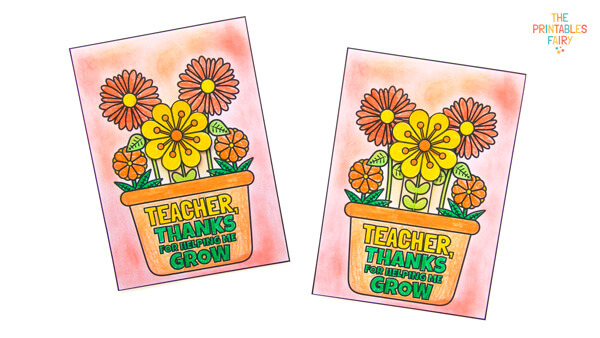 Give it to your teachers for Teacher's Day, Teacher Appreciation Week, or as a goodbye on the last day of school.
I'm sure they will love it!
Teacher Appreciation Flower Pot Card Template
Isn't this "Thank You For Helping Me Grow" card super adorable and easy to make?
Don't leave without the template to make your own!
Just click the link below to get it and print it on either A4 or US Letter cardstock.
* Each assembled card is 5 x 7 in.
GET THE FLOWER POT CARD TEMPLATE FOR TEACHERS
*Please remember that these printables are for personal use only. You may not sell, share, or distribute the files.
More Printables For Teachers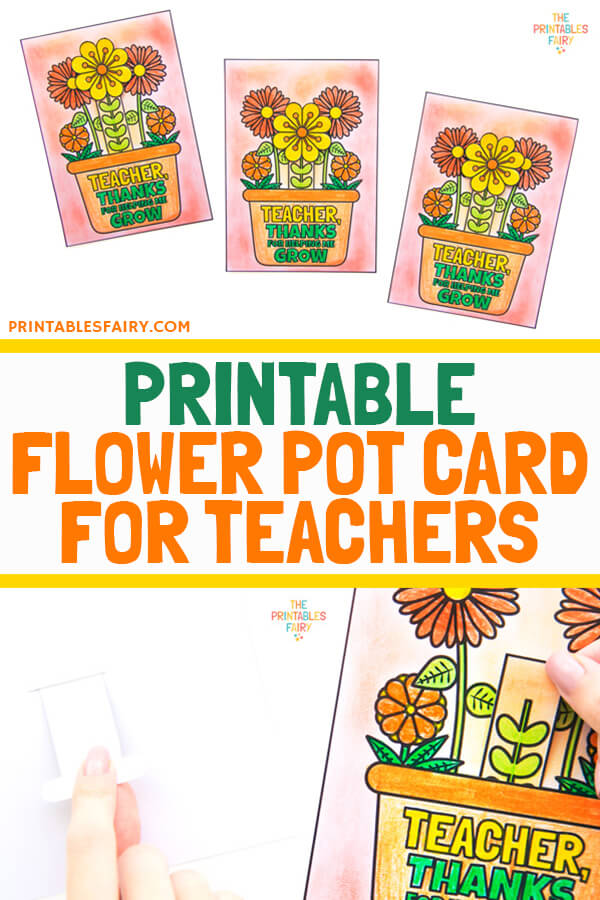 Teacher Appreciation Flower Card Idea