Winter is the perfect time to try some indoor activities with your kids. So, why not use this chance to play and learn with them!
Use these Winter tracing worksheets with your preschoolers and kindergarteners to practice their pre-writing skills at home or school.
If you are a teacher or a homeschooler, you can include these pages in your January curriculum. They are a fantastic winter-themed addition!
The best part is that there are so many fun ways to use them and help your little ones develop their fine motor skills while having fun.
In this post, I'll show you all the things you can do with them.
From tracing and practicing pencil control, to having fun coloring. Plus, you can also use them to talk about winter clothes and how they are different from other seasons.
Let's take a look!
And don't forget that you can download them for free at the bottom of the post.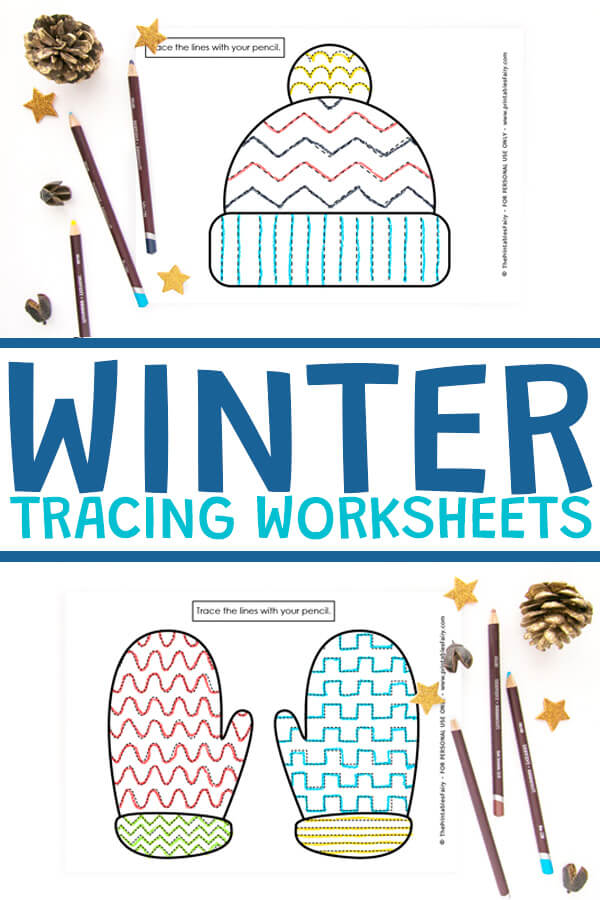 Winter Tracing Free Printable Worksheets
I designed these printables to focus on developing pre-writing skills.
If your kids are just getting started, you can use these printables for finger tracing. This will help your kids improve their hand-eye coordination and spatial awareness.
Another option is to use manipulatives such as pom poms, beads, nuts, or pebbles to trace the lines. It will make your kids use their pincer grasp which is needed to hold a pencil properly.
If your kids already have a mature pencil grasp, you can make them trace the lines with pencils, markers, or crayons. Just give them a variety of options and colors so they can get as creative as they want.
We also like to use these printables like coloring pages. You can use the same materials mentioned above, or bring new options such as watercolors. The only thing that matters is that you have fun!
Last, but not least, we like to use these pages to do some cutting practice by making the little ones cut each of the items out of the page.
In the short video below, I show you how to do all the things mentioned above.
What Is Included In This Set?
There are 4 different winter tracing worksheets included in this pack.
In the first one, kids have to trace vertical lines, zig-zag lines, and curve lines on a winter hat.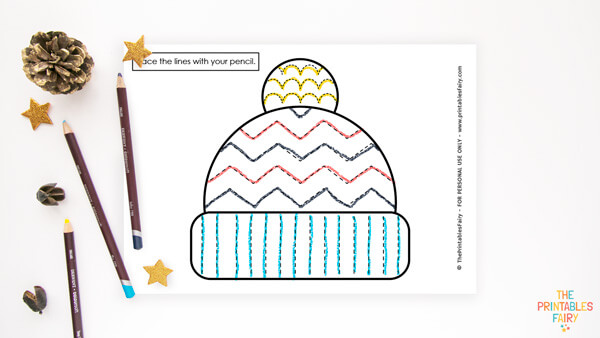 The second design features two cute mittens that gave a mix of wavy, horizontal, zig-zag, and embattled lines.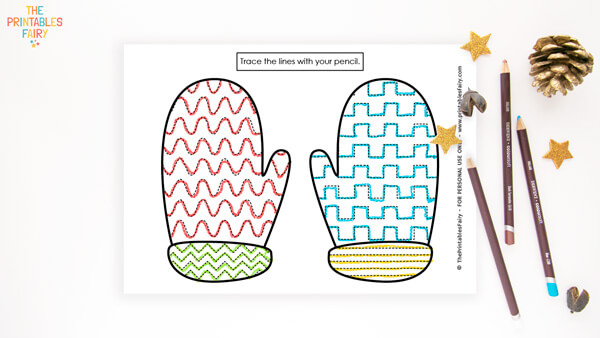 Then we have some socks that provide plenty of tracing practice. They include diagonal, curved, wavy, loop lines; and also some circles on the toes.
The last page has a scarf. It has a combination of all the lines in the pages above, plus some extras like the stars.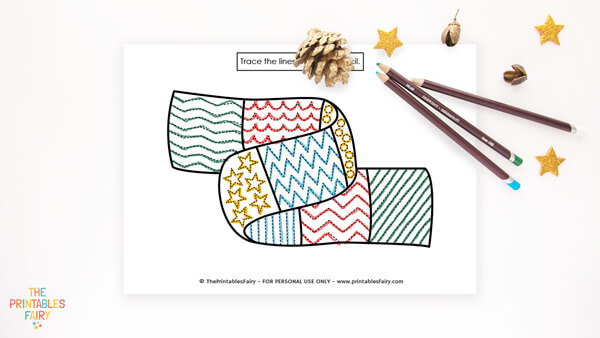 Ready to play with these worksheets?
Get them in the next section!
Get the Free Printable Pages
To download your free printable winter tracing pages, just click the link below.
Print them on A4 white paper or cardstock and start tracing!
You can also print them on different paper sizes, but you have to check your printer settings first, so nothing cuts off. Usually, you should select Fit Page.
And don't forget to share your children's work with us on Instagram by tagging @theprintablesfairy.
*Please remember that these printables are for personal use only. You may not sell or distribute the files. If you want to share them, please link to this post and not directly to the PDF files.
More Winter Activities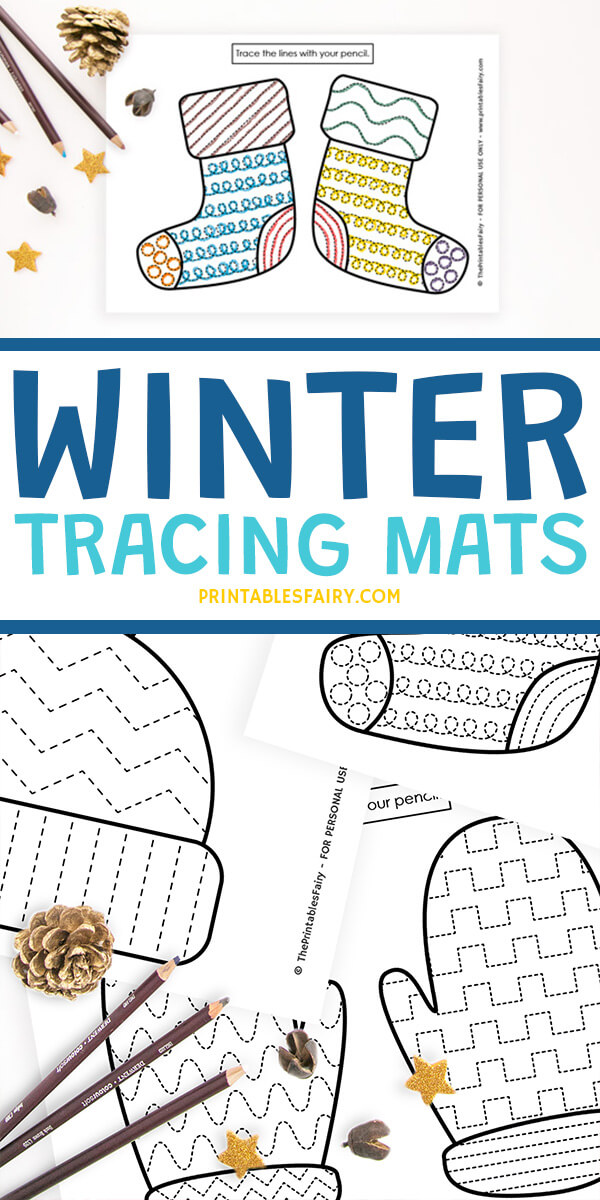 Winter Tracing Pages