If you are looking for a Holiday tradition that encourages generosity, this Christmas Giving Jar is the perfect activity for your family.
It is exactly what it sounds like, collecting change in a jar throughout the year and giving it away to someone who needs it during Christmas.
So basically, it's a 365 days project that will help your family think of others while appreciating your own blessings.
It is also important to notice that you have to gift the jar anonymously, kind of in a ring-and-run delivery, because the focus of this gesture is giving without expecting anything in return.
Sometimes, you never know how the gift was used. And that's the point, serving others, doing something selflessly, and making someone's holidays a little better.
Ready to start a tradition of anonymous giving for many years and share it with your family, kids, and grandkids?
Keep reading this post!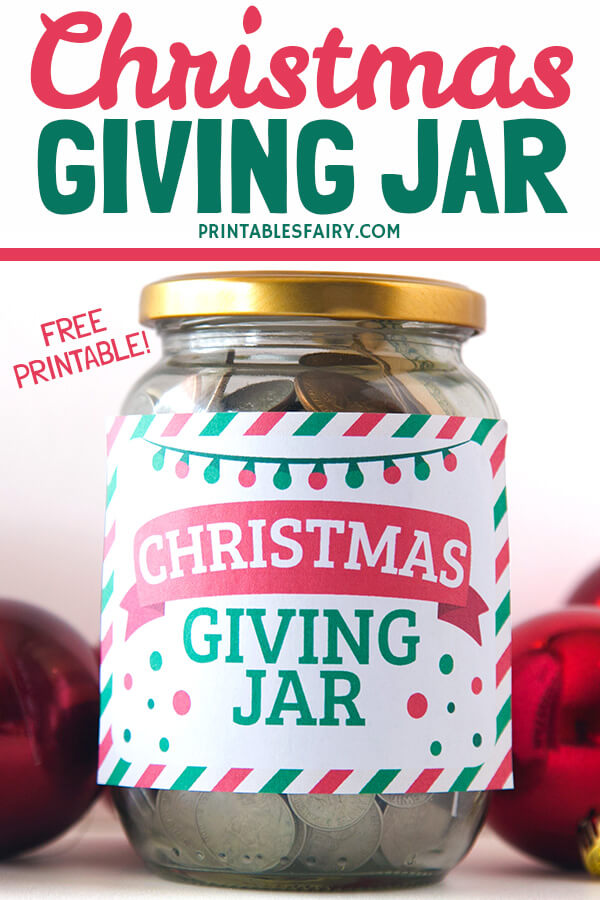 How to Make A Christmas Giving Jar
This activity is perfect for remembering the real meaning of Christmas and Gratitude.
It will help your kids reflect and be thankful for what they have and start thinking of others rather than only themselves.
It's never too late to get started. Still, ideally, you should begin on Christmas and collect money until the next holiday season.
If you are reading this post at any other time of the year, don't let that discourage you. Just get started and collect as much money as you can.
Making this money giving jar is simple. You'll only need some basic materials outlined below and the will to make it happen. Let me show you how!
Materials
Jar (new or recycled)
Free Printable Christmas Giving Jar Label
Regular White Paper
Printer
Scissors
Clear tape
Instructions
If you are using a recycled jar, make sure to wash it and let it dry very well.
Download the label at the end of this post, print it on regular white paper, and cut it out.
Tape the label onto your jar.
Put your jar in a visible area of your home.
Throughout the year, starting on December 25, let everyone in your house fill the jar up with spare change and bills.
Right before Christmas, select someone in need to give the jar to.
Make sure to close the jar very well and give it away anonymously before Christmas Eve.
TIP: Before gifting your jar, you can decorate it with bows and ribbons. You can also add a small letter or note explaining this giving tradition.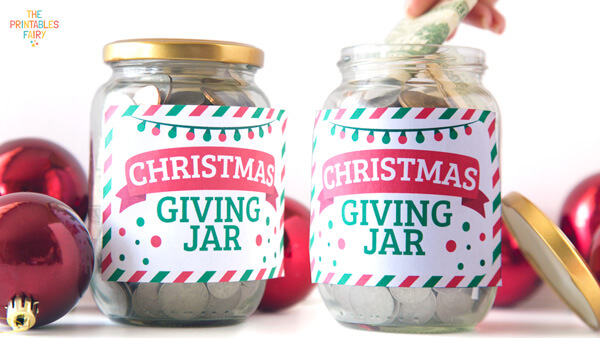 Possible Recipients for Your Anonymous Giving Jar
Help your kids think of who in your area can use this jar during the holiday season. It can be people in need (even strangers) or charitable organizations.
Here are some ideas:
A person or family in your neighborhood
A homeless person living in your area
A health crisis survivor
Someone who has experienced a recent tragedy
Someone you know has had a tough year
A homeless center
An animal shelter
A domestic violence shelter
A senior's center
A hospice
A hospital
A veterans charity
A hunger-relief charity
A food bank
Free Christmas Giving Jar Printables
Ready to bless others this Christmas and keep the holiday spirit alive all year-round?
Click the link below to download the printables and start your Christmas Jar!
These free printable labels come in 3 different sizes: 3×4 in., 6×4 in., and 9×6 in. Just print the one that fits your jar better.
There are also options to print more than one label on a single page in case you have 2 smaller jars or your kids want to start multiple jars. Maybe one at home and one at school? It'd be a great project to plan along with their teacher!
Don't let more time slip away and start your giving jar today!
DOWNLOAD THE CHRISTMAS GIVING JAR LABELS
*Please remember that these printables are for personal use only. You may not sell or distribute the files. If you want to share them, please link to this post and not directly to the PDF files.
More Christmas Traditions To Start This Year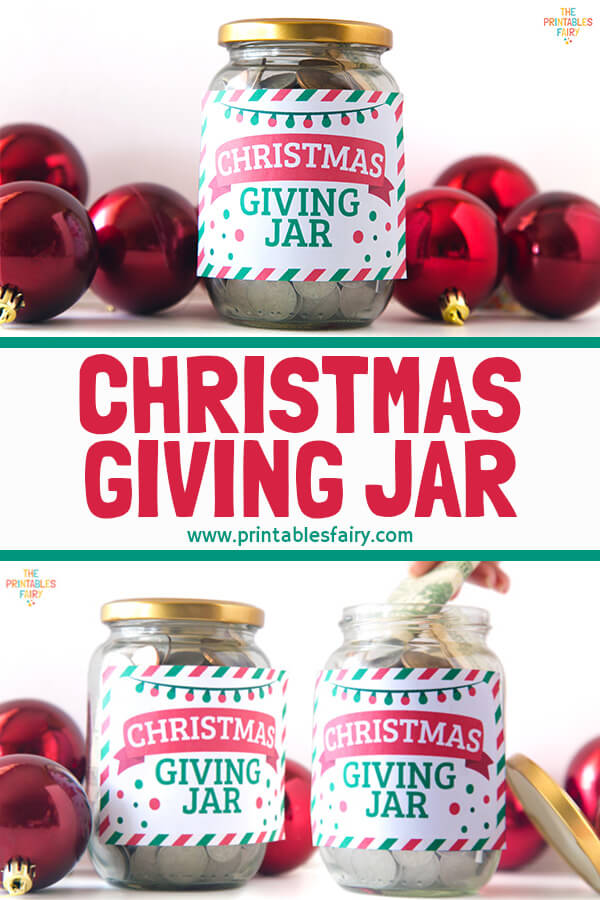 Give a Money Giving Jar (Holiday Tradition)