Memory making Family Christmas Traditions to start this year
The Holiday season is here and shopping guides start showing up everywhere, we start thinking about the perfect gifts and looking up for the best deals, basically getting drawn into the materialistic side of Christmas.
The truth is, the best gifts you can give your kids are the memories you have created together and the time you spend as a family.
In some years they will probably forget about that trendy fidget spinner you got them, but will for sure remember the fun time you spent baking cookies on Christmas Eve.
I know you are busy, being a mom is very demanding. That's why I have included mostly easy ideas that don't need a lot of time to prepare. I promise it will be totally worth it. As Caroline Kennedy said:
"Christmas can feel like a lot of work, particularly for mothers. But when you look back on all the Christmases in your life, you'll find you've created family traditions and lasting memories. Those memories, good and bad, are really what help to keep a family together over the long haul."

Caroline Kennedy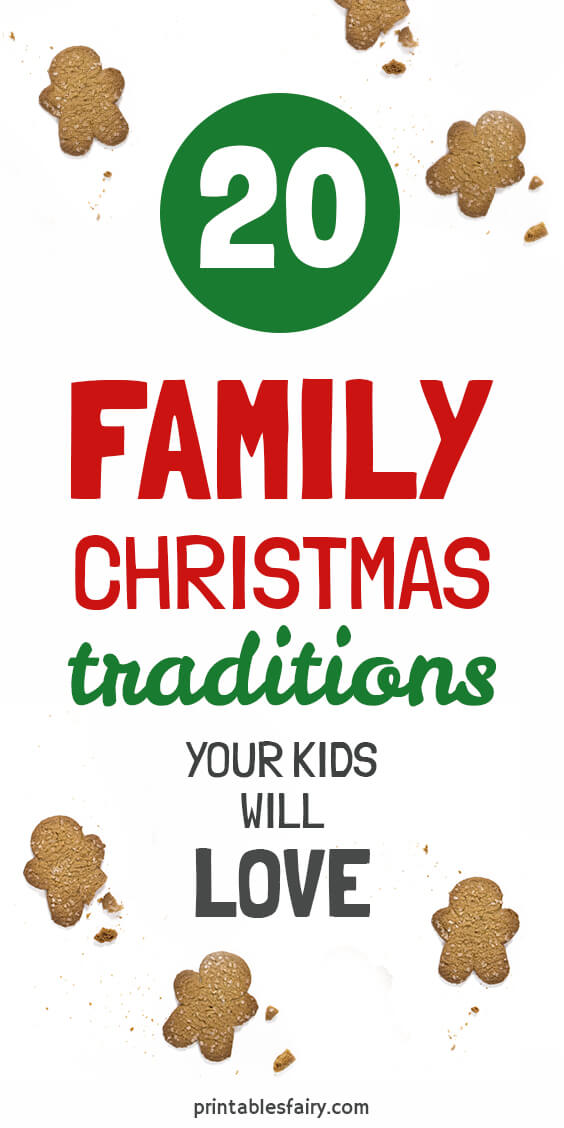 These Christmas traditions will bring your family together and help you connect and spend quality time with your kids.
I've also included a free printable that includes all the Christmas activities here proposed.
You can use it as a checklist, get some ideas for your own holiday bucket list or select activities to fill your advent calendar.
Family Christmas Traditions
Here are 15 family traditions that focus on what Christmas means to us: spending time with those we love and helping others without expecting something in return.
1. Go on a drive around your town to look for the best Christmas lights. You can use this Holiday Lights Scavenger Hunt to make it a little more exciting.

2. Write a letter to Santa. I've created a printable letter to Santa that focuses mainly on being thankful for what we already have, rather than asking for uncountable gifts.

3. Donate food to a local food bank or shelter.

4. Read Christmas books. Here it is a list of Multicultural Christmas books that can teach your kids about how do people around the world celebrate the holidays.

5. Watch a Christmas movie as a family.

6. Make your movie night perfect by setting up a Hot Cocoa Bar.

7. Get an Elf on the shelf. Invite Santa's help you around the house and notice when your kids behave and misbehave.
8. Start a Christmas giving Jar, simply find an empty jar at home and fill it with change throughout the year. The next Christmas, you can donate all you have collected or buy supplies for a local shelter.

9. Make a Christmas Eve box, fill it with pajamas, socks, your favorite Holiday movie or book, and some popcorn.

10. Give neighbors gifts. You can make your own treats or put together some candies. Use any of these cute Christmas printables to go with your sweets.

11. Have a Christmas breakfast, try any of these tasty holiday recipes.

12. Track Santa's flight on Christmas Eve at NORAD Santa Tracker.

13. Make reindeer food the night before Christmas.

14. Send Christmas cards to those who mean a lot to you. Make this explosive Christmas card to surprise everyone.

15. Have a Christmas baking day or if you are not into cooking, then have a Cookie decorating day. Invite friends or family and assign an ingredient to each, then send everyone a batch of cookies.
16. If you don't want any of that mess, have a Cookie exchange party where every guest brings their favorite cookie to share with everyone else.
17. Have a Christmas talent show where every family member shares a talent like singing, dancing, or doing magic tricks. You can also have a teams competition where kids can sing carols, perform a drama play or a comedic skit.
18. Make a homemade ornament. Here are some easy ideas you can try with your kids.
19. Make your own Christmas activity books. This idea comes handy when your kids are getting anxious about the holidays and need extra entertainment.
20. Make a list of things you are grateful for. You can use this gratitude tree and then hang it on a place where everyone can see it.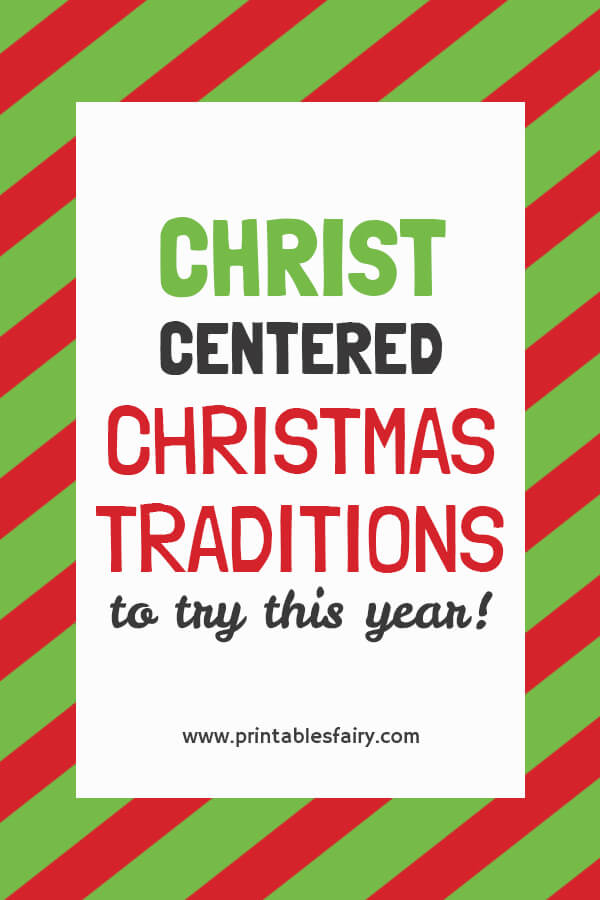 Christ-Focused Christmas Traditions
We should not forget that Christmas is the celebration of the advent of Christ, here are 5 Christ-centered activities you can try:
21. Craft your own star and place it on top of the tree as a reminder of the star that led the Wise Men right where Jesus and His family were.
22. Create your own nativity set with paper rolls and narrate the Christmas story.
23. Sing Christmas carols. Here is a playlist with worship songs.
24. Deliver Christ-centered neighbor gifts. It can be just little details to show how much you appreciate them. You can use these Nativity gift tags.
25. Have a family coloring night with these Nativity coloring pages.
One Last Note on Christmas Traditions
Christmas Traditions are meant to bring your family together. If you tried one and didn't like it, you can replace it with another one. Remember that there are no rules when it comes to spending time with your loved ones.
Family Traditions can help you teach your kids what Christmas is really all about: creating long-lasting memories and bringing lots of joy to your home.
Why not try them!
More Christmas Activities
25 Family Christmas Traditions