Counting down the days to Christmas has become a tradition in our family. And this year, I designed this printable Christmas advent calendar that you can assemble at home and join in the fun!
It is fairly easy to make and looks very cute. So cute that your kids might want to open all the doors at once! But don't worry, what they find inside will keep them occupied and looking forward to the next day.
This advent calendar features 25 children's activity ideas to try each day and spread holiday cheer while creating priceless family memories.
Some days include playful activities like making reindeer food or having an ugly sweater party, while others are more thoughtful, like completing random acts of kindness or making a gift for a loved one. You can check the full list down below.
I'm sure that after completing all these activities, your family will want to make this calendar an annual tradition that will fill your home with joy and love.
Ready to draw your family together and start a Christmas countdown?
Keep reading to learn what is included in this advent calendar and how to put it up with your family.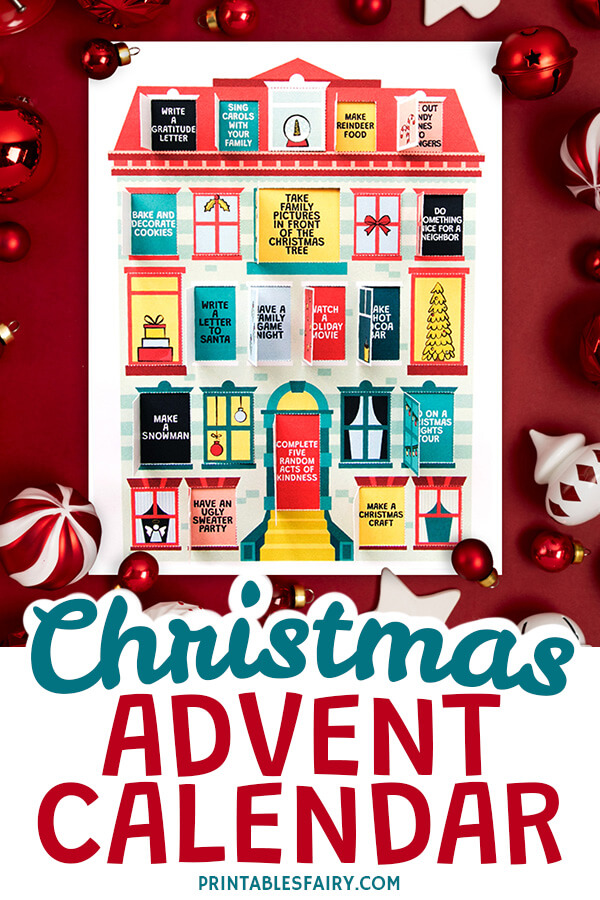 Christmas Advent Calendar
Our Christmas Advent calendar features 25 doors that can be opened each day to reveal a fun Christmas activity for kids.
In this post, I will show you how to assemble your own advent calendar step by step, so it looks just like ours.
And you can also find a complete list of the activities included in the calendar and how to implement them.
But first, here is a small list of supplies you need to get started.
Materials
To assemble your Christmas advent calendar, you'll need:
Printable Advent Calendar (grab it here or at the end of this post)
White cardstock
Printer
Scissors
Cutter or X-acto knife
Ruler
Glue Stick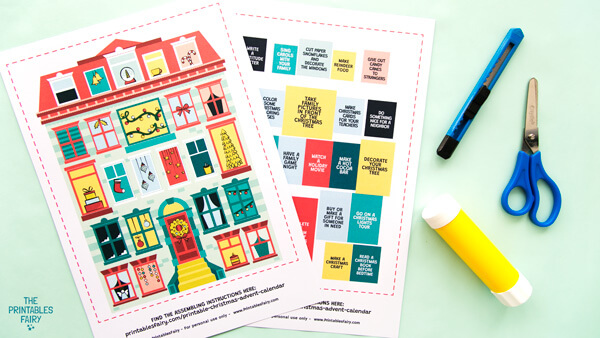 How To Make Your Christmas Advent Calendar
Before starting, keep in mind that this advent calendar is meant to be assembled by adults only.
Download and print your advent calendar printables on white cardstock.
I recommend using cardstock for durability.
Cut out the rectangles along the red dashed lines.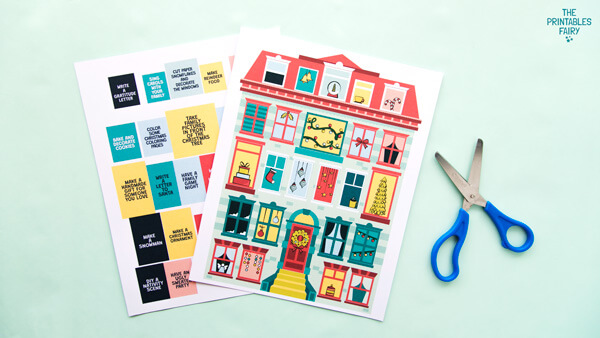 Take the house page and cut out 3 sides of each window (and door) along the dashed lines. I recommend using a ruler and a cutter for this step.
Once you are done cutting, bring back the page with the activities and apply glue on all the borders. Make sure to put glue only on the white parts.
You can also use double-sided tape for this step.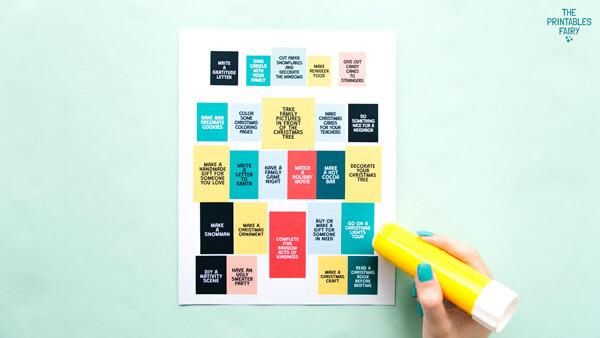 Adhere the house page over the activities page. Make sure both pages are very well aligned before sticking them together.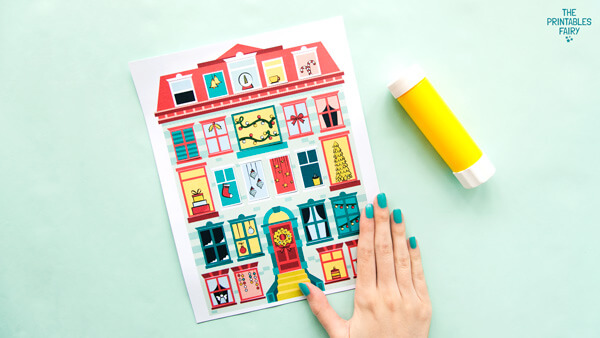 Now your calendar is ready to be used!
Each day before Christmas, your kids have to open a window and do what it says.
I recommend using a ruler for opening the windows as it helps fold straight lines easily.
I also recommend taking a look at all the activities before assembling your calendar. This way, you can plan the activities beforehand and encourage your kids to open particular doors first.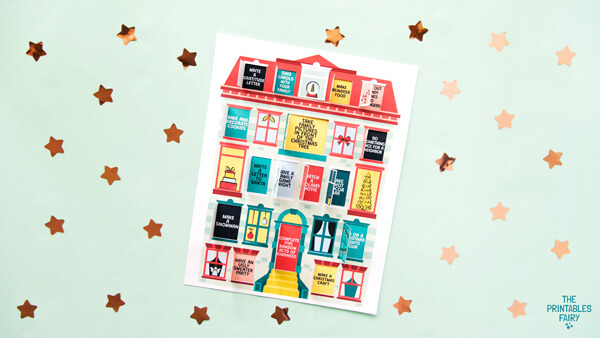 Advent Calendar Activities For Kids
Here is a list of the 25 activities included in our fun advent calendar.
I've also added some resources and ideas to complete them easily and inexpensively.
DIY a Nativity scene
If you already have a Nativity at home, it's the moment to bring it out and set it up under the Christmas tree.
If you don't have one, you can make your kids craft their own. For example, we made this cute Toilet Paper Roll Nativity Craft, and it was a big hit and perfect to tell the Christmas story!
Have an ugly sweater party
You can plan a complete ugly sweater party at home with these free printables and even have a contest where the most hideous sweater wins.
But if you cannot throw an actual party, you can have a crafting party and make these paper ugly sweaters.
Make a Christmas craft
You can check this Pinterest Board filled with fun Christmas crafts and activity ideas for kids of all ages.
Read a Christmas book before bedtime
Let your kids pick a book they like, or take a look at this list.
Make a snowman
If it's snowing in your area, head outdoors and build a snowman. But if it doesn't snow where you live, have fun Rolling a Snowman from your living room.
Make a Christmas ornament
There are many different kinds of ornaments you can make with your kids. But if you are looking for something quick that doesn't require many materials, try these paper ornaments.
Buy or make a gift for someone in need
I highly recommend making Care Kits to help homeless people in your area. This is also an excellent opportunity to show gratitude for what we have and might be taking for granted.
Go on a Christmas lights tour
We love driving around town with a cup of hot chocolate and this free printable Christmas Lights scavenger hunt. Your kids will have lots of fun trying to find all the items.
Complete five random acts of kindness
Here you can find a list of 100 acts of kindness so your kids can pick the ones they like the most.
Make a handmade gift for someone you love
Here is a list of fantastic gift ideas your kids can make this Christmas.
Write a letter to Santa
Get your kids in the holiday spirit by writing a letter to Santa. They can use our templates: Letter to Santa or Wish List for Santa. They are both free!
And if you want Santa to write back, you can check this Santa Kit.😉
Have a family game night
Just pick your children's favorite board game and have a fun night at home.
Watch a holiday movie
Plan the best Christmas movie night with our free printables and movie recommendations.
Make a hot cocoa bar
Check this post to learn how to set up the perfect Hot Cocoa Bar using our free printables. Kids absolutely love this activity as they can pretend play and sip their favorite chocolate drinks.
Decorate your Christmas tree
Decorating the tree marks the start of the holiday season. That's why we always like to start our calendar with this activity.
Bake and decorate cookies
Here you can find some fun cookie recipes to try this year.
Color some Christmas Coloring Pages
Check out Crayola's website to find many different coloring pages perfect for this season.
Make Christmas cards for your teachers
If you want to make a card impresses, check out this Christmas pop-up card. It's super easy to make with our printable template.
Do something nice for a neighbor
Go back to the RAOK list or check out this post and pick a nice gesture to show your neighbors how much you appreciate them.
Take family pictures in front of the Christmas tree
Wear your best Christmasy clothes and take a family picture. You can turn this activity into a tradition and take a photo each year to see how you all have changed.
Write a gratitude letter
This free gratitude letter template is the perfect canvas to inspire your kids to show their appreciation for someone in their lives.
Sing carols with your family
Blast your favorite carols, make a Christmas playlist together and let it be the soundtrack for your December.
Make reindeer food
I recommend leaving this activity for the 24 to get your kids excited on Christmas morning when they find the reindeer have eaten some of their food.
Give out candy canes to strangers
Buy a small box of candy canes and let your kids hand them out to other kids in their school to spread some Christmas cheer!
Cut paper snowflakes and decorate the windows
Follow this paper snowflakes tutorial to make the easiest snowflakes in the world. If you want to take it one step further, you can make these cute coffee filter snowflakes.
Advent Calendar Printable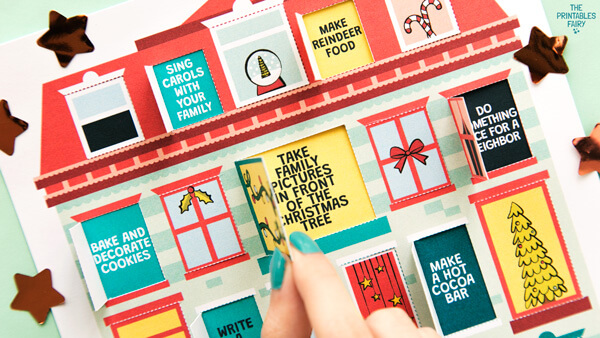 Ready to add a little more magic to your Christmas season with these advent calendar printables?
Click the link below to get them!
* You can print them on US Letter and A4 paper sizes.
DOWNLOAD THE PRINTABLE CHRISTMAS ADVENT CALENDAR
*Please remember that these printables are for personal use only. You may not sell, share, or distribute the files.
Other Christmas Activities For Kids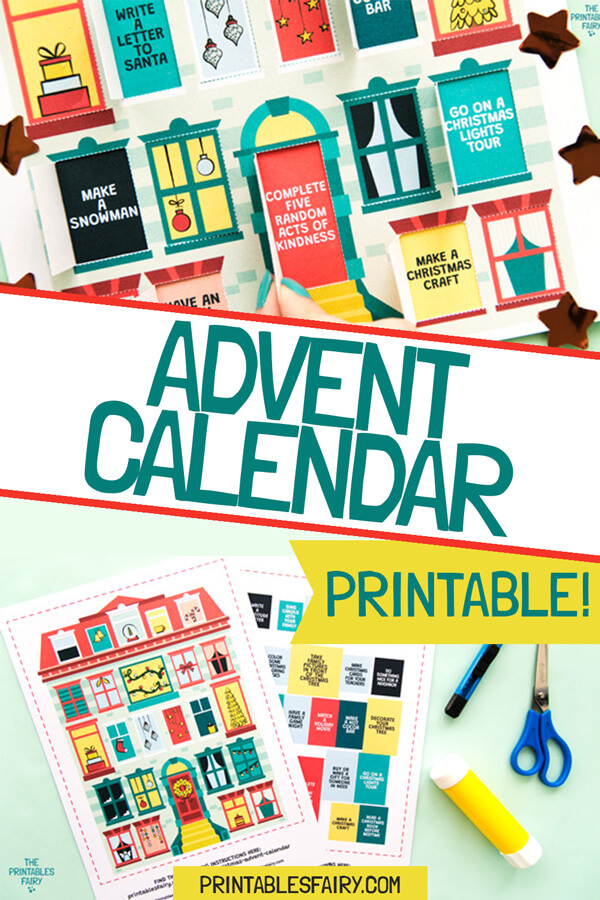 DIY Christmas Advent Calendar