Trying to plan an exciting holiday family night?
Why not have a Christmas movie night!
Your kids will absolutely love to snuggle up and watch a fun Christmas movie with you.
And you can make the experience even more exciting with these free printables I made for you!
I also have some fun ideas, tips, and child-friendly movie recommendations to bring holiday cheer to your movie night.
Remember that, as always, you can download the free printable kit at the end of the post.
This Christmas movie night party is the perfect activity to try just with your family. But you can also turn it into a big event by inviting your kids' friends, classmates, or neighbors.
Whether you go for a small party or a big gathering, I'm sure your kids will have a night that they will never forget.
Now, let me show you how we planned our family movie night, so you can do it too!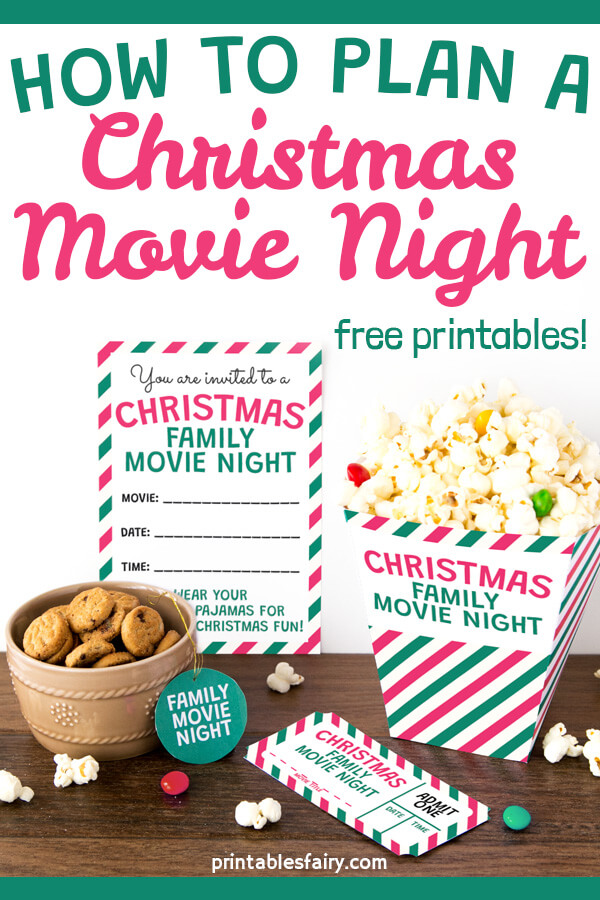 How to Plan a Christmas Movie Night
You can have a Christmas movie night at any time of the year (Hello, Christmas in July), but ideally, you'll need to set aside a day in December.
The first thing you have to think about is the location. I know it seems pretty simple, but there are many options, such as:
Your bedroom. Nothing like snuggling up in bed while watching a movie.
Your living room. Pile up some pillows and blankets to get comfy.
Your backyard. Did someone say movie night under the stars? (Perfect for places with warm weather).
The most important thing here is to make sure there is enough space for everyone. Arrange the seats so that all your children have a good view.
And since it's Christmas, why not have everyone wear cute pajamas to make the night even cozier!
Another key to jumpstarting your movie night is to make your home feel more like Christmas.
This will be simple, as you may have already decorated it, but an extra tip is to diffuse some holiday-smelling oils.
Once you have all this covered, it's time to focus on the details!
Christmas Movie Night Party Printables
Kids love the idea of turning your house into a cinema, and the easiest way to get that vibe is to print out some movie tickets.
Of course, I included these cute movie tickets in our printable set. You can add your date, time, and movie title with a marker or pen.
(This is the kid's favorite item from our Movie Night Kit 😉)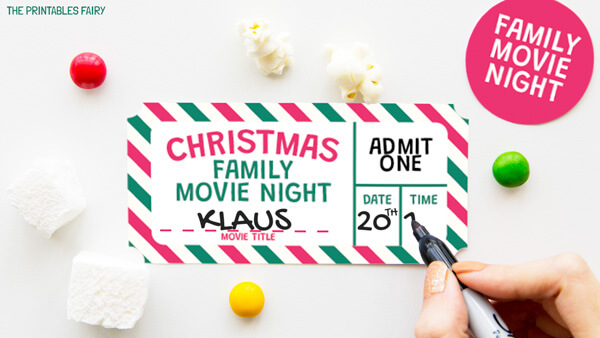 And what is a party without an invitation?
I created this Christmas Family Movie Night Invitation to add to the anticipation.
You can hide it under your child's pillow, pin it on your fridge or bulletin board, place it in your kid's lunchbox, or put it in their backpacks for a surprise (they will be so excited to get back home!).
Print 2 per page and add the movie, date, and time with a marker.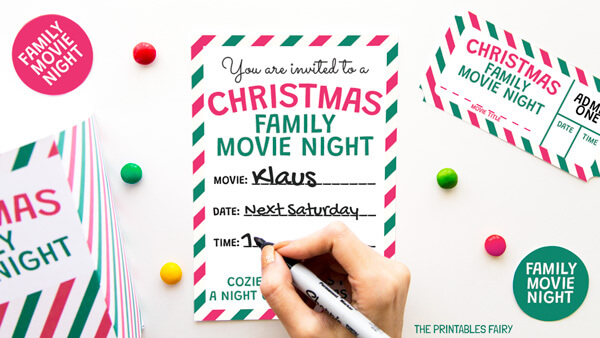 To complete these party printables, I also made a Christmas Movie Night Sign.
You can frame it or just attach it to a wall next to your treats.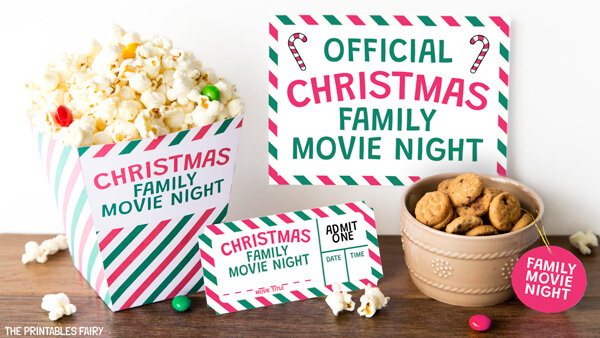 Christmas Movie Night Food
Speaking of treats, it's time to talk about the party food.
We think it is best to keep it simple and serve quick snacks. Some ideas are:
Hummus and veggies
Nachos and cheese
Tuna and crackers
Mozarella garlic rolls
Pizza
Fruit like apples, pears, berries, or grapes.
Cookies
Since we're celebrating Christmas, a cup of hot chocolate is a must too.
You can also make some themed treats like these Grinch Cookies, these Reindeer Pretzels, these Strawberry Santas, or these Toffee Pretzel and Popcorn Cookies.
And of course, I haven't forgotten about popcorn!
It is a movie night essential, and you have to make tons of it. Mix it with M&Ms, mini marshmallows, peppermint candies, or some lemon squeeze to create some creative flavors.
To make everything look cute and look like a movie theater, you can use the printables included with our set.
There are some fun labels you can attach to your food containers and a DIY popcorn box that the little ones love to assemble themselves (kudos to the extra entertainment!).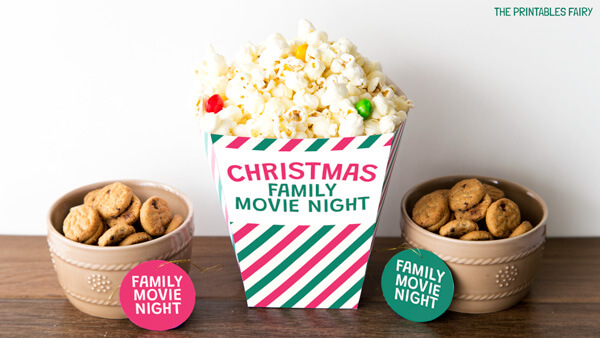 Making your popcorn box is easy-peasy!
But if you are not sure where to get started, check out the tutorial below.
Movie Night Printable Popcorn Box
Print 2 copies of the Popcorn Box page on white cardstock and cut them out.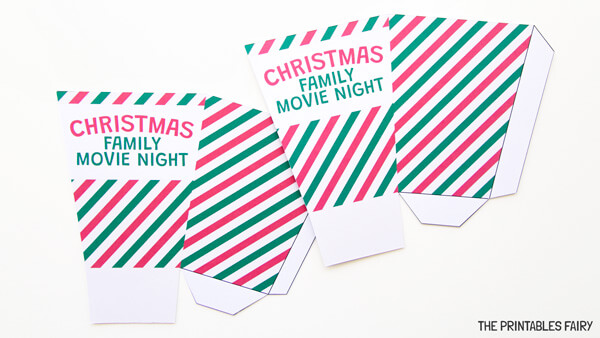 Using a ruler, fold the white flaps and the middle of each piece.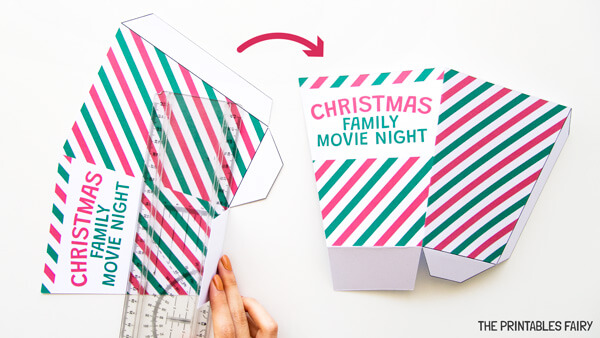 Glue the bottom tabs, as shown in the picture below.

Apply glue on the lateral tabs.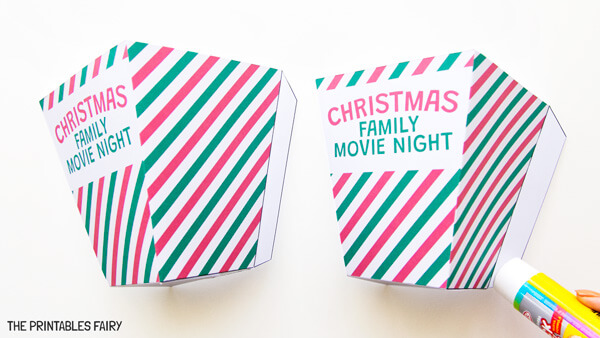 Attach both pieces together to make your bucket.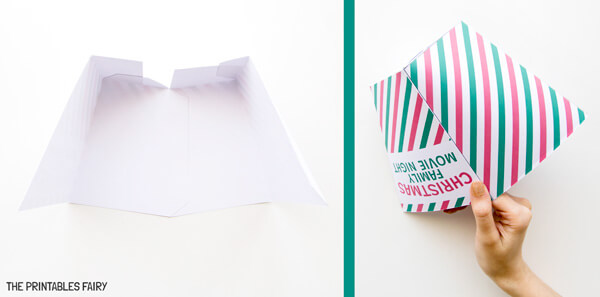 Secure the bottom with washi tape.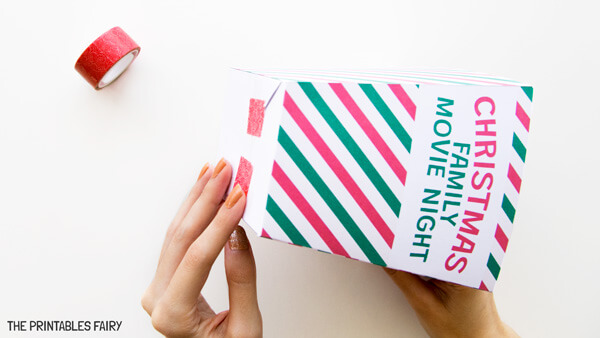 Fill your box with popcorn!
TIP: Line your box with wax paper to avoid oil damage and to be able to reuse it.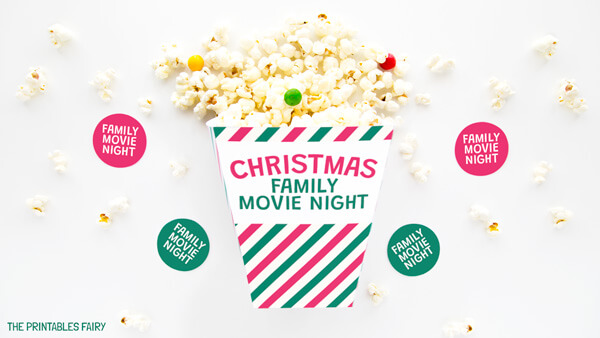 The Best Christmas Movies for Families
Last but not least, the most important part of your movie night: selecting the movie.
Nowadays there are many ways to enjoy on-demand movies, so you can basically pick whichever you like.
You can watch commercial-free movies on Netflix, Amazon Prime Video, Hulu, or Disney Plus.
Here I have a list of our all-time favorite Christmas movies to watch with the family, including some newer films:
Klaus
Dr. Seuss' The Grinch
Rise of the Guardians
The Christmas Chronicles
The Christmas Chronicles 2
The Nutcracker & The 4 Realms
Jingle Jangle
Trolls Holiday
Olaf's Frozen Adventure
A Christmas Carol
48 Christmas Wishes
Operation Christmas Drop
A muppets Christmas
The Nightmare Before Christmas
How the Grinch Stole Christmas
Mickey's Christmas Carol
The Polar Express
The Santa Clause
A Christmas Story
Jack Frost
Prancer
Elf
Shaun the Sheep: The Flight Before Christmas
Robin Robin
A Boy Called Christmas
The Claus Family
Our current favorite is Klaus. I highly recommend it if you are watching with kids and adults. It definitely stole our hearts and the first position on our list!
I also included a Christmas Movie Checklist on our free printable set.
You can use it to select the movies your family wants to watch at your party or to keep track and watch a couple of films each year.
There are some pre-written movie ideas and space for you to write your own choices.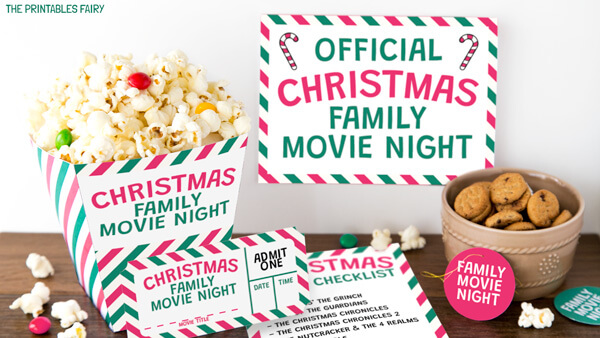 Christmas Movie Night Printables
As you could see, this printable set includes everything you need to throw the perfect Christmas family movie night.
To download them, simply click the link below.
There are 2 versions of these printables included. Just scroll through the pages and select the ones you like the most.
Then, print them on A4 paper or cardstock, and get started planning your family night!
Don't forget to share your cute pictures using these printables on Instagram by tagging @theprintablesfairy.
Happy Holidays!
GET THE CHRISTMAS MOVIE NIGHT KIT
*Please remember that these printables are for personal use only. You may not sell or distribute the files. If you want to share them, please link to this post and not directly to the PDF files.
More Christmas Activities for Families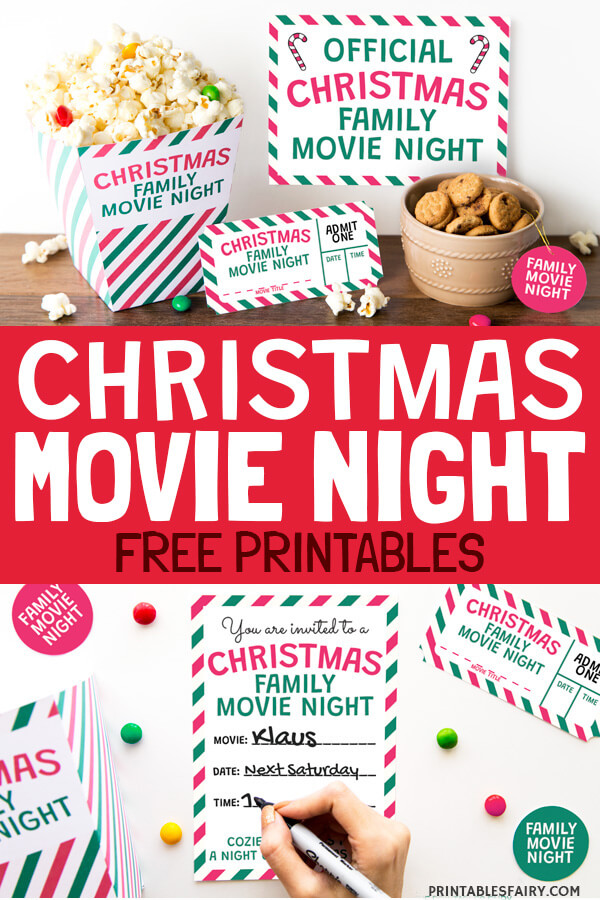 Christmas Family Movie Night