Baby, it's cold outside!
What better way to welcome winter and the holidays than with a hot cocoa bar!
We came out with this idea while planning our annual Christmas Movie Night. I mean, who wouldn't want a warm cup of chocolate while watching a nice holiday classic.
It is super easy to set up, and kids absolutely love it.
Their favorite part is adding their own mixes and toppings to create a unique yummy mug.
You can also try this idea at your holiday parties. A nice chocolate mug is the perfect treat for your family and friends. And it's an awesome idea to try after some neighborhood caroling!
To go along with our Hot Chocolate bar, I designed some printables.
They are easy decorations that will make your setup look more festive in just a matter of minutes (and with little effort 😉).
These Hot Cocoa Bar Party printables include free signs and labels that you can customize for your own needs.
Make sure to read to the end of this post to get them!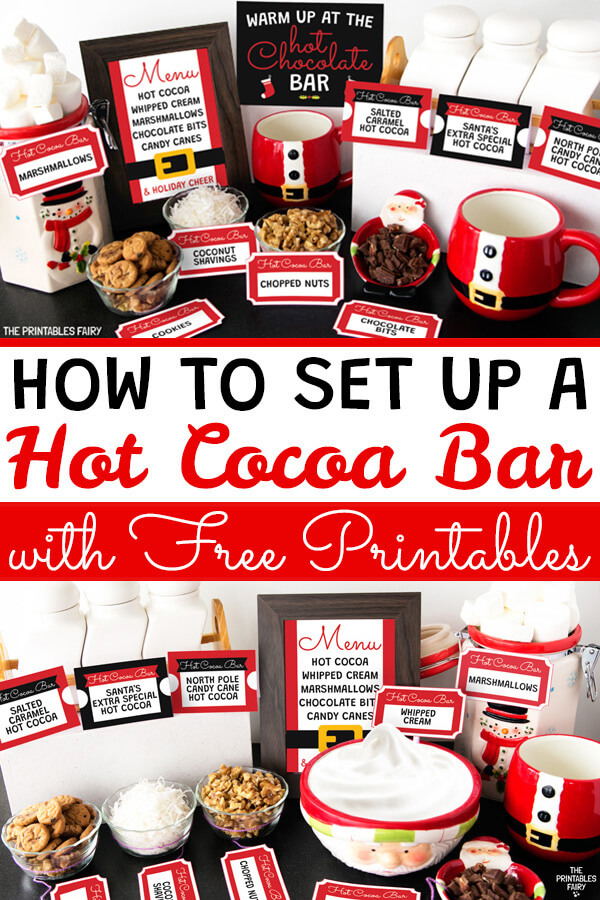 How to Set Up a Hot Chocolate Bar
The best part about setting up a hot cocoa party is that you don't really have to worry about decorating your home since it will be already decked out for Christmas.
All you have to do is focus on the hot chocolate bar display.
This also applies if you are not throwing a party and just enjoying a family night with your kids.
We put out our favorite holiday tableware, including some cute Santa mugs. They look so pretty on our display and perfectly match our printable decorations (I'll tell you more about these printables below).
We decided to have 3 different chocolate mixes available. You can buy a premade cocoa mix from your grocery store or make your own recipes from scratch.
Our top picks are this super easy hot cocoa mix, this peppermint hot cocoa mix, and this salted caramel hot cocoa mix.
I made those mixes ahead of time and put them in some containers for everyone to pick their favorite and mix it right there. We just needed to have a thermal pitcher with hot water ready.
Alternatively, if you want to prepare a single batch of your favorite chocolate, it might be better to make it in a slow cooker and let everyone just fill their mugs. It will also keep your cocoa warm, which is a plus.
Once you decide how to serve the cocoa, it's time to focus on the most important details: the toppings.
We like to keep it simple with just 6 different options, but you can go as wild as you want.
Check some hot cocoa topping ideas below.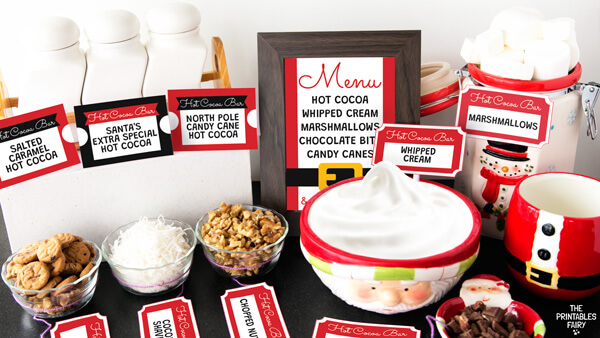 Hot Cocoa Bar Toppings
Whipped cream
Marshmallows of different sizes and flavors
Chocolate Bits
Coconut shavings
Chopped nuts
Mini chocolate cookies
Toffee bits
Sprinkles
Crushed Candy Canes
Pirouettes
Butterscotch chips
M&Ms
Chopped mints
Pretzel rods
Ice cream
Cinnamon
Caramel drizzle
Chocolate syrup
Hot Cocoa Bar Printables
To add a fun touch to our bar, I designed a printable set that you can download at the end of this post.
The first page includes a Hot Chocolate Sign and a Santa-inspired Menu to decorate your table. They are 5x7in each. And you can frame both or just adhere them to the wall with some clear tape.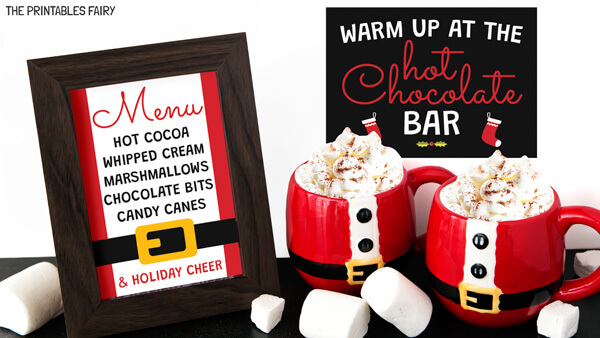 Then we have our topping labels. They actually come in 2 colors: red & black. And also come in 2 versions: filled-in & blank.
You can use the filled-in version if you are serving the same toppings as us. But if you have totally different ideas, just print the blank ones and write down what you have in mind.
You can stick them to your containers with tape or attach them to paper straws/toothpicks and then put them into your toppings.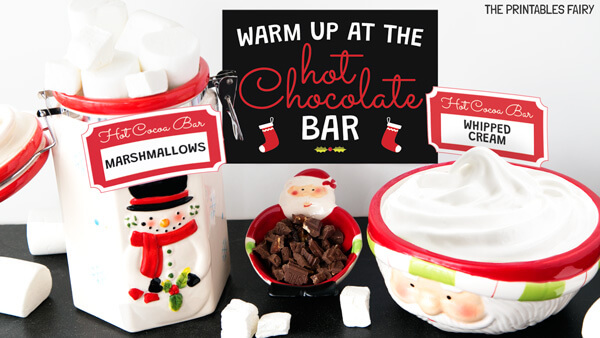 Or simply display them in front of your food.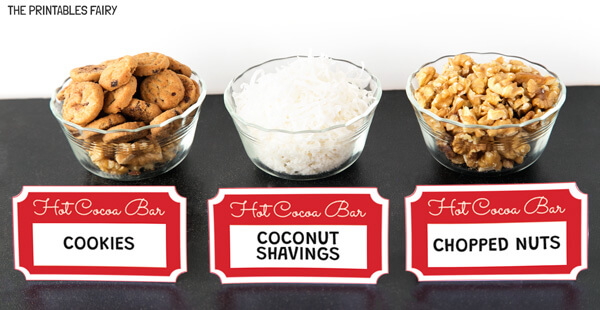 If you are not into food labels, I also designed some table tents.
We used them to display the name of our different cocoa flavors, including Santa's Extra Special Hot Cocoa, North Pole Candy Cane Hot Cocoa, Salted Caramel Hot Cocoa, and White Chocolate Hot Cocoa.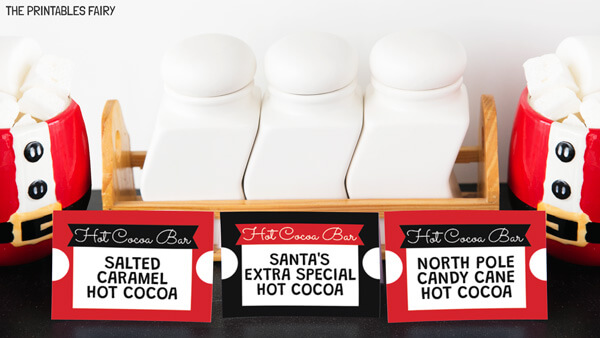 Like the food labels above, they also come in 2 colors and 2 versions. You can use the blank ones to add your unique hot cocoa names or to write down your toppings.
Just pick the design you like the most and enjoy the night!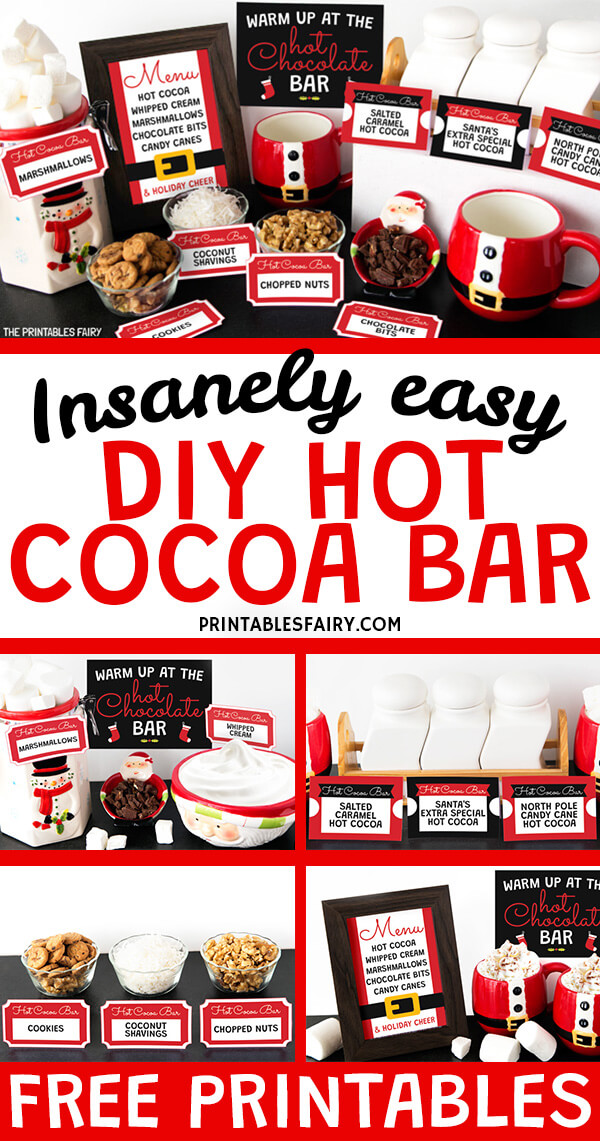 Get the Hot Chocolate Bar Free Printables
Ready to set up your hot chocolate night?
These nice printables will definitely make your kids or guests smile!
All you need is white cardstock, a printer, and scissors.
Choose the pages you want to use and print them on A4 cardstock.
Cut out the signs and the labels, and write down your toppings in case you are using the blank templates.
Super simple, right?
Click the link below to download your printable set.
If you are setting up your Hot Chocolate Bar with these printables, please share a picture on Instagram by tagging @theprintablesfairy. We'd LOVE to see it!
*Please remember that these printables are for personal use only. You may not sell or distribute the files. If you want to share them, please link to this post and not directly to the PDF files.
More Fun Christmas Activities for Kids
Christmas Hot Cocoa Bar