Get your family together and start building holiday memories with this Christmas Lights Scavenger Hunt!
Driving around your neighborhood and looking at the colorful lights and pretty decorations has to be the easiest Christmas tradition of all time!
What if I told you that there is a way to make it even more fun.
Yeah! Turning it into a game!
With this free printable Christmas Lights Scavenger Hunt, your kids will be excited to drive around town and find all the items on their list.
And let me tell you, kids love challenges. (And some young at heart too! 😉)
This fun game is perfect for any age, from young children to adults. Everyone enjoys seeing the fun themes that people choose to decorate their homes, especially those who go all out.
The best part is that it won't cost you a thing!
I know I told you to drive around town. But you can choose to walk around your own neighborhood looking for the items.
You can also play it inside a nicely decorated room if it is too cold to go outside.
Or even look for the items in your favorite holiday picture books.
And you guessed it right.
This scavenger hunt can be played individually or in groups, with your family, friends, at a playdate, in the classroom, or at a Christmas party.
There is no way you say no to this fantastic idea.
So, are you in?
Join us and play this fun Christmas Light Scavenger Hunt!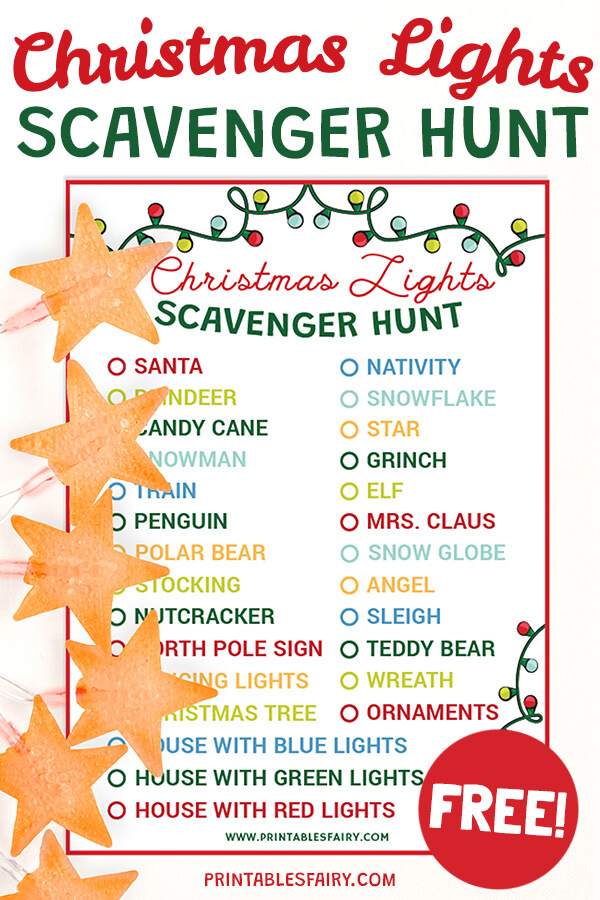 Free Printable Christmas Lights Scavenger Hunt
Playing this game is super simple.
Start by downloading the printable scavenger hunt at the end of this post.
Print it on regular white paper or cardstock. If you are doing this activity with young kids, I recommend the second option.
You can also attach your scavenger hunt to a clipboard to make it easier to check off the items.
If you are planning to turn this game into a yearly family tradition, laminate your sheet or put it into a plastic protector. This way, you don't have to print it over and over again.
And don't forget to bring some pencils, pens, or dry erase markers.
If you are going on a Christmas Lights car ride, be sure to stock up on hot chocolate and tune in to your favorite carols to make your trip more festive.
To play, simply check off the items as you find them.
We have all sorts of things on our list. From Santa and reindeer to dancing lights and teddy bears. Twenty-seven Christmassy items for you to find!
Try to have fun and check them all off.
Other Ways to Play with the Christmas Light Scavenger Hunt
As you can tell, if you only have younger kids, the scavenger hunt will be plenty of fun on its own.
But if there are older children in your family, you can turn this game into a little bit of a competition.
Offer a small prize to those who have marked the most items at the end of their trip.
It doesn't have to be anything fancy, a nice little treat will do just fine.
You can also play this game in teams and give everyone a time limit to come back home.
Don't forget to make everyone take a selfie with the items as they find them.
And offer extra points if they take a fun video with the items: hugging a snowman, dancing with Santa, or singing a Christmas carol with the owners of the lights.
Let us know in the comments if you have any other ideas on how to play with this Christmas light scavenger hunt!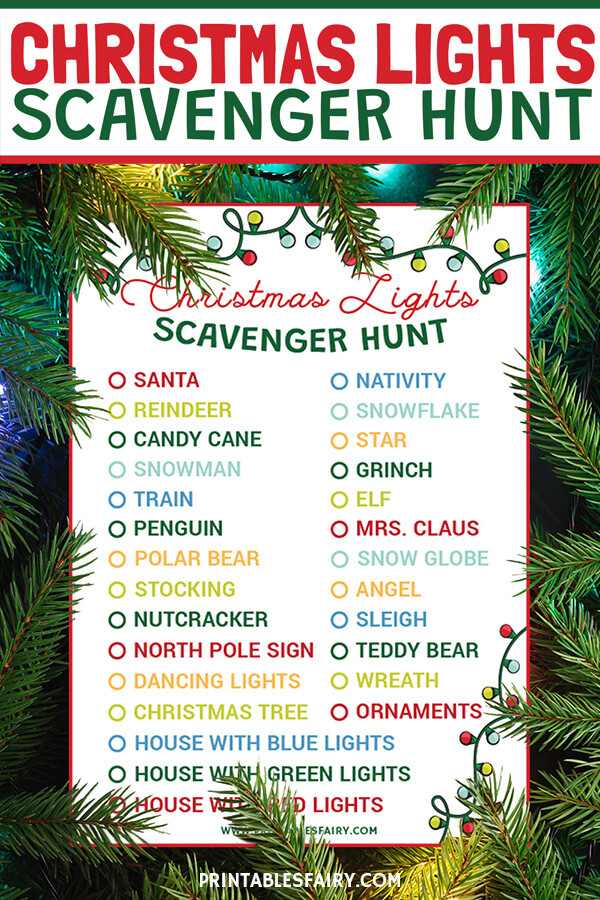 Get Your Scavenger Hunt
Ready to bring holiday magic to your home?
Go search for these beautiful Christmas decorations and start a new memorable holiday tradition with your kids!
Click the link below to download your free printable scavenger hunt.
GET THE CHRISTMAS LIGHTS SCAVENGER HUNT
*Please remember that these printables are for personal use only. You may not sell or distribute the files. If you want to share them, please link to this post and not directly to the PDF files.
More Christmas Printable Games
Printable Christmas Light Scavenger Hunt