Looking for a last-minute Father's Day gift from the kids?
Get this free printable Father's Day questionnaire!
It's a super special and unique gift that dads and granddads will love.
With it, kids will be able to record their feelings and thoughts about dad. And let me tell you, it is so fun to read the things they can come up with!
You can also make them a keepsake by laminating each page for the years to come. It will be priceless to look back on as the kids grow.
This time, I designed this questionnaire to be printer-friendly. So, if you are using it in school or with a large group of kids, it will be super helpful.
Plus, children can enjoy coloring and decorating the printable before filling in the blanks.
If your kids are too young to write, you can help them out by asking them the questions and writing down their answers for them.
Older kids can answer the questions on their own while secretly improving their writing skills.
I mean, who doesn't like a fun activity with an added literacy practice, right?
To get started, just download the Father's Day questionnaires below.
Print them on A4-sized paper and let your kids take the lead!
P.S. You can also print them on US Letter-sized paper, just check your printer settings and select Fit Page.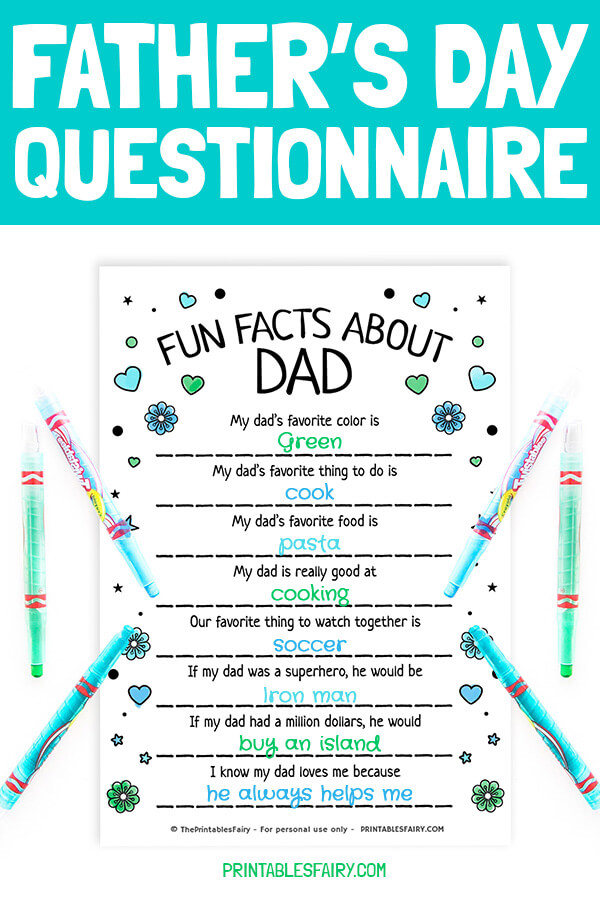 Father's Day Questionnaire For Dad
In this printable, your kids will have to write down fun facts about dad, including:
Dad's favorite color
Dad's favorite thing to do
Dad's favorite food
Dad's favorite thing to watch
An activity dad is good at
What superhero he would be
What he would do with a million dollars
And finally, a reason why dad loves them
Sound like fun?
Keep scrolling to the bottom of this post to download it!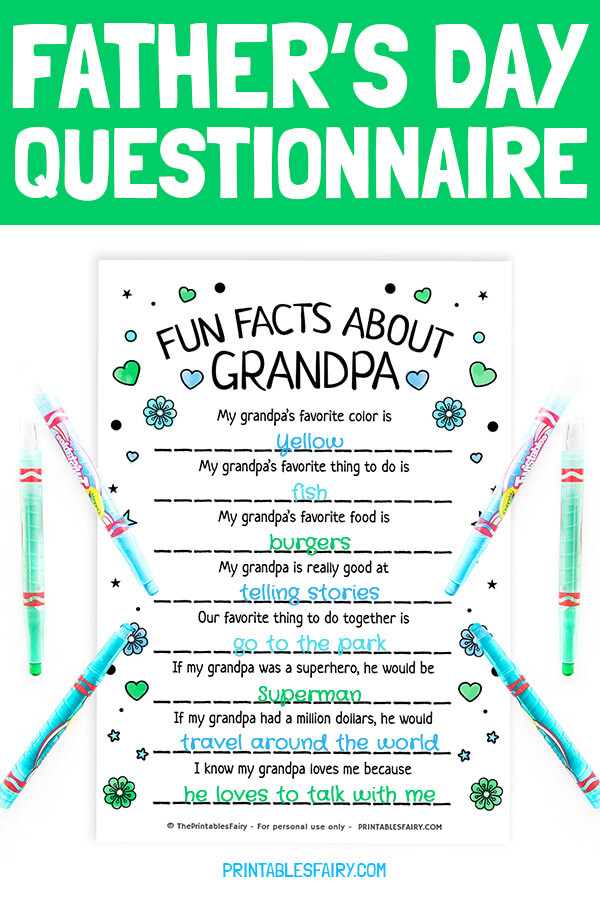 Grandpa Questionnaire
Naturally, I also had to make a grandpa questionnaire so that everyone is covered!
It has the same design and questions as the dad's version, so your kids won't miss any of the fun facts about grandpa.
I'm sure you can't find an easier Father's Day activity to celebrate Dad and Granddad!
Ready to get these questionnaires?
Click the link below to get them both!
GET THE FATHER'S DAY QUESTIONNAIRES
*Please remember that these printables are for personal use only. You may not sell or distribute the files. If you want to share them, please link to this post and not directly to the PDF files.
Other Last-Minute Father's Day Activities
If you still need some last-minute Father's Day gift ideas, here you can find some really cool ones:
Free Father's Day Printable Questionnaire