Finding the perfect gift for dad is never easy, especially when Father's Day is right around the corner.
But don't worry!
This fun All About My Dad free printable is perfect for kids to create a meaningful Father's Day gift!
Dads will love to get this special printable filled with sweet, fun, and silly things their kids have to say about them.
And they can turn it into a keepsake to look back on years from now. It's hilarious to see the crazy and totally random answers kids can come up with.
You can also turn this activity into a yearly tradition and make an album with all of their answers. I'm sure you won't regret it! Especially when your little ones, then not so little, leave the nest.
Ready to start using that All About My Dad?
To get started, you can download it below and print it on an A4 regular paper.
You can also print it on US Letter-sized paper. Just make sure to select Fit Page on your printer settings.
Then, give your kids some pencils, markers, or crayons, and have them fill out the printable.
Most of the questions can be answered with a drawing, while others require writing. So, if your children are too young to write, simply ask them the questions and note down their answers.
There is also an area called My Dad & Me where you can let them draw a picture or paste a photo. Let your kids take the lead and have fun!
And that's how you just completed an easy homemade gift dad will love.
Super simple, right?
Pair it with this cute Father's Day Breakfast in Bed, and you have the perfect gift for dad!
P.S. By popular demand, I also created an All About My Grandpa version of this printable. You can get it at the end of this post.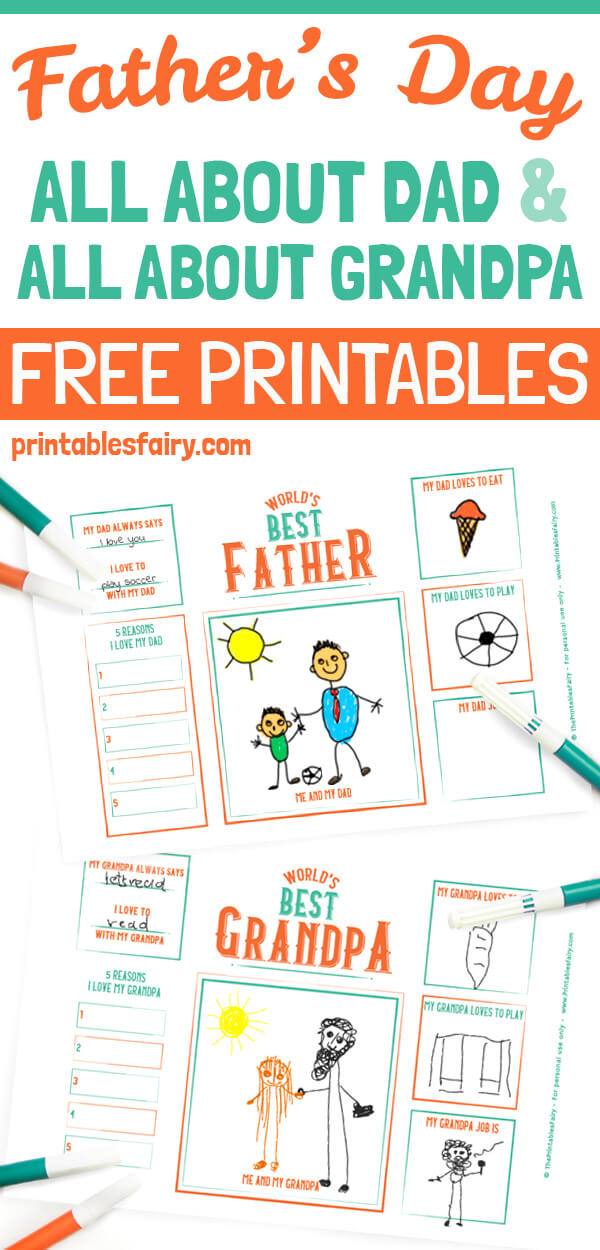 All About My Dad Printable
As you could see, filling this printable can be so much fun for your kids.
And the best part is that it is not Father's Day exclusive. You can also use it to celebrate birthdays, promotions, health recoveries, or just to show dad how much he is loved.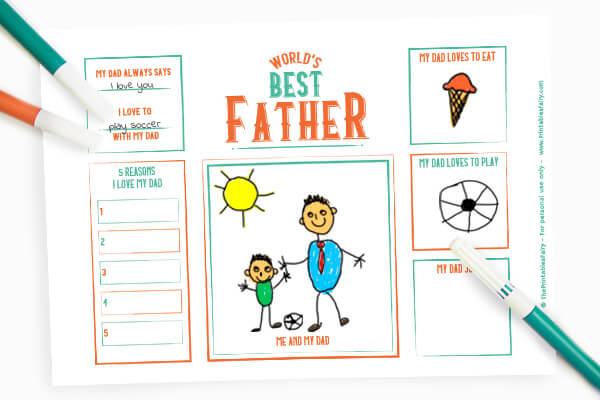 Here is a list of all the prompts included in this All About Dad:
Space for kids to draw a picture of themselves with their dad or to paste a pic.
Space for kids to write what dad always says.
A place for kids to write what they love to do with their dad.
A section for kids to write or draw 5 reasons why they love their dad.
Space for kids to draw what they think dad's favorite food is.
A place for kids to draw dad's favorite game.
Space for kids to include dad's job.
Sound fun! Can't wait to get it?
Click the link below to download and print it.
GET THE PRINTABLE ALL ABOUT MY DAD
All About My Grandpa Printable
Of course, we don't want grandad to be left out of the celebration.
That's why I also designed an All About My Grandpa Printable that you can get for free too.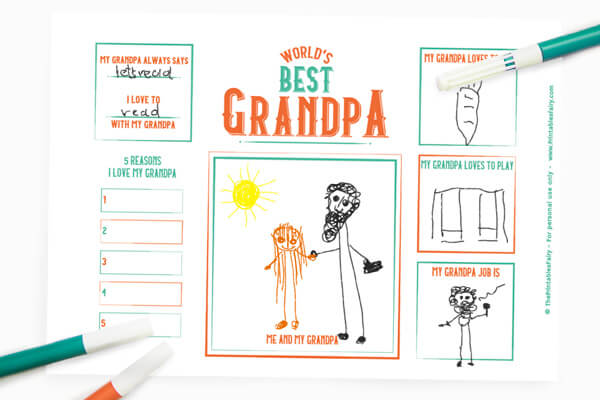 It has the same design and prompts as the dad's version.
And you can also use it to celebrate other festivities like Grandparent's Day (along with the All about my grandma version 😉).
Ready to celebrate grandpa on Father's Day?
Click the link below to get your printable!
GET THE PRINTABLE ALL ABOUT MY GRANDPA
I hope your kids and their dad enjoy these Father's Day printables!
Don't forget to come back each year to print out a copy 🧡.
*Please remember that these printables are for personal use only. You may not sell or distribute the files. If you want to share them, please link to this post and not directly to the PDF files.
More Father's Day Printables
Looking for more Father's Day ideas? Check these out: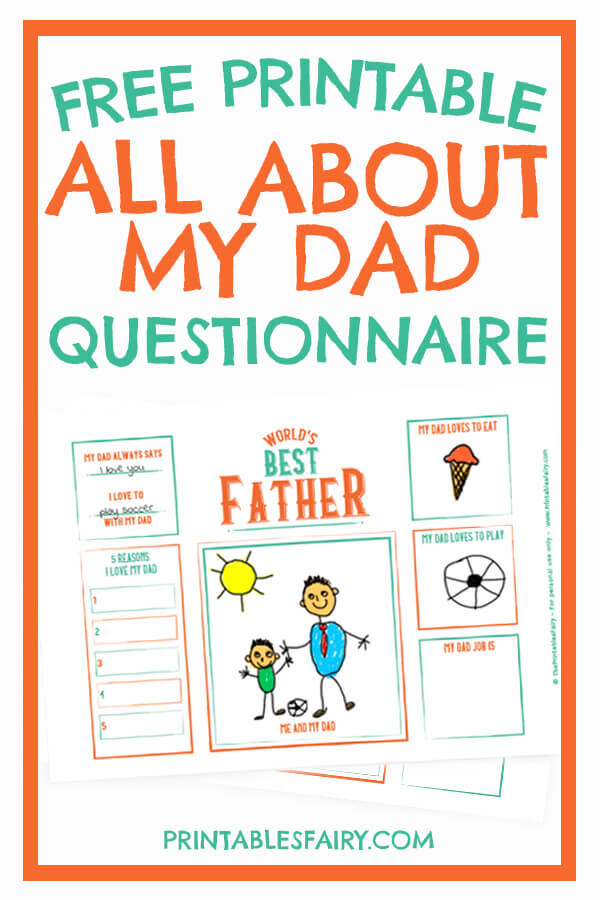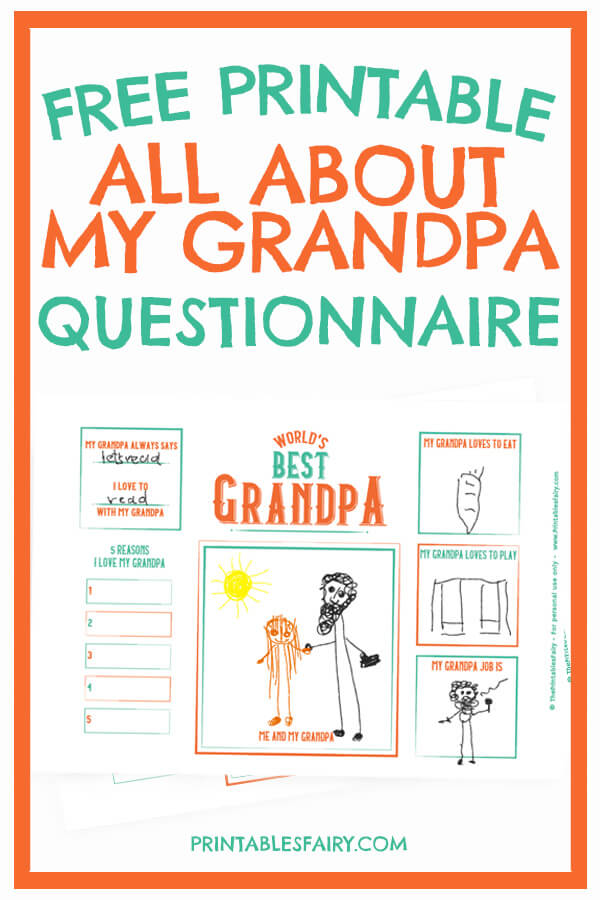 All About My Dad Father's Day Gift