Planning an unforgettable Father's Day?
Give dad a surprise with a breakfast in bed that he will never forget!
Use this printable Father's Day breakfast kit specially designed to make this morning easier.
Now you only need to think of some great recipes and put your kids in charge!
I can guarantee they will love every second they spend setting up this breakfast to give dad a special gift.
Dads will also love and remember these wonderful moments once their kids are grown.
What better way to celebrate Father's Day than by creating unforgettable memories, right?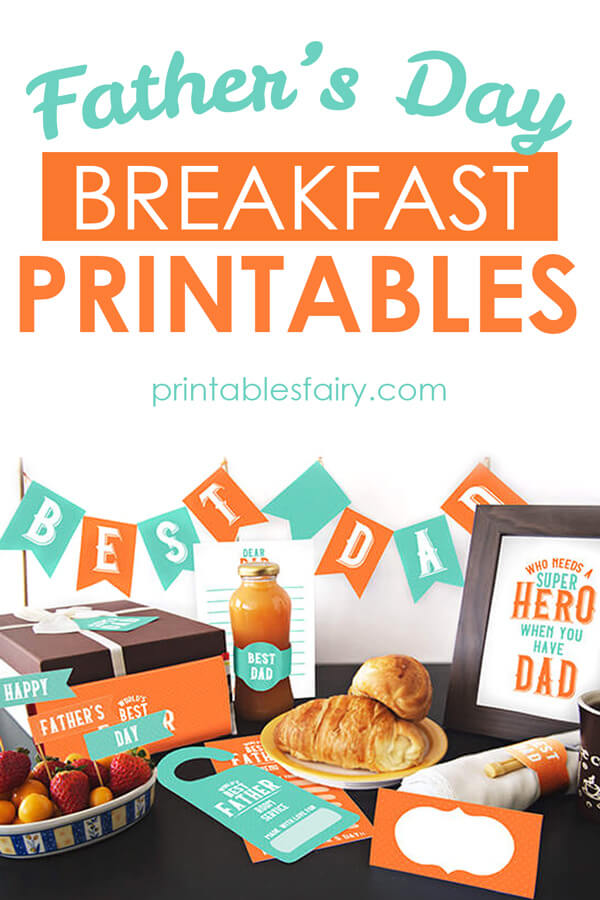 Start the day with a delicious breakfast and take it one step further with this fun Father's Day printable kit designed to make dads happy.
Celebrate your husband and let your kids help, they will enjoy working on this DIY gift with you, and I can assure you that they will be excited to plan this morning many days in advance!
You can also use it if you are planning a brunch party to celebrate all the dads in your family, group of friends, or neighborhood.
This Father's Day Kit has everything you need to create the perfect breakfast.
It is super easy to use: just print, cut, and decorate your meal.
And if that was not enough, you can complete this gift by adding a free printable All about my dad for kids to fill in.
Are you ready to astonish dad with this Father's Day Breakfast?
What's included in the Father's Day Breakfast Kit
The Best Dad mini banner – what a better way to let him know what you think!
Napkin/Bottle wrappers – they come in 2 different colors so you can mix and match.
Regular and Large Candy Bar wrappers – to make dad's morning even sweeter.
Food toppers – in 2 different colors and 7 different designs so you can choose your favorites!
Tent cards – to make your breakfast look fancier.
A Door Hanger – to remind everyone that dad is being pampered (kids love this item the most!).
Menu – another kiddos' favorite, turn your breakfast into gameplay.
Gift Tags – in 6 different designs because I know that all your kids have an extra little gift somewhere.
A Letter – to express how much you love Dad, it's so pretty that he will want to hang it up.
2 different Wall Art printables that can also be used as cards.
That's it! 10 different items that you can put together to create an unforgettable Father's Day.
Be warned that dads will love it!
Make breakfast in bed for dad with these cute printables.
Just click the link below to get your own!
Oh, and by popular demand, I have now included some special pages that have it all at the end of your PDF file, you can check them out and see if they make your morning even easier!
Don't forget that I created these printables thinking about the Best Dad in the world: YOURS!
So, go get these Father's Day breakfast printables now!
Get The Father's Day Breakfast Kit!
*Please remember that these printables are for personal use only. You may not sell, share, or distribute the files.
More Father's Day Printables: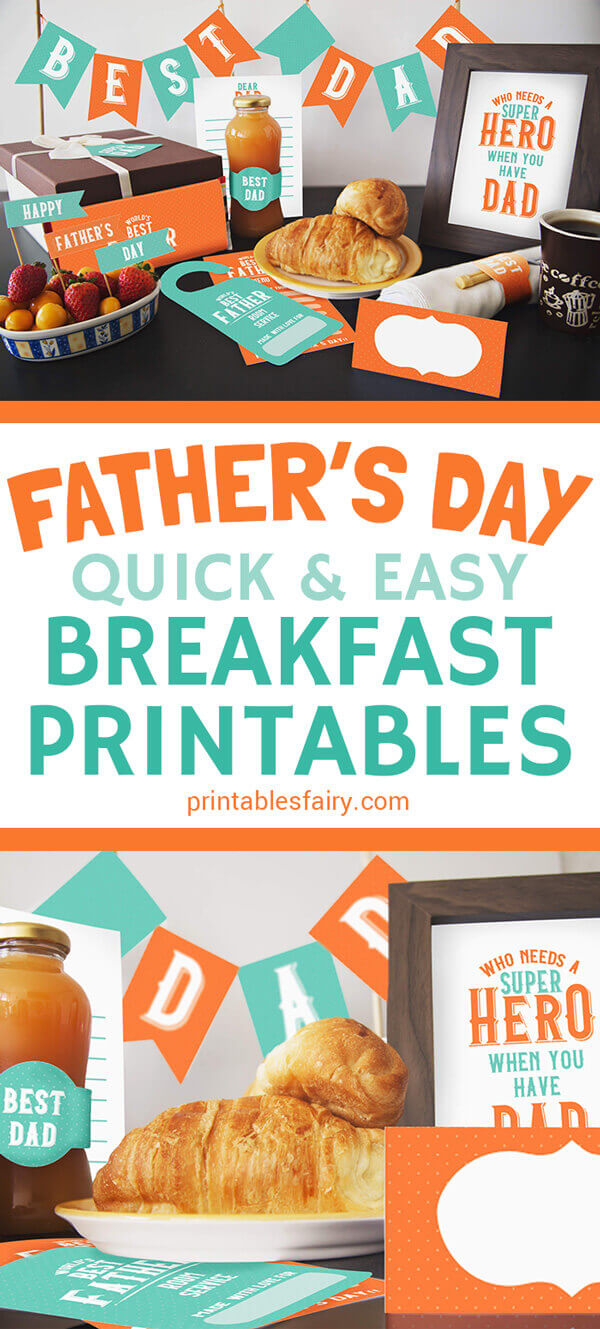 Father's Day breakfast Printables