Halloween is our favorite time of the year to put on a spooktacular puppet show.
Last year, we had so much fun making and using these Halloween Puppets that we had to do them again! But this time, in a much smaller (but equally cute) version.
These Halloween clothespin puppets will be a fantastic craft for you to try this year. And, of course, you can make them easily with our printable templates available at the end of this post.
There are 8 different puppet designs included in this set: a vampire, a ghost, a witch, a pumpkin, a bat, a zombie, a cat, and Frankenstein. You can pick the one you like the most, or make them all!
Oh! And all of the designs come in both full-color and black & white. So you can choose the ones that accommodate your needs better.
You can make these clothespin puppets at home to be the stars of your puppet show, use them as decorations, or clip them into some books as bookmarks.
They are also a great craft to do in the classroom as kids love making and playing with them.
And if you are hosting a Halloween party, you can have them as an activity for kids and even let them get these cute toys home as party favors.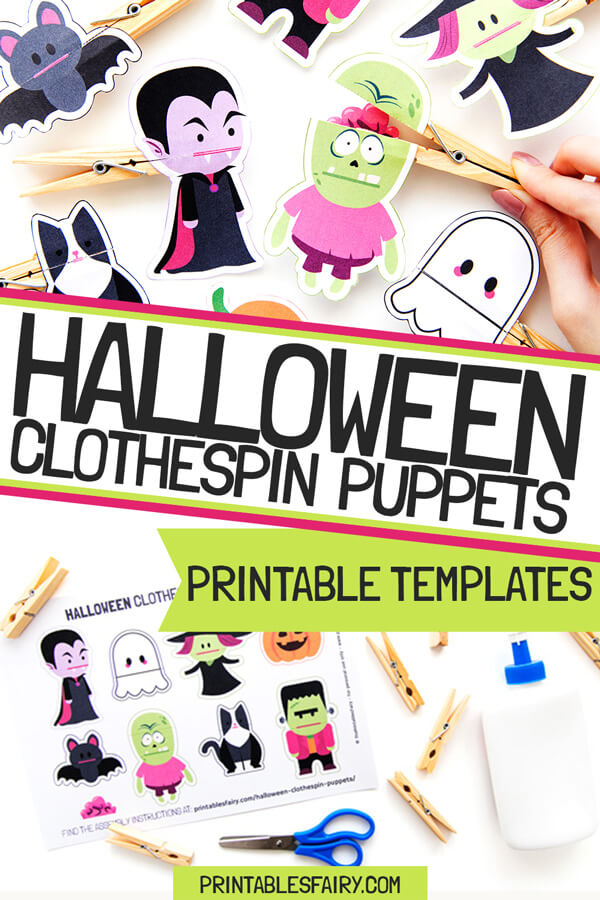 How to Make the Halloween Clothespin Puppets
In this post, I will list all you need to make your Halloween puppets. Hint: it's basically clothespins and our printable template!
Then, I'll show you how to assemble them within minutes. For this, you can watch our step-by-step tutorial or read the written instructions.
Finally, you can grab the templates right after the instructions and get started with this craft.
Materials
To make these cute puppets, you will need: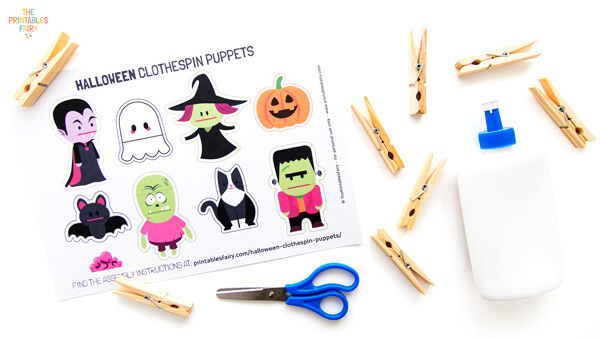 Halloween Clothespin Puppets Printable Template (Get it here or at the end of this post)
8 Clothespins
White cardstock
Printer
Scissors
Glue (you can use a glue stick or white craft glue)
Coloring pencils, markers, or crayons (for the black & white version)
Instructions
Download your puppet template and print it on white cardstock.
If you are using the black and white version, let your kids color it before cutting.
Cut out each puppet following the outlines. Don't forget to cut along the mouth as well (except for the zombie, cut its head instead).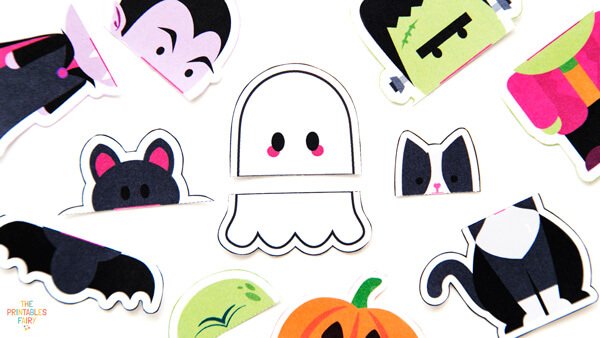 Apply glue to the back of the ghost's head and stick it to the top of the clothespin, making sure to align it with the middle edge.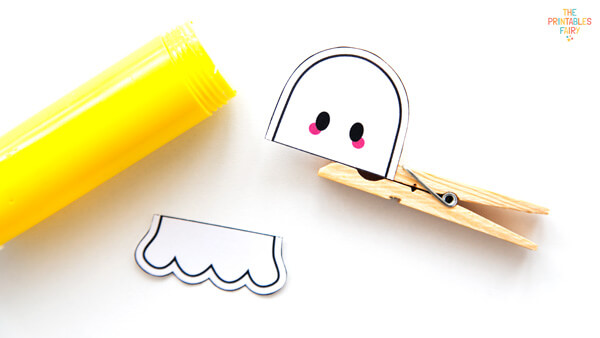 Then, do the same with the ghost's body and stick it to the bottom of the clothespin. Remember to line up both parts.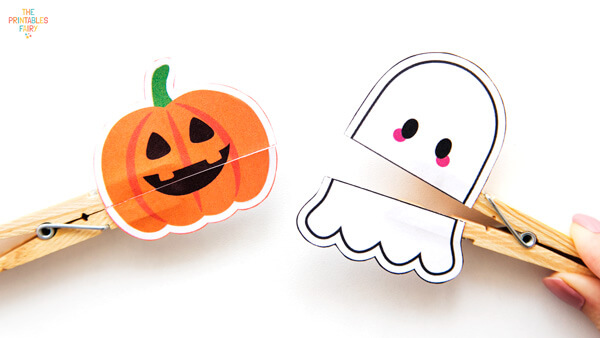 Repeat this process with the vampire, bat, cat, witch, pumpkin, and Frankenstein.
To make the zombie puppet, start by gluing the brain behind the clothespin (just to the bottom), as shown below.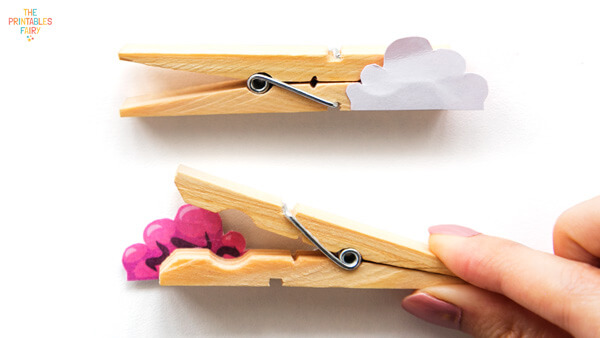 Then, glue the body and the head just like the other puppets.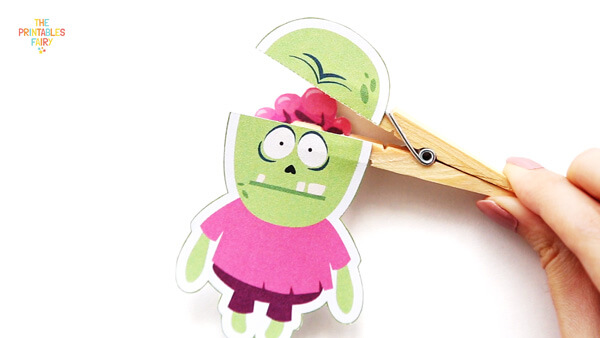 Your Halloween Clothespin Puppets are ready for some boos!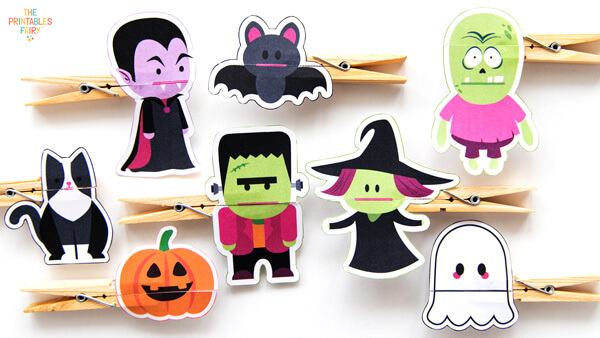 Clothespin Halloween Puppets Video Tutorial
As you could see, making this craft is super simple. But if you still have some doubts about some of the steps, you can watch this video tutorial where I make a Frankenstein, a Bat, and a Zombie puppet.
Just click the video below to start watching or head over to my Youtube channel to watch it there and save it for later.
Get the Halloween Clothespin Puppets
Ready to have a scary good time?
Click the link below to download your printable puppets and get crafty!
Don't forget that you can print them on either US Letter (8.5 x 11 inches) or A4 cardstock.
And share your creations with us on Instagram by tagging @theprintablesfairy.
*Please remember that these printables are for personal use only. You may not sell, share, or distribute the files.
More Halloween Crafts for Kids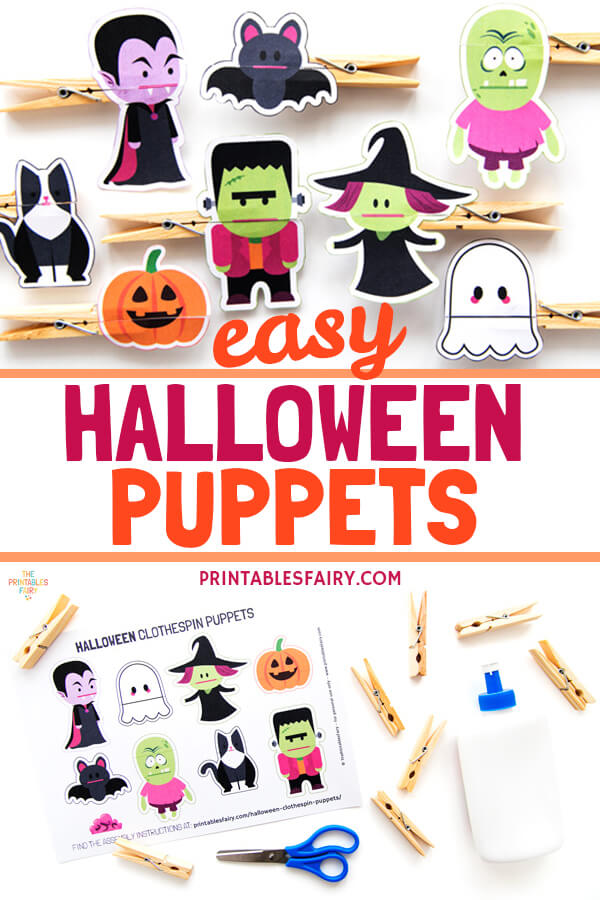 Halloween Clothespins Craft