If you are looking for a fun and educational way to celebrate St. Paddy's Day with your kids, this free St. Patrick's Day word search puzzle is perfect for you!
You can play it with grade-schoolers and older kids; even grown-ups will have a good time discovering all the hidden words.
But wait a minute!
Entertainment is not the only thing you will get out of this word search.
It is a fantastic brain-boosting game that can help your kids develop their problem-solving and analytical skills and help them with their spelling, memory, and concentration.
You can use it with your kids at home to have some fun quiet time or during a playdate.
Or, you can use it at school with your students. Feel free to print as many copies as you need for your class.
I have also seen some of you use our word searches on Sunday school, scout meetings, and libraries. Please remember that you can only give out printed copies.
If you want to share this game online, please link to this post and not directly to the files.
Also, if you are a fan of this type of game, check out our Word Search Collection that features puzzles for every special day of the year!
Now, let me show you this St. Paddy's Word Search up close!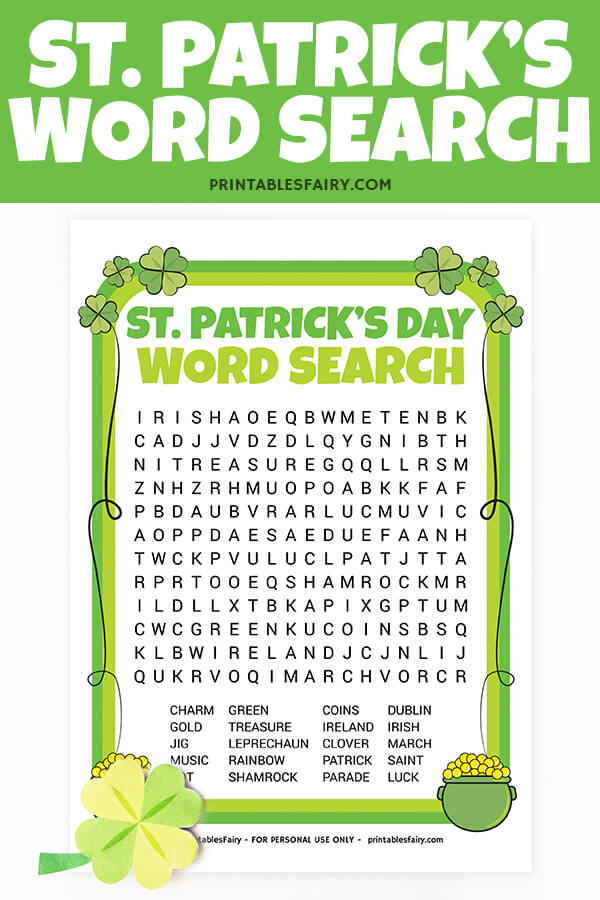 Printable St. Patrick's Day Word Search
There are 20 St. Patty's Day words to find:
Charm
Gold
Jig
Music
Pot
Green
Treasure
Leprechaun
Rainbow
Shamrock
Coins
Ireland
Clover
Patrick
Parade
Dublin
Irish
March
Saint
Luck
These words can be horizontal, vertical, and diagonal. Mostly frontward, with just a couple backward.
Also, the word list is in upper case to make it easier for younger children to identify the letters, as they look identical to the search puzzle.
To play, all you have to do is click the red link below to download your St. Patrick's Day word search.
Print a puzzle for each player and make them find and circle the St. Patrick's Day words listed.
You can use crayons, coloring pencils, or highlighters for that.
And if by any chance, your little ones get stuck on a word, you can always take a look at the Answer Key. 😉
Ready to celebrate the Luck of the Irish?
Get your St. Patrick's Word Search by clicking the link below.
GET THE PRINTABLE ST. PATRICK'S DAY WORD SEARCH
P.S. If you have lots of fun with this free printable, don't forget to share your pictures with us on Instagram by tagging @theprintablesfairy.
*Please remember that these printables are for personal use only. You may not sell or distribute the files. If you want to share them, please link to this post and not directly to the PDF files.
More St. Patrick's Day Printables
St. Patrick's Day Word Search Puzzle