One of our favorite spring-time activities is watching butterflies complete metamorphosis.
Luckily enough, we have been able to plant a banana passionfruit, and caterpillars love eating it, which means we can watch them transform into beautiful butterflies right in our garden.
To celebrate this incredible experience, we decided to make these cute butterfly corner bookmarks.
I know that everyone likes to see butterflies fluttering around, so why not make some for our favorite Spring books!
These bookmarks are not only the perfect craft for Spring, but can also be made in Summer camps, insect homeschooling units, Easter, or Mother's Day.
All I know is kids love making them and using them any time of the year. I mean, they are adorable. Who wouldn't like them, right?
If you want to make these cute bookmarks with your kids, all you have to do is get the template at the end of this post and follow the instructions to assemble it.
It is super easy for children of almost all ages, as the only skills required are cutting, folding, and gluing.
If these butterfly bookmarks were love at first flight, why not make your own?
Let me show you how!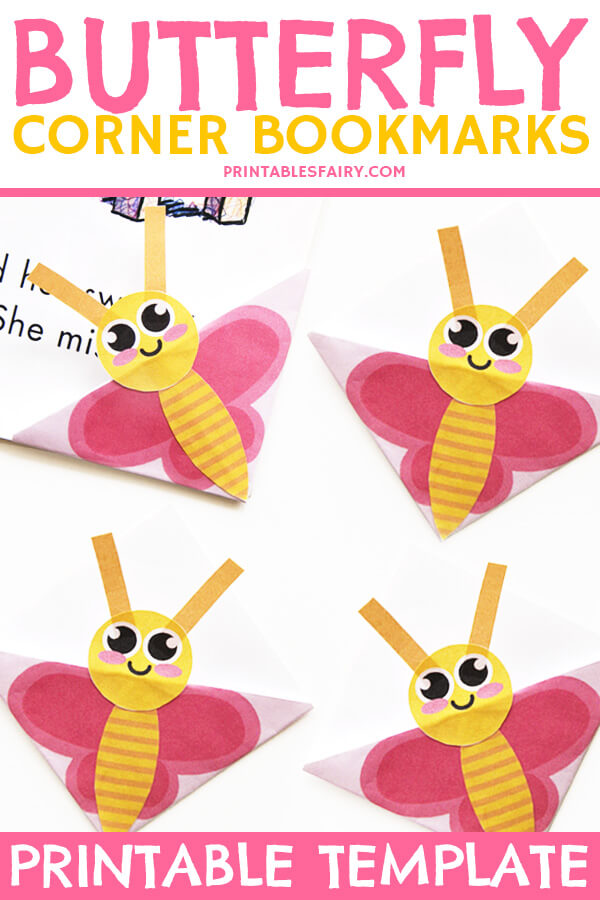 How Do You Make A Butterfly Corner Bookmark?
To make one of these butterflies, you have to follow the steps to make a basic origami corner bookmark.
But don't worry if you don't know how to make one!
I'll show you the step-by-step instructions you should follow to fold and assemble one of these bookmarks.
And, if that is now enough, there is also a video tutorial where you can see how I made one.
You can find both the written and video instructions down below.
Materials
To make these cute little bookmarks, all you need is these few materials:
Butterfly bookmark template
Regular white paper
Printer
Scissors
Glue Stick
Butterfly Bookmark Instructions
Get the butterfly bookmark template here or at the end of this post.
Print it on white paper and cut out all the pieces.
Take the square and fold it into a triangle. Make sure to keep both wings on the same side of the triangle.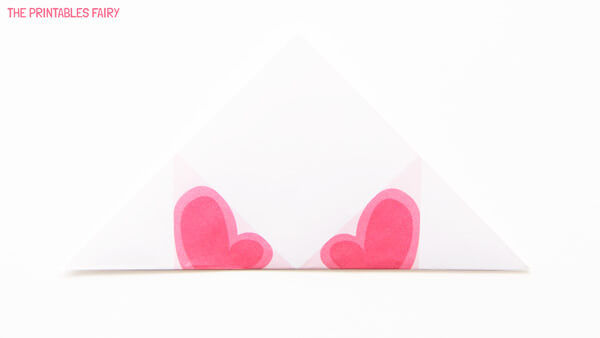 Put the wings face down and fold the top corner of the top layer down to create a pocket.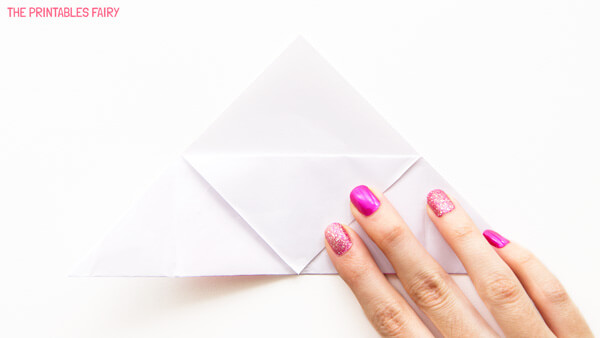 Bring the left and right corners to the top. It doesn't matter if your wings aren't aligned perfectly.
Insert the left and right corners into the pocket.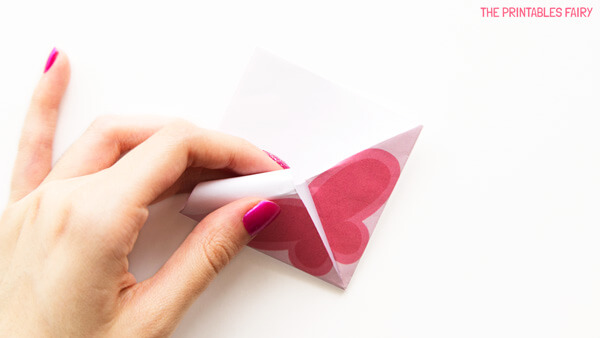 Glue the body, face, and antennae.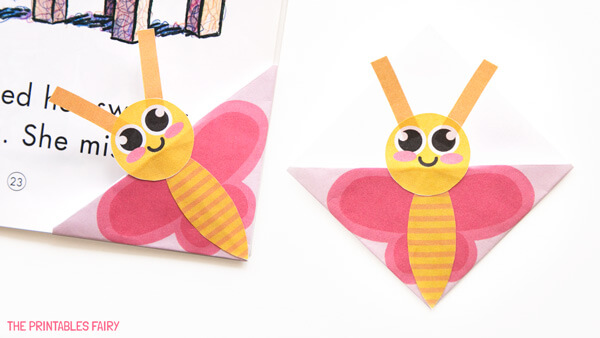 Your cute butterfly bookmarks are completed!
Don't they make your heart flutter?
Video Tutorial – Butterfly Bookmark Craft
Here you can watch the video instructions to craft one of these DIY butterfly bookmarks.
Feel free to pause and rewind as much as you need.
P.S. This video is also available on my Youtube channel. You can watch it here and subscribe if you don't want to miss any of our easy crafts.
Butterfly Bookmark Template
I know these butterfly bookmarks are a fun craft you can make all year round, but we found them particularly useful during Spring and Summer.
That's why I decided to bundle them up with three other cute bug bookmark designs: a bee, a dragonfly, and a firefly.
Get them all by clicking the link below!
GET THE BUG BOOKMARK TEMPLATES
*Please remember that these printables are for personal use only. You may not sell, share, or distribute the files.
More Cute Bug Corner Bookmarks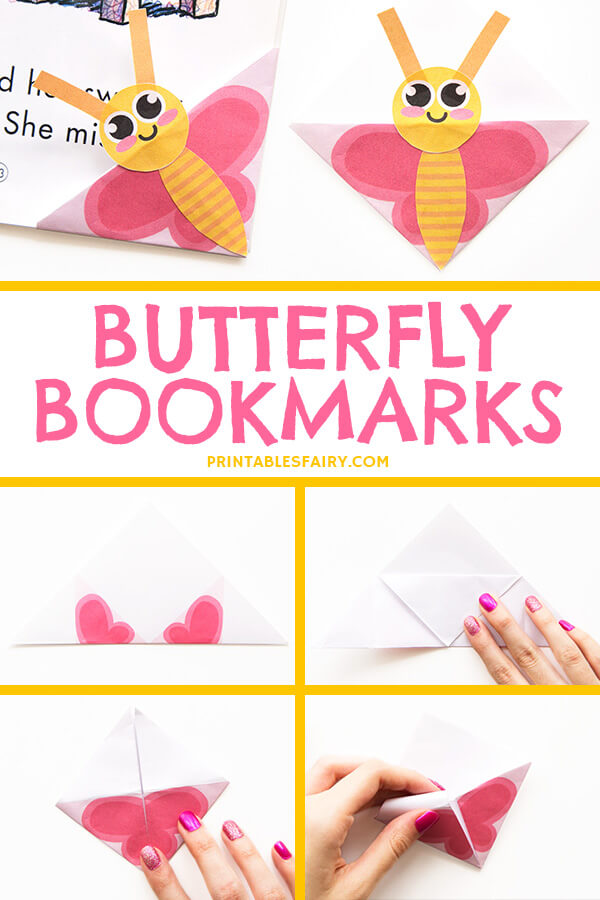 Easy Butterfly Bookmark Corner